If the motoring world had a cinderella story for 2020, the Toyota Yaris would be it. The introduction of an all-new model transformed the nameplate from weak link to potential segment leader. And a hybrid makes the future thinkers happy. These petrol electric models help attract more entry level new-car buyers to the fuel-, money- and possibly world-saving benefits of electrification.
While the 1.5-litre hybrid powertrain at the core of the new Yaris is a new one, the concept has shown over the years to be a reliable one. This can be validated simply by peering out of any inner city Auckland office building and counting the hordes of 400,000km-old ride-share Prius cockroaches that skuttle past.
For the hybrid, Toyota takes its 1.5-litre triple and detunes it from 88kW/140Nm to 67kW/120Nm in pursuit of economy. It's paired with a 144V lithium-ion battery and an electric motor rated at 59kW/141Nm, making for a total power output of 85kW. It operates like most hybrids do; silent on start-up and during most commuting. Long periods of pause, sudden sharp jolts of throttle, and the odd start from the lights all have the potential to kick the petrol engine into life, but it's uneven three-cylinder hum is surprisingly quiet.
Toyota claims a combined economy figure of 3.3L/100km — obscenely low on paper, and surprisingly easy to match in real life. With a blend of softly softly driving in the suburbs and on motorways, we matched the 3.3L/100km claim with ease. Even after a sweltering weekend of hair-down, air-conditioning cranked, lead-foot buffoon driving the most we saw indicated on the display was a mere 3.7L/100km. There's no dodging it: these are exceptional figures.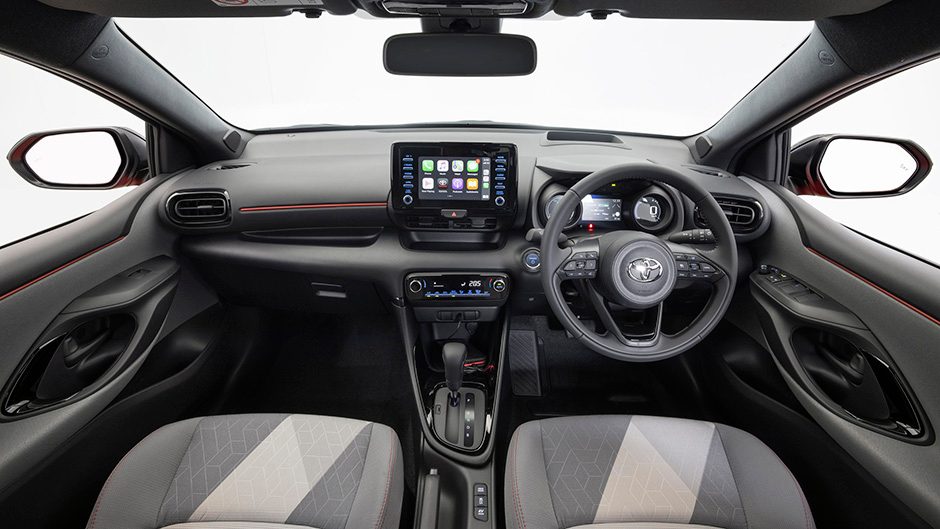 Not to be forgotten is the presence of a new platform. The previous-gen model was the company vehicle of choice at my previous work place and, being generous, they were a utilitarian and agricultural beast. No such need for euphemisms here, though. This is the first Yaris to be built using Toyota's TNGA architecture, and it's made for an instant improvement in dynamics.
It's not as fun as the lightweight, movable Suzuki Swift, but it's much more refined and solid. The way it carries itself through challenging cornering will have you thinking you're driving a car from the size class above. Steering is numb, but direct enough to make the process more enjoyable than it should be while not compromising on ride quality. And yes, if you decide to throw the economical driving stuff out the window and plant your foot, the triple makes a lovely noise that even the CVT can't really dampen.
While I wouldn't call its mixture of new creases and curves beautiful, the new Yaris does at least now look a little more compelling and interesting, particularly in ZR trim with the swish 16-inch alloys. It also brings a few styling tweaks to the cabin, including fabric panels in the door cards, zany orange highlights, and funkier buckets. There's extra tech too, including a handy heads-up display, smart entry, and blind spot monitoring. It's a mostly pleasant place to be. Rear room is adequate for adults and ample for kids, while those up front are greeted by good visibility and endless storage options. The standard radar cruise control and lane keeping work a treat, and serve as a good reminder to the high standard level of kit offered by this once humble nameplate.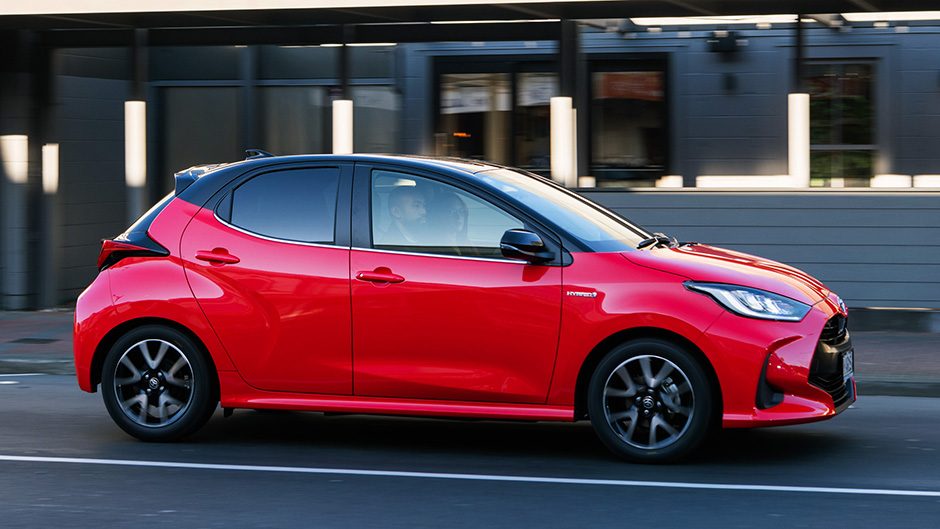 Much like the last-gen Yaris, the new one also packs more boot space than the larger Corolla — 270L with the seats up compared to the better-selling hatch's 208L (and 5L more than a Swift). Although it represents a decrease over the old model, the amount of storage space looks and feels fine for the segment. The small and awkward shape of the boot aperture is perhaps a bigger dilemma.
Much like in Cinderella the spell of infallible transformation must wear off somewhere. In this case, that somewhere is pricing. The improvements come at quite a cost, with the petrol range starting at $25,990 — $6000 more than the outgoing base GX — and the GX Hybrid some $2000 on top. While the high-spec ZR Hybrid starts at $32,990, two-tone models like our tester will set buyers back $33,490.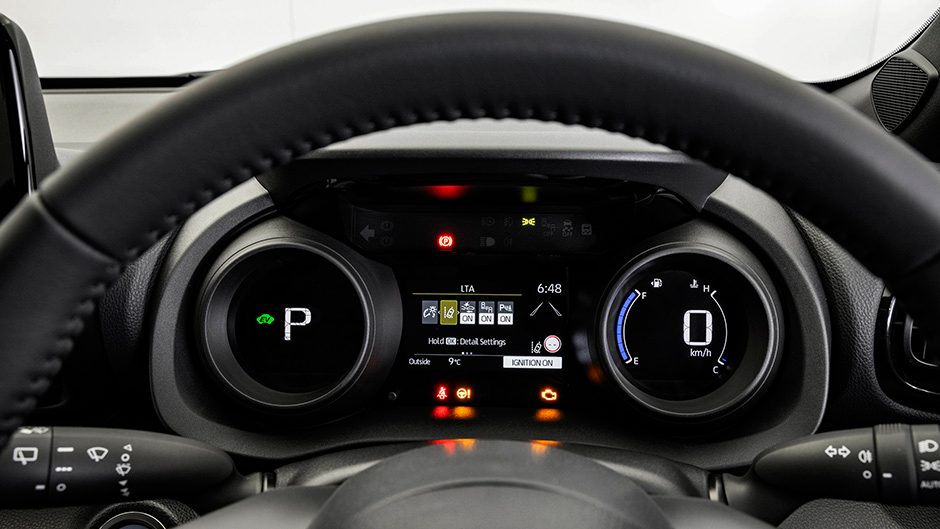 For just $200 more initial outlay, buyers could hop out of our tester and into a Corolla GX Hybrid. They could save a few grand and buy the somewhat eco-flawed (but still fun) $28,500 Swift Hybrid Limited. They could even put the Swift Sport hot hatch or premium-aligned Volkswagen Polo DSG R-Line on the table as possible alternatives.
But maybe that's the point — all of these suggestions are 'possible alternatives' at best. With exception to the Corolla, there's nothing else for this money that does electrified motoring to the same high standard as the Yaris Hybrid. It may be on the spendy side, but if you're after a fuel-frugal hybrid runabout it's going to be a long, long time before anything comes close to this.
| | |
| --- | --- |
| Model | Toyota Yaris ZR Hybrid |
| Price | $33,490 |
| Engine | 1490cc, IL3, EFI, 67kW/120Nm |
| Drivetrain | e-CVT, front-wheel drive |
| Fuel Use | 3.3L/100km |
| C02 Output | 76g/km |
| 0-100km/h | 9.65sec |
| Weight | 1086kg |