A people mover is never an easy sell in our market but Toyota is giving it a nudge with the new eight-seat Granvia. They reckon it has 'European inspired styling and premium comfort' and with a full range of safety features, it's all you need to 'move people in style'.
During our test period, a question we fielded often was 'who would buy this thing?" And we're still a bit unsure on that.
The kids loved it, always pestering us to go for a ride. They liked having their own seat in the back, and the novelty of the powered sliding doors didn't seem to wear out, though the motors almost did. Mum didn't like Granvia one bit however, too big and too van-like, she reckoned. And it is a van, being the civilian version of the Hiace.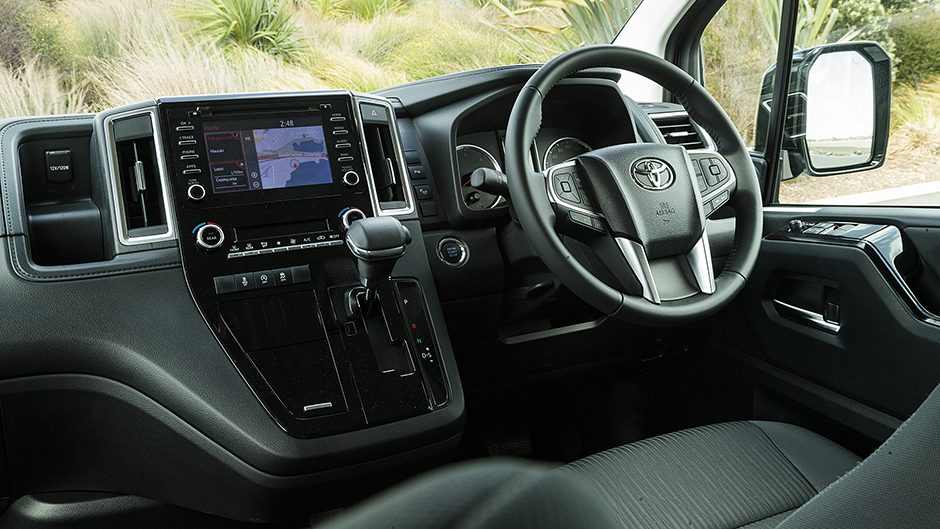 Toyota reckons it will 'appeal to high-end family, hospitality, and corporate buyers'. Guess that rules our family out then, though you'd think 'high-end families' with a penchant to cruise in a van would likely find themselves in a Mercedes-Benz V-Class or a VW Multivan. Or an import Vellfire which your Signature Class dealer will happily sell you. But those can top $90k, while the Granvia, at $67,990 on the road,
As mentioned, this is Hiace-based but is glammed up with painted bumpers both ends, a big shiny grille, and plenty of chrome garnishings. It uses the firm's 130kW/450Nm 2.8-litre diesel mated to a six-speed auto. The rear end differs to that of the trade-spec Hiace with a four-link coil sprung set-up for added ride comfort while the addition of front and rear stabiliser bars improve its behaviour in the bends.
The cabin has been treated to some piano black on the dash, a few soft touch surfaces and the high grade ventilation controls and infotainment system disguise its Hiace origins well. Its leather-clad steering wheel homes the buttons for the safety systems, the Granvia coming with all of Toyota's crash-mitigating tech, helping it achieve a five-star ANCAP rating. Nine airbags including front and rear curtain shield airbags also contribute. Other items include front and rear climate air controls, a smart key, rear ambient lighting and six USB charging ports.
This is a big vehicle, long and wide but its van origins lend it a good turning circle. Its width means it is a squeeze in tight car parks, but the powered sliders make unloading occupants easier, though the accompanying warning chimes are excessive. The big tailgate isn't garage friendly, requiring plenty of room to open and some muscle to close.
Its command-type driving position offers good vision, and though the mirrors could be bigger, there is blind spot monitoring and a decent wide-angle reversing camera, the image clear on the dash display. It also has a digital rear view monitor should you find your Granvia packed with bodies obstructing the conventional mirror.
The diesel and auto work harmoniously here. There's only a dash of lag off the bottom end, but otherwise the well stacked ratios keep the torque tapped, making for perfectly adequate progress considering the Granvia scales up at over 2500kg. This hurts economy; we averaged 11.3L/100km, with a lot of easy motorway miles in the mix, where Toyota claims 8.0L/100km. The boxy dimensions can't help.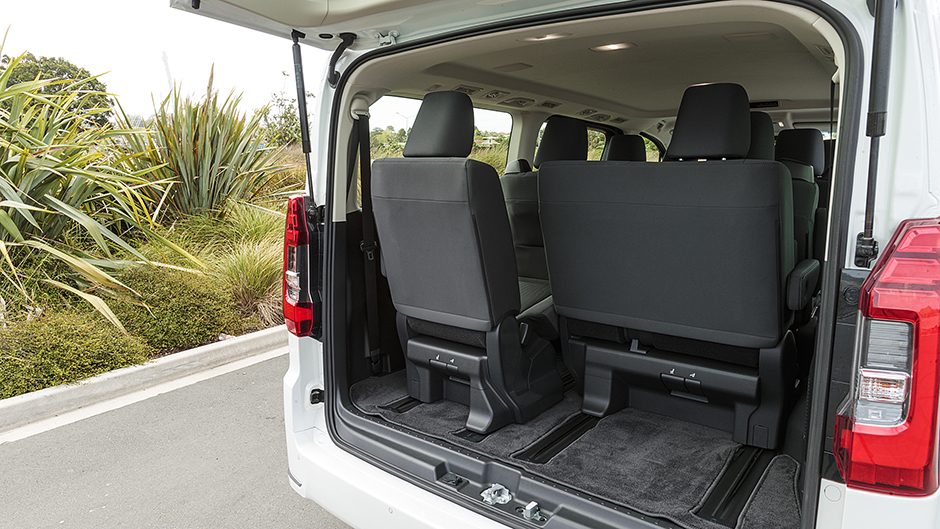 Granvia rides well, and isn't too noisy either. You can hear the oiler, but it's not harsh or rattly. The active cruise is only operative above 40km/h, so is no help in traffic queues. There is an active lane departure system with brake intervention which, while gentle in operation, is pretty pedantic, though easily neutered thanks to Toyota placing all of the driver aid buttons on the wheel.
The Granvia feels stable on the go and well planted at both ends. The steering is responsive considering its van underpinnings, and the front end doesn't disappear in a flurry of tyre screeching understeer through every corner. It's surprisingly competent this. Granvia soaks up the bumps and with considered roll control, those onboard won't find themselves thrown around in their seats.
Guess we better mention those rear seats then. The four individual 'captain's chairs' are right comfy, with adjustable armrests and a decent recline. They all slide individually, and there's enough leg room, while not copious, to seat four adults comfortably. The rear bench isn't so plush, and when in use, there is no luggage space remaining. However, this is designed with a flip up seat base (via a lever accessed in the boot area) so you can then slide it forward, creating some room for bags and such. The bench is also split 60/40 so you can have one person sat in the back, with space left over for luggage. The boot is not huge, but you can stack stuff high if need be. However, the likes of a Kia Carnival have more luggage space, being the difference between a dedicated people mover and a van converted to one. And as such, we reckon that it's not so much a family vehicle, but one better suited for corporate duties perhaps.
| | | | |
| --- | --- | --- | --- |
| Model | Toyota Granvia 2.8D | Price | $67,990 |
| Engine | 2755c, IL4, TDI, 130kW/450Nm | Drivetrain | 6-speed auto, RWD |
| Fuel Use | 8.0L/100km | C02 Output | 211g/km |
| 0-100km/h | 13.56sec | Weight | 2661kg |