New Zealand's largest campervan operator tourism holdings limited (THL) is developing a lightweight campervan body mounted on the chassis rails of an all-electric ldv EV80 cab/chassis light truck.
It is part of a bigger project to offer travellers a more enjoyable holiday experience as well as uphold our nation's clean and green image.
The project's prototype Britz EV camper was first unveiled to the tourism sector in May at the TRENZ conference held in Dunedin which is New Zealand's biggest annual business to business travel and trade event attracting more than 1500 buyers from overseas.
Last year in June, THL chief executive Grant Webster told Newsroom journalist Rod Oram that the New Zealand-based tourism operator was serious about developing electric vehicle campervans for use locally as he believed they would change the customer experience.DUBBED
Ed Burak who manages research and design for THL says a camper van is just part of the total holiday experience which the company is seeking to create for its discerning customers.
"It is our intention to curate an itinerary for future electric vehicles in the camper fleet to negate any range anxiety but still allow people to see the real New Zealand," says Burak.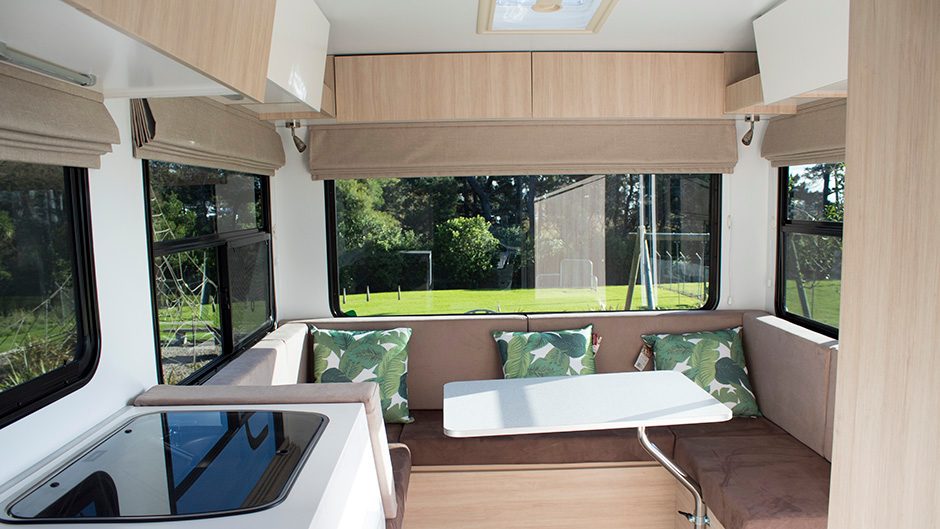 He says that forming a partnership with Holiday Parks New Zealand is key to developing an infrastructure for EV campers as well as a set of itineraries accessed through an in vehicle tablet navigation system.
"We are trying to identify all the barriers to using an electric vehicle as a camper van and provide a solution," says Burak.
"We will be installing specialised higher kilowatt AC chargers at designated EV sites at the holiday parks, enabling faster smart EV charging, and allowing the current 15 amp commando plugs to continue to power the 'house' simultaneously," he says.
THL supplier LDV New Zealand provided an early EV80 pre-production vehicle for the EV camper R & D project, which is now a working prototype vehicle constructed in Auckland by Action Manufacturing at its specialist North Harbour facility.
To maintain the lightest tare weight possible for the Britz EV Camper, the designers and engineers at Action Manufacturing used as many composite and lightweight materials in the construction of the camper body as well as the interior.
Dubbed "the Dreamliner of RVs" due to the extensive use of composite materials the Britz EV is a fully functional campervan which can accommodate two people comfortably overnight, with a self contained shower and cassette toilet on board.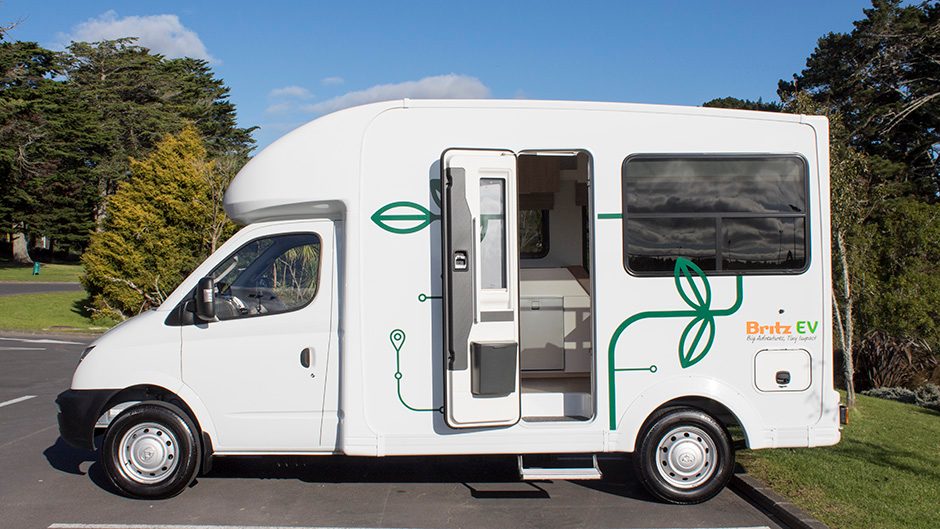 Weight was saved by installing electric rather than gas appliances inside the camper, negating the need for a heavy gas bottle, and all the cupboard and drawers are made from lightweight but durable composite materials.
NZ Autocar had a very short drive in the Britz EV around the North Harbour Industrial estate from the factory to Rosedale Park for a photoshoot, but our first impressions of the vehicle was that it certainly lived up to the "magic carpet" drive quality desired by THL's chief executive Grant Webster.
Action Manufacturing says it has managed to keep the weight of the prototype Britz EV camper on par with the steel-bodied LDV EV80 van, and while the leisure vehicle is wider than the delivery vehicle, it feels no different in its ride quality, engine response or handling.
Sitting behind the wheel, the Britz EV camper is eerily quiet with only a slight hum coming from the electric motor, because most of the noise heard while driving is created by the tyres on the road and the wind noise around the body.
While the Britz EV camper is on par with a small light-duty truck in terms of dimensions, it is very easy to manoeuvre around car parks and we had no trouble fitting into a parking space in Rosedale park, thanks to the excellent all round visibility from the elevated cab and large side mirrors.
It's another step in the electrification of the New Zealand commercial fleet, and one which if successfully implemented should uphold our 100% clean and green image to the international tourism markets.