In the cruiser world displacement rules. BMW Motorrad tried a 1200cc cruiser once and it didn't fire. So the counterpunch is an 1800cc boxer twin with an R rating.
As if to commemorate the fact that BMW Motorrad has been producing boxer twins for 100 years, the company has decided to go for the cruiser jugular, designing a "Big Boxer" 1800cc twin engine. This absolute monster of a mill powers a new cruiser that rekindles memories of the original R boxer twins from the early Motorrad days. We rode the First Edition model, as seen here, with pinstriping around the tank and rear guard, and chromed reservoirs. There's also a tourer variant (the Classic) with panniers and a screen. Both will set you back $43,990. Mind you, they come well loaded with cruise control, heated grips, three ride modes, hill start control, ABS and TC, and lockable fuel filler cap. There's even a reverse gear, and plenty of customisation options.
If you're a fan of displacement and cruisers the R 18 should fulfill both nicely. Each cylinder is over 900cc, and they sure do protrude from the superstructure that supports them cantilever style. The engine measures 860mm from one side to the other and the bike itself is 2.6m in length. If you're into lane splitting, this is probably not the ideal machine for you; perhaps something more diminutive like an R 1250 GS would be the ticket.
The big boxer takes on Harley-Davidson's Milwaukee Eight and Indian's Thunderstroke big displacement V-twins. The new powerplant was unveiled before the bike itself. After all, what is a bike without an engine? Just a collection of metal and plastic, going nowhere.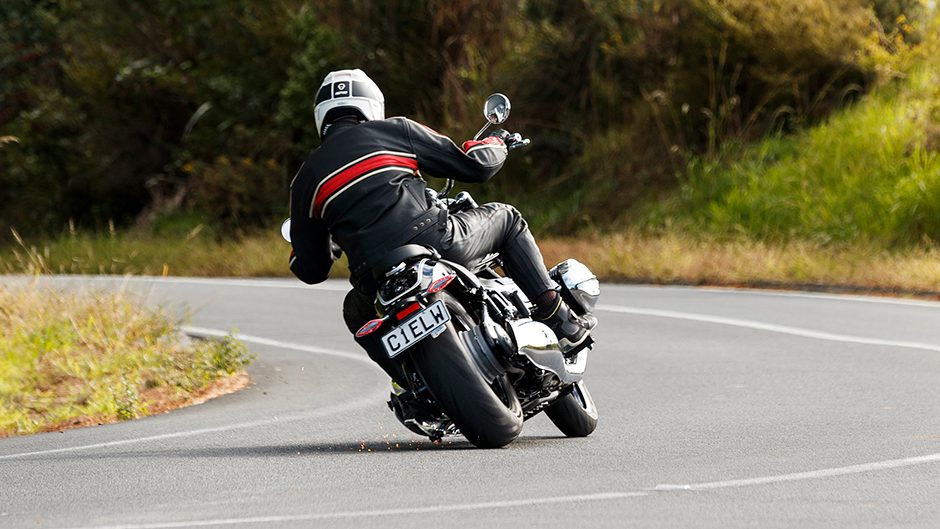 The Big Boxer is the largest horizontally opposed twin ever conceived for use in a motorcycle. It was clearly designed with cruiser-type motorcycles in mind, given its 67kW power output (at 4750rpm) is overshadowed by its enormous 158Nm torque figure, produced at an easy 3000rpm. Over 150Nm is on tap from 2000-4000rpm, handy as 100 in top is 2400rpm odd. At these revs it feels unstoppable, so if you've chainsawed some pines and need those stumps removed and the guy with the grinder is otherwise occupied, this is the bike for the job.
The R 18 is a retro-style cruiser, resembling the seminal R 17 of the mid-1930s. All the cues are present, like spoked wheels, fishtail exhausts, fat tyres, enclosed forks, peanut shaped tank, black and chrome finish, a low seat, and slightly forward mounted pegs with pull-back bars. It has a rear end that looks rigid, but features a hidden monoshock. Most definitely not concealed is a beautiful exposed driveshaft, the universal joint and shaft spinning for all the world to behold.
It's stripped of all superfluous guff, so it has just a single instrument and no petrol gauge. A warning light suggests you head to the nearest servo, or you'll be pushing 350kg of R 18 there. Despite the pared back look, it's not without modern safety features, like TC, linked ABS, three engine modes (amusingly Rock, Roll and Rain) and electronic by-wire throttle.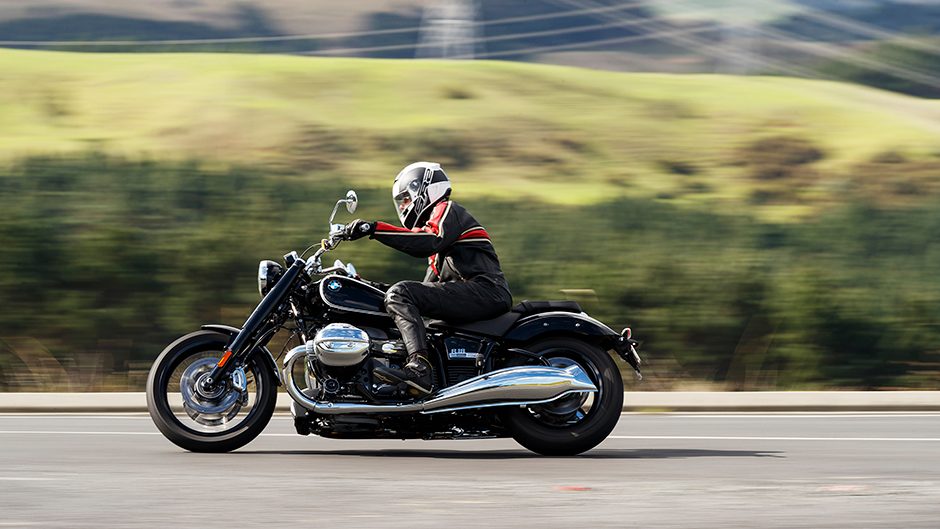 This is what you might describe as a bit intimidating first off, our initial ride demanding the Rain setting. The start-up process is a giggle, as the whole bike lurches to the left if you're not prepared for the torque hit when the Big Boxer fires into life. This big left shift is something our government would probably admire. But I discovered a little trick to prevent this; simply start the machine in neutral when it's leaned on the side stand. No embarrassing loss of balance then.
It's not green but it is a hulk this machine, big enough to warrant fitting a reverse gear. This you engage by activating a lever down low on the left side, and then hitting the 'start' button, with the engine running. This actually initiates another electric motor that extricates you from embarrassing parking situations.
I don't recall ever taking so much care riding a new tester home as with this one, the rain, tall gearing and inordinate length not conducive to an easy ride in the wet. Clearly, the inner city is not its natural stomping ground. Next day, in the sun, the R 18 was nothing quite as X-rated as it had been previously. Even feet-up turnarounds aren't too big of a deal, though you need some road width to make it round in one swing. Compared with other sizable cruisers it's easy to assume the vertical, though the kickstand is a bit of a stretch.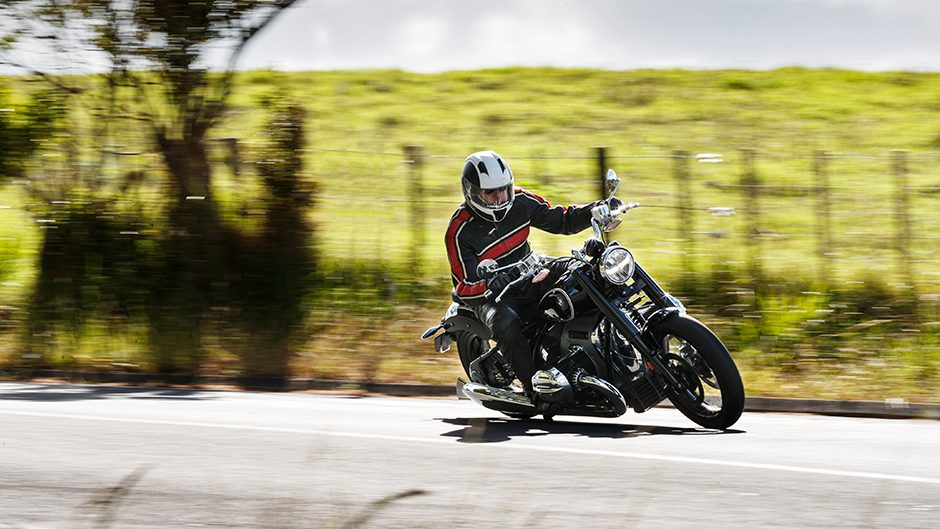 Cruisers are seldom quick off the mark, but up against similarly sized and priced competition – we're talking Harley's Road King/Glide and Indian Chief Vintage – this is faster by about a second using our performance criteria. The BMW is lighter by around 40kg, which no doubt makes the difference.
After selecting Rock and switching out TC, it takes about 4.5sec to hit 100, while the overtake is dusted in 3sec. There's a noticeable difference in response between modes; the engine feels much perkier in Rock than Rain. It upshifts cleanly too, better at lower revs, with a preloaded lever.
Just looking at the brakes you might think these are a bit underdone, but they're not. Full ABS brake stops from 100km/h resulted in disappointing distances, most over 45m. The linked brakes seemed to be upsetting the ABS, so we tried with just the front brake (which activates both ends) and achieved a best of 39.3m which was as good as it got.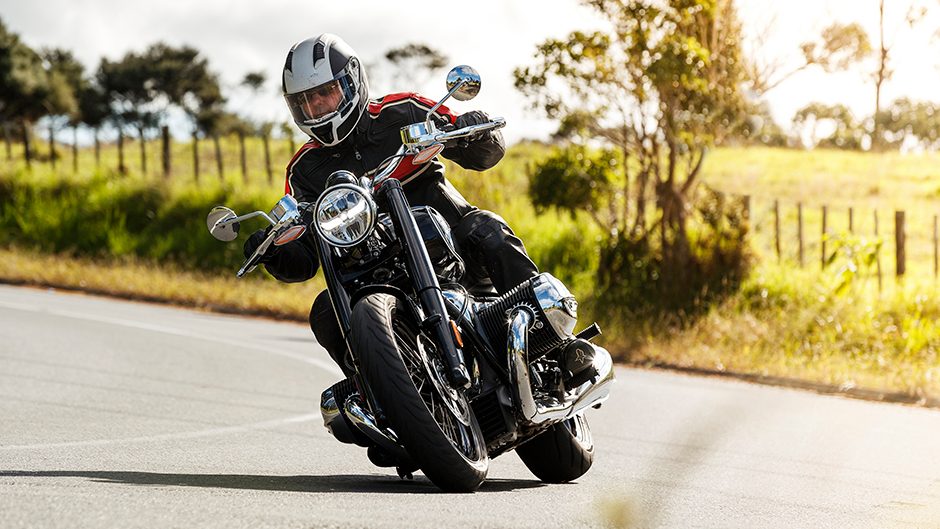 Cruisers are aptly named of course, and this one is just creamy smooth and easy going at the open road limit, an indicated 100 actually being 94km/h. Given how enormously under-stressed this engine is, you can cruise at pretty much any speed you want within reason, but around 105-110km/h feels like the sweet spot. Being tall geared it's turning over just 2400rpm at this rate and instantaneous fuel use is a bit above 4L/100km. Ridden with a bit of verve expect around mid-fives, not too bad for a biggun.
A thing of beauty this isn't, though it's quite some feat of engineering. Proudly "Berlin Built" it says on the speedo which is rubber mounted and wobbles around at times. Some found the styling strange, until I informed them it harks back to a bike from the 1930s. Then it made more sense. Those fishtail exhausts look mean, and the look of the enclosed forks is like a period recreation.
On flowing roads where you'll take the big boxer it's really quite something. The enthusiasm with which it leans and changes direction is mind blowing for such a bulky machine. Being long and low, it runs into ground clearance issues, as cruisers do, the footpegs scraping. The seat and rear suspension are both a touch firm but it's not a back wrecker like some in this genre, and the riding position is relatively neutral. There are myriad seat options too.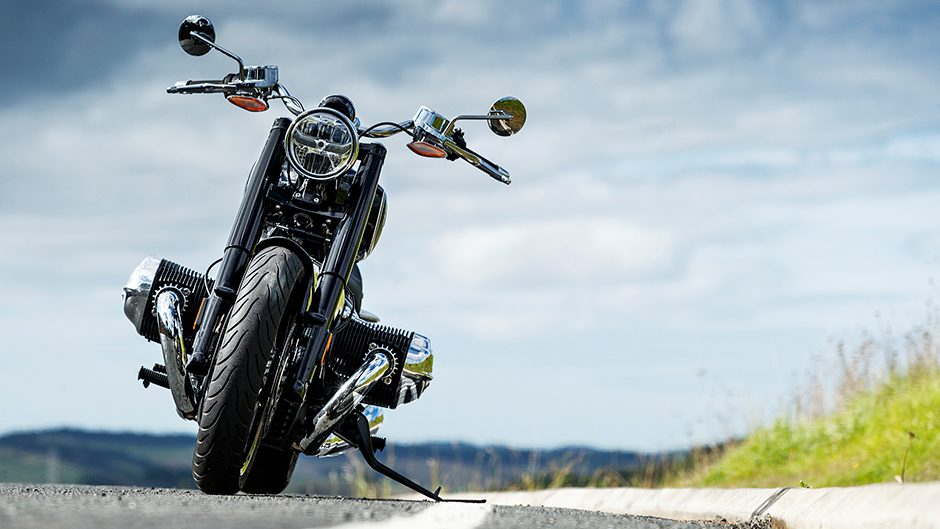 BMW's R 18 is really an epic machine, well worthy of considering if you're up for a high-end cruiser. Personally, for roughly half the price, I'd choose the lighter, easier-to-manhandle R nineT, but none of them is a cruiser.
If you simply must have the biggest boxer ever built, admire the retro styling and are over American iron, this nicely balanced monster from Motorrad might well fit the bill. Just be aware of that start-up surprise.
| | |
| --- | --- |
| Model | BMW R 18 |
| Price | $43,990 |
| Engine | 1802cc, air/oil-cooled, fuel injected, flat-twin, 67kW / 158Nm |
| Drivetrain | 6-speed, shaft drive |
| 0-100km/h | 4.46sec |
| 80-120km/h | 2.97sec |
| Weight | 362kg |