As one man's horde of Holdens grew too numerous to keep track of, he built himself a shed to house New Zealand's largest collection of steel lions. We journey to the 'Naki to check it out.
While there are more than a few sheds around the country filled with automotive treasures, few would rival Steve and Joy Fabish's new Holden shrine in Taranaki. Just ten minutes drive from New Plymouth is the recently opened Hillsborough Holden Museum, a lavish barn crammed full of one man's devotion to the Lion brand. Inside the new shed there are more than 30 Holdens from various decades with all manner of sedans, utes, coupes and wagons on display, most with a bent eight in them. It's over 1000 square metres of Holden heaven.
The collection belongs to Steve Fabish, who you might say is a Holden man through and through. His first GMH was a 1972 HQ ute, purchased when he was 18. Now 62, the Taranaki Holden stalwart does admit to owning a few Fords over the years but says he has belonged to the Lion exclusively for the past two decades. What does he like about Holdens? Everything really; the way they go, sound and look, while a few trips to Bathurst in the Brock era helped nurture his love. Of course he has a particular fondness for the ones with eight cylinders and he makes sure they always sound right with a few exhaust mods.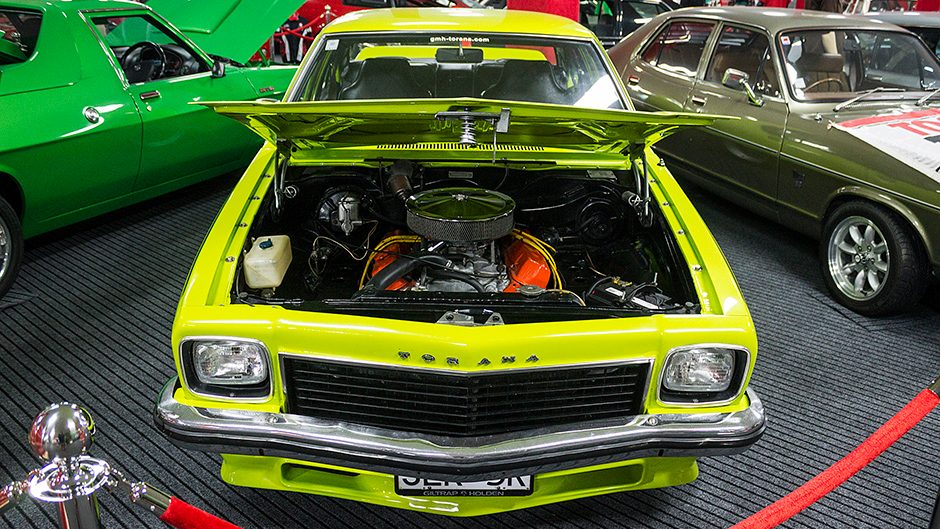 While he's bought and sold a few Holdens over the years, he hasn't parted with any in the past couple of decades. It was in the mid-to-late nineties that he undertook a full restoration of a 1977 HX GTS Monaro four-door, and it's this car that started the collection rolling. Steve is a builder by trade, a fairly successful one if the collection of cars is anything to go by, but he's also mechanically minded, a skill he acquired from his father who was a mechanic. So Steve has had a hand in a lot of the restored projects that are on show.
When we visited as part of the drive route on the Holden Equinox launch there were 38 cars on display, 30 of those owned by Fabish, with the remaining eight being loaners. He says he's probably owned a further 10 Holdens in his time. As the collection grew, finding places to store them became a problem; just where do you park 30 cars?
It was the theft of one, a blue VZ Thunder ute, that provided the impetus for the construction of the shed to house them all safely in one place. Thankfully Fabish's Thunder was recovered and the plans were hatched to build the mother-of-all Holden sheds as a means to preserve and display his collection, recognised as New Zealand's largest.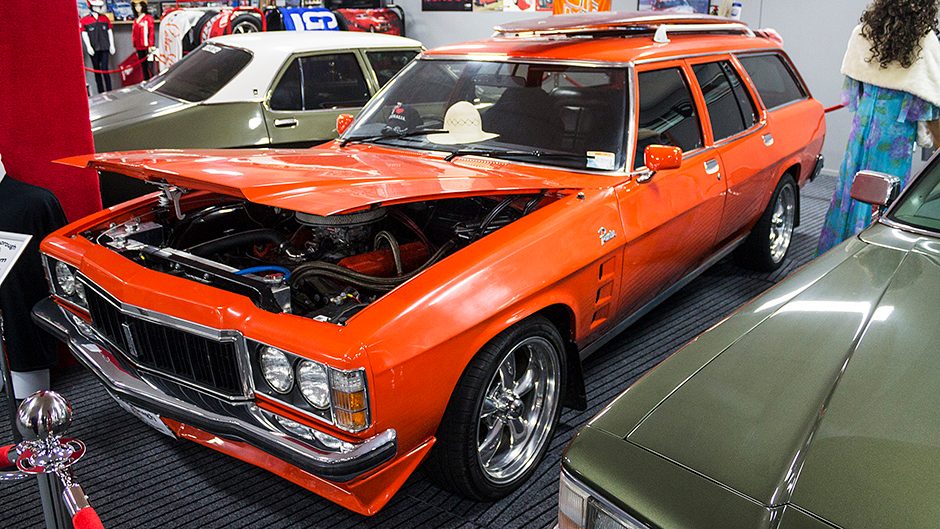 It's a mix of early cars the type you don't see too often now, a few modified vehicles, a host of new machines and a few you're still likely to come across in the pub car park. All are well presented. The Thunder was a bit special in its day, one of the first Commodores with a 6.0-litre engine. Its Gen IV small block, designated the L98, differed from the garden variety L76 with a higher compression ratio, unique camshaft and high performance lifters to increase power to 270kW with 530Nm of torque.
Another special hay hauler on display is the HSV GTS Maloo, one of just ten in the country, and an example that's hardly been driven, with only 30km on the clock. Fabish says he really likes the later model Commodores, even though he doesn't drive the ones he has in the collection. A black Motorsport Edition takes pride of place in the big shed and it remains unregistered. These represent the end of the line of the great Australian-made Holdens and Fabish is happy to preserve them in as-new state for years to come. He also has one of the Magnum utes, although that particular example has had a few kays put on it, including a few hard and fast ones by yours truly as it was the Holden press vehicle prior to Fabish owning it. We thought it best not to tell him about that.
The oldest car in the collection is a 1948 48-215, or the FX as they became known. Fabish says it's the oldest registered Holden in New Zealand. The Holden 48-215 was introduced in November 1948 and was made through to 1953. It was known primarily as 'the Holden' as they only made one model back then, though the 50-2106, or the Holden Coupe Utility came along in 1951. The 48-215 was later referred to as the FX by Holden salesmen, and the name stuck. It was the first car to be mass produced in Australia, and though it was a bare-bones offering with no carpets, arm rests or even turn signals it proved popular as its relatively lightweight unibody construction and torquey engine made it quick in the day, while it was also durable in Australia's harsh conditions.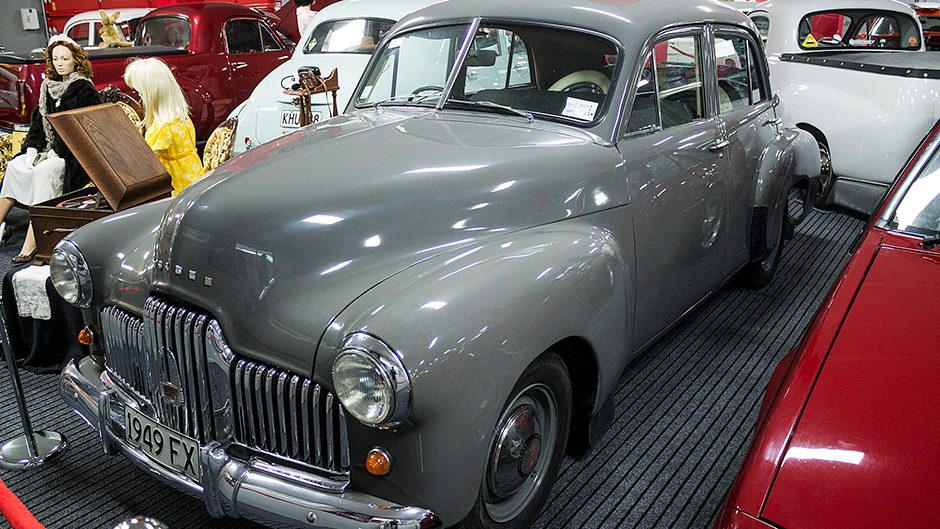 Powered by a 45kW, 2.15-litre inline six, it was dubbed the 'grey engine' due to the colour of its block. But the FX could top out at 130km/h, took all of 18 sec to attain 100km/h and could return around 9L/100km on average. Holden made over 120,000 of them and 'Humpy' laid the foundation for generations of Aussies and Kiwis to pledge allegiance to the Lion and the Stone.
As an aside, the badge, originally designed in 1928, is a representation of the fable where a lion was observed rolling a stone and led to the invention of the wheel. Fabish's favourite Holden is one that he's poured a decent amount of time and money into, crafting something special. It's a 1980 HZ ute that started life as a tow car for his HX Monaro. With the HX resto completed, Fabish had a bit of time on his hands so turned his attention to building his ultimate Holden ute. Using parts from a wrecked VY Crewman he repowered the HX with the 5.7-litre LS1, adding a few new internals and a big blower to allow it to crank out 500 horses.
It has a four-wheel disc conversion complete with the VY's ABS system added to the old girl, which is a bit of a feat in itself. But that's not all as he managed to reskin the interior with the VY components which no doubt caused a few headaches getting the newer bits to fit the narrower cabin of the HZ. Topping the build is a custom hard tonneau cover that is inspired by that on the E series Maloo. It took over three years to build 'Kermat' and after a successful show career 'where it won everything' Fabish has now retired it to the shed.
Fabish says the whole venture is a dream come true, something he's been wanting to do for quite some time and he gets a thrill out of being able to share it all with the public. While just about every square inch of usable space is accounted for in the shed, Fabish reckons he could make room for a Sandman and still longs for an HT Monaro.
Though much hard work has gone into it so far, the Fabish's are not done yet with plans to extend the shed to include a 200-seat restaurant with a view to making the venue the ultimate place for Holden fans to get hitched. There's even a stretched VN Calais limo in the workshop that they intend to fix up and offer for wedding occasions. We can envision the limo providing a nice smoky backdrop for the perfect bridal party photo. For some reason car collections in this country need to be accompanied by mannequins dressed in period clothing and this is a feature here too, some attired in more appropriate HSV and HDT apparel.
There's also the obligatory petrol pumps, point of sales material, posters and signage. And of course a big collection of Brock memorabilia on loan from the family of David Littlejohn, a friend of Brock's. Most of the items have Brock's signature scrawled across them. One of the more interesting wall adornments is the exhaust pipes from a Holden Crewman, Fabish's previous daily driver before it was repainted and put to rest in the collection. His current 'work hack' is a 2012 HSV Maloo.
Wonder if he'll replace it with a new Colorado SportsCat by HSV? And what shed would be complete without a large bar area set up in the corner with a few leaners and a big screen for friends and family to watch the great race.
The Hillsborough Holden museum is located on a six-hectare property on Egmont Road which also includes a uniquely Bathurst-themed 18-hole mini-golf course, some of the holes named after the turns of the Mount Panorama circuit.
Also on site is the Hillsborough Hideaway, a B&B if you want to spend a bit more time in the area. Entry to the collection is $15 and it's open weekends and public holidays.