Suzuki's Vitara jets to the pointy end of the small SUV pack thanks to a new 1.4 turbo engine, aptly named the 'Boosterjet'.
As the small SUV area continues to expand, up 28 per cent last year, Suzuki is set to gain an increased market share with Vitara Turbo. Well, it should if there's any justice in the world. Two versions are available, a front driver for $34k which features here, and a 4WD variant for an extra $4000. We've not checked out the latter but given how awesome the 2WD model is we'd suggest pocketing the savings. And we reckon it might give the similarly priced market darling CX-3 a scare. For it has a grand mix of design and drive delights, mixing decent performance with surprising economy, exacting handling with accommodating comfort. Plus there's better interior space than the Mazda can offer. All in all, given price, a thoroughly decent thing.
Suzuki, like most, has its hits. Swift continues to sell well here, and the Swift Sport is a bang for buck benchmark. Hopefully one day it inherits Vitara Turbo's "Boosterjet" engine. The reason the top Vitara surprises on so many fronts is its surprising lack of weight – it's 100kg less than the equivalent CX-3. It scaled up at just 1163kg brimmed, yet doesn't feel flimsy or insubstantial as a result. It's packing heat too. Under the blood-red bonnet nestles a D.I 1.4-litre turbo, and it's a wee ripper.Reminds of the Trax right? For engine type and capacity maybe but that vehicle weighs over 1400kg.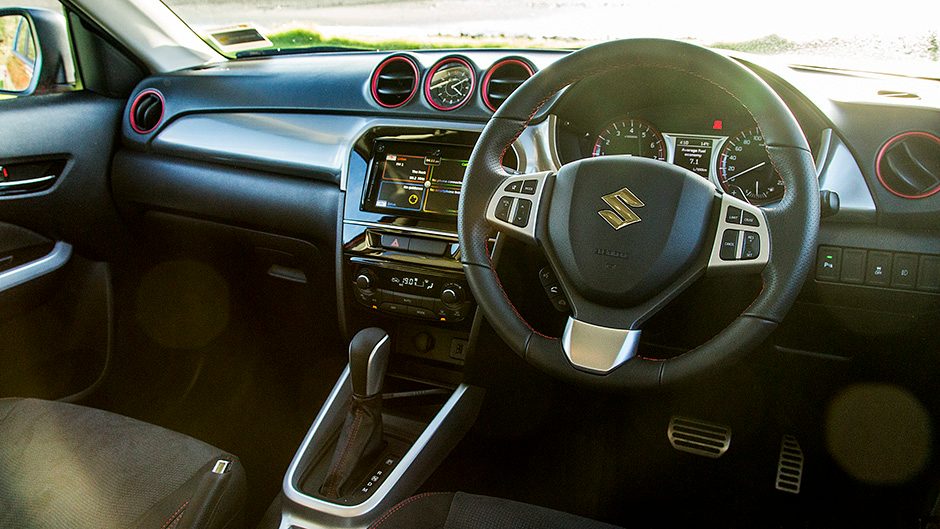 Anyhow, this 1.4T is the real deal. Its turbo is attached to the cylinder head with the exhaust manifold incorporated in the same casting, resulting in minimal lag. On the case as soon as 1500rpm has registered, peak torque of 220Nm (up 41 per cent on the 1.6) is said to be on tap from there until 4000rpm, and while best performance demands the full allotment of 6000rpm, Vitara goes like a good thing from 3000-4500rpm. It aced our reference hill climb road with entirely adequate go-power and acceleration up the ascent, hanging on for grim death on a partly wet track, making it quite a delight to punt. Yet only once after serious provocation did fuel use climb into double figures. It's rated at 5.9L/100km overall, can easily march along on cruise control in the fours at highway speeds and is quiet on the go, despite running 215/55R17s. The six-speed auto works well too, meaning little need to get paddling.
Suzuki rates 0-100 performance laughably at 9.5sec. With persistence, a best run of 7.9sec popped up. One can only surmise the Suzuki test drivers do performance runs in pairs, into a head wind and throw in some luggage for bad measure.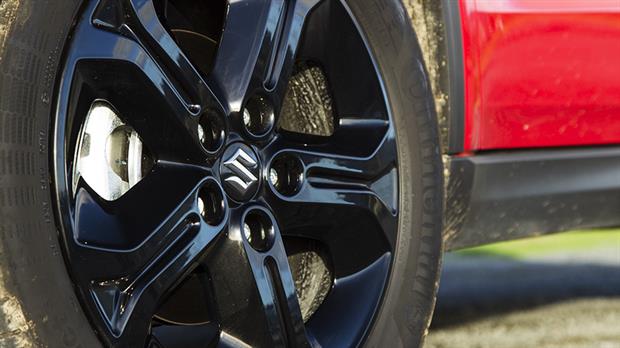 There's some torque steer but only a hint, and not enough to detract from the drive. It's surprising how well this sticks, though of late Suzuki chassis have been a bit good, even the diminutive Celerio. This is likewise a talent, thanks in part to a firmer spring and damper settings than on standard Vitara. Despite its slightly high-riding status – which makes for brilliant ease of exit and entry – it delivers nuanced dynamics, resisting understeer longer than you'd reasonably expect, and with electric steering that's nicely weighted and without the usual artificiality of such devices. Being a lightweight it's all-disc braking complement fares well too.
Okay, so not too many really care about cornering capers in this class of car. But rest assured Vitara Turbo's goodness does not end there. Unlike some of the other subcompact offerings, passengers aren't subjected to sardine packaging, there being quite reasonable stretch space, knee room particularly not in short supply. Suzuki doesn't really mention luggage capacity in the press release, presumably because there's not a whole lot there. We went digging and found a figure of 375L before split folding, up slightly on the CX-3's 350L. It's enough for a modest supermarket spend. They're called small SUVs for good reason.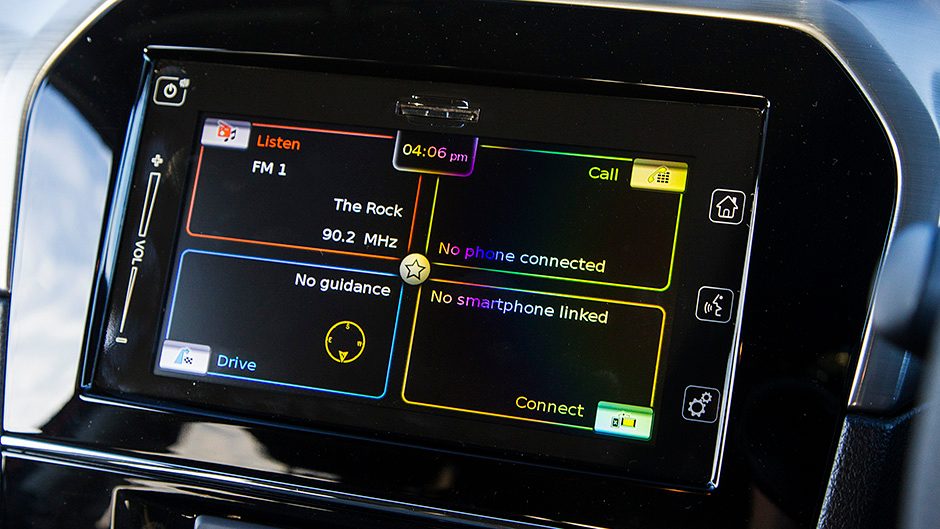 Subtly different design elements distinguish this from commoner Vitaras, the mirror caps, special grille and body colours being external cues, while red highlights inside (about the instruments and air vents) along with leather and suede upholstery mark out the interior. We really liked the black and red Crusaders colour scheme on our vehicle, so figure the 4wd version of this will be popular in the Garden City. Spec levels are competitive too including seven airbags, a reversing camera with sonar each end, LED headlights and DRLs, sat nav, comfort entry, climate air and cruise control. There's Apple CarPlay and a five-star ANCAP crash test result as well.
About the only aspects I didn't much like were the fiddly volume control though there's a remote device on the wheel so no biggie, and a few too many hard plastics. None of the oddments bins are lined either. Vitara Turbo is a genuine surprise package. If you're considering a subcompact SUV in the early 30s, we'd suggest starting here.
| | | | |
| --- | --- | --- | --- |
| Model | Suzuki Vitara Turbo 2wd | Price | $33,990 |
| Engine | 1373cc, IL4, DI, 103kW/220Nm | Drivetrain | 6-speed auto, front-wheel drive |
| Fuel Use | 5.9L/100km | C02 Output | 138g/km |
| 0-100km/h | 7.86sec | Weight | 1163kg |