Is this one of the best buys in the ADV sector? We're convinced that bang for buck in the dual purpose area doesn't get much better.
Sometimes a machine can seem cheap on first glance but with time your impression can change and its price simply represents unreal value. That's how it is with Suzuki's V-Strom 650A or the DL650 as it's sometimes known. This is long of tooth, sure, the engine and frame dating back to around the turn of the millennium. But why change what worked then and works just as well now? All Suzuki has done is minor tweaks along the way, beefing up the midrange, sorting the suspension, and the odd styling update, though it's still not the world's cutest ADV. That said, the original was fairly dire to behold.
But by keeping development costs contained, they've been able to sell the bike at a price that almost doesn't seem right. You can pay almost double the DL650's $11,999 (temporary) asking price for a similar sized twin-cylinder bike from other brands. And will you be getting something that's twice as good? We'd bet not.
For over time they really have sorted this bike into something much less than ordinary. Given how little it costs, we'd say there's nothing much amiss with this. If ever you wanted an inexpensive ADV that can handle all-day riding, one or two up, and is just ideal for that round New Zealand summer jaunt, you might just be looking at it. And if it's reliability you're after this is sorted in that bulletproof way.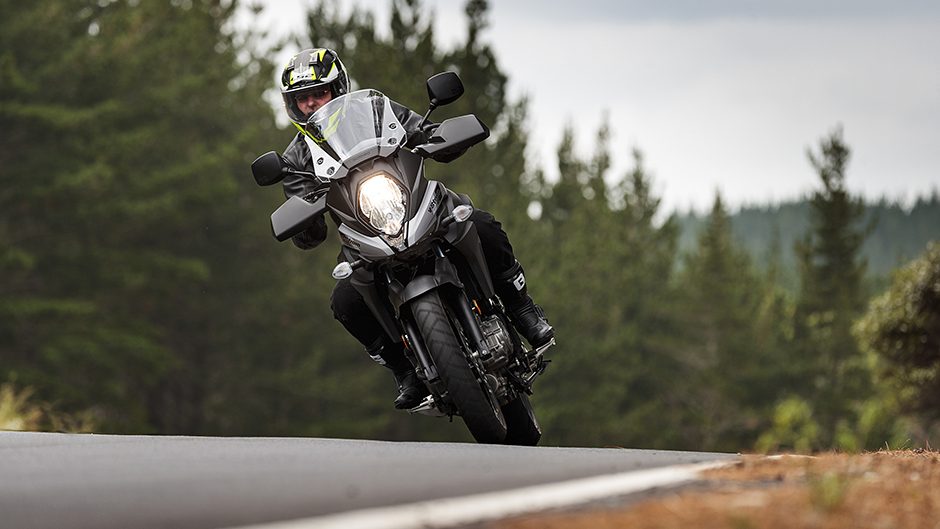 For 2019 there haven't been a lot of changes to the V-Strom/DL650. Odd name; perhaps they might think about changing that in future. Evidently the Strom is German for stream or current, the relevance of which escapes us, though this does flow down the road well.
But then the name of the SV650 upon which it's based doesn't engender much in the way of imagery either. The SV has been a staple in local racing, the engine capable of developing much more power than its 53kW at 8000rpm, and 62Nm at 6500rpm. And the aluminium twin spar frame has imbued it with rather decent dynamics, such that it has always been the one to beat in the ProTwin series.
For 2019 the liquid-cooled 645cc 90-degree V-twin engine is more or less unchanged – there's some extra low and midrange torque evidently. It delivers enough midrange urge that you're never really tempted to rev it to the 10,000 redline, unless you're on a multivehicle overtaking mission. This isn't a LAMS bike, but Suzuki will evidently have a DL650 LAMS offering in 2020.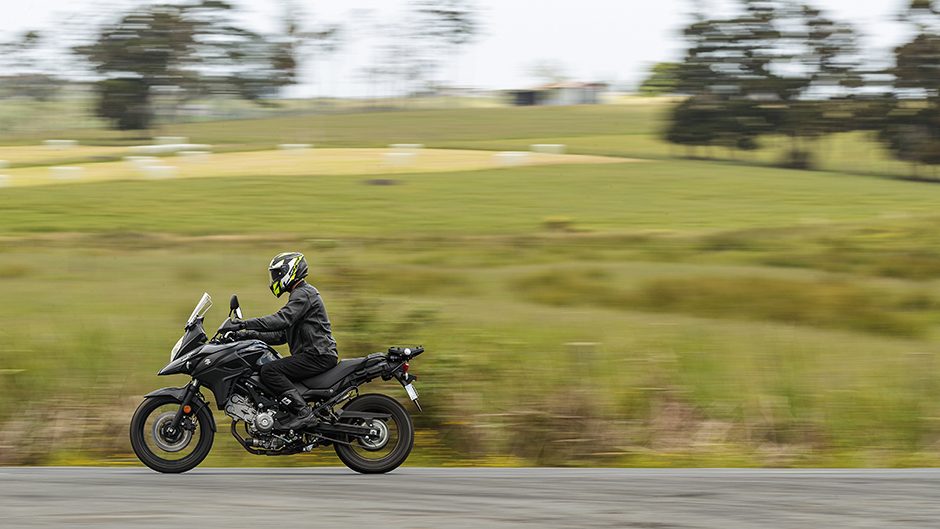 As it is, the engine is already set up for learner riders, or perhaps those returning to riding. For like most other Suzukis it has a low-rev assist feature that helps get you underway in first gear without stalling. Likewise, there's also the easy-start function, wherein you merely thumb the starter momentarily and the software does the rest. Keeping the revs between about 4000 and 5500rpm before an upshift quickly has you at 100km/h, and in town or while warming it up you can select a higher gear before 3000rpm and it isn't fussed.
This is really the most easy-going engine, and that extends to fuel use as well. The EU 4-ready mill consumes about 4.5L/100km when pushed, but under 4.0 when just tootling and that's no doubt what you'll be doing most of the time. The bodywork is partly responsible for its abstemious nature. A mini-fairing up front is adjustable, though you need an Allen key and a few moments to change things, but there are three presets available. On the top setting, as it is here, there's a bit of buffeting on windy days, but we'd rather this than no weather protection. Cruising at an indicated 100km/h, you often look down and find yourself doing 110. That's still almost legal, given 100 shown is a true 94.5km/h. At open road cruising speed the engine feels utterly relaxed on 4500rpm, a round 5000 equating to 110 indicated. At both speeds, there's little to no tingling in bars, pegs or mirrors. The latter, by the by, are akin to those on an SUV; they're bigger than the norm and give a great view of what's coming up from behind.
We had a ball riding this, even checking out bits of a motocross track, though you do sense its 213kg of wet weight in such conditions. The tyres are street-oriented too, so best to stick to formed roads. Moreover, its riding position isn't ideal for stand-up riding. In gravel its 19-inch front wheel helps to keep you trucking along safely though.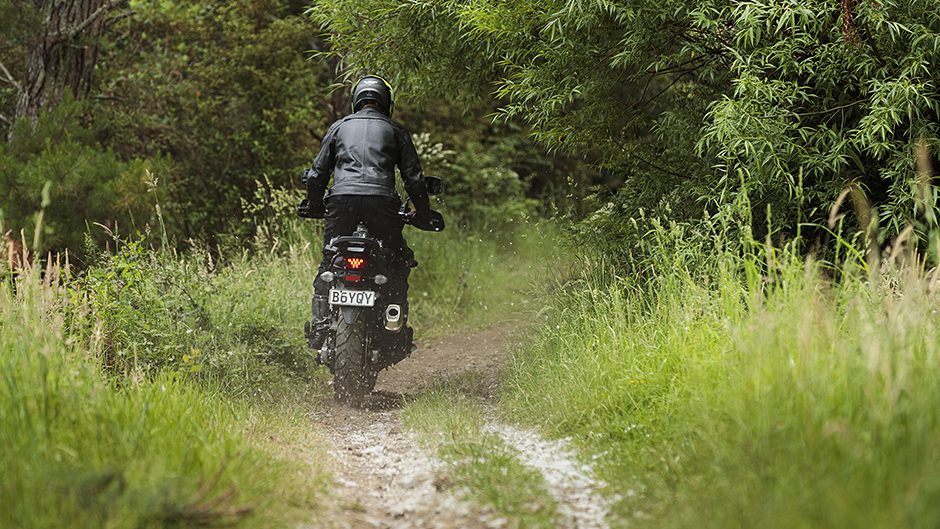 Back on the seal is where this shines. It has a riding position akin to the SV's so is fairly neutral. It isn't even that tall for a dual-purpose bike so swinging a leg over is no great ordeal. Suzuki claims its 'comfort' seat is okay for all-day riding but after half a day we'd question that claim. Still, for most commutes and weekend jaunts, this lasts the distance fine. So does the 20L tank, good for around 450km if you don't go crazy with the throttle.
Good luck with that though; this really is a sweet handling bike, and the standard Bridgestone Battlax Adventure rubber suits it extremely well. At least in the dry; we didn't encounter wet conditions, unless you include molten tar. That may in part explain its best emergency stop from 100 of 43.2m; the ABS seemed to be confused by the conditions, causing the front wheel to bunny hop on full application. Whatever, the twin discs do an effective job, without requiring undue lever effort, which was a criticism of earlier models. And the rear does a good job on its own too, aided by a rearward weight bias.
Brakes need to work well because this runs 0-100 in under 4.0sec (just), with an overtake dusted in 2.7sec. But like we said, it's the midrange you end up using most of the time, not peak revs.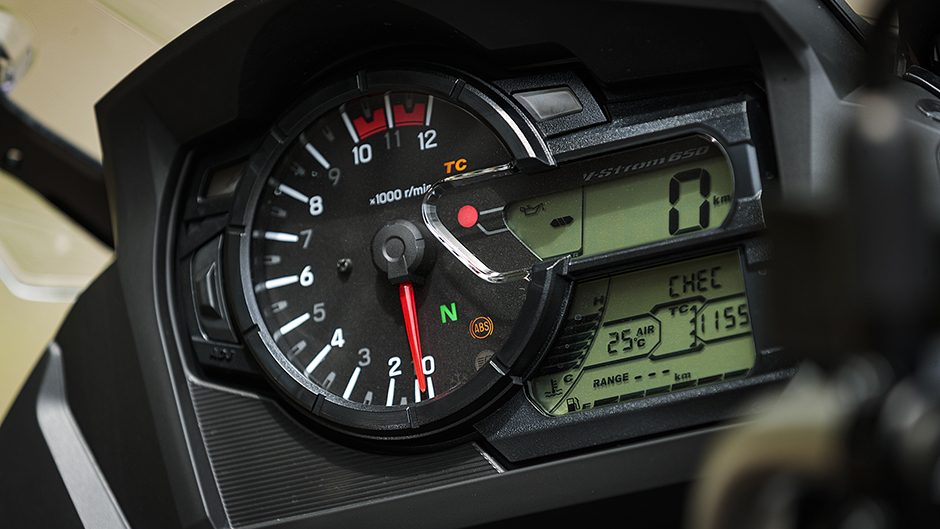 The Strom steers rather nicely too. At close quarters you can perform feet-up turnarounds on pretty much any rural road, such is the tight turning circle and generous lock. On the go, it's the stability of this that's most notable, holding a line despite corner irregularities, which are soaked up nicely by the basic, rather effective suspension. But not to the exclusion of direction changes; this turns as well as it holds a line. The front suspension is fixed but the rear has preload adjustability by knurled knob, like on any decent tourer.
After performance testing we headed to Hampton Downs Race Track Cafe for a quick coffee, across the flowing Koheroa Rd ridge runner. The DL lives for this sort of track. With slightly elevated pegs, it has superb ground clearance and happily holds silly lean angles, the suspension soaking up the worst our secondary roads can offer. Even the dials are good, large legible, and full of content. Other safety features include ABS and three-position TC.
So if you want in on the ADV scene this is about where it kicks off in earnest. Damn fine way to start too. The basics done extremely well. Just be aware that at the end of the summer promotion this will go back up to $13,999.
| | | | |
| --- | --- | --- | --- |
| Model | Suzuki V-Strom 650A | Price | $11,999 |
| Engine | 645cc, liquid-cooled, fuel injected, IL2, 53kW/62Nm | Drivetrain | 6-speed, chain final drive |
| 0-100km/h | 3.94sec | 100-0km/h | 43.20m |
| 80-120km/h | 2.66s (75.77m) | Weight | 213kg |