Well bugger me, as Colin 'Pinetree' Meads (RIP) might once have said. We'd just gotten over our surprise and delight that a $26k car comes standard with adaptive cruise control (Swift RS) when we jump into an even less expensive vehicle with the same device.
Okay, so it doesn't have a stop-and-go function but it's still the most useful active safety device for everyday use. And that cheaper model? Why it's another Swift, the GLX costing $24,500. Despite that it still gets sat nav, reversing camera, touchscreen and connectivity for either phone tribe. This is the intermediate model in the new three-car line-up. Unlike the GL which has a transmission choice, this is CVT only.
Don't groan; this unit has a couple of tricks up its sleeve. Firstly, it has an 'overdrive' button of which Suzuki used to be quite fond. This raises engine revs to the optimum operating level of roughly 4000rpm at 100km/h, ideal for overtaking. And for snappy launches, you can select 'L' for Low which has a similar effect. But can a 66kW/120Nm four ever be considered quick?
On the face of it no, hardly, but there's more to new Swift than its sideways styling upgrade; beneath the reformed sheetmetal is the new small car global platform that underpins both Ignis and Baleno and is designed to be both lightweight and rigid. The former it most certainly is; with a brimmed 37L tank of 91ULP it scales up 100kg less than its Mazda2 rival, always thought to be a bit of a lightweight (in a nice way).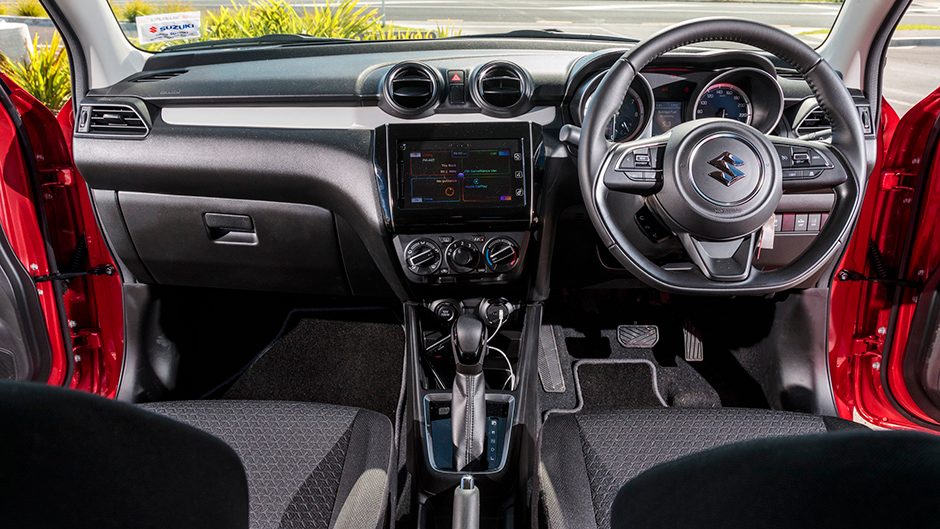 Would you believe 910kg dripping wet? And so everything that lightweighting brings comes to the fore in the Swift GLX like, for instance, fuel consumption. On the wee info screen between the two main instruments the average fuel use varies between mid-fours on the motorway (where 100km/h pops up when just 1800rpm are showing) to a high in the low sixes. On the open road expect low fives. It's seriously abstemious this one, with a claimed average fuel use of 4.8L/100km. But is it at the expense of performance?
Hardly. In general a naturally aspirated 1200 can't really pull a hen off its nest but when propelling a bantamweight like this the middling Swifty proves rather surprising. Need to actually overtake something? This does it with relish and reasonable pace. Select overdrive, and the engine is suddenly brimming with go.
The figures may not break any records, but passing dawdlers and trucks isn't mission impossible. Being lean, it stops convincingly too. About the only aspect that doesn't benefit from lightweighting is tyre-generated road noise, a mean figure of 74dB being higher than the class average. It can occasionally prove a touch shouty over roads of national insignificance. We guess some of the weight saving comes from less sound deadening.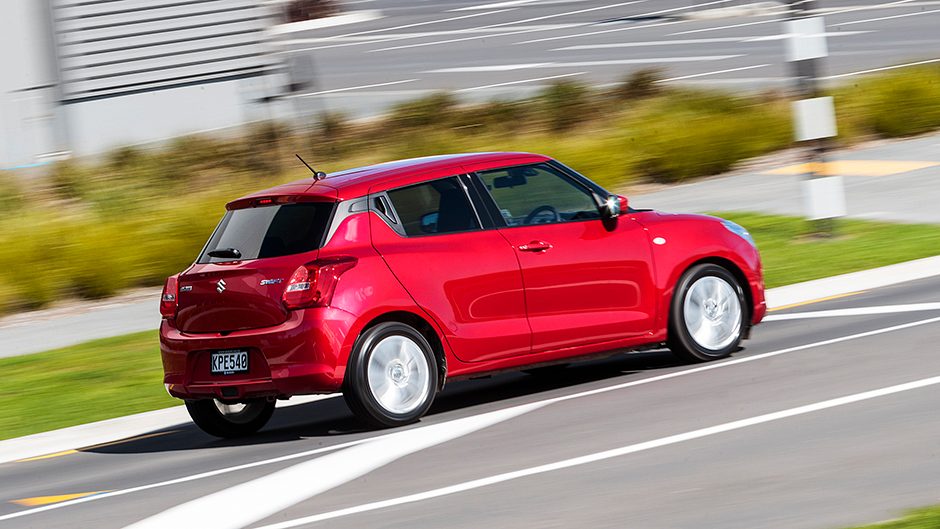 Like its sibs using the same chassis, the Swift deals to interesting roads with considerable grace. There's little roll and sufficient grip, so more mid-corner speed is possible than expected of its Ecopia rubber. Why it even steers with a degree of interest. There's not the usual lifeless electric character to the helm, though the steering column only adjusts in one plane which makes it tricky to find the optimum driving position if you're a bit long of leg. But it twirls nicely in city spaces, with a turning circle of 9.6m.
And unlike its predecessors, it doesn't have interior space issues. There's reasonable stretch and shoulder area in the rear, and 32L of extra boot space (not huge at 250L odd, but not pitiful either). Like Swifts before it, all-round visibility is good so a lack of blind spot monitoring is neither here nor there. And the lane departure warning might well help it to achieve a five-star ANCAP rating (not yet done, the GL achieved four-stars in EuroNCAP testing) but it bleeps too much so we switched it off.
Because it has radar up front, the Swift comes standard with collision warning and autonomous braking, again handy for five stars of safety. There are lots of worthy cars in this sector, including Mazda2 GSX and Jazz, and it's hard to pick between them. The final decision generally comes down to wants and needs, styling and price. A Jazz RS is roomier and quicker but more expensive and not as thrifty. Nor does it have adaptive cruise control. The Mazda2 GSX is closer in terms of size and performance, similar on a handling and ride basis too, but it too misses out on active cruise, and like Jazz costs a bit more. Some will note you get slightly fewer hard plastics for the extra money spent but there's not much in it.
So value for money, new Swift GLX seems like excellent buying. Is it upstaged by Swift RS? Not by as much as you might think.
| | |
| --- | --- |
| Model | Suzuki Swift GLX |
| Price | $24,500 |
| Engine | 1242cc, IL4, EFI, 66kW/120Nm |
| Drivetrain | CVT, FWD |
| Fuel Use | 4.8L/100km |
| C02 Output | 110g/km |
| 0-100km/h | 10.75sec |
| Weight | 910kg |