Arriving at much the same time and broadly competing with each other in terms of buyer profile and price are Kia's Soul and Suzuki's S-Cross, both recently facelifted and with the addition of turbo power. Where previously both sleep-walked to the open road speed limit in double figures, they're now more vibrant single figure sprinters. How do they compare then?
The Suzuki borrows the Boosterjet 1.4L turbocharged engine that first appeared in Vitara, and ditches the CVT in favour of a six-speed automatic. That's the interesting bit. Otherwise, it's a typical facelift story, with a modified front end that's meant to give a "stronger road presence" (you decide) while mechanical revisions aim to improve efficiency.
The base S-Cross, GLX, has gone, so the revised lineup starts with the Limited which is available in front- or all-wheel drive, and the range-topper is now Prestige, the model we drove, powered by the turbocharged engine and available only in front-drive automatic format (with paddle shifters). It's RRP is $33,990 plus on-road costs.
The Limited makes do with the atmo 1.6L 88kW engine but comes in just under the $30k mark. The 1372cc turbocharged four-potter is good for 103kW, while torque of 220Nm is up by 40 per cent compared with the 1.6, and is produced across a much broader rev spread, from 1500rpm to 4400rpm. Lab tests suggest it uses less fuel overall too, at 5.9L/100km on the combined cycle. Suzuki says to expect just under 5.0L/100km at highway speeds, according to local testing.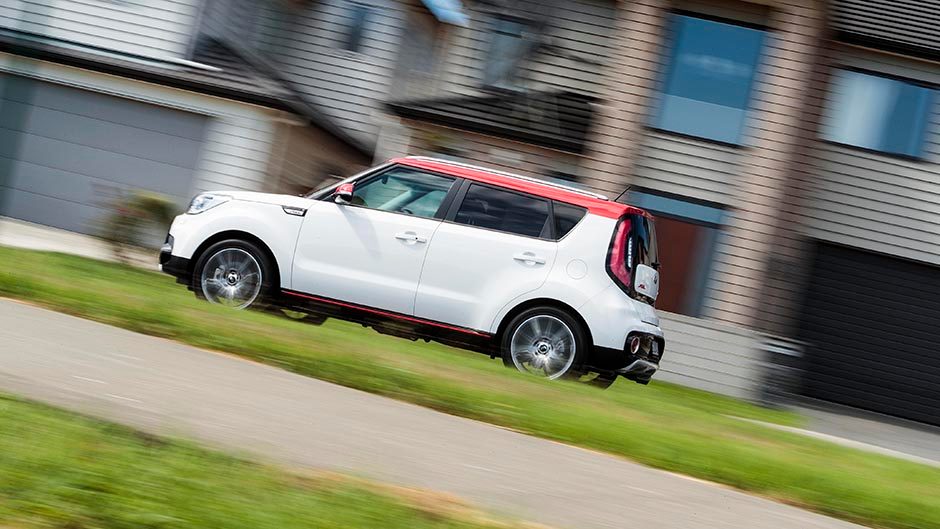 Weight is key to the efficiency of S-Cross, extensive use of high tensile steels resulting in a kerb tally of under 1200kg when fully fuelled. Revised damper settings are said to improve both ride and handling while ground clearance rises slightly by 10mm. Standard features include 17-inch alloys, fog lamps, comfort entry and start, dual zone air, cruise with speed limiter, and seven airbags.
There's also a reversing camera, sat nav and Apple CarPlay. Prestige adds leather trim, LED headlamps, rear parking sensors and auto wipers and lights. The load bay has a capacity of 440L, expanding to 875L with rear seats flattened. What of the new Soul then? It too gets a minor facelift for 2017, and a new variant, the one you see here dubbed Soul 1.6 Turbo for "added attitude". It is a little more expensive than the S-Cross Prestige, at $37,990 plus ORCs but it offers more power and more gears, and a little extra in the way of specification. Plus, there's a five-year/100,000km warranty where Suzuki's is three years, similar mileage but with a two-year extension for the powertrain if all servicing is completed.
The Soul Turbo also borrows a motor from another model, in this case the ProCeed GT and, with direct injection technology and more displacement, generates 150kW of peak power and 263Nm across an almost identical rev spread to the Suzuki. The output is sent to the front wheels via a new twin-clutch transmission, the first Kia to get it in New Zealand. If all that suggests to you a slam dunk to the Kia for straight line performance be aware it weighs just over 200kg more, at 1420kg. Kia rates overall fuel use at 6.9L/100km, 1L/100km above that of the Suzuki.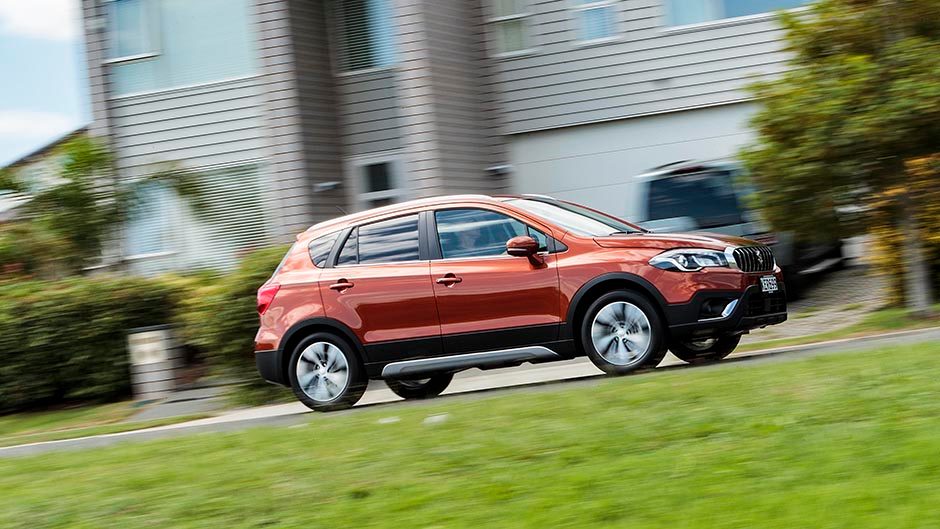 Where the S-Cross has no drive modes as such, the Kia offers three; Eco, Normal and Sport. Kia claims a sprint time of 7.5sec for the most potent Soul ever, and to handle the extra go-power it has uprated brakes, and rides on 18-inch alloy wheels with low profile tyres. Features of the top Soul include Xenon headlights with LED running lights, twin exhausts, leather and cloth trim, a D-shaped steering wheel, and powered seats with adjustable lumbar pump.
It matches the Suzuki in terms of a rear view camera, climate air, comfort entry and rain-sensing wipers. However, it also features active safety items like blind spot monitoring, lane change assist and rear cross-traffic alert. The main difference between these in a drive performance sense is that the Suzuki has shift paddles, while the Kia has none, a surprise given twin-clutch transmissions are more often the preserve of things with sporting pretensions. However, the Suzuki shows its age by having no digital speedo, and its trip settings are accessed by pushing a tiny wand that emerges from the instrument panel.
On the other hand, the Suzuki gets dual zone air, the Kia only the single serving. Neither comes with stop-start but it really doesn't matter where economy is concerned; the more potent and heavier Kia will never match the fuel sipping ability of the lightweight and less potent S-Cross. There's meant to be a single litre/100km between them but it's more like two in reality, and good luck trying to eke out less than 5L/100km with the Soul, whereas four is possible on flat motorway running in the Suzuki. So how do these two compare in general? They're really rather different.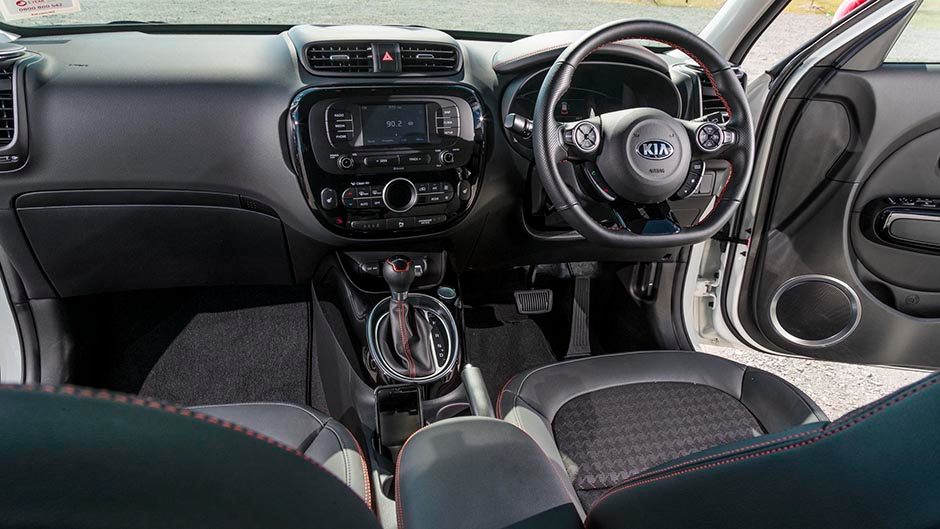 The Suzuki looks dull and uninspiring up against the still funky looking Soul, and that applies as much to the cabin as to the exterior design. Don't know what Suzuki was thinking in the facelift redesign but it's certainly no better than before and it wasn't flash to begin with. That said, there's only one in it if you're after transport that will house the grandkids and all their associated paraphernalia for an overnighter; the hold in the Suzuki is good for 220 2L milk bottles, whereas that of the Soul will accept 100 less (though has a hidden undertray area for spilt milk).
What about performance, given both turbos are at the top of their respective ranges? We drove the S-Cross first, and felt it wasn't quite as fast by the clock as it initially felt on the launch drive, registering an 8.9sec sprint time and six second overtake. Its eco-rubber meant a 38m stoppie rewrote no records.
However, up our reference hill it fared quite nicely, never feeling out of its depth, hanging in on the corners, and performing adequately, if a little noisily at the top end. It needs a few revs to give of its best too, at least 3000rpm. What of the heavier Soul turbo? Well, not a massacre but there was certainly blood on the floor. It was roughly two seconds quicker on each of our acceleration parameters, and that's down to one thing in the main, the twin-clutch transmission. It might not be as smooth off the mark as the Suzuki's auto, sometimes getting a bit flustered in Sport mode when taking off gently, but once into its stride it shifts like a blur, the engine revs more quickly, and it leaves the S-Cross floundering in its wake.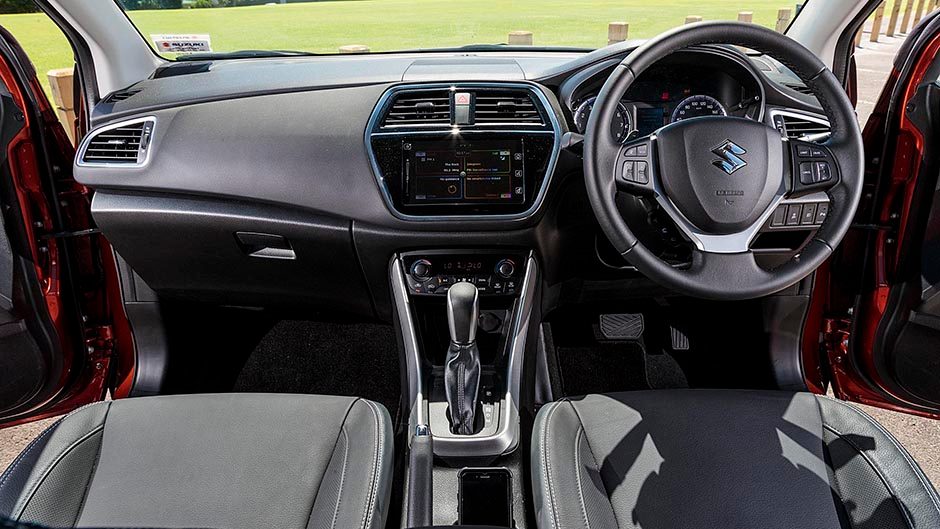 Take to the hills and it adds a measure of body control and corner speed that accentuates the differences even further. It's a bit quieter too, mainly in the engine department, and comes on song earlier than the Suzuki turbo, hauling with more enthusiasm in 2500-3000rpm area, and then going hard from 4000rpm onwards.
There's only one in it here, if you're into performance. While it might seem like the Kia overwhelmingly gets the nod, there's a $4000 difference between the pair, and at present the gap is wider, for Suzuki has promotional pricing of $31,990 for a limited time. For some the additional space and economy of the Suzuki might well be appealing, especially at that price. However, there's no doubt the Kia Soul Turbo is better equipped than the S-Cross, with its powered seats, and active safety gear, and it feels a bit more modern too, with a sportier interior and two-tone external colour scheme.
Those of a performance bent won't need any data logger to notice the extra zip available, and for styling there's only one in it. Can't afford the step up to the Soul 1.6 Turbo? For the same money as the S-Cross Prestige, you can buy Soul Redtrack with a 2.0-litre engine mated to a six-speed auto, and it gets expanded hatch space (354L vs 238L) as well. For those on a budget, only the S-Cross Limited can be bought for under $30k; the base 1.6 Soul kicks off at $32,490.
| | | | |
| --- | --- | --- | --- |
| Model | Suzuki S-Cross Prestige | Price | $33,990 |
| Engine | 1373cc, IL4, T/DI, 103kW/220Nm | Drivetrain | 6-speed auto, front-wheel drive |
| Fuel Use | 5.9L/100km | C02 Output | 138g/km |
| 0-100km/h | 8.88sec | Weight | 1186kg |
| | | | |
| --- | --- | --- | --- |
| Model | Kia Soul Turbo 1.6 | Price | $37,990 |
| Engine | 1591cc, IL4, T/DI, 150kW/265Nm | Drivetrain | 7-speed twin-clutch, front-wheel drive |
| Fuel Use | 6.9L/100km | C02 Output | 156g/km |
| 0-100km/h | 7.18sec | Weight | 1420kg |