The GSX-R750 is thought by some to be the best of Suzuki's Gixxer sports bikes. But is the goodness lost in translation when it comes to the detuned version? We ride the GSX-S750 to find out.
Eighteen months ago we hopped aboard Suzuki's GSX-S1000F, essentially a standard bike based on retuned GSX-R mechanicals, and found it a total blast. Using a retuned superbike engine, housed in a lightweight frame, it might have looked a bit unhinged but certainly ticked the boxes, being fast as hell, and yet tractable as all get out.
We rated this bike, fitted sensibly with radial-mount Brembos controlled by ABS, three-position traction control, and fully adjustable suspension. It was also priced well, comfortably thousands below the likes of Yamaha's MT-10. Suzuki sold 64 in 2016, the naked S slightly more popular than the faired F model.
Now there's a mini-me version, based this time on the GSX-R750 engine, also from 2005. Nothing wrong with this older technology. Sure, the later versions of the engine had a bit more snot but in this type of bike repurposed for general use, it's torque that's more important. Not that everyone agrees with that, but we believe for everyday use solid grunt at regular revs makes for a friendlier ride.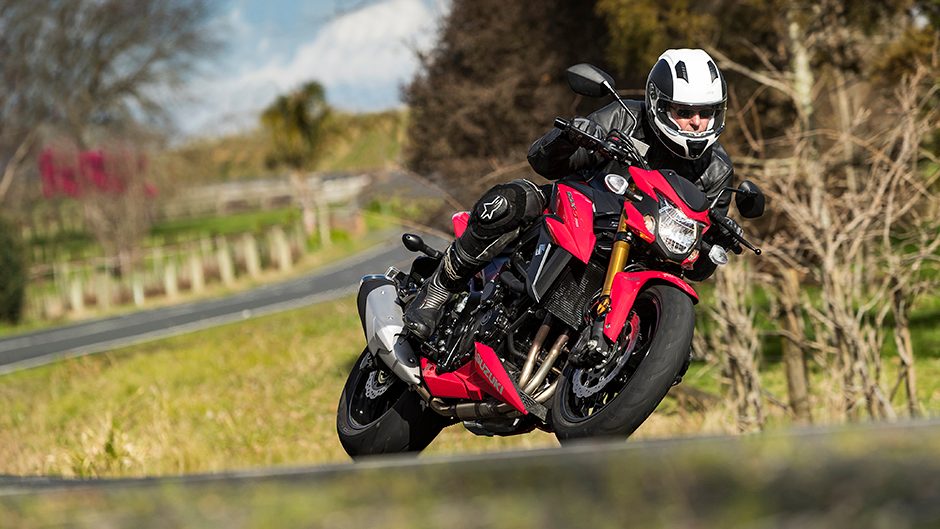 What is it?
The GSX-S750 is essentially the replacement for the GSR750. It looks more aggressive, and rightly so as it gains more power. The bodywork is supposed to impart the look of a crouching animal, ready to pounce and it does. Suzuki calls it the "Apex Predator". Unlike the bigger litre stablemate, there's no faired alternative.
Contributing to the power hike are improved fuel injectors, for better atomisation and combustion, and crankcase ventilation to reduce pumping losses. Slightly shorter final gearing helps to amp acceleration. There was nothing much wrong with how quickly the GSR went, only you had to work it hard for best performance.
Would the new 750 be more of the same, happy only when spanked? It gets a significant bump in power, up 10 units from 74 to 84kW peaking at 10,500rpm while maximum twist of 81Nm (up only a unit) chimes in at 9000rpm, suggesting it is happier working on the high side of 5000rpm, unlike the 1000. To match its aggressive appearance, a new airbox inlet creates a more exciting intake sound.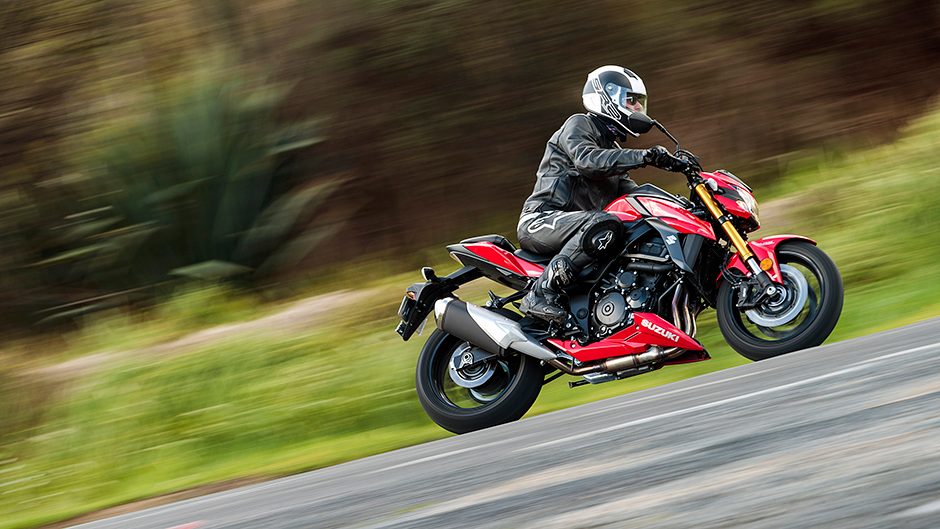 That's apparent right from when you first light it up and on that, it uses a self-starter that kicks the engine into life almost instantaneously, hot or dead cold. Press the button momentarily and then remove your thumb; the starter takes over, turning the engine over only for as long as needed. There's also a low rev assist system that prevents stalling when taking off from a standstill. You're seldom left red-faced and flustered at the head of a queue.
There were some things that frustrated about the GSR750, Paul Owen complaining in 2011 about a lack of braking power from the two-piston calipers, and also insufficient noise from the engine. But he liked the overall ride, and the bike even made it into our 2011 run-off for Bike of the Year, pipped by Honda's CBR 250R costing half the GSR's $14,995. Times have changed though and you really get more for your money nowadays.
The GSR's successor costs $1000 less, yet gets radial-mount four-piston calipers up front, with ABS and three levels of traction control, along with the predator-style bodywork. It's quite something for the asking price, but then so was Kawasaki's $14,599 Z900 we tested in the previous issue.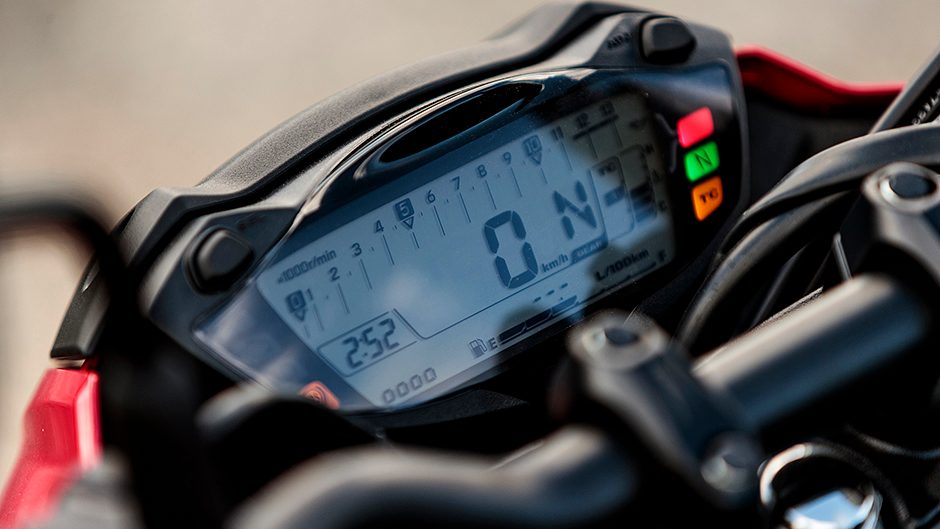 Speed Up
Yes, there's an appreciable jump in performance, but it's not as though the GSR was tardy. Suffice to say it's a couple of tenths quicker on both criteria we use. The GSR had no ABS, but this achieves regular 100-0 stops in 42m and managed a best of 41.4m. It's the ease of stopping and the sheer power compared with the GSR that so impress though.
An emergency stop on the old bike would have been hairy, but on this one you grab a handful when upright and you'll be fine. Adjustability at the handlebar helps extract the best leverage. We marvelled at the low end power of the GSX-S1000, yet this isn't that far adrift. This engine sounds absolutely cracking from 6000rpm on too, gasping away through three separate inlets tracts. It is rousing and glorious. So using revs from 4500-7000 takes in that tonic sonic zone, but 4000-6000rpm is actually plenty for legal out of town running.
And from 80km/h in top gear, 3500rpm, this really starts to haul in a pleasing way. We came upon some guy on a Triumph triple and eased along behind him for a while over a predominantly uphill section of twisting road. The GSX-S handled this entirely in top gear. By happenstance probably, even numbers of speed correspond with multiples of thousands of revs, so 5000rpm is 110km/h, while 90km/h is 4000rpm. The engine is humming away in its zone at road legal speeds, and feels equally at ease at rates where the authorities might throw a book at you.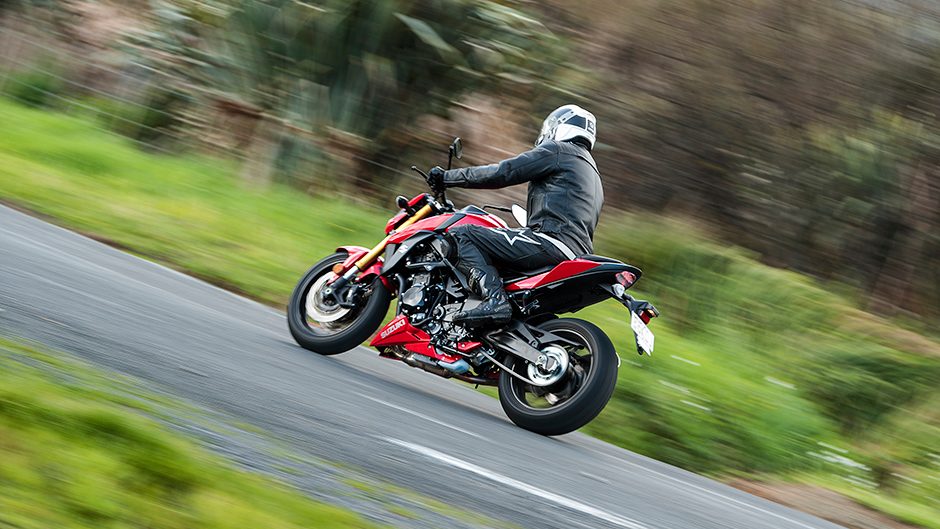 Moreover, it is almost completely vibration free which means clear mirror images. These are large and well shaped too, meaning you see more of what's behind rather than just your elbows. A pity though that the mirror stems come undone rather too easily if you knock them, necessitating a trip under the pillion seat for the tool kit. Some will revel in the upper part of the rev range but we found the bottom end just as intriguing.
Because the engine can haul away cleanly from not much above 1000rpm, it's an easy machine to ride from cold. Moreover, it will trundle around city streets at 50km/h comfortably in top gear. This contributes to meagre fuel use; mid-fives were easily achieved, and it's rated overall at 4.9L/100km. It's cleaner too, now meeting Euro4 emissions regs.
Perhaps the one aspect that tells you it's a 750 and not a litre bike is that it won't do the one-wheeled salute in anything other than first gear (with TC off). And nor is it quite as quick on the overtake but then again it's as fast 80-120km/h as all but the very quickest hypercar we've had through the office. Amazing the difference between supersport 600s which demand to be revved and a retuned 750 that feels sweet at any revs.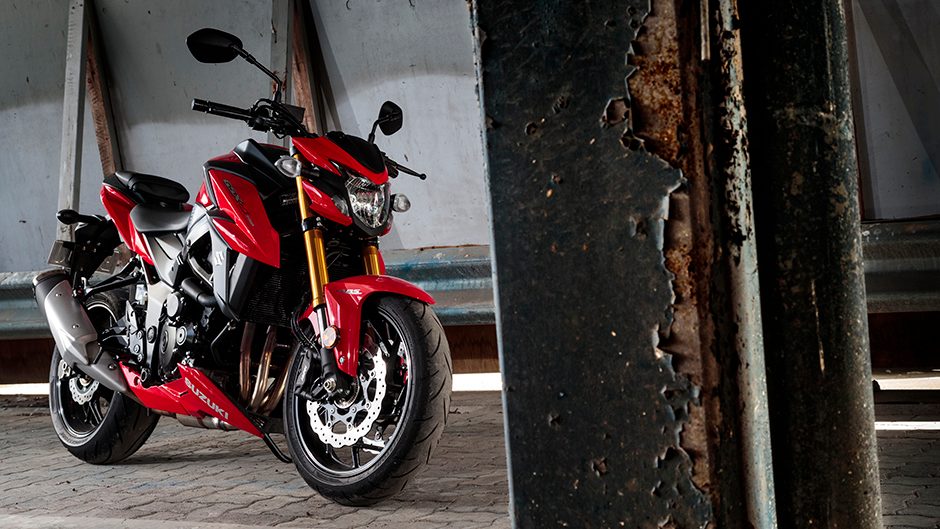 Putting the grunt to best use
Suzuki instituted a few changes to the GSR to make it handle better, with a mix of tubular and D section framing for a "sporty, smooth" ride, new lightweight wheels, a redesigned swingarm and Battlax Hypersport tyres developed specifically for the bike. It all comes together well. While the bike has a bulky look from some angles, it doesn't feel heavy to manoeuvre or ride and at 210kg wet it really isn't.
Suspension is adjustable for preload only but the USD forks by KYB work swell and while the rear suspension was set up firm, general ride quality proved good. We really like how this changes direction with just a hint of bar input and feels confident, stuck and stable holding lines at speed. The wide, almost flat tapered bars and slight lean forward position contribute to an easy, flowing ride.
We found the aluminium footpegs set just a touch high, but then we're a touch over average height. A new LCD screen may be small but brightness is adjustable and we had no problems picking out rev or speed numbers. All the data you want is there, and changing between TC levels on the go takes no time.
In the GSX-S750, here's another middleweight offering that delivers on all fronts, and makes you wonder why people default to litre bikes without even considering the lesser lights. They work so well on Kiwi roads, and they're significantly cheaper than the 1000cc machinery, yet are all but as able. A case of whistling in the wind then?
| | | | |
| --- | --- | --- | --- |
| Model | Suzuki GSX-S750 ABS | Price | $13,995 |
| Engine | 749cc, liquid-cooled, fuel injected, IL4, 84kW/81Nm | Drivetrain | 6-speed, chain final drive |
| 0-100km/h | 3.35sec | 100-0km/h | 41.36m |
| 80-120km/h | 1.73sec (49.19m) | Weight | 211kg |