Suzuki has been making cars in India for decades, and the country is becoming an automotive manufacturing powerhouse. New Baleno hails from there and it's a spicy wee offering
Blow me down if, in this day of 8- and 9-speed automatic transmissions, a manufacturer doesn't launch a compact car onto the market with a four-speed auto. Alternatively, you can pay less and buy a manual transmission variant instead, but even then you only get five speeds. That vehicle would be Suzuki's new Baleno, an addition to the range slotting in between Swift and S-Cross.
Does this even make a difference? Is it rubbish because of that? Normally we'd say maybe but in the case of the Baleno (an unfortunate name – google balanitis for clarification) it's actually no real issue at all. For this is another car from Suzuki that trips the light fantastic – it debuts a new lightweight chassis for the company that will underpin its future small cars.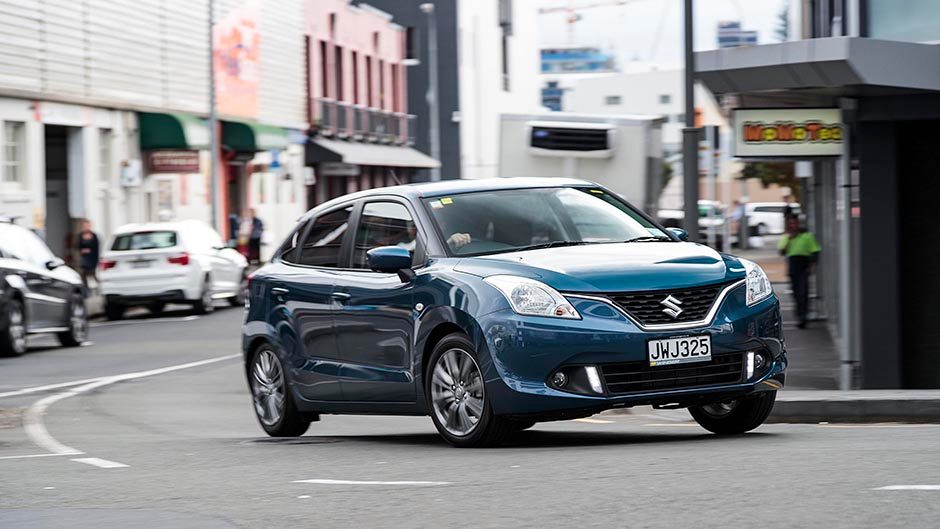 So here you've got yourself a vehicle a size up on the Swift – its rear seat legroom is up by 70mm and luggage capacity is over double that of the perennial Kiwi light car favourite – and yet it weighs 100kg less than its smaller sib. Hard to believe, no? The base model is even lighter at under 900kg.
So there's that interesting fact, but there's one possibly contentious issue worth addressing, the fact that Baleno is made in India. Should that be a concern? Well, perhaps because the one model that Ford brought in from the Indian subcontinent hardly set the Thames alight on the finish or sales front, and nor was it an enduring style icon, the EcoSport. Hyundai's i20 didn't impress much either.
Baleno breaks the trend. It isn't what you'd class as inspirational inside – hard plastics aren't quite up with those from Japan – and nor is it a winner on the olfactory front (though it was perhaps the nasty rubber mats that were responsible for the stink) it compensates on the bang for buck billing. Plus, it drives pretty well. At just under $25k for the vehicle you see here, the LTD auto, which comes standard with sat nav, it strikes us as pretty decent value for money. And if you're really into saving thousands, check out the entry-level manual Baleno at just over $21,990, though it comes with 15-inch steelies and 175/65 rubber compared with the 16-inch alloys on the LTD model, running 185/55s. We braved the Baleno with its silicon-rich Ecopias in the wet and while grip wasn't bad, nor was it that confidence inspiring.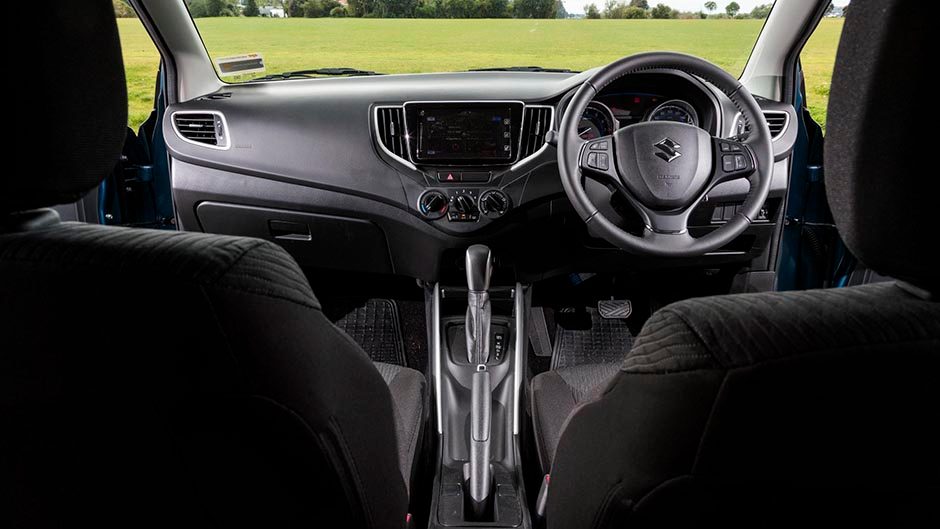 What does surprise though is Baleno's turn of pace. This runs a 1.4L engine based on the Swift's which isn't inappropriate given it weighs less overall. It's lighter even than the base MX-5. So it gets to 100 and manages an overtake about a second quicker than the equivalent Swift. Sure, that's nothing much to write home about but what you need, bare minimum, is enough muscle to get you past dawdlers and this it manages easily. For it's geared just about right; 2500rpm at 100 in top gear, rising to nearly 4000rpm in third gear, which is easily selected by the quaint pushbutton overdrive on the side of the gearlever. It's a good thing this, almost as simple to use as pushing the gear lever across to the left, which you cannot do on this machine. Sometimes you find yourself wondering whether it's in the on or off position but there's a tiny telltale in the main instrument cluster, saying OD off (meaning third gear selected).
Anyhow, the engine is good for 130Nm at 4000rpm, which is pretty much what you get at 100km/h in third. From there it kicks on nicely and gives a bit more of a surge when it passes through the 4500rpm mark. We drove the Baleno up highway 16 which is one of those roads that flows quite well, with plenty of corners you can take at a reasonable clip but it has a fair amount of elevation too; in other words, if there's a power deficiency it will show. Yet it didn't; this performs more than adequately.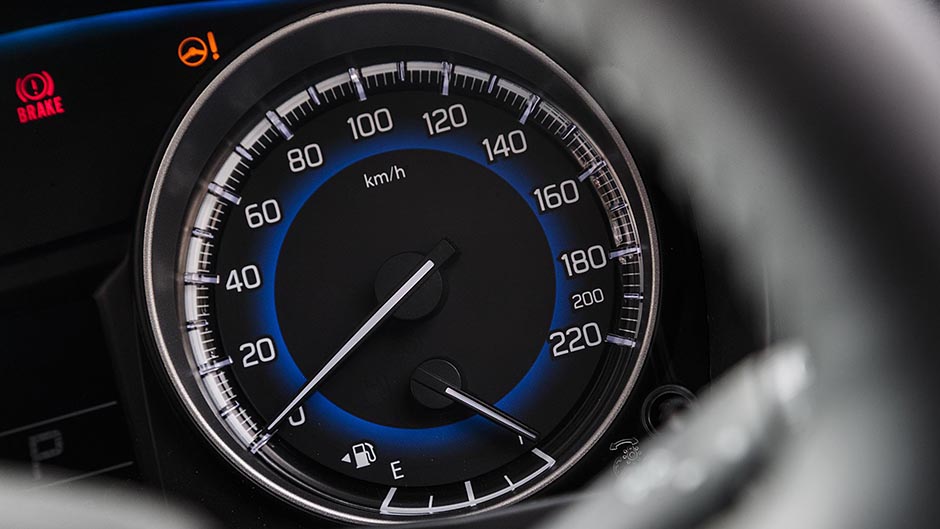 We'd say the ride quality isn't quite as impressive in everyday running. It feels just a bit nervy at times and perhaps would be a touch better with a few more people or a bit more gear aboard. That's something this would manage a whole lot better than Swift, with rather impressive rear seat legroom for such a modestly priced vehicle. In that regard, it's like the Kia Rio, a car that sells for almost exactly the same money, and has a 1.4L engine with much the same output. We were going to put these two head to head but for the fact that a new Rio is about to launch, so no.
As to the handling of the Baleno, it's more than acceptable, within the bounds of driving it mainly in horrid wet Spring weather we're not enjoying in Auckland at present. On the edge of the Ecopia's wet weather grip limits, the steering communicates in rather surprising fashion. Not only does it not display the usual artificial weighting feel that's typical of many electric systems but there's also a reasonable amount of wheel chatter on centre. So it was actually quite fun to punt it up north on highway 16, and back again, the weather conditions bordering on atrocious most of the time. We managed to hook up the MP3 player via Bluetooth easily enough too, so the miles drifted by rather pleasantly.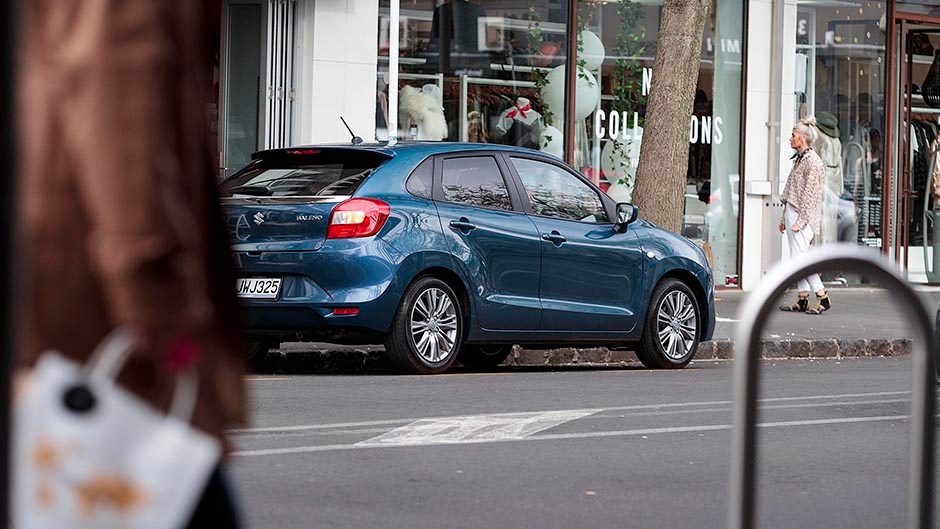 Suzuki reckons the Baleno is capable of around 5.1L/100km overall. That's a lab figure, and doesn't really equate to the average of 6.7L/100km we got out of town, in the wet too which doesn't help generate the best figures. This should prove a rather economical machine to run. Often we'd see instantaneous fuel use figures of down around 4.0L/100km when sauntering on the motorway, and 5.5 in town. I was also gratified to find how far a $20 refill went, often as not taking the fuel gauge to around full. A Cd of just under 0.30 likely contributes in part to economy.
Yes, we too were surprised about how many aspects of this unpredisposing commuter car really do appeal. Even the brakes, with unfashionable drums at the rear, do the business quite well, thanks to the light overall weight of the vehicle. Plenty of superminis get by without four-wheel disc brakes, and we've often found there's slightly better pedal sensitivity with drums on the rear.
All versions of the Baleno get six airbags, ESP, ABS and a reversing camera. They also come with cruise control, a trip computer, sat nav, daytime running lights, air con, and remotes for audio on the steering wheel. The LTD adds not all that much, the bigger alloys, and front fog lights, for which you pay $1000 more than the GLX auto, and is probably worth it for the extra grip.
If you like the look and need more size than the Swift can offer, Baleno for similar money makes a lot of sense.
| | | | |
| --- | --- | --- | --- |
| Model | Suzuki Baleno Limited | Price | $00,000 |
| Engine | 1373cc, IL4, EFI, 68kW/130Nm | Drivetrain | 4-speed auto, front-wheel drive |
| Fuel Use | 5.4L/100km | C02 Output | 126g/km |
| 0-100km/h | 11.4sec | Weight | 935kg |