Certain cars are known for projecting certain stereotypes among enthusiasts. Own a Volvo wagon? Get ready for a barrage of architect or dentist jokes if you ever turn up at a Cars & Coffee meeting.
Subaru Impreza WRX owners cop similar judgement. It's assumed that you might wear your hat backwards, enjoy a dab of vape every now and again, and most likely accumulate speeding tickets from time to time. While the first two things are subjective, that last point appears to be based on fact.
For the third year running, a US-based study hosted by insurance firm Insurify has named the Subaru WRX as being the nameplate that's most likely to attract speeding owners.
To conduct the study, Insurify used its own database of 4 million applications for vehicle insurance to find which models had the most speeding tickets in 2021 according to the information their owners had submitted. It then calculated averages based on how many applicants owned each vehicle.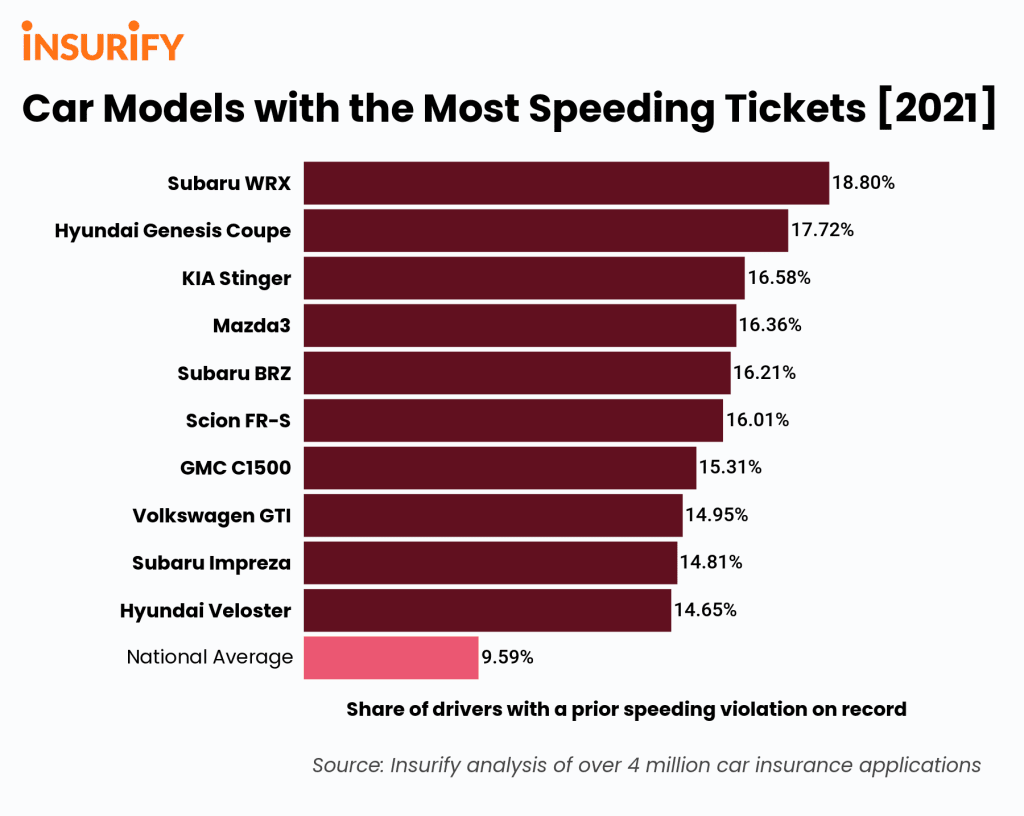 The net result is that the WRX leads the pack with 18.8 per cent of drivers reporting they'd incurred a speeding fine in the last 12 months. Curiously, the Hyundai Genesis Coupe was second, on 17.7 per cent, ahead of the Kia Stinger, Mazda3, and Subaru BRZ.
All models in the study's top 10 showed more than 14 per cent of respondents indicating a speeding ticket. This is almost 50 per cent more than the American national average, according to Insurify, which sits at 9.59 per cent.
The study isn't perfect. It's curious to see that it rates the Subaru WRX and Subaru Impreza as separate entities (the standard Impreza also makes the top 10, in ninth) despite being based on the same platform. It also doesn't take into account those who lie about past speeding history on their insurance applications.
"With three models in this year's rankings, Subaru has the most vehicles in the top ten models with the most speeding-ticket-prone drivers," says Insurify.
"This may come as a surprise, given Subaru's reputation as a no-frills, safety-first brand. The three Subaru models on the list are indeed more highly rated for safety compared to other vehicles on the market, receiving 5 or 4-star safety ratings from the NHTSA.
"Yet even with more protective features, drivers of these vehicles operate with a wanton disregard for speeding laws at higher-than-average rates."