We head to the bottom of the mainland to check out Subaru's new Forester. Is it the perfect family SUV for getting out and about in this beautiful country of ours?
Subaru's best seller globally is the Forester, probably not surprising given the love for all things SUV these days. Here in New Zealand however, Outback leads the way for Subaru, and by a decent stretch ahead of the beaut little XV.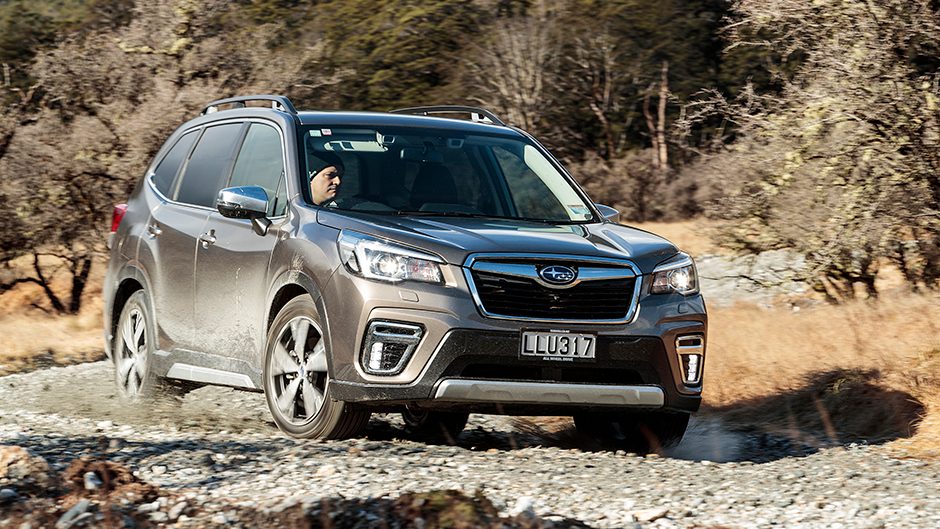 It's a bit surprising then that Forester doesn't resonate as well with buyers, given these so-called medium SUVs are so wildly popular here. Subaru NZ's market research suggested most buyers didn't think of the Forester as an SUV, more of a wagon, while others didn't consider it a family vehicle. Forester was one of the first on-road 4×4 wagons cum SUVs when it launched in 1997.
Thanks in part to Subaru longevity, and the number of used imports still on the road, it seems the public still equates the Forester nameplate with those first-generation models. But the third generation grew in size, as did the fourth and the just launched fifth generation is bigger again.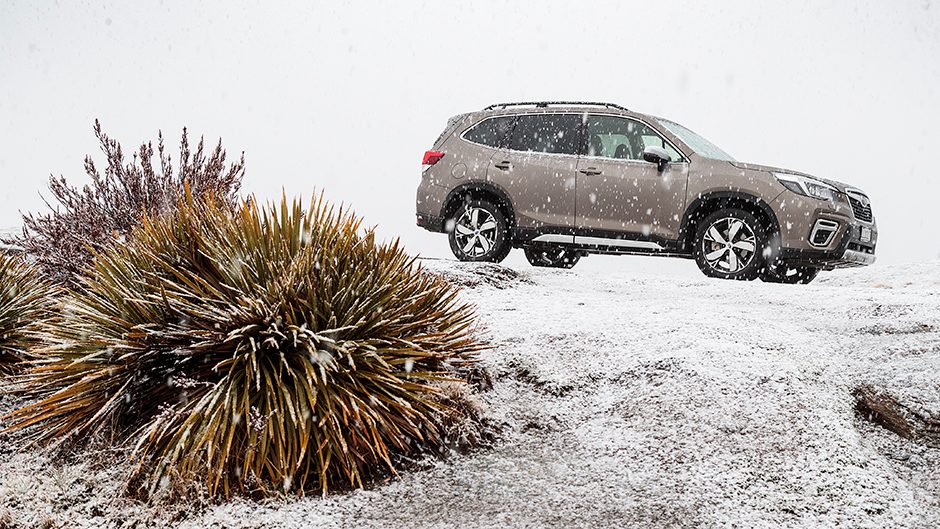 So there's a perception versus reality issue to overcome here but as you'll see from the pics of the new model, set against the backdrop of the dramatic Queenstown Lakes District scenery, the new Forester is every bit an SUV. And with its entire line-up all-wheel driven and a generous 220mm of ground clearance, it's more SUV than most in the segment.
Subaru is presenting a three-model line-up starting at $39,990 for the Sport, $44,990 for the Sport Plus and $47,490 for the Premium model pictured, which Subaru reckons will be the one most buyers will gravitate towards.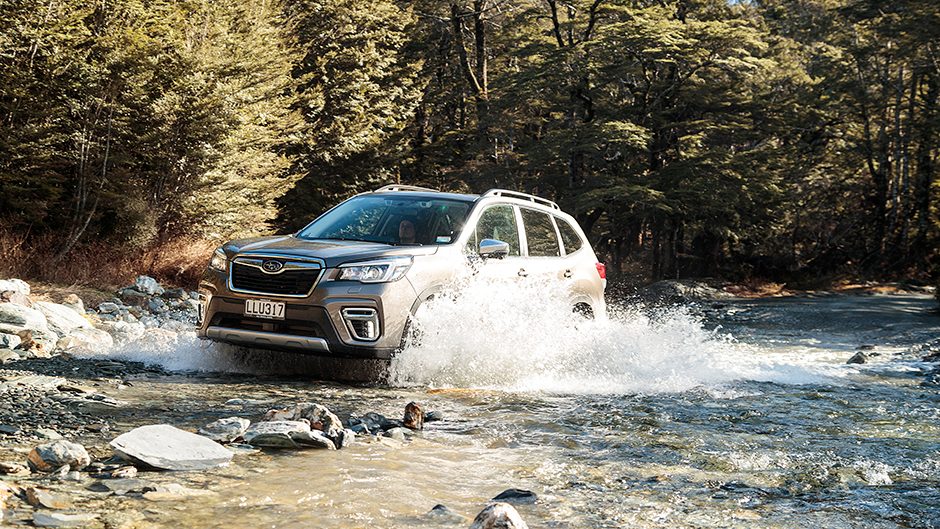 This is a complete refresh of Forester using the firm's common platform, a 90 per cent renewed 2.5-litre boxer four, and a revised CVT. The styling reminds of the previous generation but gains bigger bumpers and bulges, there's more plastic cladding and plenty of dead cat space in the arches to emphasise the ground clearance.
Forester's now a little longer and wider than before, the wheelbase growing 28mm to the benefit of interior dimensions, with more room for heads, shoulders and legs. Boot space expands too, now up to 520L with a better shaped hold and a larger hatch opening.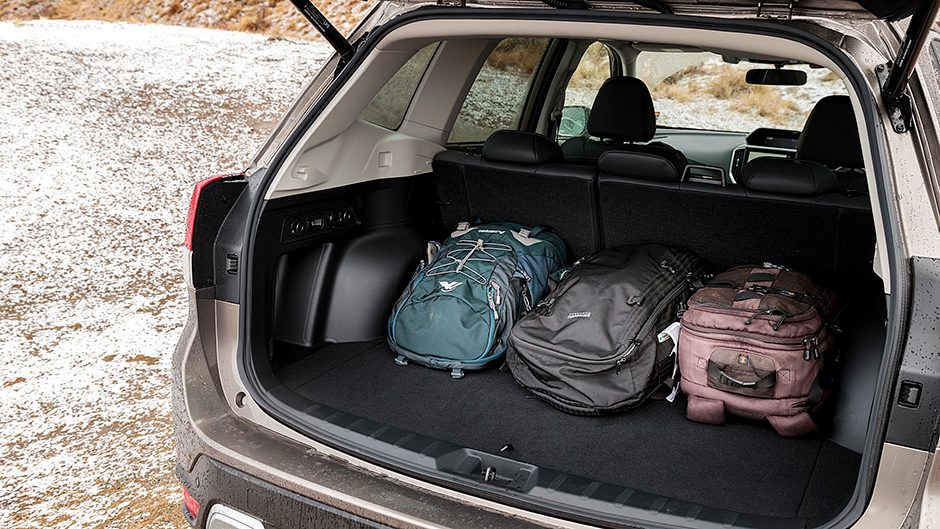 The powered tailgate is the Usain Bolt of the segment, taking just five seconds to do its thing rather than an eternity. The rear seats lie flatter when folded and cargo space is rated at 1060L. Subaru is a practically oriented brand and it has also added things like integrated loopholes in the roof rails to make strapping things down easier, while the inner sills of the rear door are wide and flat, creating a step to ease the loading of those racks and provide easier entry for the sprogs. They tell us you can fit three slim-line car seats across the rear too. Space is generous in the back with both legroom and seat comfort in generous supply.
Up the front most surfaces are lined with some kind of soft finish or textured rubber, and there's good storage and lots of USB chargers. The Premium and Sport Plus models feature a vibrant eight-inch screen and the infotainment system is easily manipulated with swipes, pinches and taps.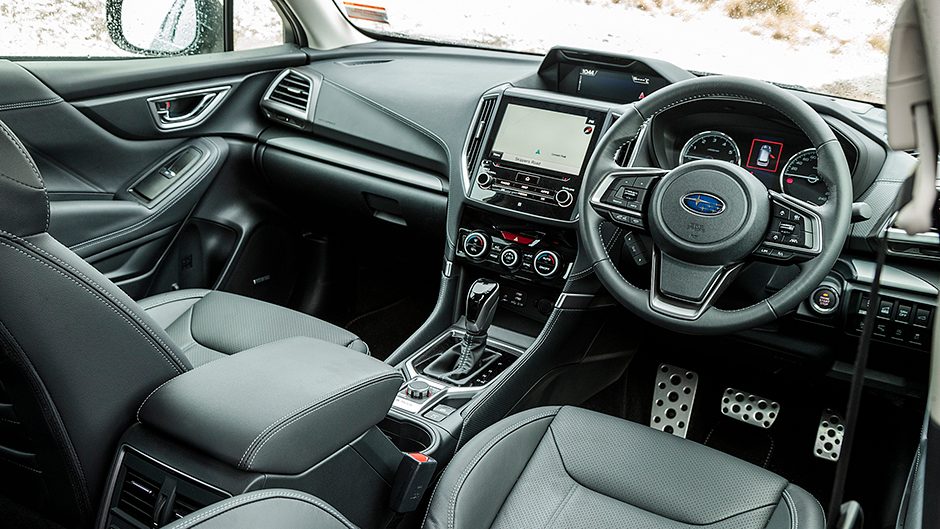 There's sat nav via Tom Tom, and both phone tribes are supported. Old fashioned buttons and knobs make changing stations and setting the climate air dead easy. The seats proved comfortable for our day of driving, but the lack of heaters was noted; they would have helped us defrost a lot quicker. There's a swag of info relayed via the multifunction display atop the centre of the dash, and within its binnacle lives a new facial recognition camera.
This you can programme to identify up to five different drivers who will be recognised as they enter the car. The system then quickly goes about adjusting everything to their preset liking; seat position, mirrors, audio preferences etc. It also monitors your behaviour behind the wheel, and it kept telling us to keep our eyes on the road via an audible and visual warning. The scenery is always distracting down Queenstown way, though I thought I had my eye on the tarmac more than not when each alert was raised.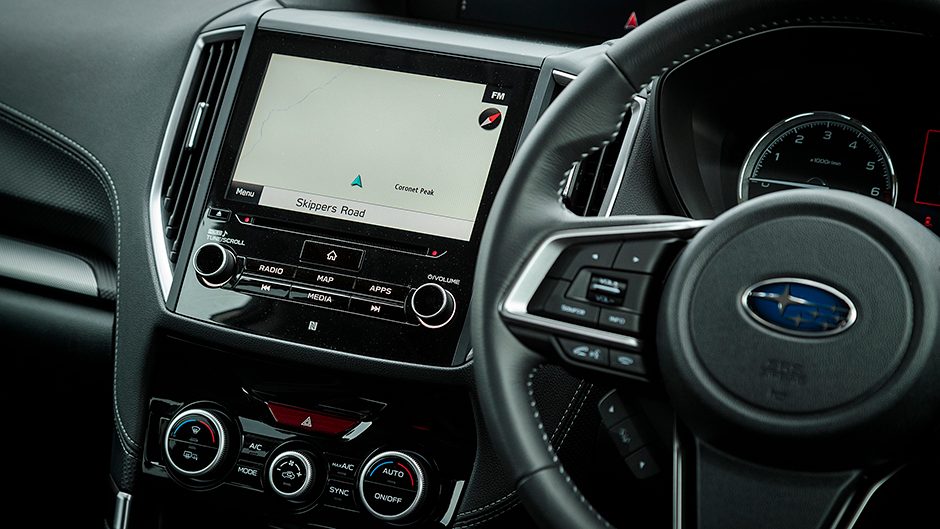 There's just one powertrain for the Forester and everything from the valve springs to the piston rings has been tweaked on this version of the 2.5-litre four. There's been a bump in the compression ratio, there are new injectors, better cooling and thermal management, and variable control has been added to the exhaust valves as well.
Power is now at 136kW (up ten from the previous version) and torque set at 239Nm (up 41). It's Euro 6 rated, runs happily on 91 and returns a claimed 7.4L/100km. The CVT is further refined for better response and fewer noises, while it features seven ratio steps. They've also fiddled with X-Drive mode and the top Premium model now has a Snow/Mud setting to help keep things trucking in the most slippery of conditions.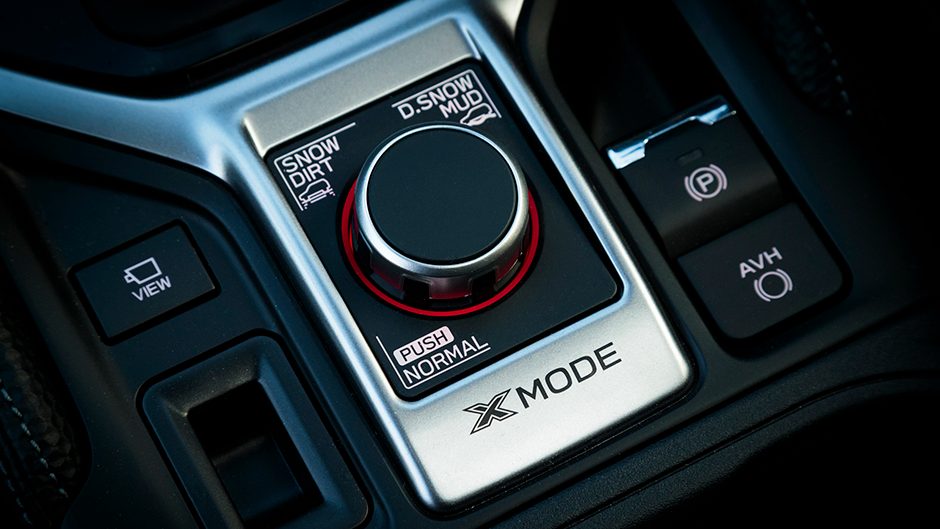 Keeping out of trouble is what Subarus are good at and Forester has the latest Eyesight active safety system, the forward facing camera enabling lane keeping, pedestrian detection and auto braking, as well as active cruise. Other features include LED headlights that turn with the steering and have auto high beam control, and the top model gets front and side view cameras to complement the backing monitor.
With the new platform comes an increase in body rigidity which is good for overall refinement and, along with revised front and rear suspension systems, steering, roll control and ultimate stability are improved. The steering is nicely assisted, nothing funny happening just off centre, while the weighting builds progressively as it loads up in a bend. Forester is quiet on road with not much in the way of wind noise or road roar.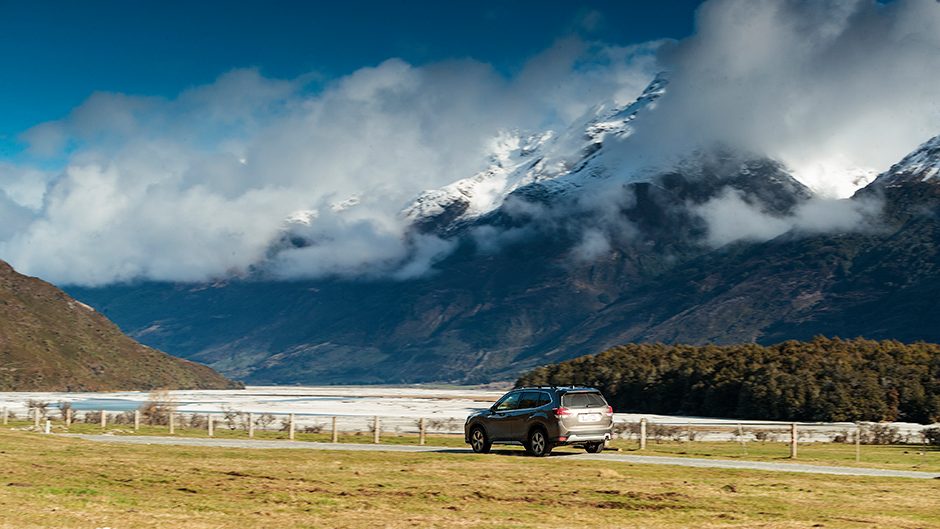 It feels big, not in terms of weight but stability, and with good roll control and a well damped ride this is locked and secure on winding roads. The bump absorption is stellar and it takes to gravel like it was born to it. Forester maintains its quiet progress over rougher trails, and with its permanent AWD, traction is never in doubt.
We ventured down Glenorchy way, heading through to Paradise, a road littered with undertrays and bumper parts as tourists leave bits of their rental cars behind. We were glad to have the Forester's 18-degree approach angle and 220mm of ground clearance up our sleeve when we happened upon a ford that appeared just over a brow.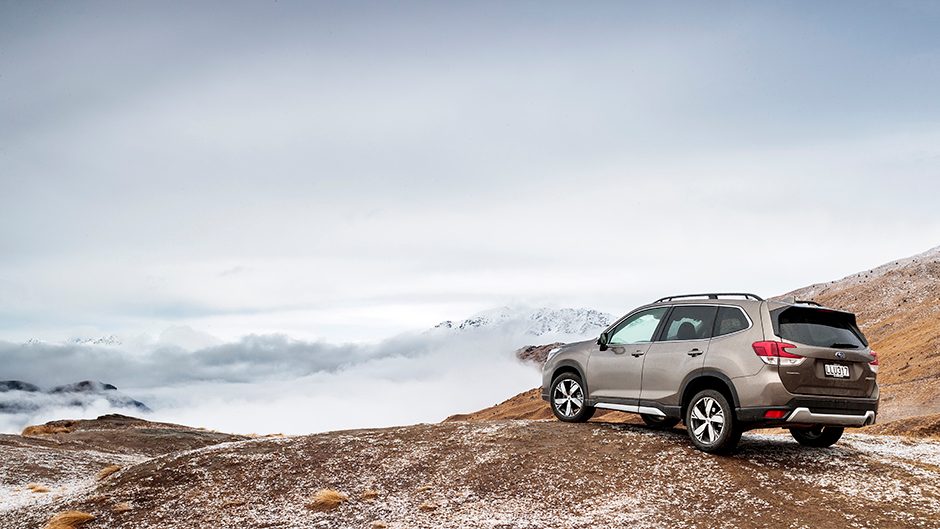 We went through it at a reasonable clip and while the front and rear bump stops got a tickle up, the Forester soaked up the worst of the punishment. There's enough low end urge in the 2.5 for easy cruising but it needs to be encouraged past 3000rpm to get moving. The flat four will rev to 6000rpm where the CVT does a faux upshift to stop it wailing.
Switching the SI Drive to Sport, the engine responds better to a bit of extra throttle while the CVT will holds its 'ratio' when you lift off so that when you tip back in, the engine is still in its happy zone, helping lessen that lag in response. It has paddles if you want to get racy but we didn't feel the need.
From our initial impression, Forester seems to have the goods in a busy market with keen pricing, plenty of kit and we like the way it goes both on and off tarmac.
Subaru should sell a few of these, if it can convince the public that it is indeed an SUV.
| | |
| --- | --- |
| Model | Subaru Forester Premium   |
| Price | $47,490 |
| Engine | 2498cc, flat 4, DI, 136kW/239Nm |
| Drivetrain | CVT, all-wheel drive |
| Fuel Use | 7.4L/100km |
| C02 Output | 168g/km |
| 0-100km/h | 9.10sec |
| Weight | 1643kg |