Subaru NZ is set to release its first hybrids here, in the form of the XV and Forester e-Boxers.
The firm is keen to stress that its new models share the same DNA as all Subarus and therefore expect no compromise in performance or capability.
We'd agree with the capability part but let's get real about performance. Compared with the existing Forester 2.5, the new hybrid powerplant is compromised, by a couple of seconds on our performance criteria. And you expect that; the 110kW/196Nm figures for the 2.0L mill are down on those of the 2.5 (136kW/239Nm). Oddly its claimed 0-100 differs on where you search for figures, ranging from 10.8 to 11.8sec. Our best time was midway between.
However, hybrids aren't always about enhanced performance. Some, like this, stress environmental gains. When we jumped aboard and did a fuel use reset, the new average was 6.0L/100km on the motorway, with 100km/h a quiet 1500rpm. Mean fuel efficiency improves from 7.4L/100km for the ICE power Forester, to 6.7 for the hybrid version, with a claimed 20 per cent drop in urban settings. That's because the hybrid can EV in stop-start conditions, but don't expect any meaningful EV range. Think of this then as a greener Forester but not a planet saver.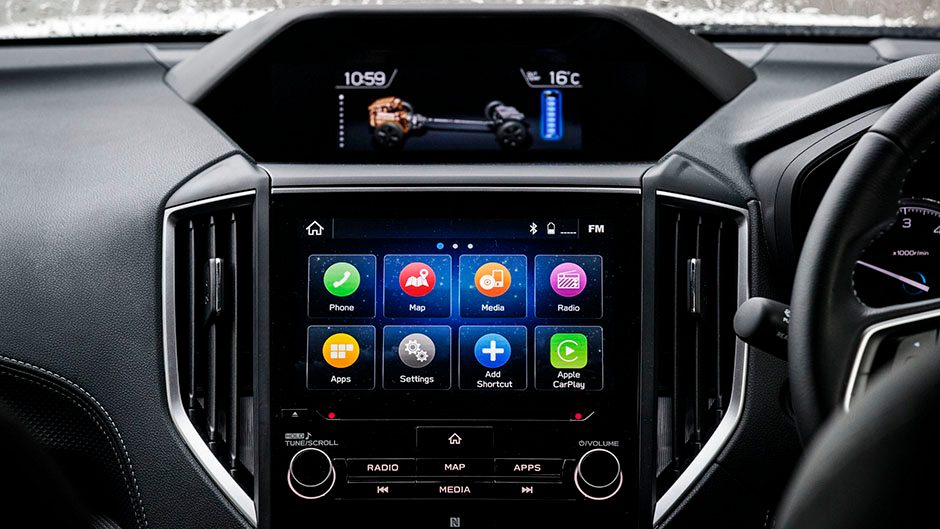 Being a Subaru it comes default with full-time AWD and being the Forester its suspension has inherent long travel suppleness that's just peachy, without the dynamic ability falling apart as soon as you get off the hotmix and onto our secondary roads punched out by the passage of heavy vehicles. Mind you, ride comfort is a given with Forester.
What the eBoxer hybrid might not offer in straight line acceleration, it compensates with juicy low and midrange pulling power. There's instant drive off the line – no pesky turbo lag here – thanks to the addition of the 12kW/66Nm integrated starter generator. Moreover, you can drive it happily in the default 'I' mode optimised for fuel saving, while there's a palpable added spring in its step when you push the Sport mode, enough that you don't need to resort to the paddle shifters.
Another sweet feature is that this slows and stops like a regular vehicle; the feel at the pedal is excellent, and the stopping power the same, consistent 100-0 figures below 35m.
All the added gubbins come at a price naturally. The range-topping Forester Premium e-Boxer Hybrid has a $54,990 sticker attached whereas the 2.5i Premium costs $49,990. So the e-Boxer Premium commands a $5000 premium over the Premium 2.5….unless you opt for the base model which happens to cost what the top 2.5 did back in 2018, i.e., $47,490. In which case you go without some spec in exchange for a bit of tech instead.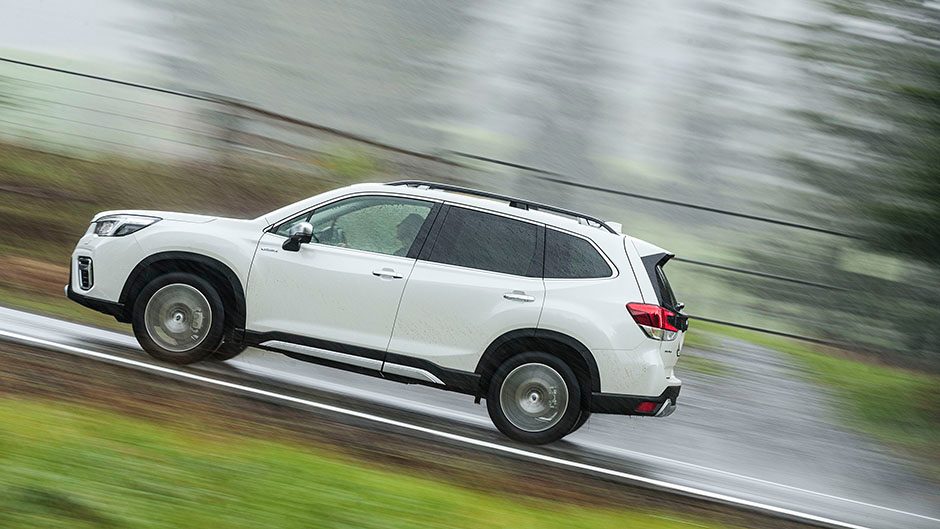 If all that breaks the budget, you can always choose the same powertrain in an XV body, for $42,490. It's about half a second quicker on both performance measures and a touch easier on gas. One other aspect of buying is worth considering. You can drive away in the new Forester hybrid for $99 weekly using Subaru's Accelerator Programme via Heartland Bank.
In all other regards it is like the Forester 2.5i Premium, which is all good. A snip to enter and exit with its 220mm of ground clearance, it looks almost comical on its 18-inch wheels; this would look so much better on 20s and it would barely affect the outstanding ride quality. The interior is sweet too, if perhaps cluttered with too many buttons – and the dials look dated. It's all intuitive though.
AWD and torque vectoring aside, there's plenty of passive safety creds, resulting in a strong five-star ANCAP rating. The car also features fine visibility and feels well crafted and solid. Yet at 1680kg it's only 37kg heavier than the comparable Forester 2.5 Premium.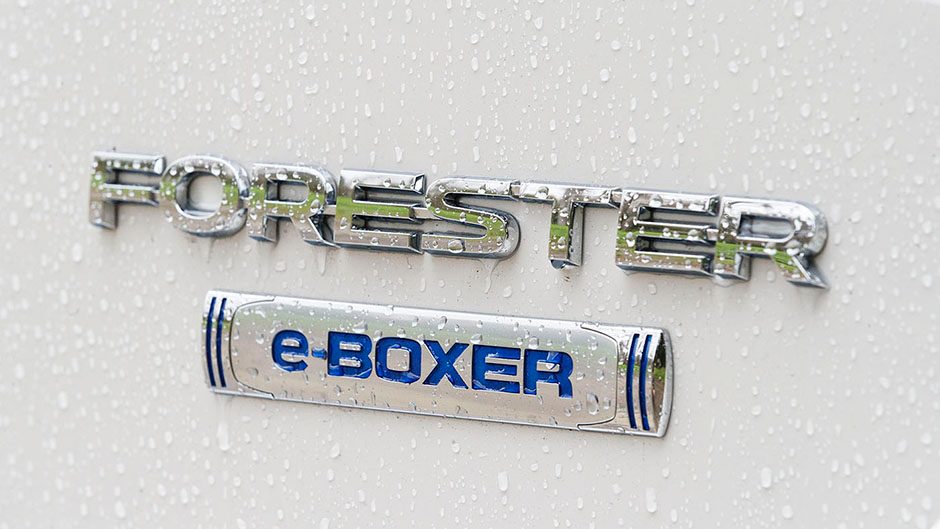 Practicality is yet another strength; there's simply stacks of occupant and luggage space. Figure on 509L with all five seats in use, 1779L after folding the rear seats away.
Premium spec runs to active cruise, X-Mode for offroading, lane keeping, BSM and AEB, a powered fifth door, leather upholstery, nav by TomTom, electric sunroof, rear tints, and full cell phone compatibility.
As is often the case with Subarus, allocation is limited, NZ getting around 10-20 e-Boxers per month. The first examples of Forester arrive in September while XV dots down in November. Because of limitations, Subaru has elected to make them available online, the first customers stumping up with the deposit being the first in line when they actually arrive.
| | | | |
| --- | --- | --- | --- |
| Model | Subaru Forester e-Boxer Hybrid | Price | $54,990 |
| Engine | 1995cc, flat 4, DI, 110kW/196Nm | Drivetrain | CVT, all-wheel drive |
| Fuel Use | 6.7L/100km | C02 Output | 152g/km |
| 0-100km/h | 11.06sec | Weight | 1680kg |