Subaru celebrated a half-century of all-wheel drive in New Zealand (NZ) this week, with a gala night of festivities in Auckland.
Subaru of New Zealand staff members, Subaru Authorised Centre business owners, Dealer Principals and their partners, along with some special guests, all dressed in their finest to attend the special occasion at The Cloud Mezzanine.
On arrival they were greeted by a display of Subaru's past and future parked out front, including the first car ever made by the brand, the tiny 360, and the now iconic BRAT, better known as the Brumby ute. A WRX 22B represented Subaru's long and successful rally history, while the Outback XT Turbo and all-new All-Wheel Drive electric Solterra represented Subaru's present and future.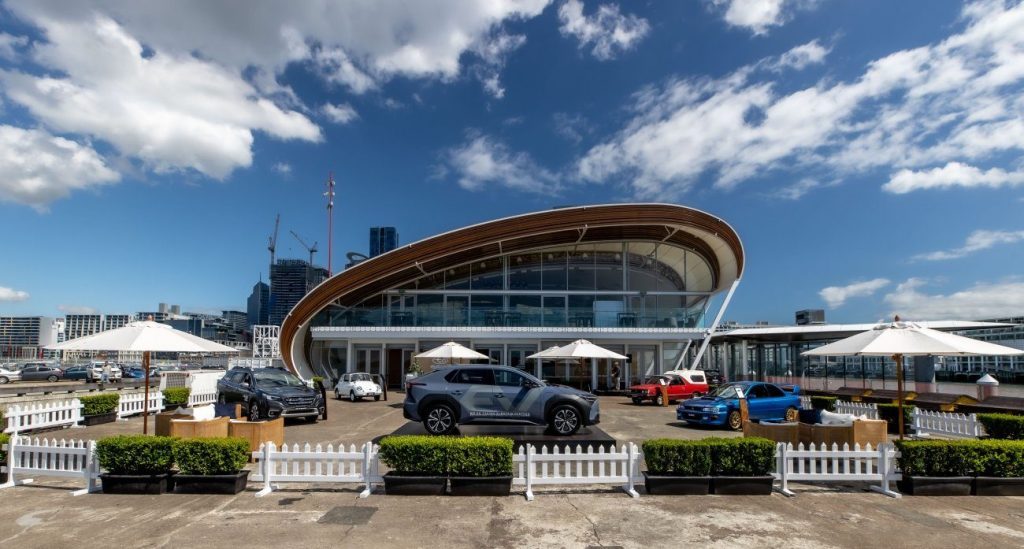 Jeremy Wells, long-time Subaru driver and friend of the brand, took a night off from his Seven Sharp co-hosting duties to keep the audience entertained as the evening's MC. Subaru brand ambassadors Art and Matilda Green also joined in the celebrations.
Subaru of New Zealand's Managing Director Wallis Dumper said after three tough years in the industry, the decision was made late last year to mark the brand's 50th anniversary.
He offered his commiserations to not only the Subaru Authorised Centres in the regions affected by Cyclone Gabrielle's recent devastating impacts but to but to all Kiwis who have suffered losses due to the flooding.
Mr Dumper then welcomed honorary, international guests Inchcape Australasia's Managing Director Colin Christie and Subaru Corporation's Masaki Fukushima and Ryota Arai, who are respectively General Manager and Assistant Manager of the Pacific, Latam, CIS, Middle East and Africa Sales Division. In an almost ironic twist, one of the esteemed guests was Subaru Australia Managing Director Blair Read, who was originally part of the Subaru of New Zealand team over 15 years ago.
He continued by thanking everyone attending the gala, who has in some way contributed to Subaru's longevity.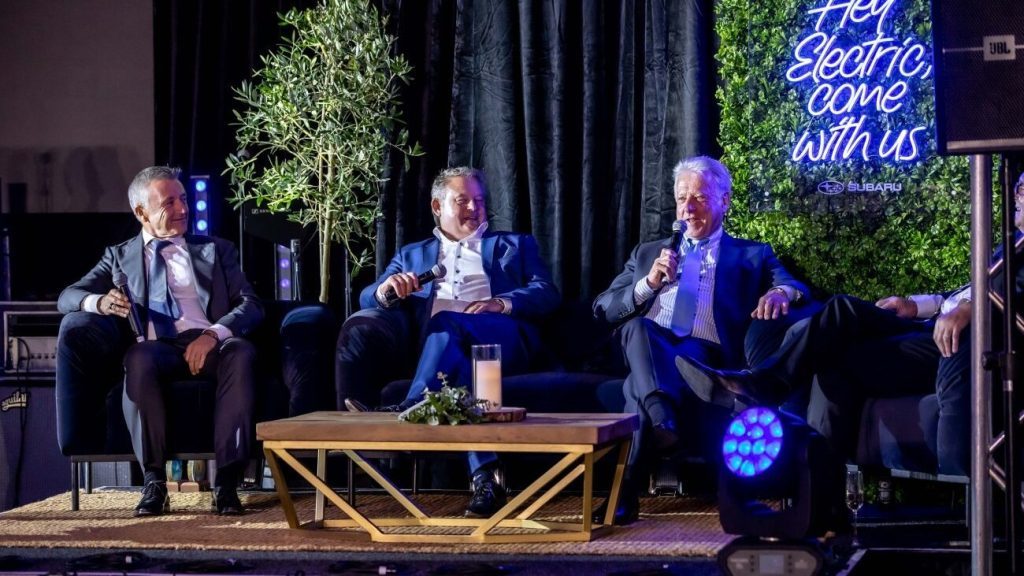 "You all made part of our history with us and most importantly, you will be a big part of our future. Our partners and suppliers – there are too many to list – thank you all for enabling our success. But let's not forget our people. The Subaru of New Zealand team are all here and that signifies that our business is about the people," Dumper said.
"I particularly resonate with this Māori saying: He aha te mea nui o te ao. He tangata. He tangata. He tangata. What is the most important thing in this world? It is people. It is People. It is People"
Mr Dumper acknowledged the key staff who made this spectacular event happen and credited the long-term employees, who have been with him at Subaru New Zealand since he started working there in 1996.
"Decades ago, I remember extra airbags as an option on Legacy and asking for disc brakes on Impreza. I remember robust discussions about dropping 50% of our model range to go 100% AWD only and replacing those 2WD units with the Forester. I remember replacing 33% of our sales when we phased out Legacy to go Outback only."
"I remember more robust discussions with our ad agency about moving the brand to high ground – not grinding it down in fleet volumes to retain customer value. The reasons why I'm recalling all this, is to remind us that 50 years of AWD has gone quickly."
"I cannot assure anyone in this room that the next 50 years won't be challenging – but I can let you know that if you have the right attitude, it will be fun – most of the time!" Mr Dumper said.
He recognised the vital role Fuji Heavy Industries (FHI), which became Subaru Corporation, has played in helping shape mutual success and invited Mr Fukushima to say a few words. Fukushima-san was then presented with the All-Wheel Drive 'Subaru Country' Award 100% AWD – 1997-2023.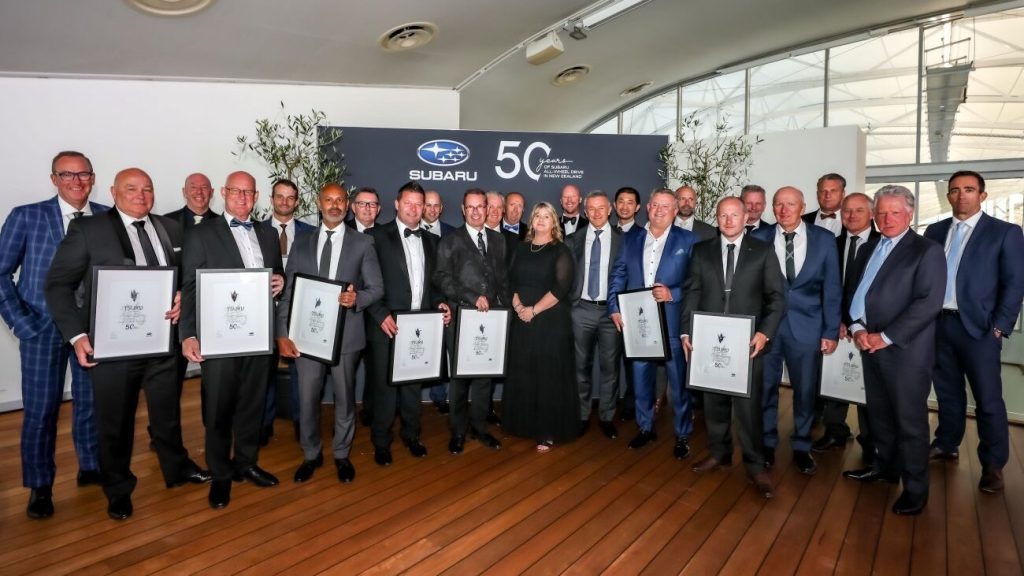 Although it is difficult to single out any one person, Subaru New Zealand wanted to acknowledge the contribution of two long-standing dealers. Winger Group owner Wayne Leach was presented with a Sustained Success Award, recognising decades of growth and brand business commitment as New Zealand's number one seller of Subaru vehicles; and Farmer Autovillage Managing Director Michael Farmer with an Outstanding Performance Award for Subaru sales and customer experience from 2020 through to 2023.
All 17 Subaru Authourised Centres were awarded with a Tsuru (Japanese for crane) Longevity and Good Fortune Award, which was also presented to the company's most long-standing employees, as a testament to their long service.
Several Subaru franchise business owners were asked to join Mr Dumper and Mr Wells for a Q&A session on the couch after the main meal was served, which brought up some nostalgic moments and stories over the years.
After the formalities finished, the guests moved to the dance floor and enjoyed a live band, as a fitting way to wrap up the celebrations.