Need a car that you can work, eat, and sleep in? Look no further than this Skoda Enyaq that a group of students has turned into a mobile office space and camper.
The living room-on-wheels has fittingly been called the Roadiaq and it's here to give digital nomads a place to call their own while out on the road.
It features a permanent internet connection, a 27-inch monitor with a docking station, plenty of storage and electric plug sockets, as well as an all-important espresso machine.
However, it can quickly be turned into a home-on-wheels as the workspace can be transformed into a living area, kitchen, and bed in "a few easy steps".
Both rear seats needed to be removed to convert the vehicle into a working and living space, while a completely new roof structure and tailgate had to be fitted to provide ample headroom, raising the vehicle's height by 350mm.
Inside, the seats, door trims, and instrument panel have been upholstered in fabric made entirely out of recycled materials which match the car's two-tone Emerald Green and Moon White paintwork.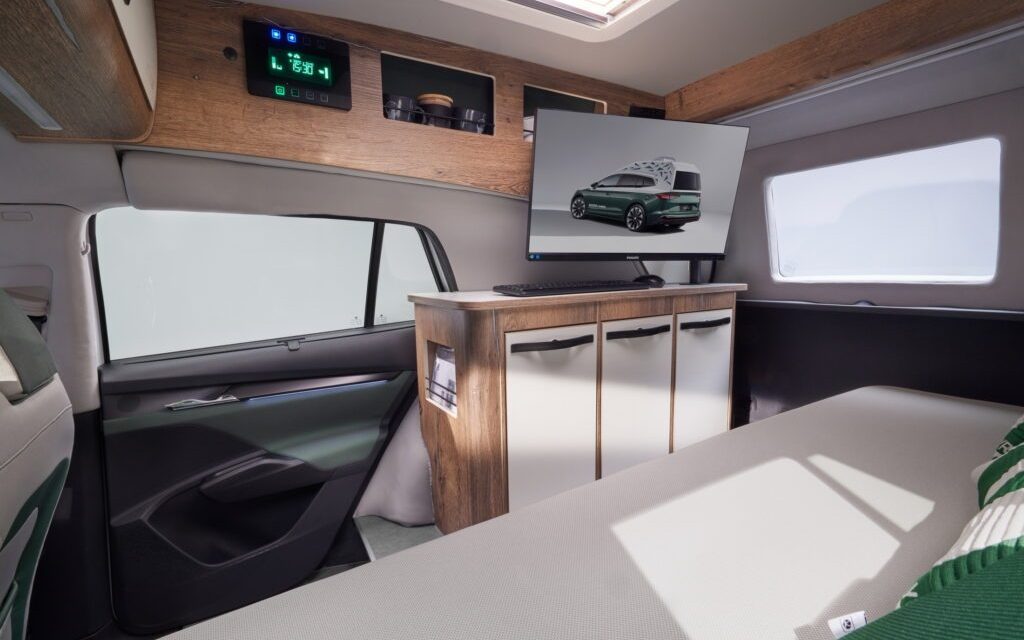 The Roadiaq also comes with solar panels to help generate electricity inside but it can be connected to an external power supply via a port outside too.
Nothing has been changed as far as its fully electric drivetrain goes, with the camper being based on an Enyaq 80x Sportline. That means it features a dual-motor all-wheel drive system and can travel up to 495km on a single charge thanks to its 82kWh battery.
The Skoda Roadiaq is the ninth car built by students of the Skoda Vocational School since the 2013/14 academic year. This year saw 29 students have a hand in creating their dream car, the Roadiaq, which took over 2000 hours to create.