There's a new look and a new name for the hatch that replaces rapid and fills the gap between Fabia and Octavia. Meet Scala, available in three spec grades.
In a new car market that for the first time in five years isn't set for another record, marques are trying to maintain their share while numbers are off by around five per cent year to date. Most brands have hedged their bets, heavy in the SUV/crossover area, while maintaining a presence in the small and medium hatch segments.
Skoda is amongst those with a relatively even mix of SUVs and hatches/wagons. In a short while there will be another with an elevated platform, the arrival of small SUV Kamiq expected within six months. These littl'uns now account for 15 per cent of new vehicle sales.
In the compact area, 75 per cent of buyers are opting for high riders, while around 25 per cent still choose a hatch or sedan. Generally it's a hatch, so in this area things are seriously competitive with the likes of 308, Astra, Cerato, Civic, Focus, Golf, i30, Impreza, Mazda3, and S-Cross.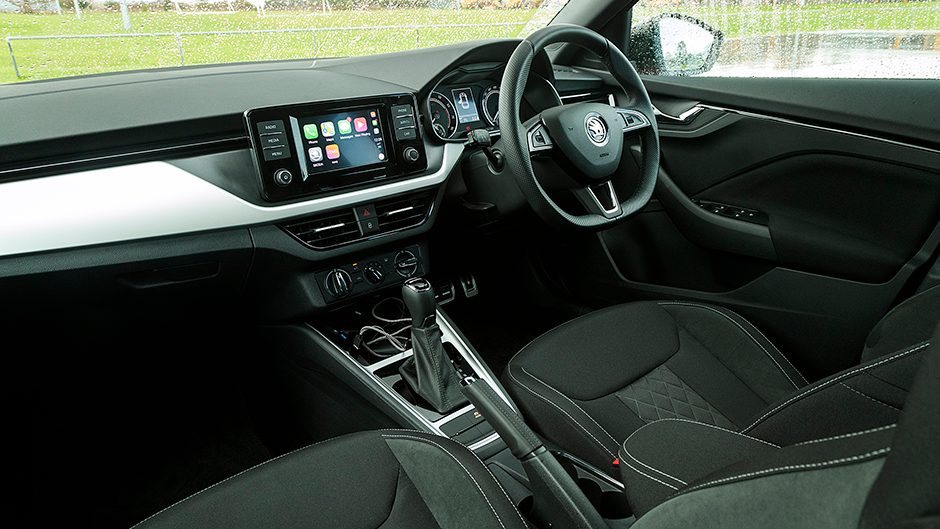 Mention of Kamiq is timely because new Scala is mechanically much the same and also has a common styling influence in the company's 2018 Vision X concept. Kamiq is a dead ringer for the show car, while Scala, the Rapid replacement, is the low rider version. The name means ladder or stairs and it is this vehicle that will take on those other well known nameplates.
Rapid never made much of an impression here, 17 units in 2017, 85 the next year and 44 in its run-down phase. Perhaps it was the confusing Spaceback model name? Or Fabia-esque styling? Or maybe also because it was more vapid than rapid?​
So there's a fair bit riding on the new Scala, especially given pricing kicks off where Rapid's ended. But there are myriad reasons why its replacement should fare better, not the least of which is its fresh styling. This is more rounded, and modern with simple attractive character lines. Skoda's boss, Bernhard Maier, reckons it has the Skoda house design cue of 'smart understatement'.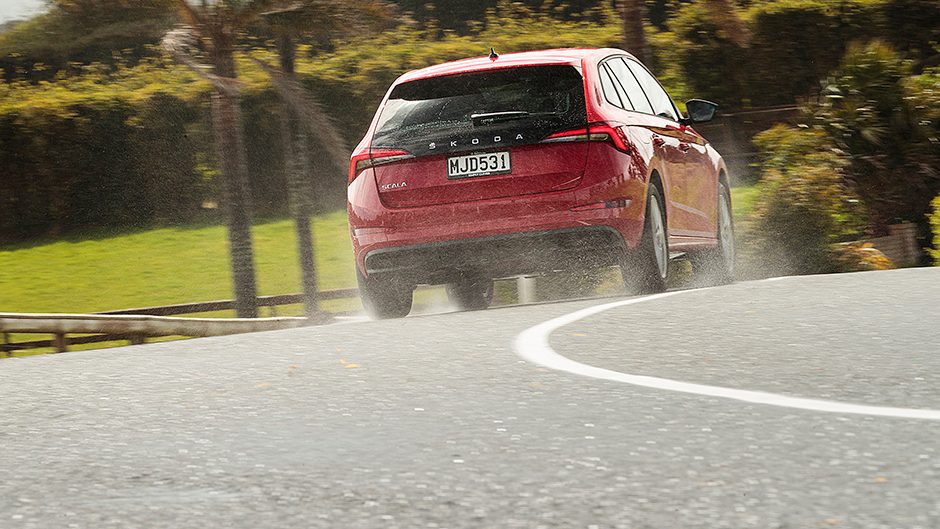 A new front with narrow LED headlamps features ducts that help move air around the front wheels, and contribute to a fuel-saving Cd of 0.29. At the rear, this is the first vehicle from the Czech brand that features the logo written in bold letters across the fifth door, like Porsche does. The C pillar is a bit unconventional in that it contains a fixed glass partition, enhancing visibility during lane changes.
The two top models also feature a lane-keeping facility, easily enough cancelled if you don't care for that AI feel at your wheel. That, by the by, is a flat-bottomed leather clad number, with cruise on a wand in behind, but no paddles.
Scala comes in three guises, the Ambition base model kicking off at $29,990, the same price as the outgoing Rapid Sport. It's powered by an 85kW/200Nm 1.0-litre triple turbopetrol linked to a seven-speed twin-clutch transmission. Sport and Style use a 1.5-litre TSI engine linked to the same tranny, and delivering 110kW and 250Nm of torque. Both are frugal, with respective claimed WLTP combined figures of 5.3 and 5.7L/100km.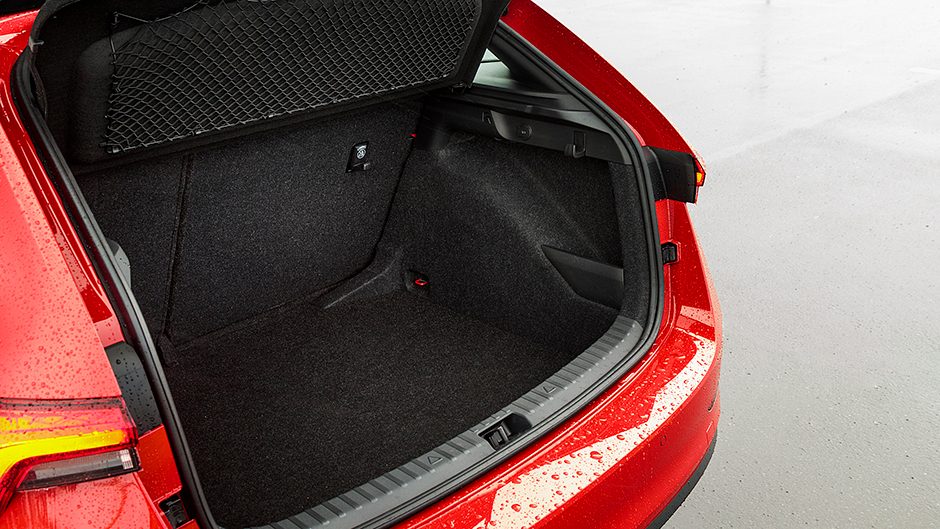 The interior shows hints of Skodas past, like the main instruments, while a well placed and legible touchscreen looks sizeable but the screen itself isn't. Still, there are plenty of rather appealing soft touch surfaces throughout the vehicle. Seats are cloth trimmed and quite supportive, the driver's plumbing the depths nicely, and with adjustable lumbar support. It's possible to move the front passenger seat easily enough from the driver's side too and there's a hidden cubby at the front of the squab for wallets, phones and the like.
Plenty of other 'simply clever' features are in evidence, like the door-stowed umbrella, A-pillar parking ticket holder, ice scraper/tread depth gizmo, tie downs and hooks in the hatch, and a washer cap come funnel under the hood.
What really wows though are two things, interior space, the Skoda calling card, and refinement.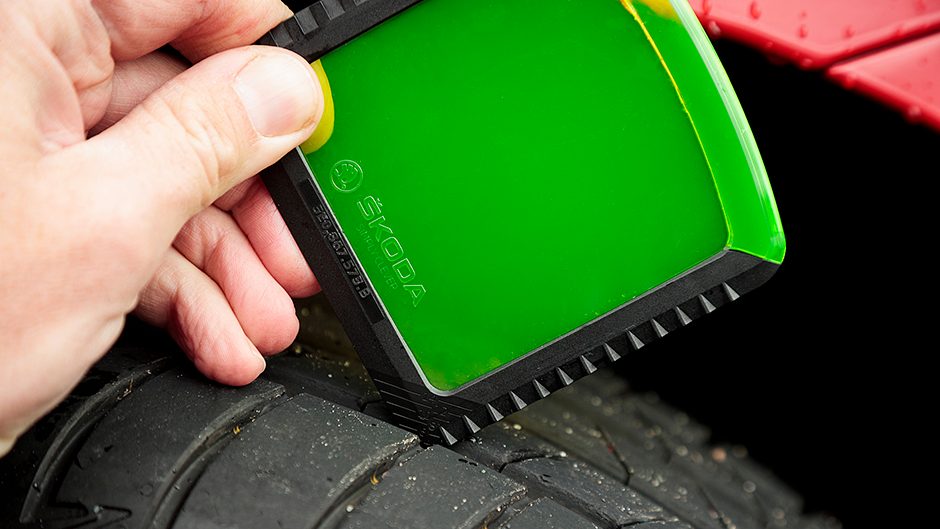 Potential Scala owners will be getting more luggage and occupant space than in any of their rivals. And the reason for that is two-fold. Scala utilises a stretched MQB A0 platform and the body is slightly bigger allround than Rapid's (4362 vs 4304mm long), with a 58mm stretch in the wheelbase to 2649mm.
Skoda reckons there's room for two generously sized adults either side, front and rear, with 73mm of knee room, and 982mm of head room. Luggage capacity they contend rules this class. Its claimed 467L is more than 50L up on Rapid's and at least 100 on everything else. Two-tiered split folding results in over 1400L of available load area.
Currently we're in the 1.5L Sport ($34,990) which arguably is less sporty than the Style ($38,990) as that rides a bit lower and gets adaptive damping and tastier rubber. The Rapid ran a 1.4 turbopetrol engine and hit 100 in about 9sec. That's midway between what the 1.0-litre Scala (9.8sec claim) and the 1.5-litre variants (8.2sec) can manage. Ditto fuel use figures. But the new 1.5 TSI engine is a bit clever in featuring a cylinder deactivation (two-pot) mode.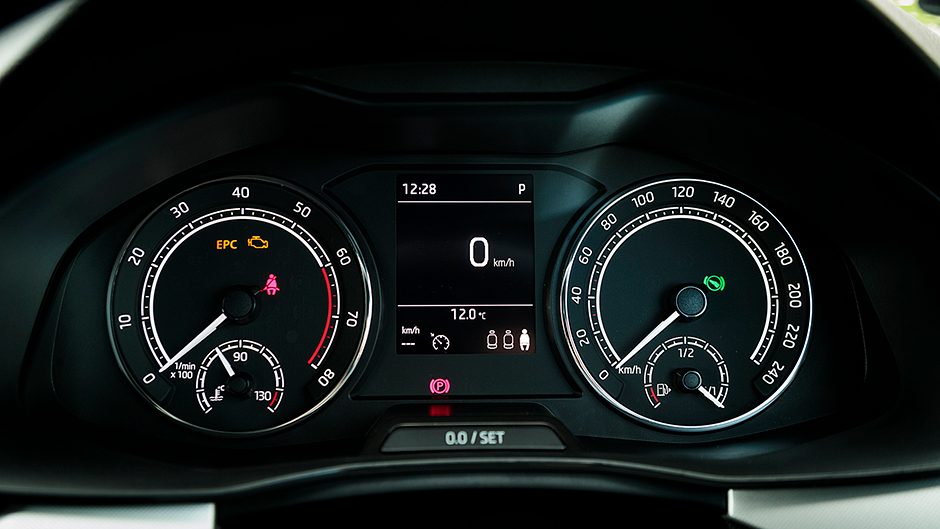 On flat sections of motorway instantaneous fuel use is often around the 3.5L/100km area so its WLTP claim of 5.7 should be achievable if you go easy on the loud pedal. And because the turbo in this vehicle comes into play from below 1500rpm, it can be driven deliberately with economy in mind. On minor throttle applications, in the Normal mode, it upshifts to higher gears using revs below 2000, and once again that 3.5L/100km figure shows up, this time in urban driving.
Escape the city confines and it thrives in the 2000-4500rpm area, easily hitting its claim of 8.2sec in the dash to 100km/h. It almost feels rapid at times, like a ghost of the old car. Only this one is rather better. We really like it's ride quality, better day to day than the Style's firmer approach. Sport features fixed suspension, and it's set up for pampering. That's in part due to its 17-inch alloys with middling side walls.
The Style variant gets 18s and with adaptive damping that supple ride in part makes way for flasher dynamics. With new stiffer underpinnings – evidently 70 per cent high strength steels – this handles reasonably well, not quite up with the class leaders but the Sport compensates by having amongst the best rides you'll find in the sector, particularly when you factor in the notable lack of road noise intrusion, in part because of its Turanza rubber.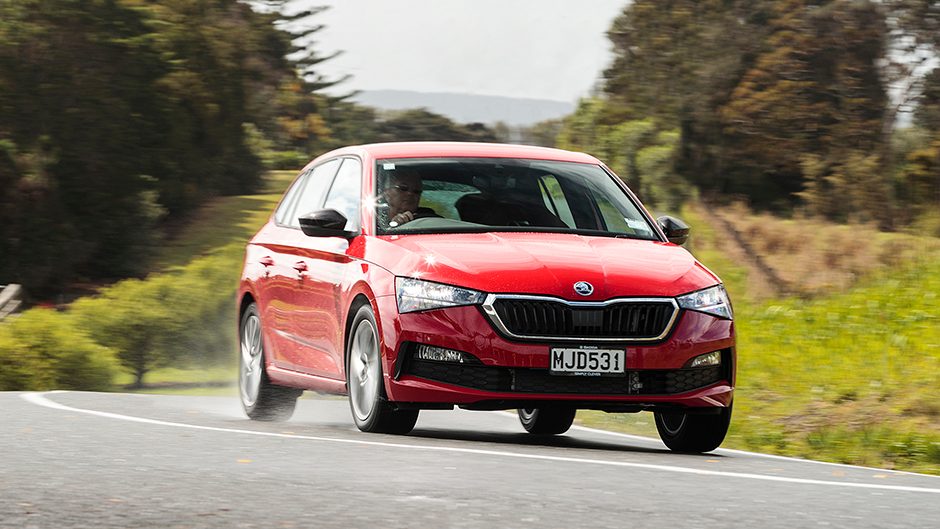 However, Style adds extra specification, costing $4k more. Included are active cruise control (a $900 option in Sport), dual zone air con (manual in the Sport, $1200 upgrade), exterior and interior chrome trim, keyless entry ($400 option), and window tints.
Both models come with fairly comprehensive safety kit, including LED lighting (matrix in the Style variant) autonomous braking, blind spot monitoring, lane keeping, and seven airbags. Items not on the list include heated seats, and leather trim, though the upper two variants get suede-like inserts. All models are always online.
So Scala Sport is more competitive than Rapid, despite the price rise, undercutting its Golf cousin. If roominess, economy and refinement are top of mind, Scala deserves consideration, especially for those not ready to default to a compact SUV.
| | | | |
| --- | --- | --- | --- |
| Model | Skoda Scala Sport 1.5 TSI | Price | $34,990 |
| Engine | 1498cc, IL4, T/DI, 110kW/250Nm | Drivetrain | 7-speed twin-clutch, front-wheel drive |
| Fuel Use | 5.7L/100km | C02 Output | 129g/km |
| 0-100km/h | 7.95sec | Weight | 1252kg |