Kodiaq is the first Skoda SUV to launch here since yeti in 2009. It's a sizeable, well specified seven-seater priced in the $40k-$60k range, most versions with 4WD. We suss out the top style diesel variant.
How to make your new SUV stand out from the crowd is a question car makers must have been asking themselves for about a decade. After all, SUVs are essentially two-box designs and there's only so much you can do to differentiate your truck from the masses of others available. So you get fancy grilles, and slitty headlamps with all sorts of starry technology, including 'frickin' lasers'. Even the good old company badges are magnified and attached to the centre of the gargantuan grilles to make some kind of a corporate statement.
In the case of the Skoda's new Kodiaq, upon which the company worldwide has high hopes, it's not the grille which is relatively small in the scheme of things, though quite nicely formed, and nor is it the badge which is arguably the worst design aspect of the entire vehicle but it's the 'simply clever' aspects that may well sway those interested into signing up. Skoda, once the butt of automotive jokes, has long since moved on (even if some of the older generation haven't), their vehicles generally offering a little more space and value than the Volkswagen cousins upon which they are based. And this is a strategy that has worked rather well, sales increasing year on year in New Zealand. Now Skoda sales are aiming at the 2000 per annum mark locally, competing at the higher end of the mass market with Asian rivals, and offering a European slant on things. Hence the option of diesel power across much of the range.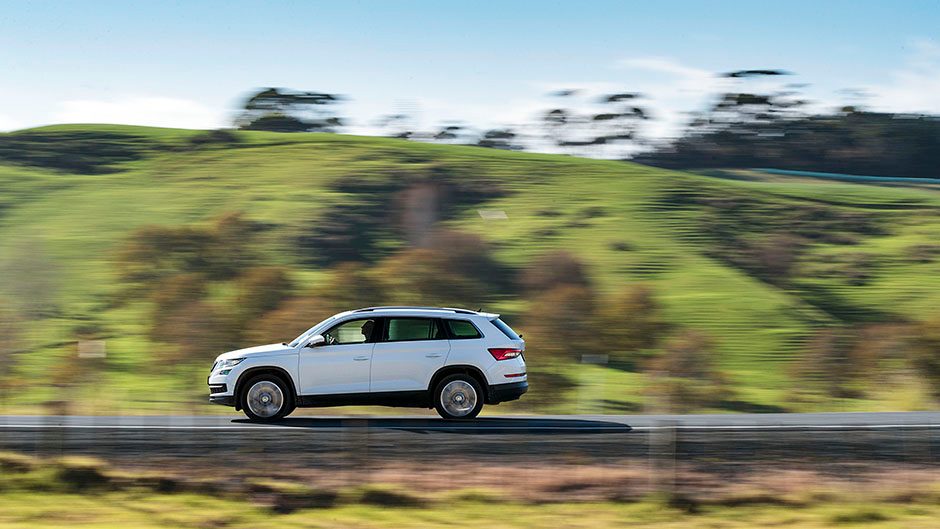 It's the small stuff
But getting back to the "simply clever" tagline, there are aspects of the brand's new Kodiaq that will likely be deal breakers for some. And there are genuinely smart ideas, like the paint protectors that emerge once the doors open and prevent damage not only to the Kodiaq's paint but also to other cars parked alongside. They retract automatically when the door is closed, though you do need to be a wee bit more forceful to ensure it's fully shut. Another is the way the drinks holders in the centre console are designed to grip a bottle so the cap can be untwisted one handed.
Two small but useful items that come standard on all Kodiaqs are umbrellas in the front doors. There's also an LED light in the compartment area that's permanently charged and can be removed for use when changing a flat tyre at night.
One clever item that's overlooked is the location of the pushbutton starter. Instead of slapping it on the centre console where it's sometimes hidden by the rim of the steering wheel or a bit of a stretch, Skoda designers opted to put it where you might normally slot an ignition key. So there's no fumbling; you can find it easily, repeatedly, without having to peer anywhere.
There are lots of other little clever things too, almost too many to mention really, though the heated wheel that activates when you select heated seats bears mentioning. It's a delight in winter. The accessory rubbish bin is a good idea too; it's a little trash holder with a plastic bag that slots into the map pocket on the driver's door.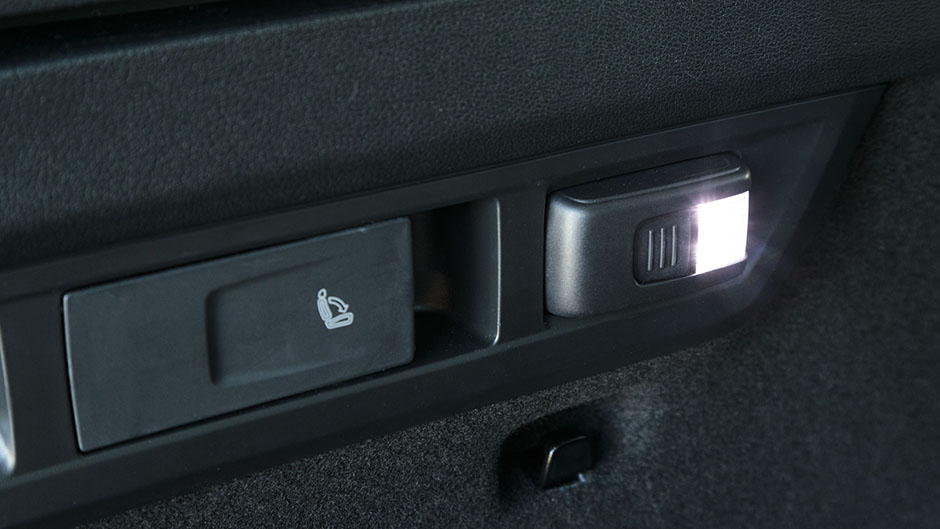 Diesel or petrol?
So these are the kinds of little things that endear you to a vehicle, and make it stand out from the crowd. Kodiaq is a bit different in another regard; all versions are seven seaters. There's also a decent price spread too, beginning at just under $40k and extending to $58,290 for the vehicle you see here, the Style 2.0 TDI. There are two versions of the range-topping Style, the other being the petrol 2.0 TSI equivalent. That's the one most will likely select given as it is equipped the same, tows as much (2000kg braked), costs $4000 less and offers better performance than the diesel. There's a price to pay at the fuel pump (mean fuel use of 5.7 vs 7.4L/100km) but the cost difference up front buys you the best part of 18 months of motoring.
Moreover, there's always the option of the base vehicle if you're on a budget – that's front-wheel drive, uses a 1.4L turbopetrol engine mated to a six-speed twin-clutch transmission and is rated at 6.3L/100km. It might seem undercooked for the size of the vehicle (4.7m, 1610kg) but with 250Nm delivered from 1500rpm it drives just fine, unladen at least.
However, it's the big bear we're driving, the Kodiaq Style TDI that not only costs the most but also has the most torque, and for those with towing needs it's probably the pick of the bunch. Particularly if you choose to install Trailer Assist, an $1850 auto-reversing option that includes a deploying towbar. It has all the safety gizmos too, like active cruise with stop and go, blind spot monitoring, and lane assist, while trizone air, sat nav, LED headlights, self-parking, leather trim and surround camera are all part of the Style deal.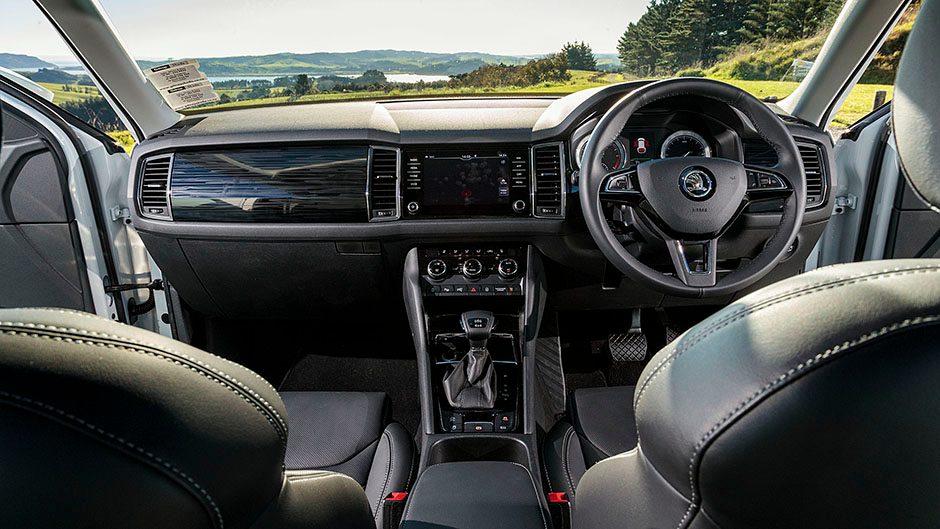 Smoke-free diesel
Diesels from the VW Group have taken a bit of flak lately, but this is the latest Euro6-ready device, NOx emissions cleansed by AdBlue. There's almost no diesel stink, and it's quiet running too. Power of 140kW from the 2.0L engine exceeds that of the top petrol (132kW), as does torque by 80Nm so performance isn't too shabby, especially in Sport mode. VW claims are always conservative so zero to 100 in 9.1sec is easily achieved, with a best in the low eights. Like most diesels, overtakes need to be planned with a little more leeway – figure on around 200m for an 80-120km/h pass – but most of the time you'll find more than satisfactory urge. It's easily accessed too, with the useful Mode button on the centre console. We used the Comfort setting in town which sets the dampers to their cushiest, and the engine in relaxed mode. This even works well enough out of town if you're not in any rush. Running late, select Normal or Sport for the dampers, and handling is more tied down, with not much in the way of push. The tyres work okay in the wet too. Sport steering adds a bit much weight so 'normal' is preferable.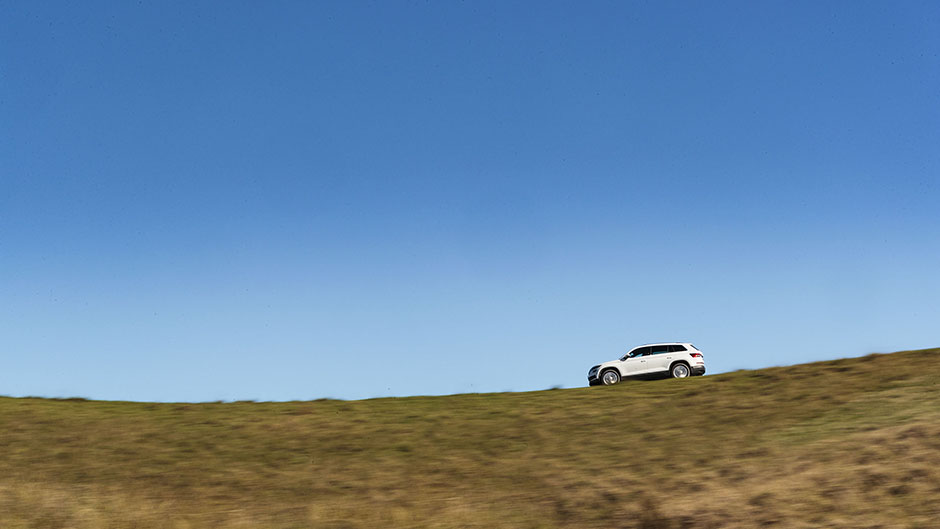 Set and forget
Out of town Sport should be the default mode setting. Many's the time we've found Sport or Dynamic mode settings a bit too much of a good thing, holding onto gears for too long, but the software is well sorted in the Kodiaq. You want lots of punch? Apply more throttle, but if you want to ease back and cruise the Sport setting allows this as well, selecting top gear, seventh, at around 100km/h. It seems to understand what you want according to how hard, fast and heavy or not you are with the throttle.
Can't be bothered with changing modes all the time? Then select Individual, and dial up the engine, suspension, steering and transmission settings as desired and never touch the mode button again. If you leave everything in 'Normal' you can still get an extra shot of haste by simply pulling back on the shift lever when it's in the Drive position. That selects the Sport transmission software of the seven-speed twin-clutcher and holds gears for longer, downshifts more readily. Pull back again and it reverts to Drive. Skoda has the performance aspect absolutely sorted for all situations. The engine is obliging too, pulling heartily from 1500rpm and revving up to 5000rpm if you're using the paddles. But largely they're superfluous to needs.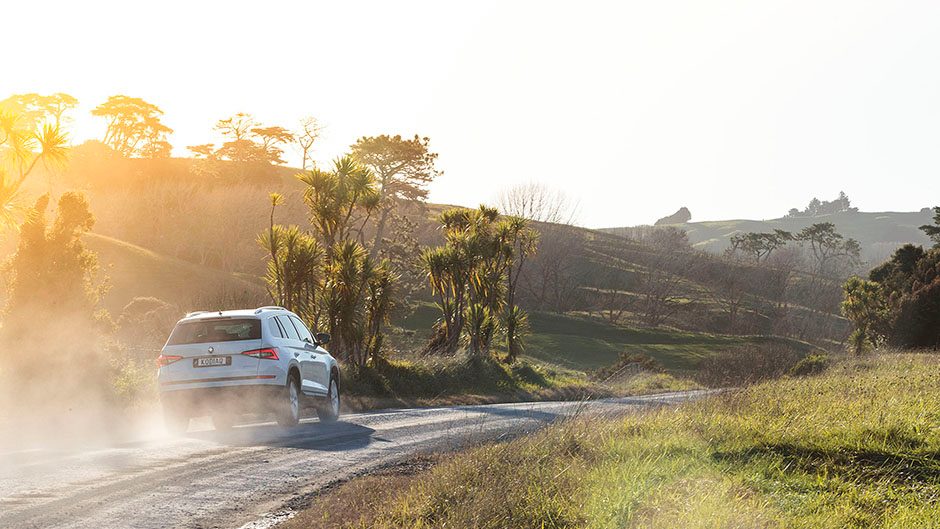 Hushed puppy
There's another aspect of performance that most definitely warrants a mention and that's extraneous cabin noise. For the most part the engine essentially beavers away in the background without drawing attention to itself. And the tyres are just the same. They're Pirelli Scorpions, the Verde variety, so are designed as a multipurpose boot, good for a mix of economy, noise (reduction) and grip. On cabin quietness, they're first rate. We went looking to find chipseal rough enough to generate noise levels above 70dB and mainly failed. An average of 67dB means road roar is simply not an issue, and that's reassuring in a vehicle designed to carry seven over long distances.
You'll have more issues from the racket generated by the occupants in the sixth and seventh seats. Being roomy is a given in a Skoda; that's one of the things for which they're renowned. Here the Kodiaq doesn't disappoint, providing you're not contemplating carrying seven adults too far. The third-row seats are really for big kids at best, though leg room can be boosted with second-row seats on sliders. Some of the others like Mazda CX-9 have it beaten for occupants space, but it is in the hunt against the likes of X-Trail and likely the incoming Tiguan seven-seater.
As to luggage capacity, always a Skoda strength, this is right up there, offering more space (2005L with two seats in use) than most in its class (1700L). Split folding is by levers in the hold area. There's 630L of flat space with five seats in use.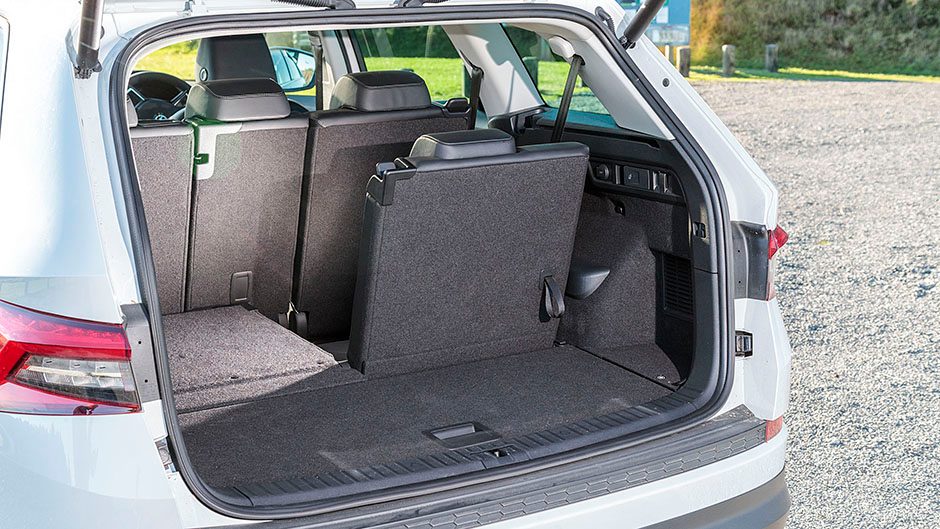 The Shiz?
Skoda should move all of its Kodiaq allocation for the year, supply limited by overseas demand. It's a nice foil to machines like CX-9 which might prove too big for some, and competes well on spec with X-Trail at the lower end.
If you're after something a bit smaller or less expensive, Skoda is launching its five-seater Karoq next year. Both are sure to boost Skoda sales into another league locally.
| | | | |
| --- | --- | --- | --- |
| Model | Skoda Kodiaq Style TDI | Price | $58,290 |
| Engine | 1968cc, IL4, TDI, 140kW/400Nm | Drivetrain | 7D, on-demand AWD |
| Fuel Use | 5.7L/100km | C02 Output | 151g/km |
| 0-100km/h | 8.13sec | Weight | 1873kg |