With Ford seemingly embracing electrification with open arms, it's only a matter of time before its iconic tuning arm Shelby gets in on the action in some form. And, its first plug-in step will appear at this month's SEMA event in Las Vegas.
Over the weekend Ford revealed five modified Mustangs that will be shown off at the event. And, Shelby's fully electric Mustang Mach-E Concept headlined the group.
Based on the flagship performance 358kW Mach-E GT, the Shelby gets plenty of Shelby-esque styling cues thrown at it. These include the signature Cobra stripes, Shelby signage, a much more aggressive front fascia and splitter, a gaping bonnet vent, and big forged 20-inch lace wheels. 
Inevitably, Shelby hasn't touched the Mach-E's electric powertrain. Instead they've focused on improving the EV's handling. As such, it sports carbon-composite springs, MagneRide magnetic dampers, and Michelin Pilot Sport EV rubber.
Those who paused on the 'bonnet vent' reference to wonder why an EV would need a bonnet vent need not worry, either, with Shelby claiming that it's functional. According to them it helps reduce front-end lift at speed. That body-kit also has something of an ace up its sleeve in that it's made out of carbon fibre, helping reduce the Mach-E's weight.
Of course, it's just a concept for now. But, with the Mach-E proving to be a big seller in the US thus far, don't be surprised if Shelby hitches its wagon to the platform in the coming years.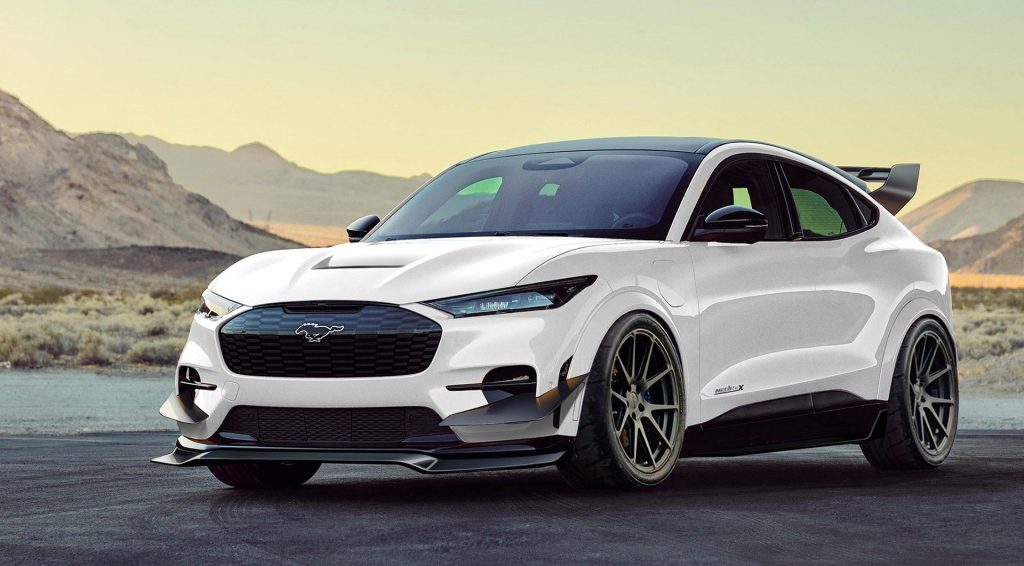 The Shelby Mach-E wasn't the only SEMA Mustang shown off. It wasn't even the only Mach-E Mustang of the bunch, either. Two other plug-in ponies were revealed; one made in collaboration with the Austin Hatcher Foundation for Pediatric Cancer charity, and the Tjin Edition. 
As its collaboration might suggest, the former is set to be auctioned off for charity. Although oddly enough, said auction will only take place in 2023, two years from now. It gets an aggressive body-kit, a whopping rear wing, 20-inch Rotiform wheels, a Brembo brake package, and an adjustable Motion Control System.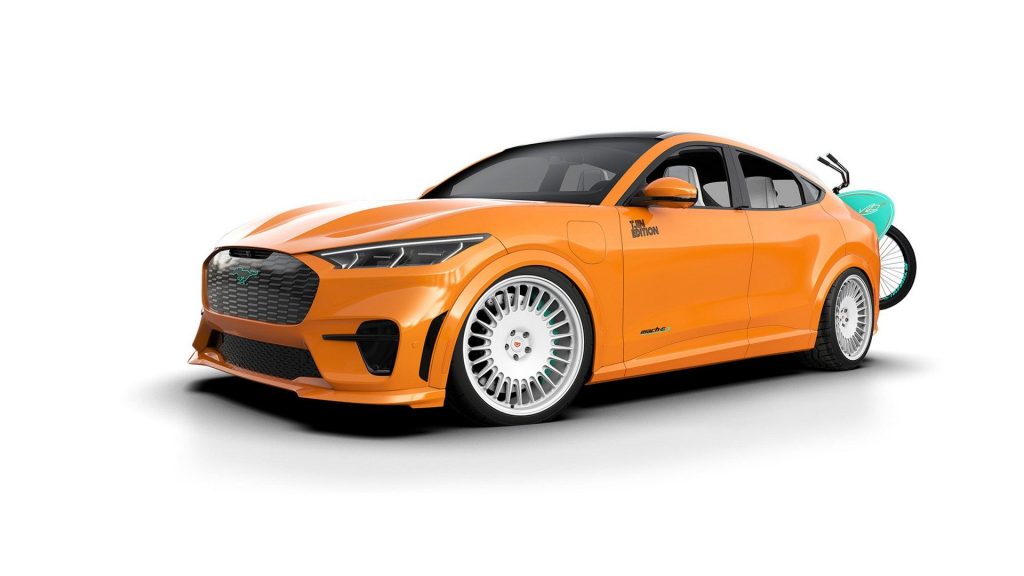 The Tjin Edition, meanwhile, is wrapped in a retina-searing orange. Its full name is the Tjin Edition Mustang Mach-E California Route One (catchy, rolls off the tongue), and on top of the bright paint it also gets a body-kit, Vossen wheels, a white and teal interior, and a RayVolt electric bike mounted to its rear end.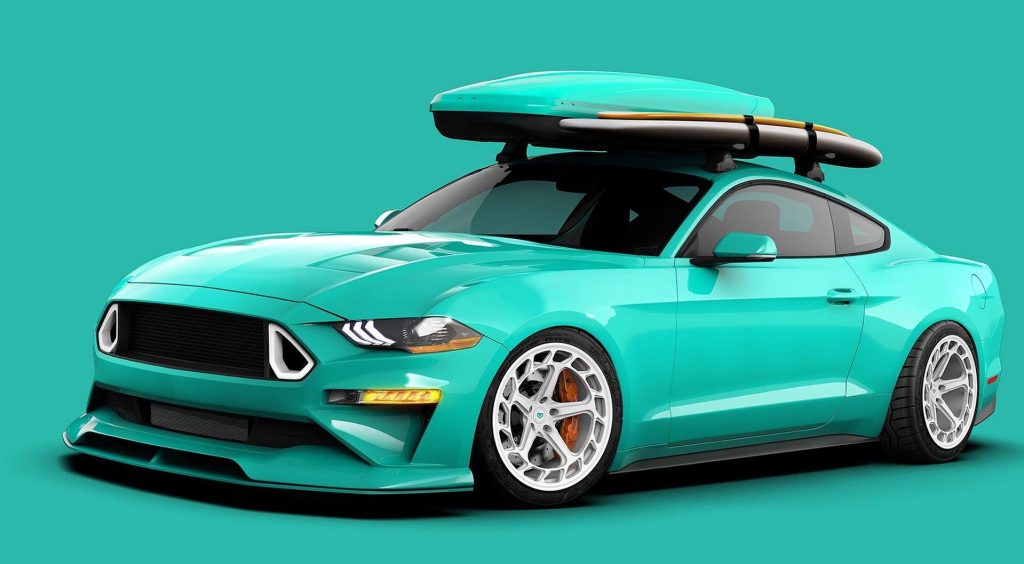 Last but not least are two 'normal' Mustangs; the All Star EcoBoost High Performance, and the M2 Motoring Mustang GT. The former is dipped entirely in teal, and gets an Anderson Composites body-kit, Vossen wheels, Baer brakes, air lift suspension, and a new intercooler and cold-air intake from Cobb Tuning.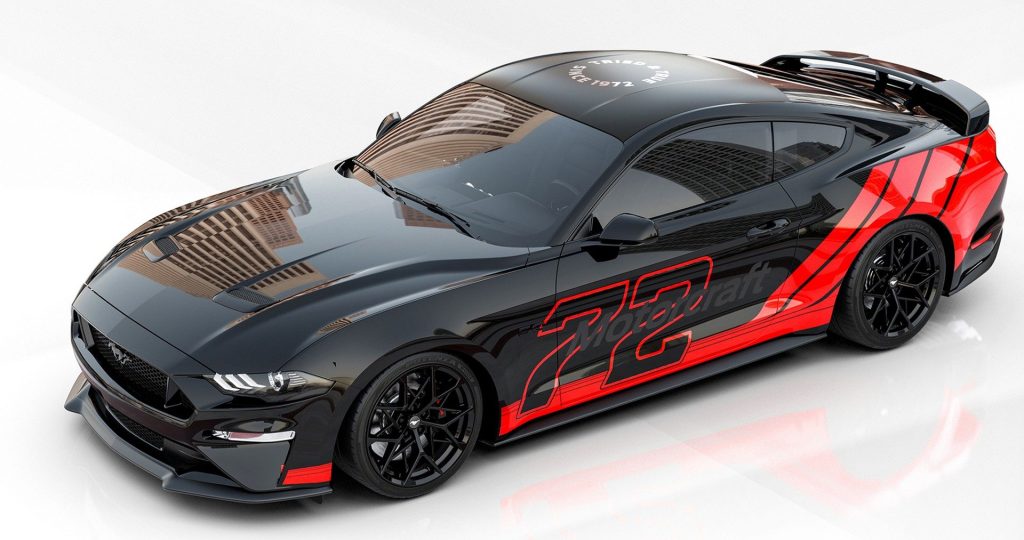 Finally, the M2 (the only V8 Mustang in this assortment) gets Ford's factory Performance Package, a striking Motocraft livery, a Ford Performance supercharger package that boosts output to 552kW, lowering springs, Goodyear Eagle F1 rubber, Recaro buckets from the GT500, and more.