Shane van Gisbergen has made a statement on the world stage, taking a famous victory in today's NASCAR Grant Park 220 race in Chicago.
While van Gisbergen had remained coy regarding his chances in the race all week, hopes were high following an impressive practice and then qualifying session.
What followed was nothing short of special, the three-time Supercars champion putting together the perfect race in challenging conditions to take victory over Justin Haley.
The victory stands as the first time a driver has won on NASCAR debut in over 60 years. It also makes him just the seventh driver to win on debut in the 75-year history of the sport.
"This was so cool. This is what you dream of. Hopefully, I can come and do more," van Gisbergen said following a massive burnout in front of a loud Chicago crowd under the dying sun.
"The racing was really good, everyone was respectful. It was tough but a lot of fun," he said. "The fans in Australia and New Zealand, the response this week and the coverage has been – I can't explain it.
"Like the response and the support I've got from everyone and even over here how welcoming everyone is, I can't believe it. Dream come true."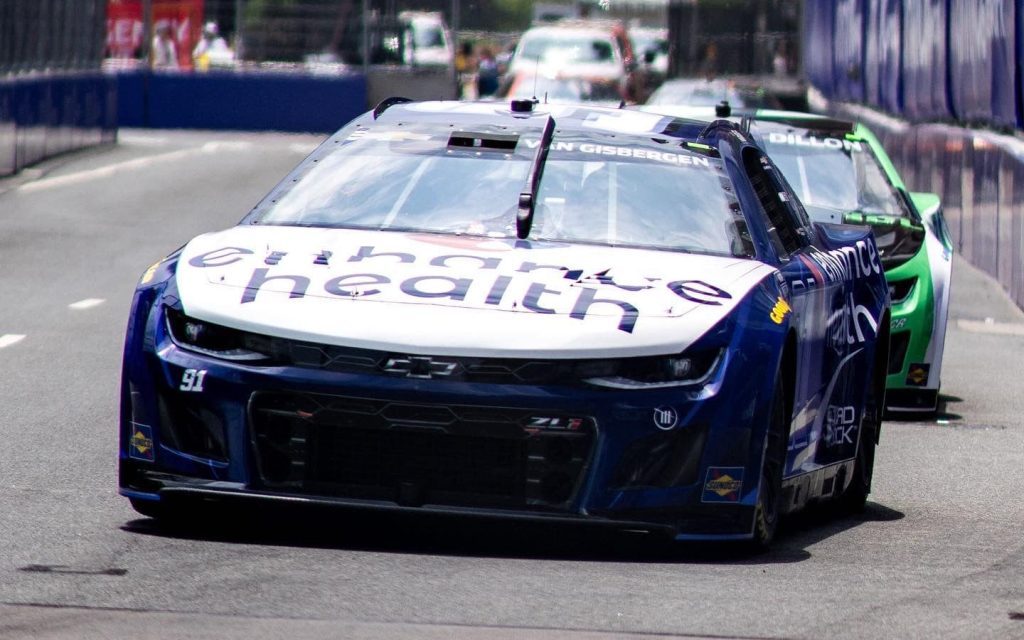 The Grant Park 220 was NASCAR's first time racing on the tight street circuit, and it was an event worth remembering, with a shock winner, multiple cautions, a lengthy rain delay and a strategy masterclass.
Standing water had seen the start pushed back an hour, with racing finally commencing nearly 90 minutes after the scheduled start time.
Van Gisbergen started well from third and kept his position over the opening exchanges before taking second spot off Tyler Reddick ahead of the first round of stops.
Once those had been undertaken, van Gisbergen re-emerged in second, behind only Christopher Bell, as the field switched to slicks on a drying surface.
The Kiwi proceeded to lose places off a Lap 34 restart, dropping to fifth until a fourth caution was called for on Lap 41. He regained one spot off this restart, with the track only staying green for two laps.
Under the fifth caution, it was announced the race would be reduced from 100 laps to 75, resulting in half of the pack stopping for a two-stop strategy while others remained out.
Van Gisbergen was one of those to stop, opting for fresher rubber to bring the race home. This saw him drop to 18th with only 30 laps remaining.
From here, what transpired was nothing short of a Shane van Gisbergen masterclass, with the Kiwi making incredible moves and holding firm as his rivals faltered to return to the front and sit third with nine laps to run.
Up front, Haley and Chase Elliott were on older rubber, having opted for a one-stop strategy. Van Gisbergen passed Elliott off a Lap 66 restart and appeared to take the lead on Lap 67, only for an untimely caution to force him to return to second.
That was no issue for the eventual race winner, who took the lead on Lap 70, with only five laps to run, and began putting time on the field.
Another late caution pulled this back, and the race put into a two-lap 'overtime' off the restart, which saw van Gisbergen keep his nerve and hold on for an inspiring race victory.