Seat adds another SUV to its range, one with seven seats. It's called Tarraco, and will make the choice of those looking for a 'slightly fancy' SUV that much harder.
Hmm, this new Seat seems familiar you may be thinking, and yes, we've sort of driven it before in various Tiguan and Kodiaq guises. The seven-seat Tarraco is Seat's take on the biggest car spun from the VW Group's MQB platform. We picked this up a few days after having dropped back the Skoda Kodiaq RS, so our sense of familiarity was heightened.
While Seat is positioned as the sportier, more dynamic of the larger group, Skoda is treading on its tyre tracks a bit with the RS, a sportster among seven-seaters. It is $12k more expensive however, ($7k with comparable options fitted to Seat), and no doubt Seat will respond with its own Cupra Tarraco.
Not to say we'd pick the RS over Tarraco; we'd be happy with either, and choosing between them would come down to powerplant preferences, Seat now being an all-petrol brand, Skoda still a diesel-centric one. And maybe styling, this Seat does it for us more than the Kodiaq. And the $7k saved could be invested in a holiday, without the kids.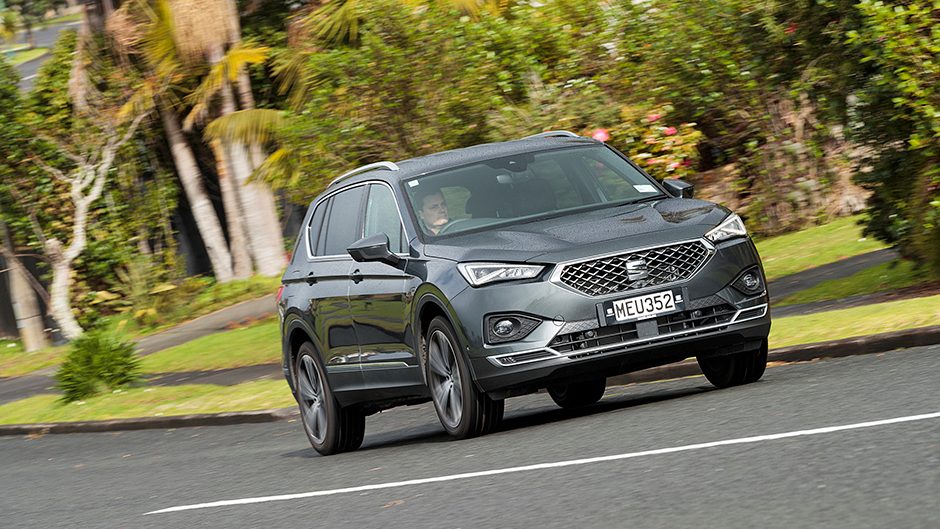 Anyway, Tarraco brings the Seat range to five, this being the largest, and most expensive. For reference it's 4735mm in length, or 370mm longer than the Ateca, which is quite compact for the midsized class. But there are no space issues with Tarraco, well at least not in the first two rows. There's ample allowance for lower limbs in the second row, which slides and reclines and comes with a 60/40 split. It's comfy too, with good head space and entry.
The folding tray tables are a nice touch but aren't particularly sturdy. Better is the USB charge point and a 12V outlet, seat heaters and a third zone of air. The seats in the boot are more suited to the little ones given the paucity of legroom, even when shuffling the second row forward to accommodate. The boot is big, wide and long while the second row can be dropped easily thanks to remote levers.
Up front, this Seat displays a solid VW-like build, put together on the same line as the Tiguan. There is a touch of Seat-ness though via the graphical displays (this with configurable instruments) and the seats are trimmed with a mix of brown Alcantara and textile. These offer a pleasing mix of comfort and support, are powered (on the driver's side at least) with a memory function and have a decent range of adjustment. There are good stash holes about with big door pockets, clever cup holders and while a charge pad is optional the USB ports are easily accessible.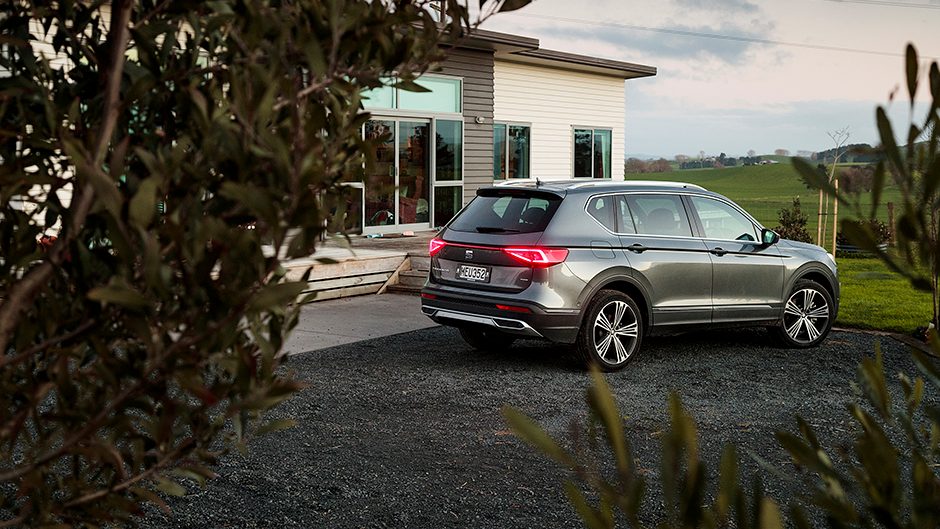 The only thing on the wish list is a softer edge for the console and a nicer feel to the door handle. The Tarraco range starts at $47,990 for the front-drive Style, and the $53,990 Xcellence utilises the same 1.4-litre turbopetrol powertrain but gains more spec. Then there's the Xcellence 4Drive with the same fit-out but powered by a 2.0-litre turbo with AWD, which is what we were driving.
The local Seat range has previously had sharp entry prices but a need to tick a few boxes to bring them up to spec. Not so here, the Xcellence with what we'd deem a replete list of items. This tester came with a couple of the nicer options, those being the $2800 20s (19s standard) along with Dynamic Chassis Control (adaptive dampers, $1750). Others include leather trim ($1600) and a retractable, factory-fitted towbar ($1300) to harness the 2250kg towing capacity.
The 2.0-litre outputs 140kW with 320Nm, the latter on from 1500-4100rpm. It works through a seven-speed twin-clutch and utilises the usual on-demand-type AWD set-up. The local brochure lists consumption at 7.3L/100km, whereas the WLTP range is stated at between 8.7 – 9.5L/100km (depending on the options fitted). And that's closer to the read-out on the trip computer in this Tarraco, the long term average sitting at 10.0L/100km. It's also rated to hit 100km/h in 8.0sec, which is doable if you manage to initiate the launch control function of the trans, whereas without it, this is more a nine-second machine.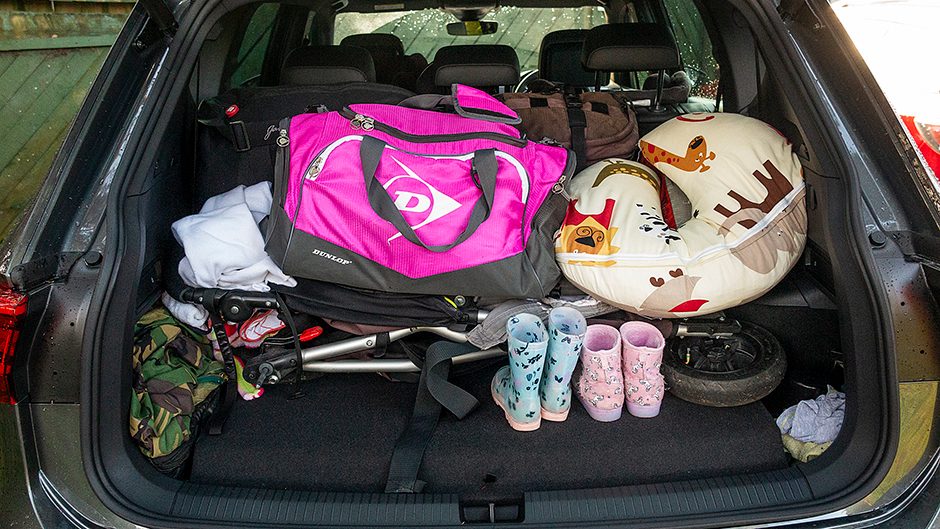 Still, that's plenty quick enough for a family wagon. The 2.0-litre Tarraco gets along well but it seems we complain about the same things in VW Group products. We wish the idle stop system would refire as quickly as it kills the engine and the twin-clutch trans feels laboured at slow speeds, slurring its clutch packs as it tries to haul away in second gear. There's just not quite enough torque flowing at 1500rpm, but then it comes right once past 2000rpm, where it feels at its best. Otherwise, the twin-clutch does the business and when you're behind schedule, added urgency is easily accessed by whacking the lever into Sport. And with AWD, all you ever get is grip and go.
The onboard helpers include active cruise to manage traffic jams and the lane keeping system will do just that when you're distracted by those on board. The ride is good on the big 20s, calmed by the fitment of adaptive damping, while quick steering, with two turns between the locks, generally eases all aspects of driving, parking especially. Although that's not an issue here with an auto docking function.
These systems have evolved to be much quicker acting, selecting spots speedily and literally zooming into the park. A surround view camera is standard for those who still prefer to do it themselves. Being a Seat, with its dynamic mission statement, the Tarraco needed a fling. Even in its Normal mode this drives well. There's a dollop of body roll through turns but the powertrain delivers nicely around 3000rpm to truck along main highways at a decent clip, while the ride remains compliant, the suspension quiet.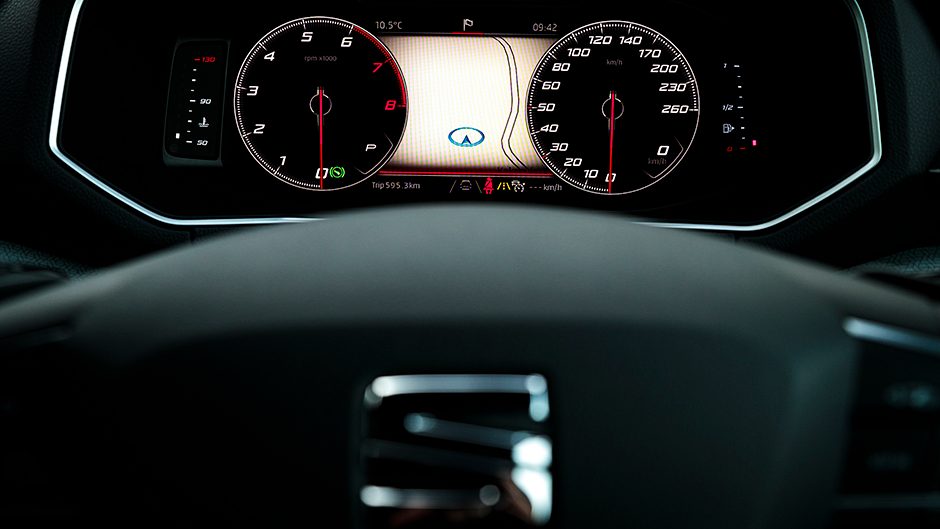 As we headed up through winding hill roads, we liked how easy it was to click through the drive modes in a Seat, the console-mounted knob easy to grab on the go, no look required. Clicking it round into Sport, the dampers firm a touch, improving that initial cornering response to get it turning more keenly. And yet those suspenders are still good at subduing the more punishing lumps of our usual test loop.
The steering weight isn't too hefty but the added resistance helps accuracy on the turn. Its trans is keener when changing too, holding ratios just long enough. The 2.0-litre is happy to spin to 6000rpm when pressed but there's enough between three and five thou for any antics in a family SUV. With plentiful amounts of both grip and traction, it's sure-footed across country.
Seat has done its usual job of injecting just enough character into an otherwise staid chassis to make this a mildly interesting steer. There is some road noise evident, but then they haven't skimped on those contact patches either.
Tarraco's an attractive package for those making a choice at the higher end of the mass SUV market. And it makes the decision that much harder given its on-road competence and attractive styling. Moreover this should do well for the brand image of Seat as it looks to increase awareness.
| | | | |
| --- | --- | --- | --- |
| Model | Seat Tarraco Excellence 4Drive | Price | $59,990 |
| Engine | 1984cc, IL4, T/DI, 140kW/320Nm | Drivetrain | 7-speed twin-clutch, on-demand AWD |
| Fuel Use | 7.3L/100km | C02 Output | 166g/km |
| 0-100km/h | 8.15sec | Weight | 1752kg |