It was a couple of years ago that we first got to check out Seat's Ateca FR 4drive SUV and we rather liked it.
That said, you're paying slightly more than $50k for the privilege of added performance via a 2.0-litre turbopetrol and grip thanks to its Haldex 4wd system. Some might think this is $6k well spent over the 1.4 front driving Xcellence model. Yes, the big dog is a mite quicker, but then you're looking at mean fuel use of 7.0L/100km compared with 5.4 for the baby engine. But are you really?
Recently, we've spent a few days reacquainting ourselves with the 2020 FR 4Drive model which now comes with navigation as standard – it used to be an $850 option – while there's also a bigger, smarter central screen. Gone are the buttons, and this uses a haptic interface, the screen sensing when your digits are near. Apart from a new alloy wheel design, there are no other differences of note.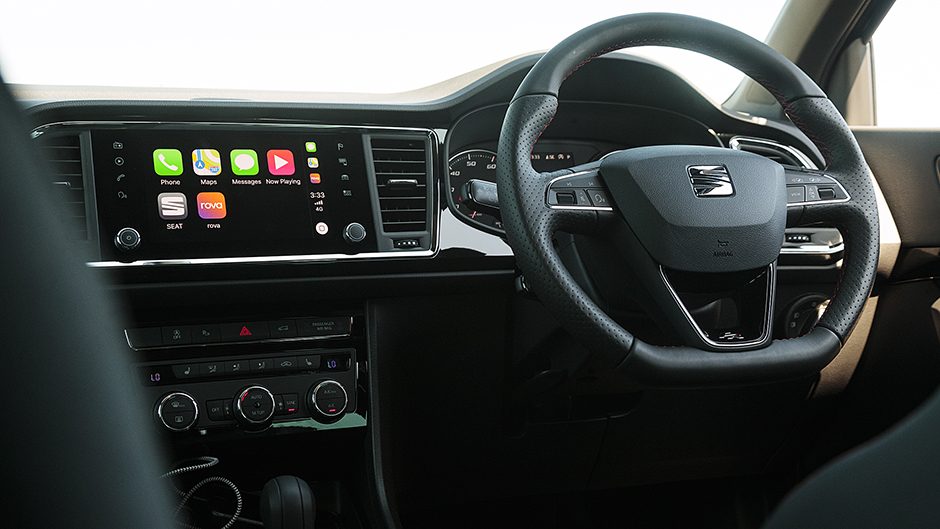 Anyhow, on flat surfaces at highway speeds we often saw instantaneous fuel use in the low fours. Single-figure averages are easy to achieve but then so are double figures if you go for broke, as with anything that has a turbo attached.
On that, we did a quick recheck of performance figures just to become reacquainted with the vehicle. Oddly, we couldn't match what we originally got, a 6.85sec sprint and 5.06sec overtake. Respective best figures of 7.15 and 5.30sec were around 0.3sec adrift and we'd have to ascribe that to different temperatures when testing. Turbos like cold weather, denser air, and we originally ran the numbers in Autumn. It was a boiler on the day we repeated them so the slower times weren't so unexpected.
Compared with most of the competition, however, this is still a larrikin. It will comfortably see off a RAV4 hybrid and the similar-in-price Adventure model isn't in the hunt. Same with the Escape, not really close. What helps make the Ateca so quick is its seven-speed twin-clutch transmission and the fact that it weighs 150kg less than the rivals mentioned.
So it's feisty in a straight line but if anything it's how it rounds up the bends that makes the FR a bit special. And that would be thanks to a combination of Turanza rubber, torque vectoring by brake and its all-wheel driving format. Being a Seat, the engineers have optimised the underpinnings for dynamics. The FR comes with fixed suspension while adaptive dampers are a $1700 option. But after a stint around our COTY drive loop, we'd suggest there are probably better options to consider instead. Then again, at $52,690 many won't want to spend more and it's well specified at any rate.
As mentioned this is a fun drive. It sticks like crazy, doesn't loll about in the turn, and with AWD you can jump back on the gas much earlier than with a FWD variant. Torque vectoring by brake means it holds a steadfast line too, with little squealing from the rubber. Only there's more road roar than we remember, the average being around 74dB.
Suspension action is super, aided by the upgraded multilink rear (the front driver has a torsion beam). The ride's beaut on rumpty back roads at the legal limit, with enough travel to soak up anything in its path. And it stops and steers in commanding fashion as well. That it looks good from most angles and is spacious enough for a small family of two plus three is a bit of a bonus.
So is its decent safety spec, enough to warrant a five-star Euro NCAP crash rating. Figure on LED lights, seven airbags, blind spot monitoring, active cruise, surround camera, RCTA and rear parking sensors. Special kit includes heated, alcantara-clad bolstered sports seats, comfort entry, a powered fifth door that opens by gesture control, and myriad drive modes, including for off-road and snow. Load space is generous at 485-1579L, and split folding sensible, producing an enlarged flat area.
This is one of the top Atecas and you don't need to spend as much if you're happy with front drive and the 110kW 1.4L powertrain, in which the spend starts at $38,900 plus ORCs for the Style model.
Model
Seat Ateca FR 4Drive
Price
$52,690
Engine
1984cc, IL4, T/DI, 140kW/320Nm
Drivetrain
7-speed twin-clutch,
on-demand AWD
Fuel Use
7.0L/100km
C02 Output
159g/km
0-100km/h
7.15 sec
Weight
1548kg