Last month we got behind the wheel of Spanish brand Seat's Ateca Xcellence. It's essentially a better dressed base model with the same front-drive 1.4T mechanicals as the $39k Style variant but with an extra $6k of spec, including active cruise. We felt many would be satisfied with this on a performance/economy and ride/handling match-up.
But there will be some who want Ateca with AWD and that can be had in 2.0-litre petrol or diesel formats. The petrol is probably the better bet in that it costs $2k less, $50,900 plus on roads, and gets a higher standard spec level. It's called FR 4Drive.
Contrary to what Seat suggests, the petrol is quicker. We've proven this twice. The company quotes a 7.5sec sprint time for the diesel and 7.9sec for the petrol, yet we've consistently got low sevens for the sparker, and mid-sevens for the oiler. That's pretty much what you might expect for both 2.0T engines produce 140kW and while the diesel has an extra 80Nm the petrol revs quicker, higher, and weighs a bit less (around 30kg). Most won't care as the numbers are close but we simply cannot fathom it.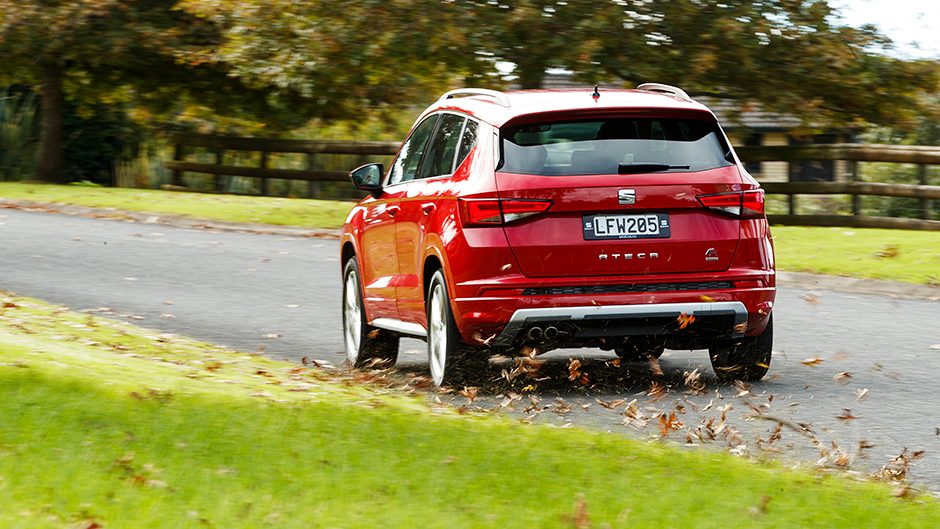 Put another way, the FR feels a decent amount quicker than the 1.4 Ateca, by almost 2sec to 100 thanks to 4WD and launch control, and by over a second on the overtake. Course it's heavier and not as economical with a claimed combined figure of 7.0 vs 5.4L/100km. If fuel efficiency matters, stick with the 1.4 variant but 7.0L/100km is possible on the cruise in the bigger FR, not bad for a high riding 4WD with this much performance.
It's simply an effortless drive, and is a bit of a rocket between 2500 and 4500rpm, especially in the Sport transmission setting. On rural backblocks you need to keep a weather eye on pace for it's quiet on the go, partly due to Turanza rubber that works pretty well on our rowdy roads. And with seven gears 100 is a loafing 1600rpm in top.
Countering this is standard fitment of active cruise control, something that's increasingly finding favour. Think back a while when ABS became a default setting and then ESP. Now there are calls for AEB (autonomous emergency braking) to be fitted to all new cars. Will active cruise be the next thing to save lives? Any item that can counter distracted driving should be considered a lifesaver, and lord knows we need them here. More safety tools like AEB and active cruise will help lower our shocking road toll.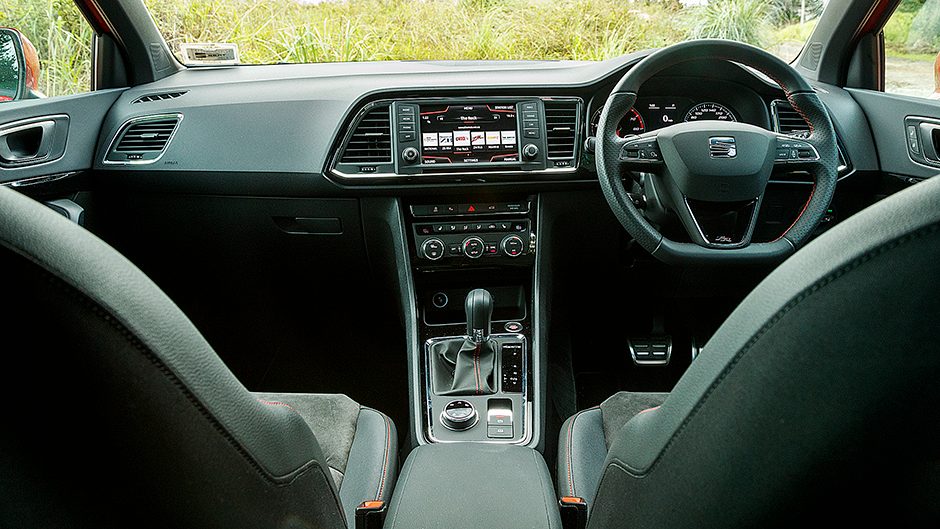 The FR has plenty of other safety kit aboard too, including ESP and ABS, naturally, seven airbags, XDS (torque vectoring by brake), and on-demand 4Drive using a Haldex 5 system. There's also blind spot monitoring, rear and top view cameras, rear parking sensors and cross traffic alert system. Plus it managed a 35m emergency stop from 100km/h. And it's rated five-star safe by Euro NCAP. Lights are all LEDs too.
On road it feels secure, thanks to the 4WD system and torque vectoring. It's not quite AWD car-like, having a higher centre of gravity and the Turanzas squeal when provoked but it can certainly shift from point to point safely and securely, steering quickly with just 2.1 turns lock to lock.
The 4Drive variants all get a multilink rear suspension set-up for added security and comfort, and while it reduces luggage capacity by around 25L (down to 485L) access to the hold is good thanks to a kick-to-open (gesture) powered tailgate. There's also generous room in the rear for two adults, three at a pinch. Easy split folding expands space to 1579L. There's no provision for seven seats.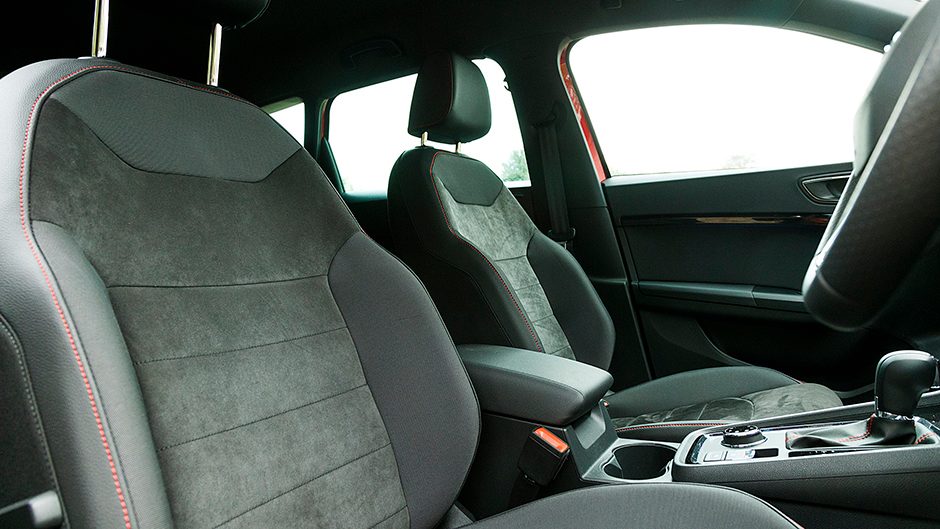 Seat tends to include a reasonable amount of spec in the purchase price but leaves a few items on the options list. Over and above the safety gear gear mentioned, there are sports seats and wheel, dual zone air, heated and Alcantara-clad but not powered seats, a lined cubby beneath the driver's seat, comfort entry, window tints, various drive modes, paddle shifters, and an electric parking brake. The push button starter is in a handy position that's clearly visible.
We'd have thought nav might have been standard, but perhaps the provision of Android Auto and CarPlay circumvents that. It's an option for $850, as is a sunroof ($2000), leather trim ($1600), self parking ($800), powered driver's seat ($650) and tiredness recognition and TPM ($260). A 400wpc Beats sound system adds $900, and adaptive damping costs $1700. We'd not bother with the latter for the ride and handling ex factory, as with most Seats we've driven, tends firm but is well sorted as is, especially with a bit of gear onboard.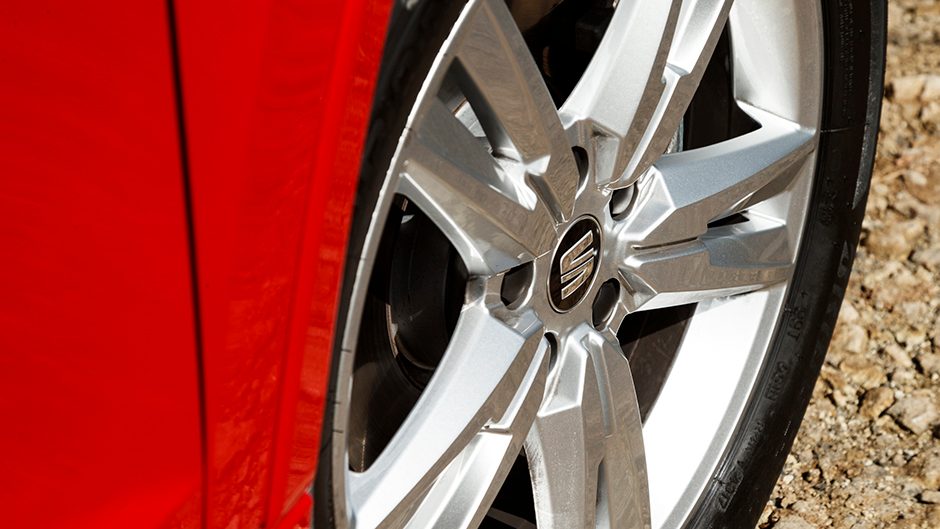 Sure it's a busy sector and Ateca now has a lookalike cousin in the Skoda Karoq which is similar in many ways, though hasn't yet the model diversity of the Ateca, specifically a model like this one.