Forget sedans and hatches because compact SUVs are what the market desires. We determine how a newcomer, the Seat Arona, compares with a segment fave, Mazda's CX-3.
If ever you wondered what the average compact SUV customer was like, that was brought home to me recently upon picking up the Arona FR press vehicle. Outside the Seat store in Auckland was a retired couple, who were checking out a black Arona, while I was picking up a red one. Felt like I'd got the better deal personally for after a drive down a wet road the red one doesn't instantly look like Pig-Pen's daily drive.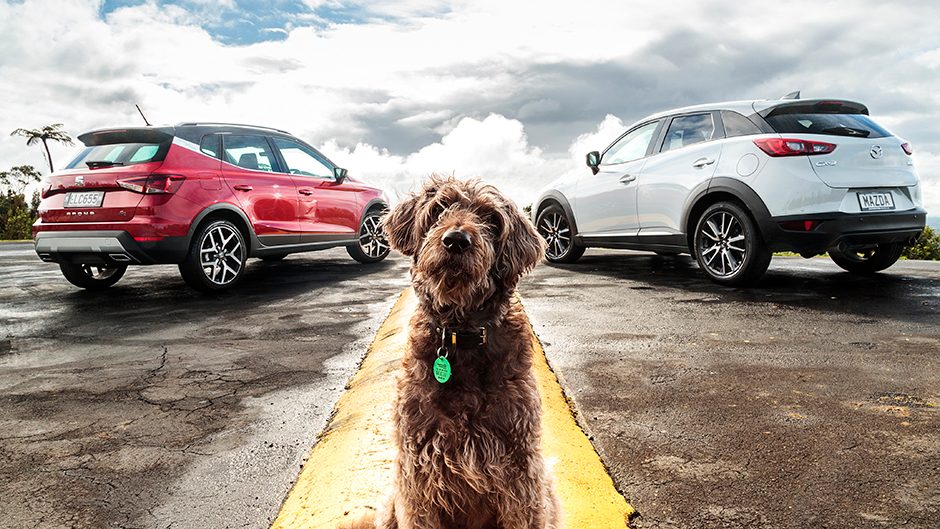 Whereas the same couple might once have been looking at a Corolla or Mazda3, now they're eyeing up high-riding alternatives for the same price. You can understand why folk might like the change to a similar sized mount with a better outward view. There's little difference in the amount of people or gear you can pile into either of these really – they're not huge, based on supermini platforms – but given so many are now in high riding vehicles, you don't want to be the one checking out their bumpers and exhausts, right?
Other reasons to buy vehicles like these? Well they look smart, and you can never underestimate the importance of the Jones factor (making the neighbours jealous). Moreover, they're a bit easier to get in and out of, something that might be important for those with orthopaedic issues. Otherwise, they're rather like the unibody vehicles upon which they're based, in this case the Ibiza and Mazda2.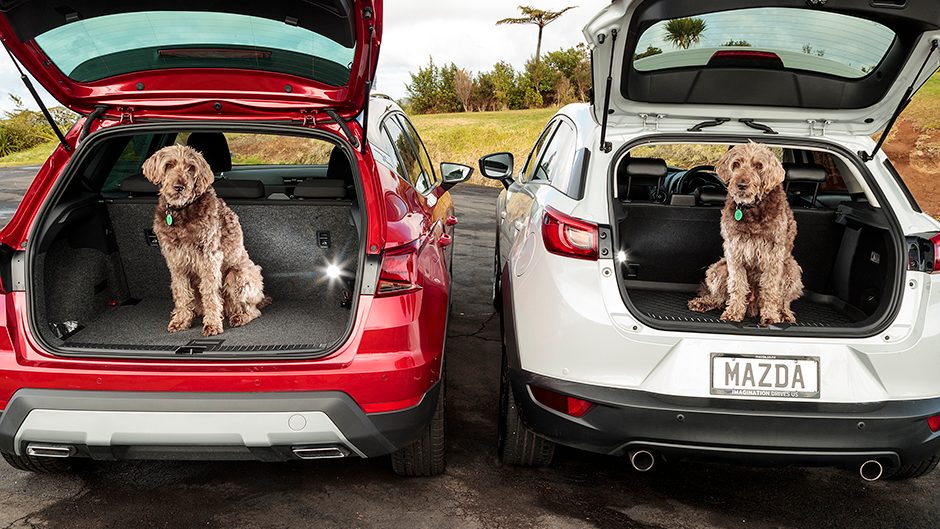 What do you get?
One of the early entrants to the compact SUV segment was Mazda's CX-3, debuting in 2015. It was a bit of a standout too. But the new Arona promises much, and is equally appealing, especially on the optional 18s (as here, $1450). Where the CX-3 is all flowing lines and curves, the Arona is edgier, with character lines running into the taillights. Both are lookers from many angles. The Arona features a contrasting roof colour as standard, but its red paint is a $330 cost option.
You can also have red calipers and red stripy safety belts if you want, for $550. Further options include an alarm system for $450, LED headlamps for $1300, a Beats Audio upgrade for $1000, and sat nav and a wireless phone charger bundled together for $950. Seat heaters will cost you $750 extra.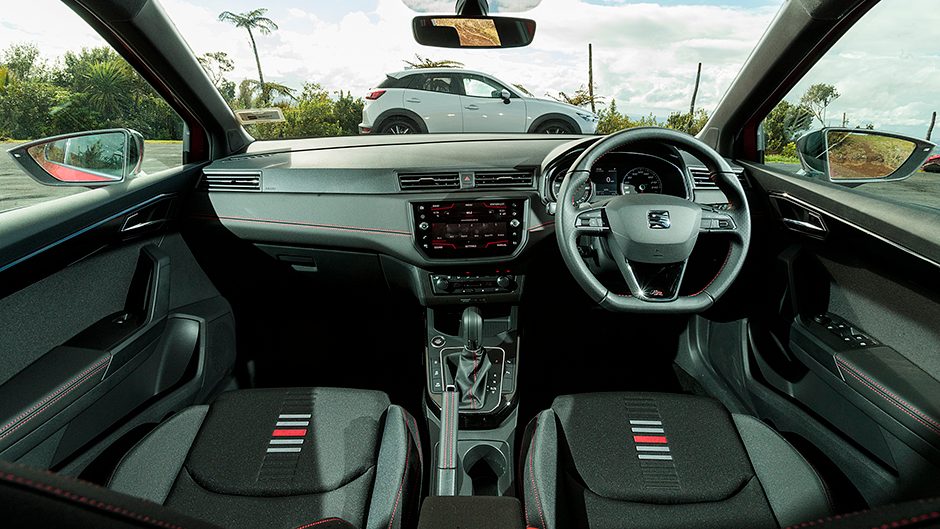 However, Arona FR has a few items that come standard that the CX-3 doesn't get, like adaptive cruise control, and a self-parking function. FR also comes with window tints, parking sensors both ends, encompassing sports front seats, tyre pressure monitoring, and tiredness recognition. Both get six airbags, AEB, blind spot monitoring, rear view cameras and rear cross traffic alert, idle stop, comfort entry and pushbutton start, manual seats, five-star safety ratings and a trip computer. Arona adds surround sonar depiction on the eight-inch touchscreen, and the full link for all phone types. It also has paddle shifters for its seven-speed twin-clutch transmission. For this you pay $33,900.
So what about the CX-3? We drove the $40,195 Limited model but it's mechanically the same as the front-drive GSX which costs $35,295. A 4WD GSX version is also available for $2k more. Arona is front-drive only. While the Mazda has manual cruise and single-zone air only, and no smartphone compatibility other than Bluetooth hook-up, it comes standard with 18-inch alloys, sat-nav, leatherette seat coverings, a head-up display, and a rotary controller for its seven-inch touchscreen.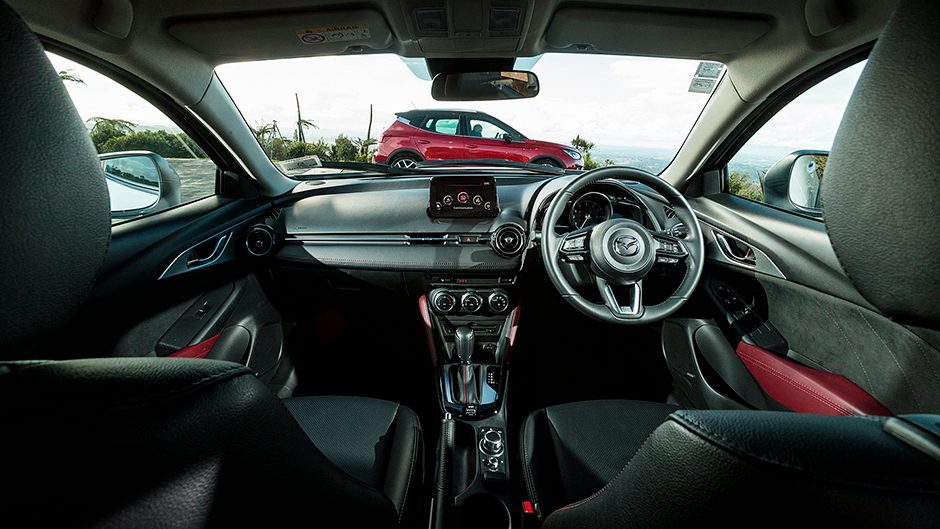 Yes, it costs $1400 more than Arona but it does come with three years of free servicing, and a five-year unlimited mileage warranty to the Arona's three-year 100,000km offering. That said, all new Aronas bought before the end of August qualify for three years of free servicing as well. So Seat clearly sees CX-3 as its primary competition.
Arona is smaller but bigger inside
On the practicality front it's an interesting comparison. CX-3 doesn't have quite the knee room in the rear or the luggage capacity of Arona, which has 400L of space in the back with all seats in use. The CX-3 can muster only 264L and that's visibly apparent; even the dog noticed. Yet Arona is shorter overall than the CX-3 (4138 vs 4275mm), yet they have identical wheelbases. Both, by the by, have two-level luggage floors, so split folding leads to a flattish space if the floor is on the uppermost setting.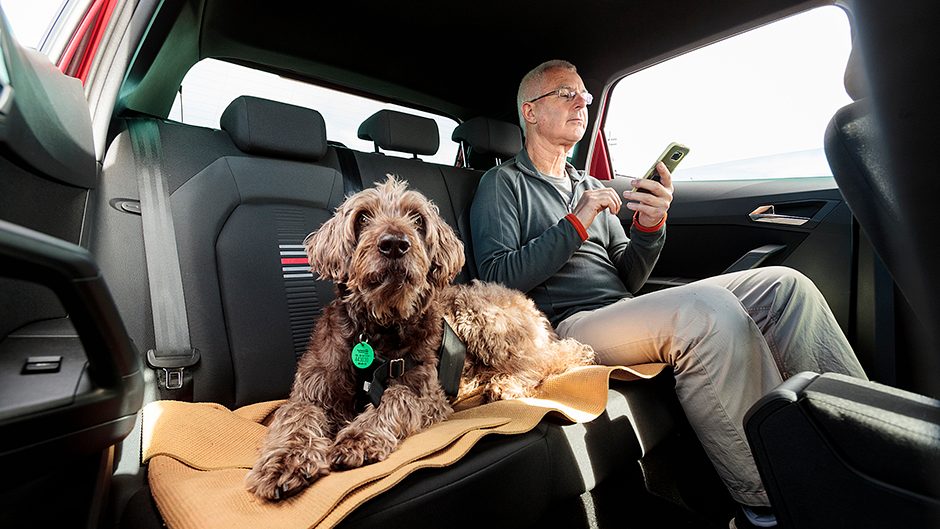 Feisty if not fast
In terms of how those two perform, they're much of a muchness. The Mazda's naturally aspirated four pot is good for 109kW, and 192Nm at 2900rpm, impressively low revs for a non-turbo mill. By contrast, the little three potter is a bit stronger on account of turbocharging, (200Nm from 2000rpm), and Arona is 50kg lighter as well. Power output is down a bit, however, 85 vs 109kW, but in terms of drivability there's little in it, with a slight edge to Arona. CX-3 wins for performance by the clock, but not by much.
Arona has a typical swell of turbo-fed torque from 2500-3500rpm for general acceleration, and extra urge on tap between about 3500 and 5500 when you're pressed for time. The Mazda simply takes a bit more to get into its stride but the superior power sees it pull ahead slightly. Neither feels tardy, though nor are they the types of vehicle you can shoot for small gaps when overtaking; you need to be judicious. You just don't have to work as hard building revs in the Seat.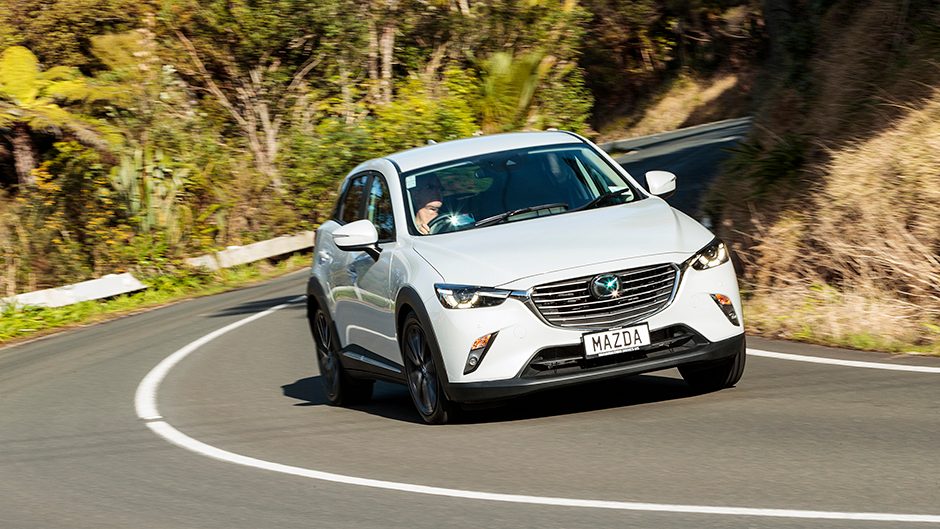 Each has a Sport mode that sparks up performance, and that works especially well in the Arona for you can leave it in Sport permanently, and swap between D and S transmission settings (by merely pulling on the gearshift). With all that down-low grunt to call upon in the D setting it can upshift through its seven-speed twin-clutch gearbox and haul itself along at stupidly low revs, keeping in-town fuel use in the fives (L/100km).
Out of town when cruising at the legal limit, expect something in the fours on hot mix. But in the Mazda it's either in Sport where it holds gears a bit much sometimes, though offers more engine pep, or in Normal where it's laid back but better overall. You can shift manually at the lever, and we used that facility a fair amount when in Sport mode. The Seat system is much simpler and more effective, to the point where you don't resort to paddles much.
The bigger naturally aspirated engine of the Mazda isn't done though, its primary plus being a lack of turbo lag given it doesn't have one. Off the line, sitting at the lights, you're never left wondering when the action will get underway. With the Arona, you really do, on account of its stop-start system getting its act together, the twin-clutch gearbox hesitation off the mark and the turbo spinning up. We've noted this trifecta before in VAG product; it's much less of an issue if you cancel stop/start.
Dynamic duo?
Returning to engine size, there's no doubt a 2.0L four-potter is going to be heavier than a half-as-big IL3 turbo. While the weight split is not much different, 60/40 vs 62/38 in favour of the Seat, it's at the wheel where there's a clearcut difference between this pair. Pushing through tighter corners, the CX-3 is more prone to understeer. That's less of an issue in the Arona which is also underpinned by a brand new platform (MQB AO, shared with Ibiza). Both vehicles utilise Mac strut and torsion beam front and rear suspension set-ups, typical of this compact SUV division.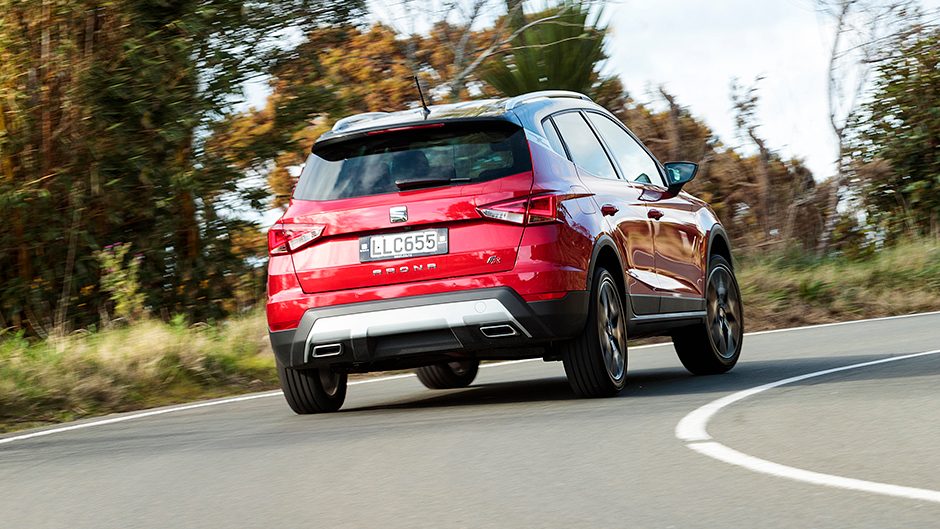 There's little to separate the pair for bump absorption, but the Arona displays a little less roll and along with less front end push, it rounds up the corners better. Added rubber obviously helps Arona, in this instance (215/45s instead of 205/55s normally). It steers rather nicely too, accurately, with good weighting and with noticeable patter through the wheel.
On rougher roads we found the CX-3 not quite so settled but it's certainly not averse to road trips. However, it isn't quite so neutral or vibrant at the wheel. They're both quiet on the move, one of the reasons people are so attracted to SUVs, even of the compact variety. Most of the time cabin SPL measurements are below 70dB at 100km/h, the average for the Mazda just besting the Arona. By contrast the superminis upon which they're based are louder, mid70s in the case of the Mazda2.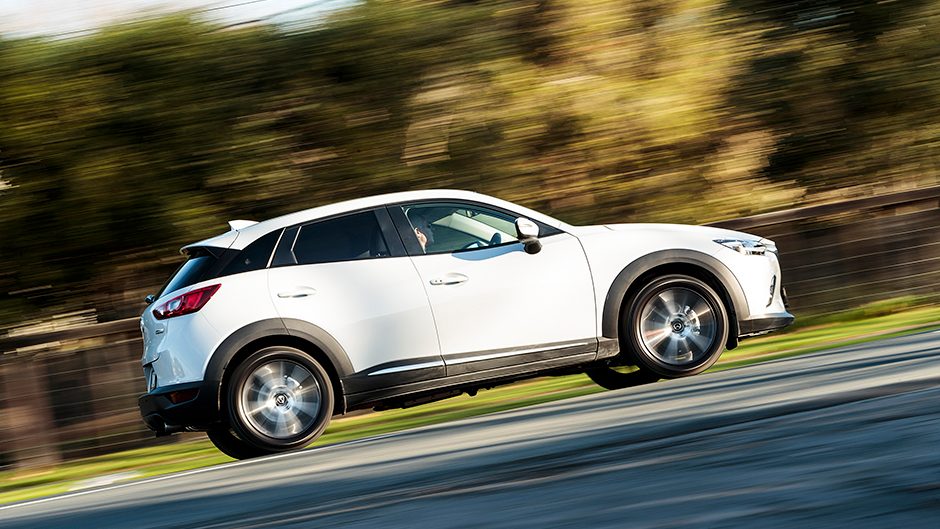 So while there's not much in it for this pair, the Arona gets one over the longer of tooth CX-3 for space, dynamics and user-easy performance, even if not being numerically quicker. The final decision will likely come down to specification and price, where they are merely a bit different. But taken as a whole the Seat gets the nod.
Don't feel like spending as much? Arona can be had in Style format for $29,900, a bit beneath the $31,395 CX-3 GLX, though that carries three years of free-servicing.
| | |
| --- | --- |
| Model | Mazda CX-3 GSX |
| Price | $35,295 |
| Engine | 1998cc, IL4, DI, 109kW/192Nm |
| Drivetrain | 6-speed auto, front-wheel drive |
| Fuel Use | 6.1L/100km |
| C02 Output | 146g/km |
| 0-100km/h | 8.9sec |
| Weight | 1278kg |
| | |
| --- | --- |
| Model | Seat Arona FR |
| Price | $33,900 |
| Engine | 999cc, IL3, T, 85kW/200Nm |
| Drivetrain | 7-speed twin-clutch, front-wheel drive |
| Fuel Use | 5.0L/100km |
| C02 Output | 113g/km |
| 0-100km/h | 9.42sec |
| Weight | 1201kg |