Being named after something that's incoming at speed suggests lots of power. Which the royal enfield meteor 350 doesn't have. But it compensates in other ways.
There's definitely more than one way to skin a cat, and the multitude of different cruiser types gives credence to that axiom. Most are monsters but not this one. Nor does it involve a massive outlay of funds. Many e-bikes are more expensive.
When I heard that this new 350cc cruiser range from Royal Enfield kicked off at $7500 it got me to thinking: what other laid back bike can you buy for that kind of money? Suzuki has its Boulevard S40b LAMS cruiser at $9000 but that's a 650cc single. And any cruiser with two cylinders costs over $10k. So it seems well priced and niche.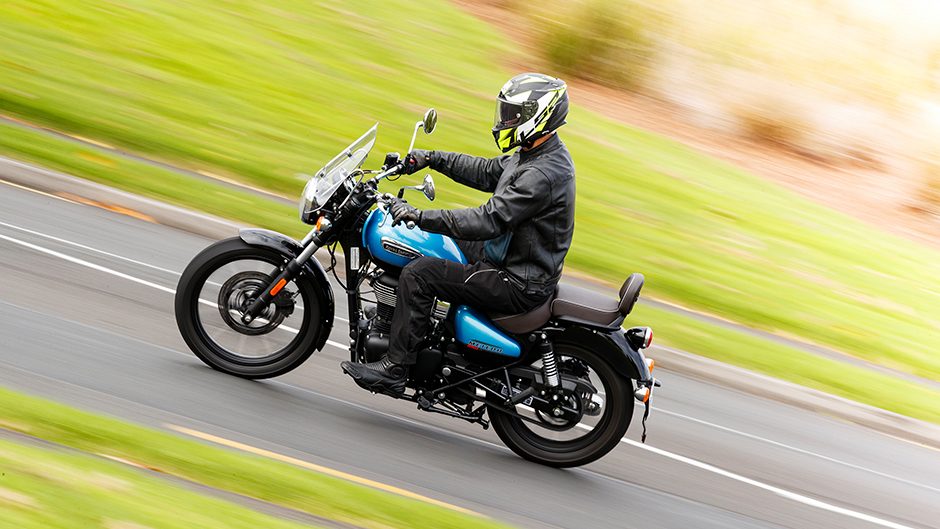 Is cruiser a misnomer?
Is the Meteor a cruiser per se? Well, it has forward mounted pegs, a rearward weight bias and loafs along nicely at highway speeds, all cruiser traits.
Does it look raked out like a cruiser? Not especially, no. Most cruisers don't offer wind or weather protection either but this Supernova model does, with a fixed screen. Most cruisers have a truly low seating position, but this is more moderate. Most cruisers aren't that comfortable, what with short-travel rear suspension travel, but this is. Most cruisers also don't attain great cornering angles, but this really does. Most cruisers don't make ideal commuters because they're long, heavy and hard to manoeuvre. Not this one, on all three counts. So if you think of this more as a standard bike that has a few cruiser features, you're in the ballpark.
One of three
This is not the first Meteor made by Royal Enfield – the original launched in 1952 – but the latest Meteor 350 is entirely new, and replaces the Thunderbird 350.
This particular Meteor is the top of the tree SuperNova edition. There's nothing much linking a meteor to a supernova, cosmologically speaking, apart from an explosion. Hopefully that doesn't happen to the bike.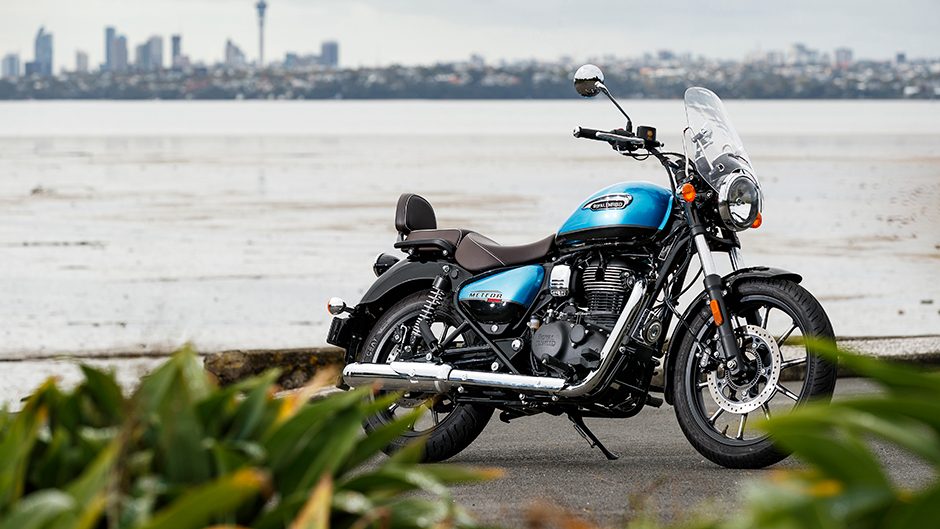 This one is the most expensive of the trio here, though there's only a $700 difference across the range.
Fireball kicks things off at $7490, available in yellow or red, with blackened bits and the Supernova costs $8190, available in blue or brown. In between is the Stellar at $7790, in black, blue or red. Supernova is distinguished by its fly screen, machined wheels and dual-tone paint.
This is a new model with a fresh engine and chassis. Developed by teams based in India and the UK, the Meteor 350 is powered by a 349cc air/oil-cooled single generating 15kW (20bhp), and 27Nm of torque at 4000 rpm. So it is LAMS legal without restrictions. Given the limited power, don't expect meteoric (sigh) performance. But average fuel use of 3L/100km means a potential touring range of almost 500km.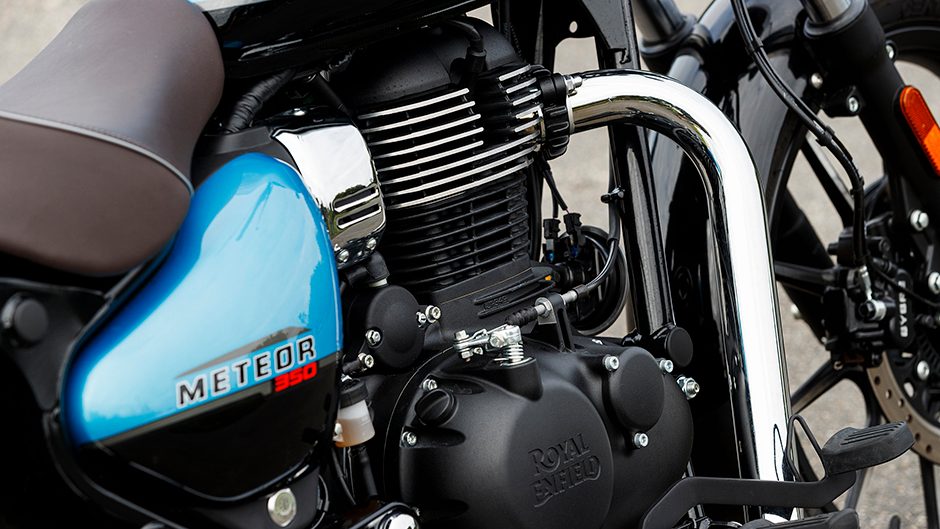 A stellar ride then?
The engine fires instantly, settling into an easy low rev idle. With a balancer shaft, the new powertrain imparts a 'smooth and well-mannered ride experience' (true that) while retaining the RE single thump (yep). It mates to a nice shifting five-speed gearbox, with top overdriven for economy. The fuel gauge sure moves slowly. It cruises at an indicated 100km/h just fine, once you're up to speed (which takes, at best, 14sec) and with its balancer shaft is almost tingle free, which is unusual for a single.
Overtaking you need to judge well, given that flat out it wont do 120km/h. So best to hang back a bit, wind 'er up to 110 indicated and wait for a clear section of road ahead and just carry the pace past.
The engine seems to work best at about middling revs or a bit higher, upshifts done with your heel. It will also potter about happily in top gear at town speeds without backlash or complaint. There's not much engine braking so you need to adjust to that.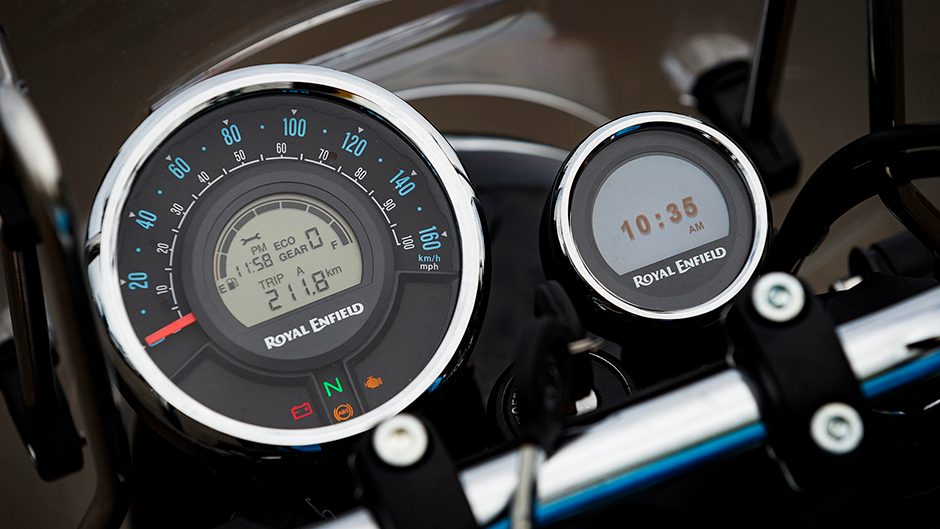 Navvie?
There's no tacho here, although there are two instruments to behold. The larger one shows speed conventionally. From a legal standpoint you're nicely covered because flat out it will only do about 115km/h. Expect few tickets unless you're the unlucky type. It runs to 110 easily enough before becoming breathless. And it cruises happily round 100-103km/h indicated, an actual 97-100km/h. It would seemingly do this all day long, perhaps not on steeper hills but.
The other smaller instrument is a digital clock. But download the RE tripper app, Bluetooth your smartphone to the bike and this becomes a turn-by-turn navigation aid. Not too bad on a sub-$10k bike huh? It turns this into a bit of a tourer as well.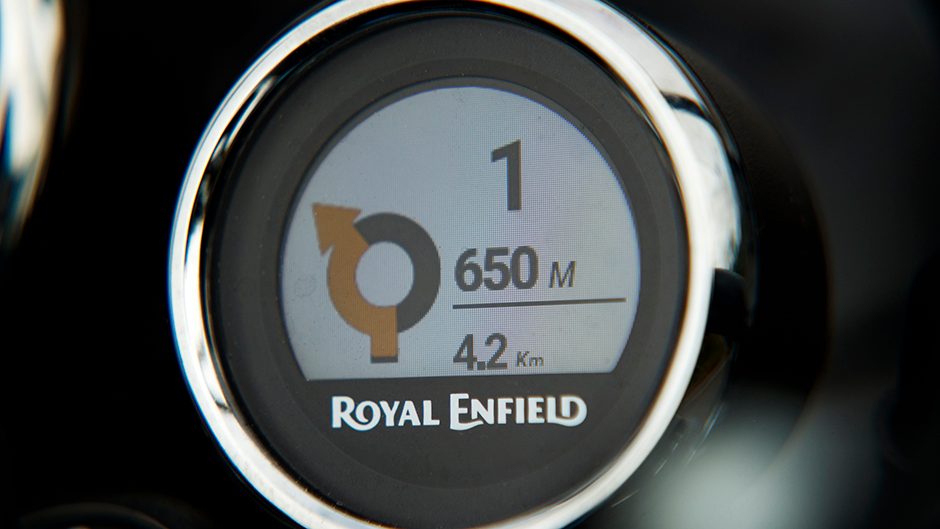 Nicely screwed
To behold, this is classic RE, looking almost like a compacted version of some old Bonneville. There's nice use of chrome on the exhaust, fuel filler etc, though with the sun behind you the instruments are hard to read.
This presents nicely, and seems built with care, not something you'd necessarily expect of the brand in the past.
It handles like a champ, at least for the genre. You'd not credit how much you can lean this thing on its side before anything scrapes (footpeg first) and the tyres in the dry seem decent. They're good enough to help haul this up from 100 in 43m, not bad for a single disc set-up at the front. And the rear brake is truly arresting, great for learners who might misjudge corner speed and just want to reign things in safely.
The limiting factor, speed aside, is the suspension which is set up soft for cruising. It's adjustable at the rear only but does a good job of absorbing the big hits. Leaned over in lumpy corners there's the occasional wallow but it's not that unnerving. And on smooth winding roads this is fun to ride, turning enthusiastically with a bit of bar and peg pressure.
The seat on the Supernova is, if anything, almost a bit too plush, and you feel to be sinking into it as time goes by, limiting how long you can go between breaks. But it's a far cry from most cruisers which are often bony damned things. As we said, a standard bike with cruiser features.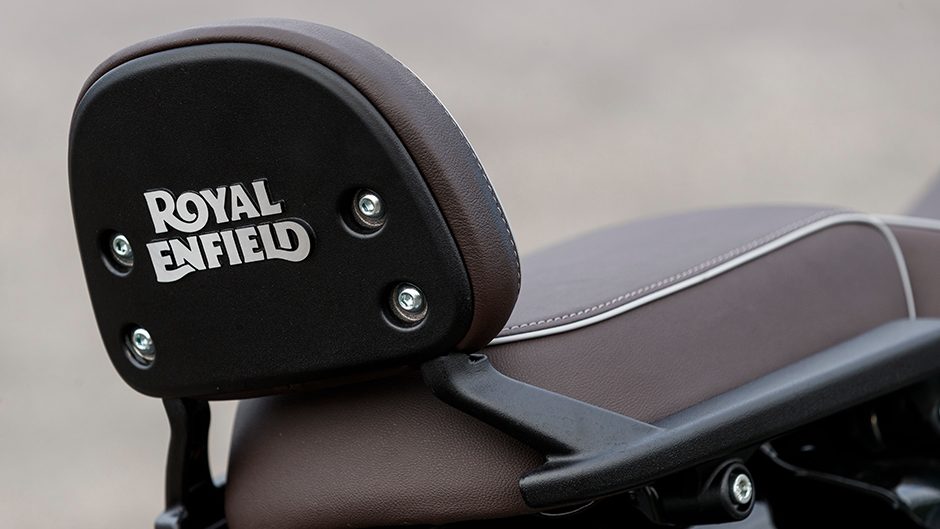 Other points worth noting
The seat height on this is 765mm so you need to swing your leg up a little when mounting the Supernova, especially with its pillion backrest. Either side of this are a couple of substantial hand holds and we managed to lash our daypack to this without much trouble or the need for bungy cords. Lights are LED types.
So there you have it; a trio of inexpensive 'cruisers' that will just as happily commute as they will tour. Pick the Supernova if you're considering longer jaunts to keep the weather out, though there's a bit of wind rush off the top of the screen. Whatever, at this price we reckon they're the cat's whiskers.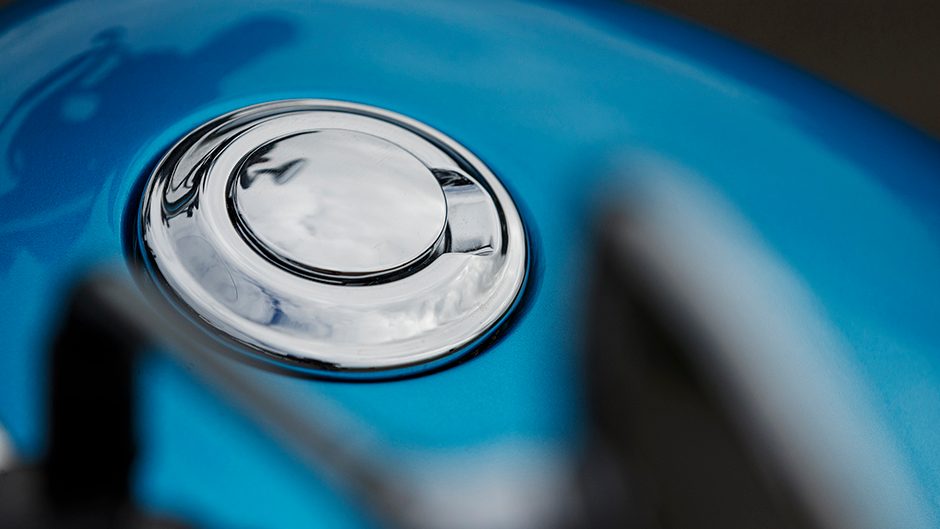 | | |
| --- | --- |
| Model | Royal Enfield Meteor 350 Supernova |
| Price | $8,190 |
| Engine | 349cc, air/oil-cooled, fuel injected, single, 15kW / 27Nm |
| Drivetrain | 5-speed, chain final drive |
| 0-100km/h | 13.99sec |
| 80-120km/h | nope |
| Weight | 190kg |