Renault has updated its Trafic trader range for 2019 and gave us the keys to its entry-level short-wheelbase version for a week
As you may have gathered from the name, the Trafic Trader SWB has a shorter chassis than its LWB (long-wheelbase) siblings. In cold hard numbers, the former has a wheelbase of 3098mm versus 3498mm for the latter.
Cargo volume is rated at 5.2 cubic metres compared with 6 cubic metres in the LWB variants. The biggest Master SWB version with a wheelbase in excess of 4000mm cranks height to 1700mm from 1387mm to achieve a total volume of 8 cubic metres. Our tester's cargo bay is 2537mm long and width is 1662mm. Not bad for space, then.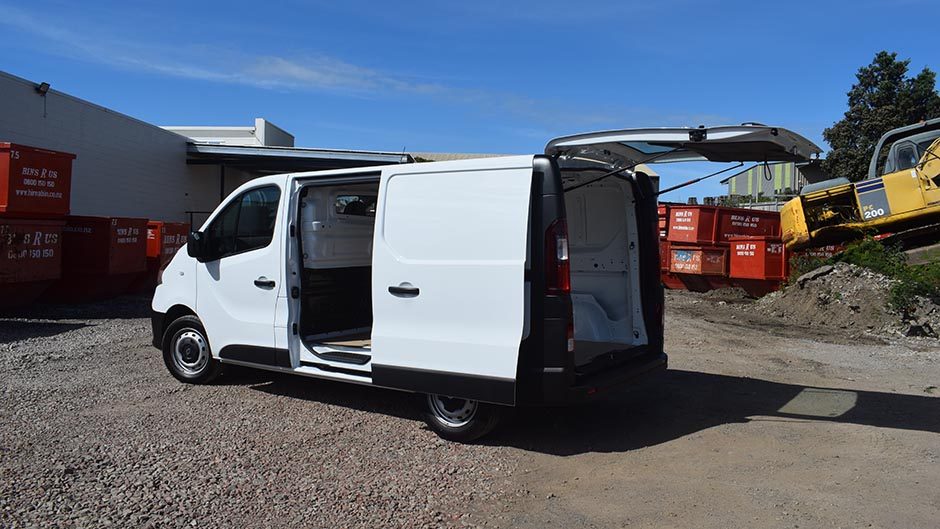 Power comes from a new 1.6-litre turbodiesel producing 85kW and 300Nm, which will be plenty sufficient for most people. Those frequently dragging heavier loads might want to look at the LWB or Master versions which get a bit more power, as we found the SWB struggled to carry a disassembled chest of antique drawers up one of Auckland's many hills. A bit of clutch slipping in first gear sorted it out eventually and, with more vehicle familiarity, we'd imagine it would cease to be a problem at all.
Speaking of clutches, the only transmission for every version below the Master is a six-speed manual. It's a decent enough unit with a smooth action although, like any manual, it can be a pain in traffic. Active cruise might help sort this but that's not available on Trafic as yet.
What the TT does get in the safety realm is ABS with brake force distribution, load adaptive ESP, cruise control and speed limiter, hill start assist and dual airbags. There's also Renault's 'Grip X-Tend' functionality which helps bolster grip on soft ground.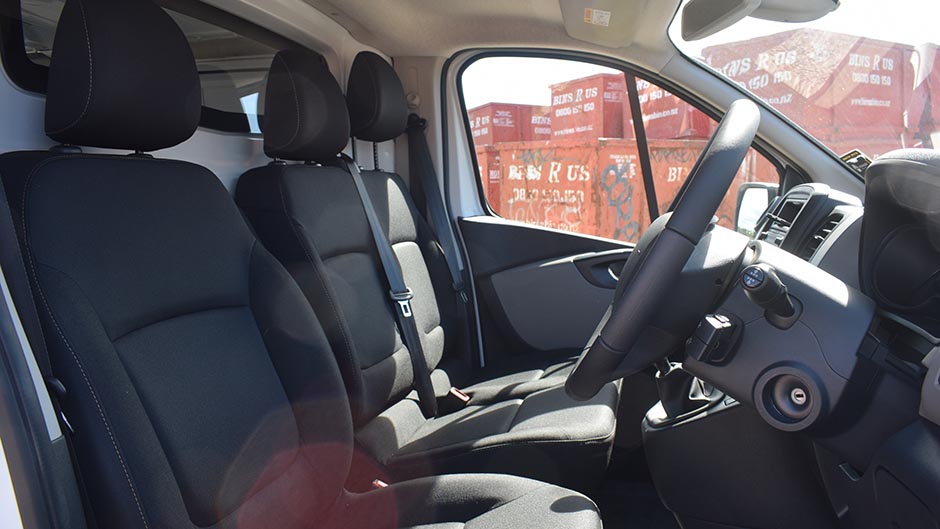 Automatic deadlocking is sensible but with nothing in the cargo area, the locks are very loud. The first time I turned out of our work carpark, they locked while I was navigating around a Porsche Panamera GTS. Let's just say I thought I was about to have a $350,000 wreck on my hands.
Thanks to a well-sealed bulkhead, the cabin is rather a nice place. There's a little too much lower back support on the driver's seat – how often does that happen? – and the handbrake is too low but all the other controls are within easy reach. The manual climate control does its job, as does the Bluetooth-equipped audio set-up.
If I'm really going to nitpick, the media controls protruding off the steering column are a little unintuitive. Two buttons at the end of the stalk control the volume while a wheel changes track (down for next, up for previous, which feels backwards) if you're streaming music from your device. To my mind, it should be the other way around – give the buttons track-changing control and adjust the volume by rolling the wheel.
One final gripe is the metal panels on the sliding doors. While I understand they are good for signage and security, the lack of visibility is an issue, most obvious when trying to reverse anywhere. Not being able to look out through side windows is a bit of a pain but at least there's a reversing camera.
Despite its flaws, the Trafic Trader SWB would make a comfortable and capable addition to a fleet or as a do-it-all carry-all for a small business.
The small footprint makes it easy to manoeuvre in urban areas and the cargo area is sufficient to hold any manner of tools or paint, and even furniture dating from 1835.
| | | | |
| --- | --- | --- | --- |
| Model | Renault Trafic Trader SWB | Price | $41,990 |
| Engine | 1596cc, IL4, 85kW/300Nm | Drivetrain | 6-speed manual |
| Fuel Use | 7L/100km | C02 Output | 0g/km |
| 0-100km/h | 0.00 sec | Weight | 0000kg |
| Service | 30,000km intervals, 3 year / 350,000km warranty | Load | 5.2m3 volume, 2537m length, 1387m height |
| Vitals | 2900kg GVM, 1235kg payload | Vitals | 2000kg towing capacity, 1665kg kerb weight |