George Begg was a good southern man whose engineering skills saw him become one of new zealand's most prominent race car builders in the sixties and seventies. We visit the collection of his surviving racers.
Among the names of famous New Zealand motor racing icons, George Begg perhaps isn't one that is top of mind, especially for those under the age of 40. But the farmer-turned-engineer-turned-race-car-designer is one of Southland's great heroes. And though no longer with us, his legacy is being preserved thanks to the efforts of the team at Bill Richardson Transport World.
Begg is the subject of a new exhibit in Invercargill, with a collection of his racers on display at the recently expanded Motorcycle Mecca. The team at Transport World was also the driving force behind the recent George Begg Speedfest historic meeting at Teretonga.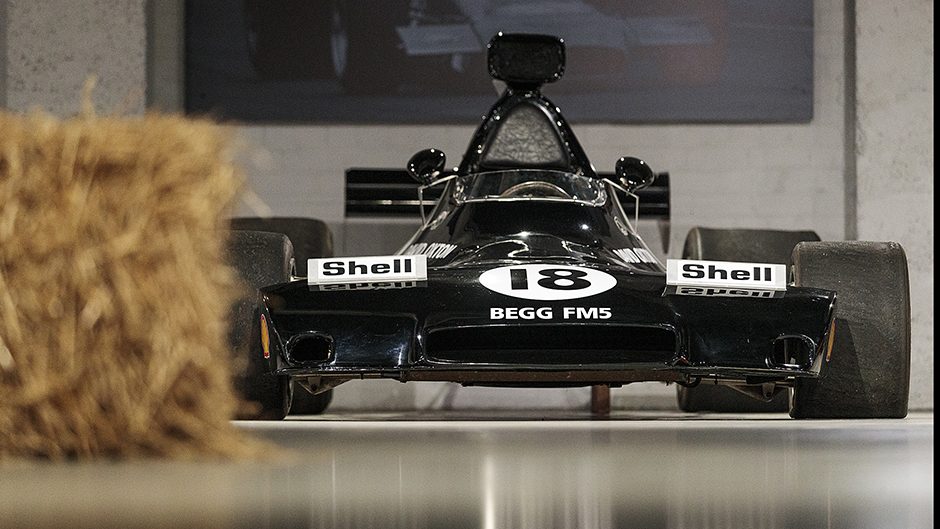 Scott O'Donnell, a director of the HWR Group that assists with the overseeing of Bill Richardson Transport World, is also a big motorsport fan with a vast collection of cars. He says that while there has always been a classic meeting at Teretonga in February, this year's event was run under the George Begg Speedfest banner for the first time.
"We wanted to add some spice, and that's about making it a pure historic event. New Zealand has got a bit lost on the classic racing scene, with lots of old but modified cars. We wanted to get back to pure historic classes, with cars the way they were when they ran in their day."
O'Donnell is into the classic scene, owning a swag of touring cars but also a Begg F5000. "I own the 018 car. Calven Bonney owned it before me. I said to him "When you get sick of it, you better sell it to me". In the back of my mind, I thought that if I got hold of 018, that would be a trigger to do something around George Begg."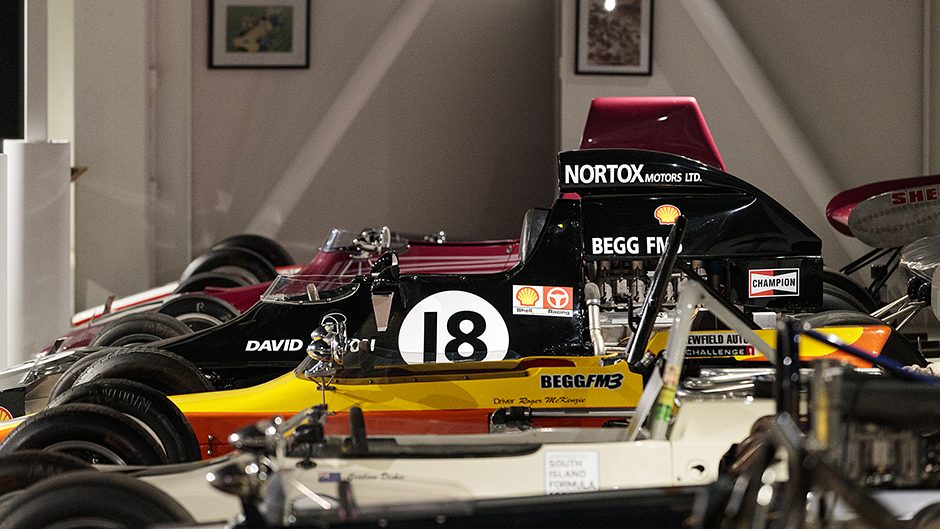 O'Donnell says the Transport World team likes telling Southland stories, and reckons Begg's is a good one. "The Burt Monroe story has gone well for the wider Invercargill area and George was similar but different again. Monroe was a working class hero, whereas George was comfortable financially, using his own money to go racing. He typifies your average Southland joker; smart with a clear vision, but doesn't have too many PR skills, and that's pretty standard for Southland; it's how we work."
Motorcycle Mecca, also owned by Transport World, is now home to an impressive line-up of Begg racers. So how did the collection come together? "I literally just got on the phone, told the owners what we were up to, and sent our transporter to pick up their cars." It helps that O'Donnell's uncle owns one, FM5, and he says most of the other Beggs were still located in the South Island. "They weren't that hard to get hold of. We have an arrangement with the owners and we're happy to have the cars here as long as it suits them. We will have a revolving display; when people want to go racing, we will pull the car out for them, they can go racing, and then put it back in."
O'Donnell hopes to stage Begg owners' events in the future. "We want to create an environment where they are happy to leave their car here. Teretonga is a brilliant track which costs next to nothing to use. We're lucky to have that on our doorstep. The travel time from the collection in town to the track is about six minutes."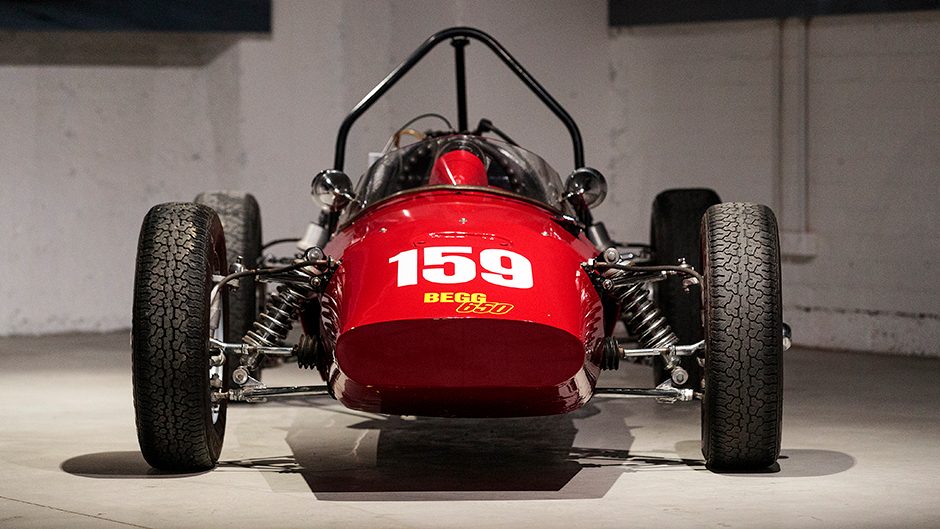 As to next year's George Begg Classic Speedfest, O'Donnell hopes to add the classic touring cars to the list of attractions. "The 5000s are the premier historic class in NZ but the historic touring class is catching up pretty quick. This year we had the Beggs and the 5000s. Next year we hope to include touring cars as well." He hopes to get the likes of Richards, Murphy, Radisich and Baird to come along. "We want to get all those Kiwis that have done great things on the touring car stage together. Whether they drive or tell stories, I don't care, we just want to get them all in one spot."
So is there anything else in the pipeline for Invercargill on the car scene? O'Donnell says longer term they have one more event that'd like to do. "There's the Monroe festival, now Begg, and Joc's father Bill needs one named after him. He was an American truck guy, but whether it's trucks, motorbikes, cars, we don't care. We want it to have more than just the car thing going on. Make it a festival with the food, beverage, arts and dance, that sort of thing. It's got to be something for both the husband and wife to come along to and have a good time together."
He says it's something they are trying to achieve with the George Begg Speedfest too. "Joc (his wife) isn't a motorsport person but she went to the Goodwood Revival and now can't get enough of it. So it's a similar thing we're trying to do with the Speedfest, to get people into the spirit of the event."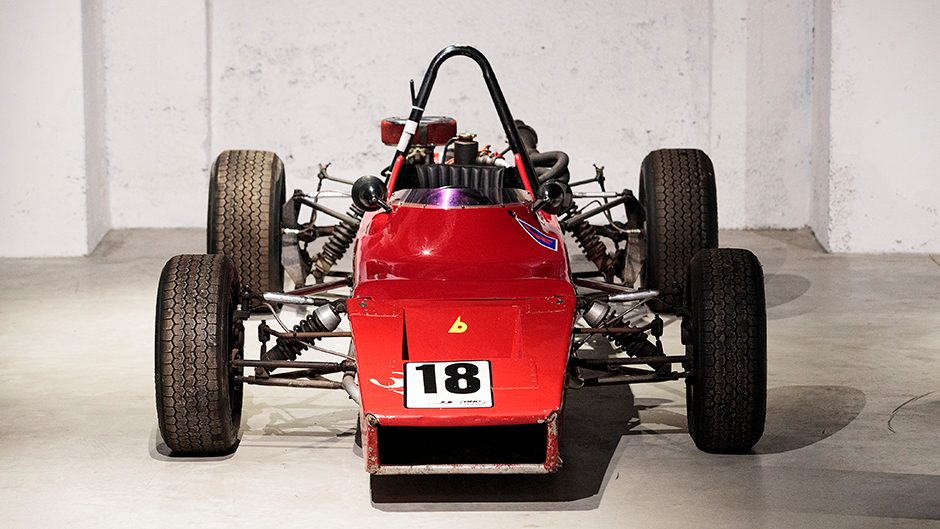 So it'll be one to put on your calendar for next year, but if you can't get there in February, make sure to check out the Begg collection at the Mecca, as the bike line-up is quite something too.
George Begg was from a farming background, but decided working the land wasn't really his thing. His talents lay more with machinery and making things work and so he decided to become an engineer. His early wheeled passion was for motorbikes, venturing around the South Island on a 1929 BSA 500 while the purchase of a 1938 Royal Enfield 500 saw him competing in hillclimbs and grasstrack racing. This led him to England and competing at the Isle of Man. His racing days were short lived after the loss of a close friend who died from his injuries sustained in a racing accident. He would return to NZ to set up his own engineering firm and design his own successful sheep handler, allowing farmers to turn their fleecy assets upside down to tend to their hooves. He also designed a front end loader attachment for tractors along with protective canopies and, later on, a type of seed drill.
It's said he read a book on race car design and decided to give it a go himself. The Begg 650 (#159) was his first attempt which he started in 1963, taking him 18 months to build. His racing days were over so he had others drive his cars, this one piloted by Barry Keen, who is the current owner. It used a 650cc engine from a BSA and was intended for club racing. Light and nimble, it was overpowered by bigger machines. After its racing career, it disappeared before being rediscovered in 1979, restored by Begg and later sold to Keen.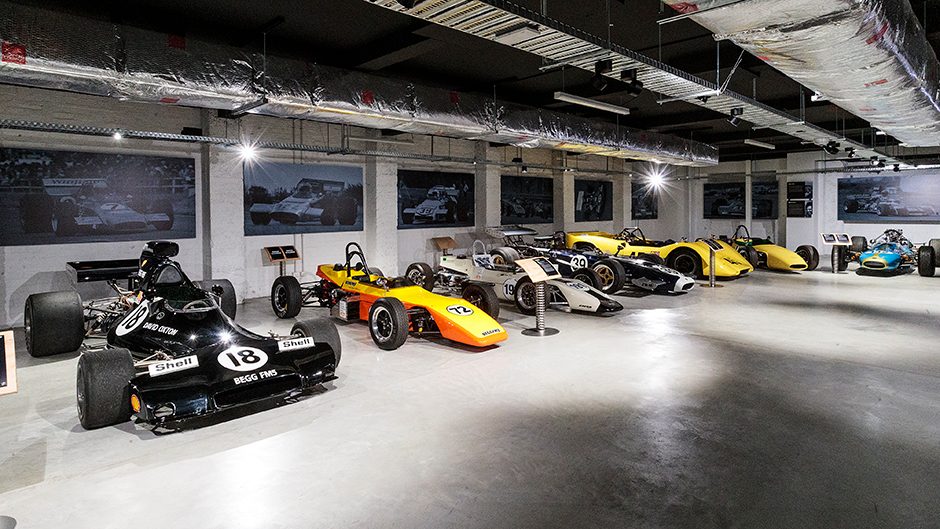 Begg's cars quickly evolved, getter bigger and faster. The second was the Begg 1600 (#18) in 1965 using a 1600cc Hillman Minx engine. Where the 650 looked like an old Cooper design, the 1600 mimicked the more contemporary Lotus, but in true Southland fashion it utilised second-hand production car parts. This car was later converted into a Formula Ford, before being restored back to its original specification.
The Begg Daimler (#132) saw power ramp up as it was designed for Formula Libre racing. It used a variety of V8 lumps during its racing career and later served as a test bed for Begg's foray into the thundering F5000 class. Its life was extended further when Leo Leonard bought it and converted it to a full F5000 spec. After its competitive life was over, it was restored to its original state with a 2.5-litre Daimler V8 once again residing behind the driver's seat.
The Begg Twin Cam (#145) was a car built to win the then prestigious 'Sports Cars and Specials' race at the Wigram meeting. This it duly did, on its maiden outing, having been completed only the night before. The car was later stripped of its parts to build others while the chassis was eventually converted to a Formula Ford racer before it was restored later in life back to its 1968 glory, complete with a Ford Lotus Twin Cam engine.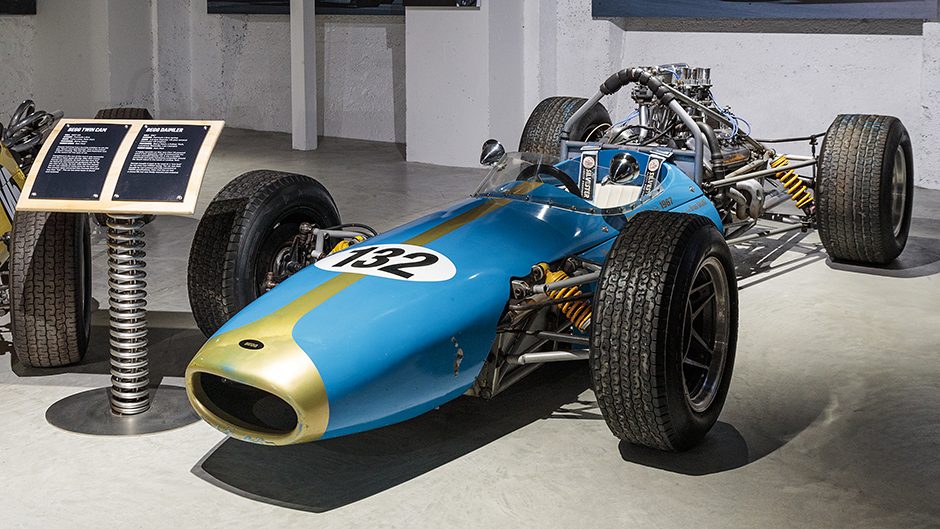 In the late sixties, Begg went back to the UK were he spent a few months working for McLaren. On his return to NZ, he set about designing F5000 cars, turning out six of them between 1969 and 1974. He also managed to make the McBegg (#45), a Can-Am style car cobbled together from parts purloined during his time with McLaren, including the M6A body and space frame chassis. Driven by various racers, it also had a crack at the NZ land speed record, achieving 179mph, six shy of the mark at the time. This car is what they call a very good 'rendition' of the original, using some of its old parts.
The Begg FM2 (#39) was the racecar maker's first crack at the F5000 category, and Begg employed Fred McLean (the FM in the name) to help with the design and build process. Two were made to contest the first NZ F5000 season in 1969. While underdeveloped, it managed a win at the Gold Star Championship round in Timaru.
The 1972 FM5 (#18) is the jewel of the collection thanks to its voluptuous form and race pedigree. David Oxton campaigned the car, with a victory on debut in New Zealand, while taking him to his second Gold Star Championship. Begg sent the car to the UK, but it was a mid-pack runner at best. Oxton then bought FM5, returning it to NZ which took him to his third Gold Star Championship. It is now owned by the Southward Museum.
Begg 018 (#19), the 18th and last Begg car, was built in 1974 and is now owned by Scott O'Donnell. Campaigned in its day by Jim Murdoch over two seasons, its second placing in the New Zealand Grand Prix in 1975 was a major highlight.