Step into the Range Rover Sport SVR Carbon and you feel like you've done the time warp again.
For the horniest RRS reminds of how things were done when the words 'climate' and 'warming' weren't ever used in the same sentence. They are now though, and I became obsessed with how fast the petrol gauge was heading for empty, just like range anxiety in an EV. Bigger battery EVs do around 600km these days, as does this. There's 104L of tank space to refill which will set you back around $230. It's quicker to power up than an EV of course.
We sometimes recorded fuel use averages of 20L/100km plus, not surprising for a supercharged 5.0L V8 that pumps out 423kW and 700Nm and is pushing a kerb weight of 2.5 tonnes. So we decided to see just how little it would imbibe. LR reckons 12.7L/100km overall. That might well be accurate too because its claimed 4.50sec sprint time was bang on.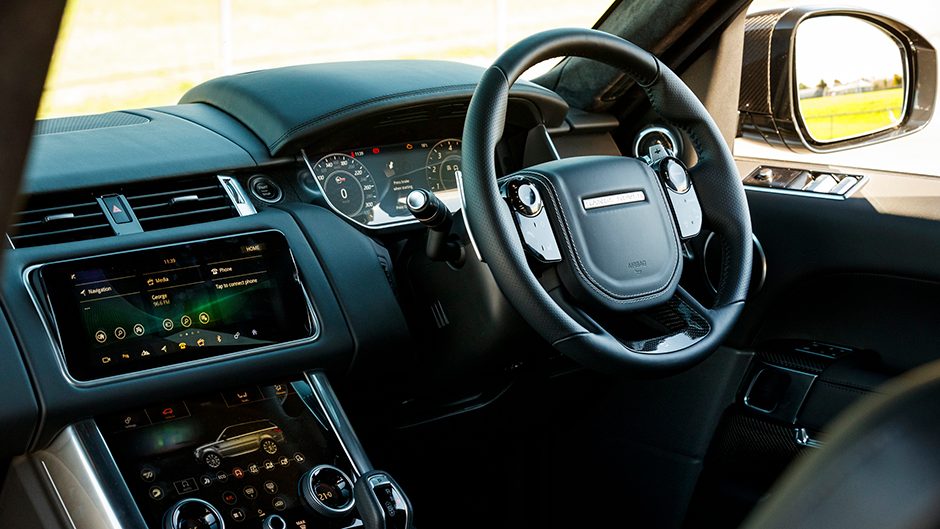 Anyhow, on a road trip keeping to the speed limit with cruise control (impossible otherwise) this can be taught to sip reasonably, well, almost. You can get down to low 12s on a still day and on hot mix into the low 11s, but we never saw single figures. And we had to do mini-refills on three occasions while we had the vehicle.
This wafts along easily at speed because it's hushed, the warble of the sports exhaust about all you hear. In-cabin SPLs maxed out at 69dB. As you'd expect, high-end bits are fitted as standard, like sports air suspension, a powered gesture-controlled tailgate, adaptive cruise with stop and go, TFT instruments, AWD, twin-speed transfer box, and Terrain Response2.
Being the Alpha model of the RR Sport range, the SVR Carbon comes with, obviously, a carbon pack, acoustic glass (think double glazing), 22-inch forged alloys (kerbing them will be costly), LED headlights, gorgeous performance seats, extended leather trim, special treadplates, paddle shifters, headlining and pedals, four-zone air and head-up display. Not all Rangie Sports models get things like a 360-degree parking aid or blind spot monitoring, lane keeping or RCTA but this does, along with configurable dynamics, and an electronic active diff. For this, JLR charges $234,900. Without all the carbon baubles, SVR costs $214,900.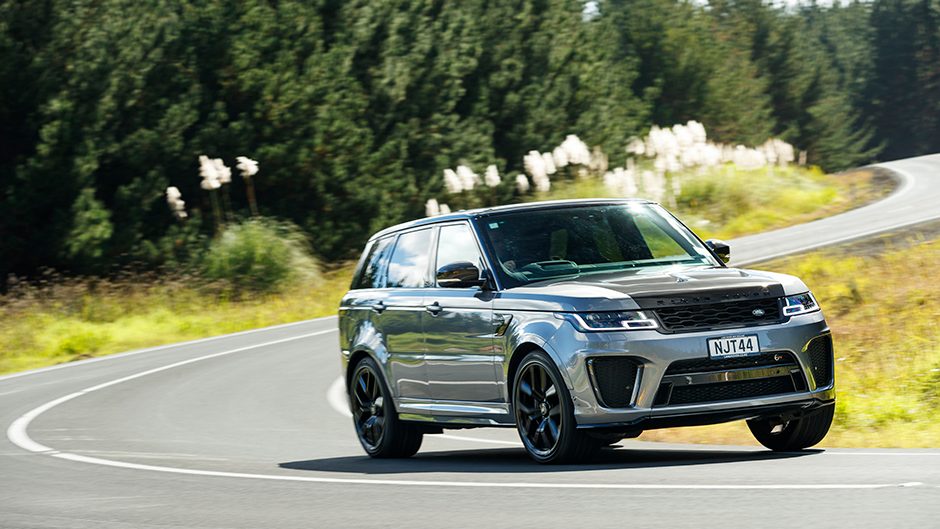 The P575 engine (so named for its horsepower tally) ensures you get plenty of overtaking prowess (an 80-120 overtake requires around 2.85sec, or 80m) but at a cost (purchase price and petrol used). If less is more, RR has the $165k PHEV with 297kW and 640Nm, and fuel use of 3.5L/100km. It can do 41km of EV running. Or there's the D350 HSE turbodiesel ($167,900) with 700Nm of twist on tap, a 6.9sec sprint time and fuel use of 8.2L/100km.
All are sizable vehicles, nigh on 4.9m, with 2m of beam. You notice the width in tighter driveways, length during turnarounds. That big-is-good ethos extends to the luggage bay which is generous (623L) and finished in rather appealing carpet. The hold's square shape makes it easy to vacuum after toting messy loads.
As to how this drives, you never really want for power or torque, even at low revs. It just delivers in a monstering way, even off the bottom. So working below 2000rpm in the burbs is fine, and from 2000-3000rpm on the open road keeps fuel consumption from going ballistic. Power delivery is linear and the harder you press, the more animalistic the noise. But you'll soon be doing speeds that will raise eyebrows. The speedo tops out at 320km/h, though aeros limit proceedings to around 280km/h, apparently.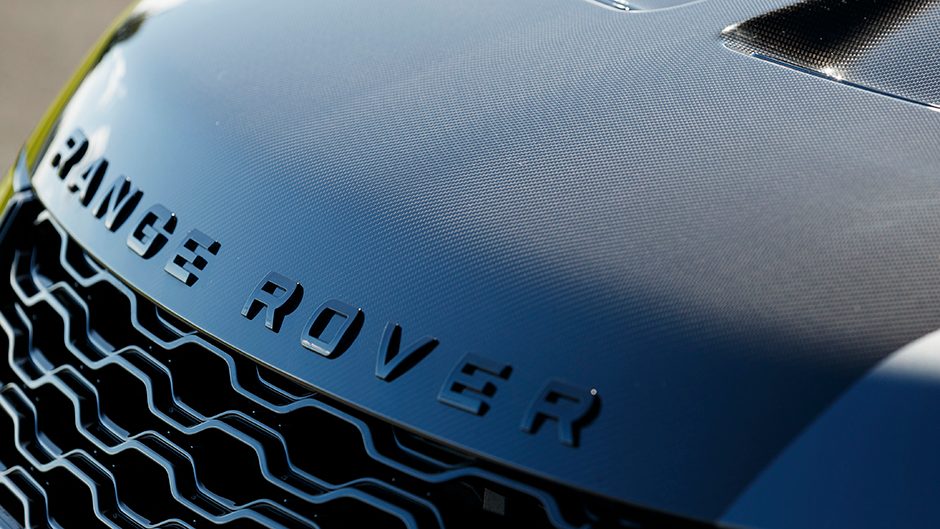 With all that weight carried high, it's just as well this has torque vectoring by brake. Its 50:50 weight split imbues it with natural balance so once the tyres start to object, independent brake nipping kicks in. Dynamics are not without merit; the SVR once held the record for the 99-bend Tianmen Mountain run, eclipsing a Ferrari 458 but then VW came along with its ID.R electric racer which outran everything.
Be aware that this is the sportiest of the Sport versions so the ride, even in default Comfort mode, is reasonably firm. Dynamic is more so, and you wouldn't select it with others aboard. What works really well is the Sports transmission setting, excellent as a push-to-pass device.
Most owners will no doubt add an option two, some in packs. Ours had the $9250 climate comfort pack, comprising panoramic roof, heated wheel, UV excluding windscreen, twin sun visors, fridge compartment and four-zone air. It also featured soft door closure ($1300).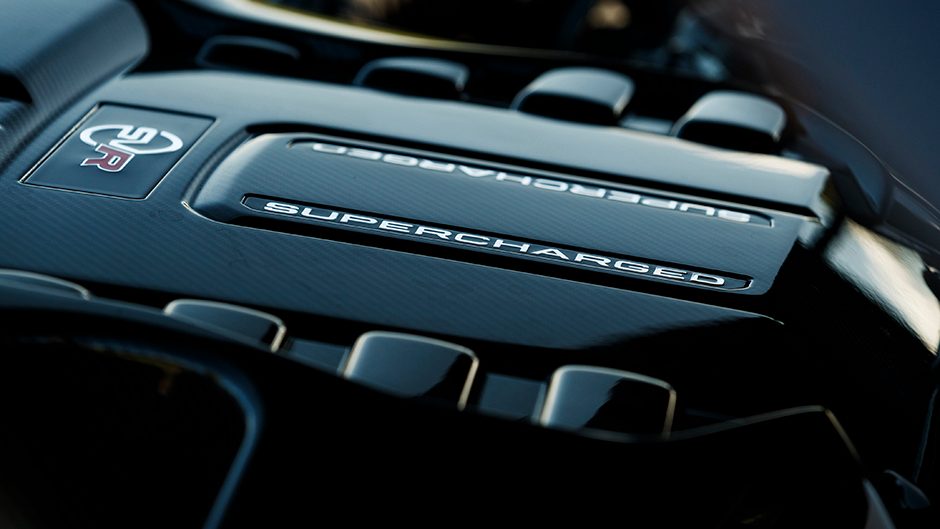 For around the $240k mark rivals include the RS Q8 which eclipses this for acceleration, rounds up the corners better and then pampers in more style. But it's newer too and so you get that.
In these changing times the SVR Carbon might seem somewhat profligate, so those with environmental concerns should really consider the PHEV instead.
| | |
| --- | --- |
| Model | Range Rover Sport SVR Carbon |
| Price | $234,900 |
| Engine | 5000cc, V8, SC/DI, 423kW/700Nm |
| Drivetrain | 8-speed auto, all-wheel drive |
| Fuel Use | 12.7L/100km |
| C02 Output | 290g/km |
| 0-100km/h | 4.50sec |
| Weight | 2491kg |