JLR has been afflicted by the global economic malaise this year and needs a bit of a fillip. Perhaps its new Evoque will provide an uplift.
LR sold 800,000 of them since its debut in 2011. So cue a new model that looks little different, right down to size. Yet, no two panels are said to be the same!
Tell them apart by slimmer LEDs and door handles that retract into the bodywork for a flush finish. This second-generation Evoque is much improved, on the whole. It hasn't grown because people liked its town-friendly size. The designers instead massaged the interior dimensions. There's a 20mm wheelbase stretch and that's gone into more leg room. It's also easier to access the rear with bigger doors. It used to be mean back there, but now there's quite acceptable room for a pair of adults.
Even visibility seems better towards the rear, aided by a clever rear view mirror that switches from conventional to a camera view if you're carrying a full house. The hold is also said to be 10 per cent larger.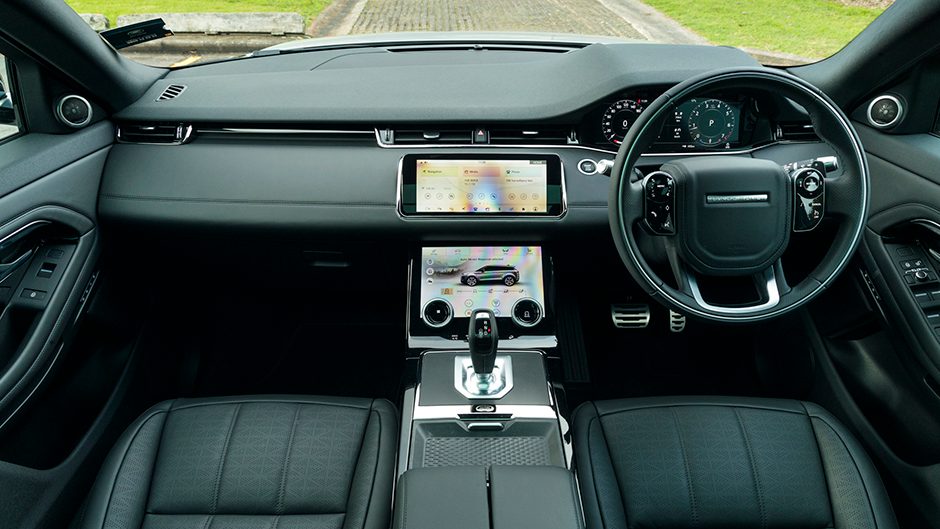 It doesn't look any bigger than that of its rivals, Q3, XC40, but LR reckons there's 591L of air space there. But that "liquid" figure is meaningless, fill it with boxes and it's said to be 472L, which seems more like it. While the exterior retains the elegance and originality of the first-generation Evoque, no longer available as a silly three-door, the interior is relatively transformed.
There's more of a Velar look about it now, with an upper and lower centre console screen, the top one tilting out slightly at start up, the steering column lowering. All very elegant. We weren't big fans of this dual screen set-up in Velar and find the whole thing a bit distracting here. There's been a change to a regular shift lever, a move away from the rotary selector and we'd normally say that's a positive move.
Only the detent in the new set-up requires the utmost positivity to select Drive or Reverse. Otherwise, you'll be going nowhere fast in neutral, cursing the thing. And on a fast getaway, that's something you won't necessarily be making in the top $117,900 R-Dynamic HSE P300 we've been driving.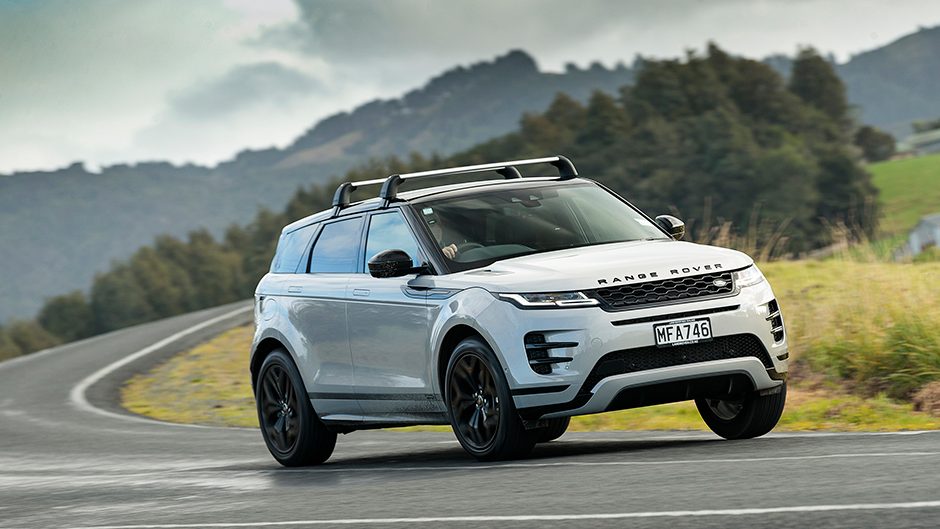 For the 2.0-litre turbo is subject to a bit of lag, and so too the nine-speed ZF transmission which takes its time, rather like the central screen operation which has latency issues. Add in the stop-start mechanism and there are three reasons not to go for that gap unless you're well prepared for takeoff.
Let it rip however and this is pretty quick off the mark, and that's in part thanks to its 48v mild hybrid status. There's an extra 140Nm of electric motivation, helping to get things underway, and with a system total of 221kW and 400Nm, LR reckons this will jet to highway speed in a bit over 6.5sec. We saw a best of 6.8sec, with an overtake dusted in 2sec less.
But it's at lower revs and into the midband where this really feels effortless. There are no engine modes as such, and they're not missed, such is the heft on offer here. LR reckons on average fuel efficiency of 8.2L/100km but we presume that's not a WLTP rating as we only saw less than double figures when babying it. But then again, with a machine weighing not far off two tonnes and a stroppy 2.0L turbo…. Evidently mild hybrid status is meant to improve fuel efficiency by six per cent.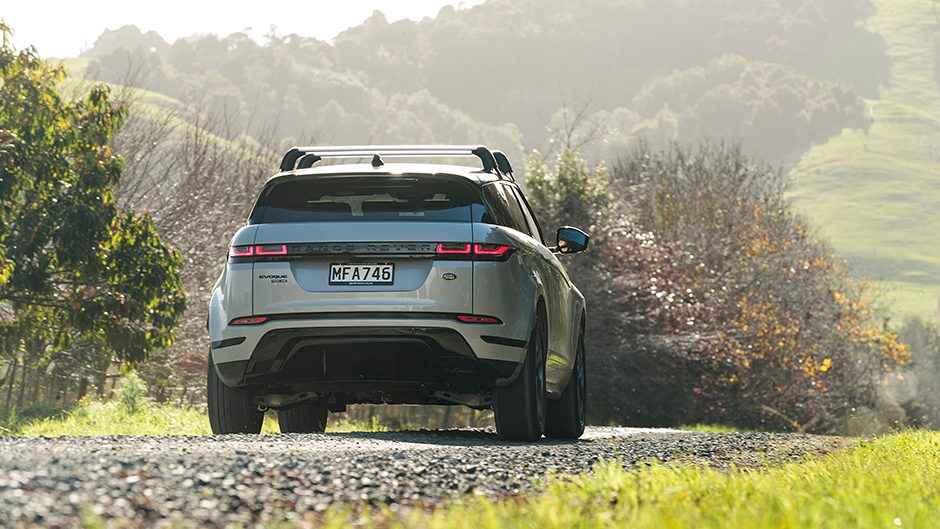 This looks elegant and drives the same way, hugging the corners nicely. New Evoque is underpinned by a fresh Premium Transverse Architecture platform, and assisting with dynamics are adaptive damping, and new rear suspension similar to the Velar's.
This top P300 model gets additional help from a Twinster sport differential on the rear and torque vectoring by brake up front. We chose a testing corner for photography, and the Evoque really aced it for a high rider. It maintains its line a lot better than you'd imagine for something that has an almost 60/40 weight split, and rolls around minimally, all the while steering with intent and accuracy.
When approaching the grip limit independent wheel braking saves the day. But if anything its ride and refinement that this aces even better. Think Range Rover levels of comfort and hush. Oh wait, it is a Range Rover.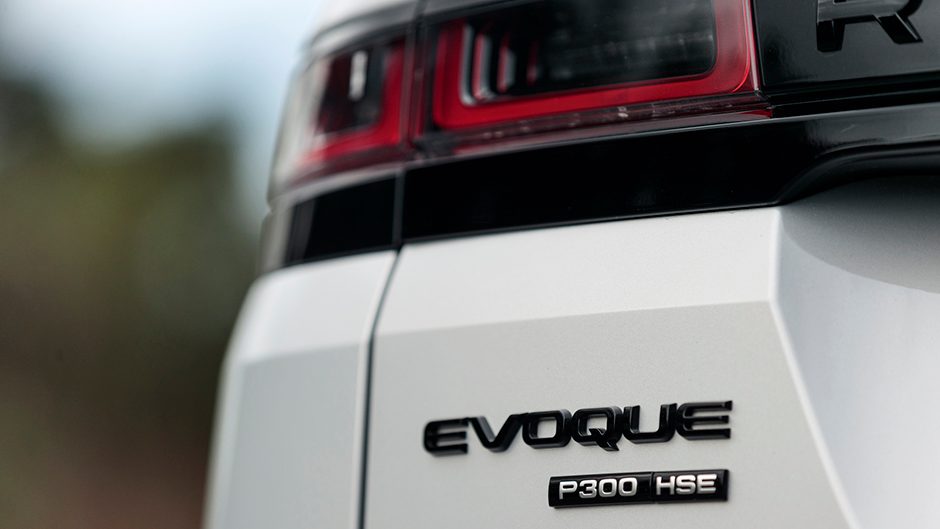 Being the top model this wants for little, especially on the safety front, and it has just received a five-star ANCAP rating. There's matrix headlights, a surround view camera, glass roof and 11-speaker Meridian sounds as standard, along with a whole mess of apps to do tricky things with the vehicle too, if you can be bothered.
So more dynamics and yet added refinement at the same time, more room, more tech and the same sexy styling, all for no more outlay. Sounds like a considered evolutionary update to us. Next year a plug-in hybrid is promised with an electric range of 70km.
| | | | |
| --- | --- | --- | --- |
| Model | Range Rover Evoque P300 | Price | $117,900 |
| Engine | 1998cc, IL4, T/DI, 221kW/400Nm | Drivetrain | 9-speed auto, all-wheel drive |
| Fuel Use | 8.1L/100km | C02 Output | 186g/km |
| 0-100km/h | 6.83sec | Weight | 1988kg |