In what would seem like a response to Triumph's recently released Tiger 1200 Rally Explorer, the first ADV with a 30L tank for extended range, Ducati has launched a Multistrada V4 model by the same name and with the same tank capacity.
It is evidently aimed at those wanting to go even further off-road, alone or with a pillion. For it comes with improved comfort and greater range, thanks to its bigger fuel tank. There's also extended engine deactivation, which Ducati claims is a first for a production motorcycle, wherein the rear cylinder bank of the V4 is switched off, even on the move, to save on fuel use.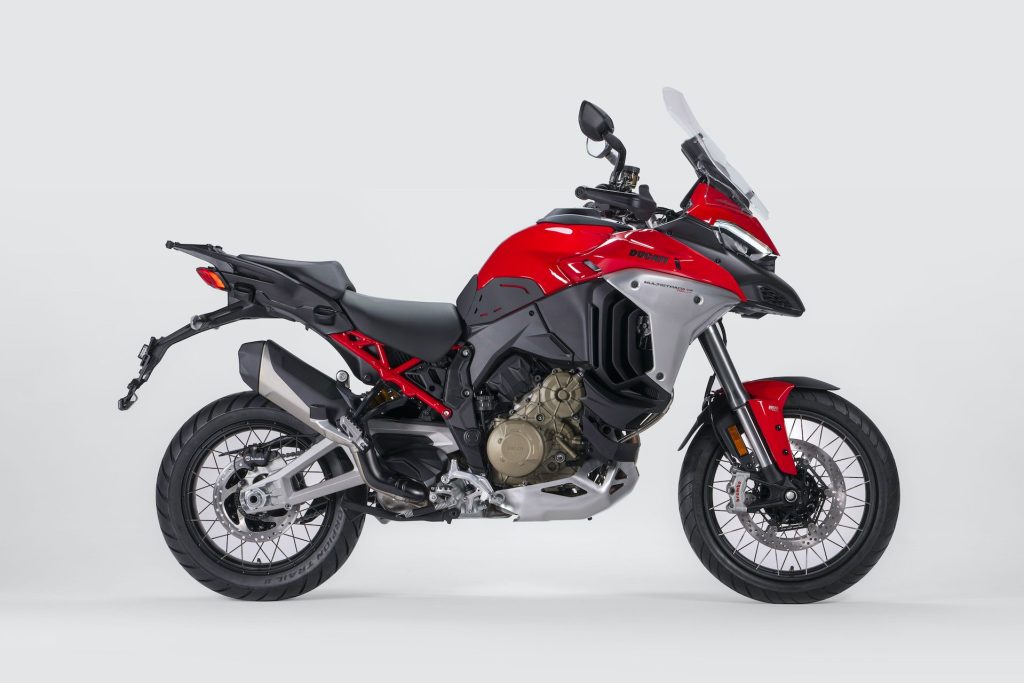 Also of interest to those heading to the most far-flung corners of the planet, there's 200 mm of (semi-active) suspension travel, and added ground clearance in the Enduro Riding Mode. It's "the bike to explore the world" according to the Italian.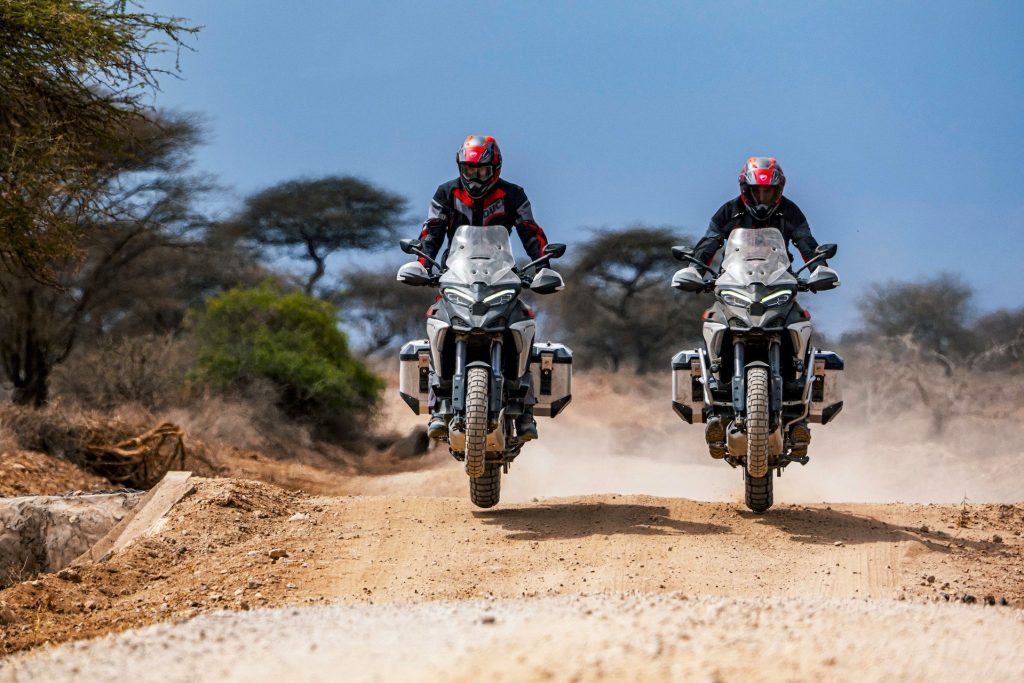 The Multistrada V4 Rally is also equipped with an Auto Levelling function, which guarantees a constant trim when the rider, passenger and luggage configuration alter. Further enhancing comfort is a new windshield, 40mm taller and 20mm wider, bigger footpegs and more pillion seat space. A lowered suspension kit and various seat options make the bike configurable for most all rider sizes. Moreover, there's a low ride suspension position for slow speed riding or when stopped, and a new Easy Lift function that makes hauling the bike off the sidestand to the vertical less effort. There are also lighter tubeless spoked rims and reinforced engine guards, along with a centre stand.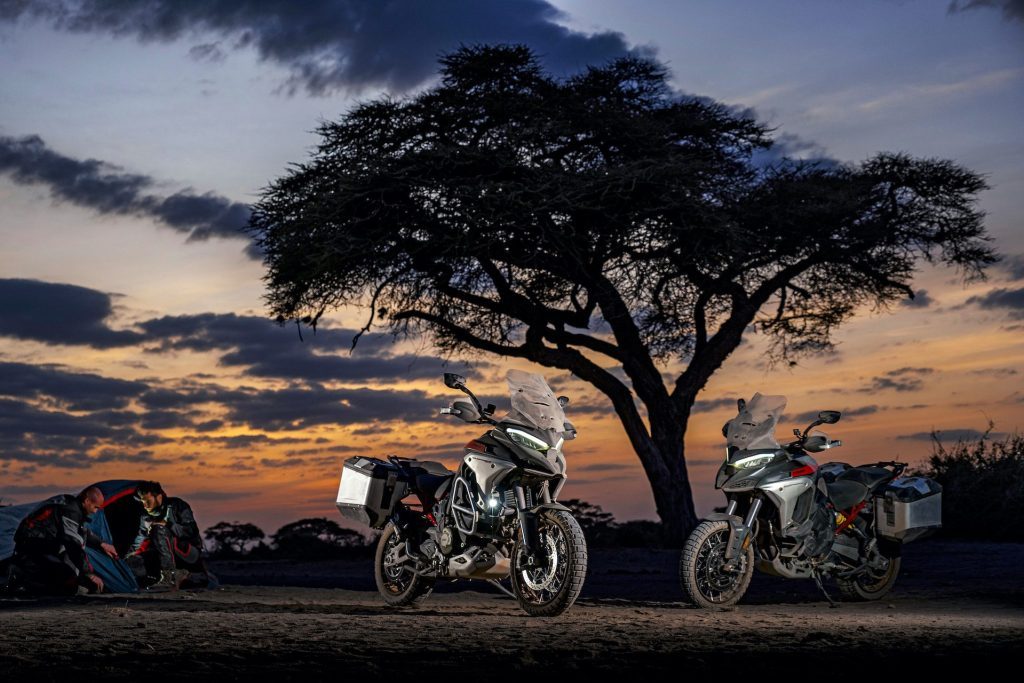 Adaptive Cruise Control and Blind Spot Detection are part and parcel of the MS V4 Rally spec, as is a 6.5-inch TFT colour dashboard. All the usual IMU-based safety features are also standard on this bike.
There are four ride modes (Sport, Touring, Urban and Enduro). Selecting the Enduro Riding Mode activates a dedicated Power Mode, which actually limits the output of the engine to 114hp with a dynamic and direct response.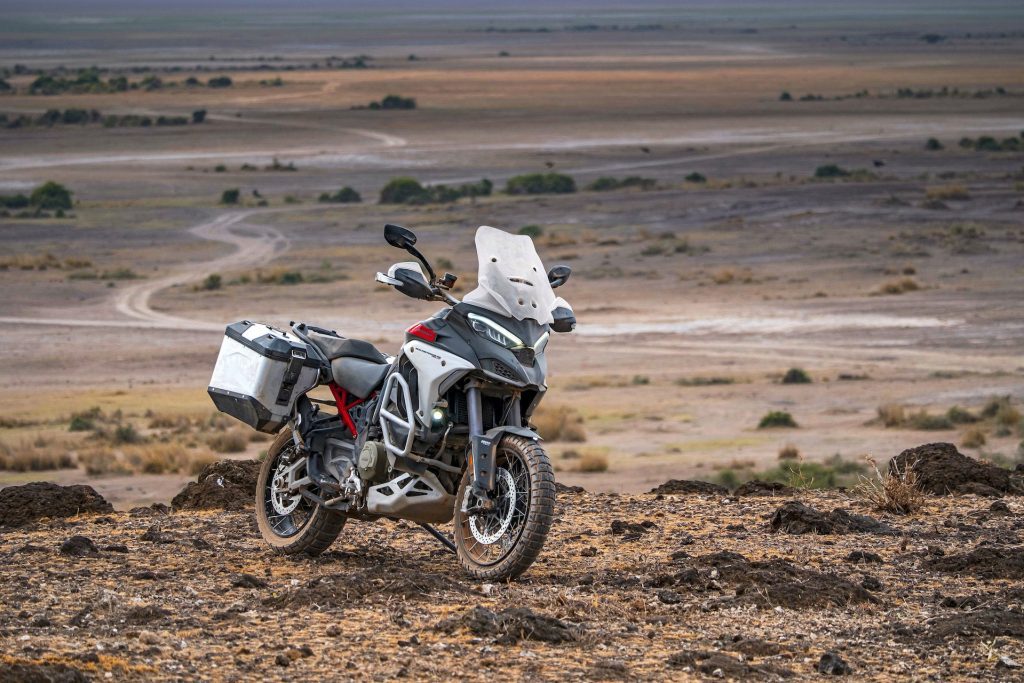 For the MS, the V4 engine produces 170hp (125kW) and 121Nm and features a counter-rotating crank to oppose the gyroscopic inertia of the wheels. A monocoque aluminium frame is used, along with an aluminium double-sided swingarm.
The V4 Rally comes in three versions, depending on spec, comprising Adventure Radar, Adventure Travel and Radar (adds aluminium panniers) and Full Adventure with the above kit plus an Akrapovic silencer.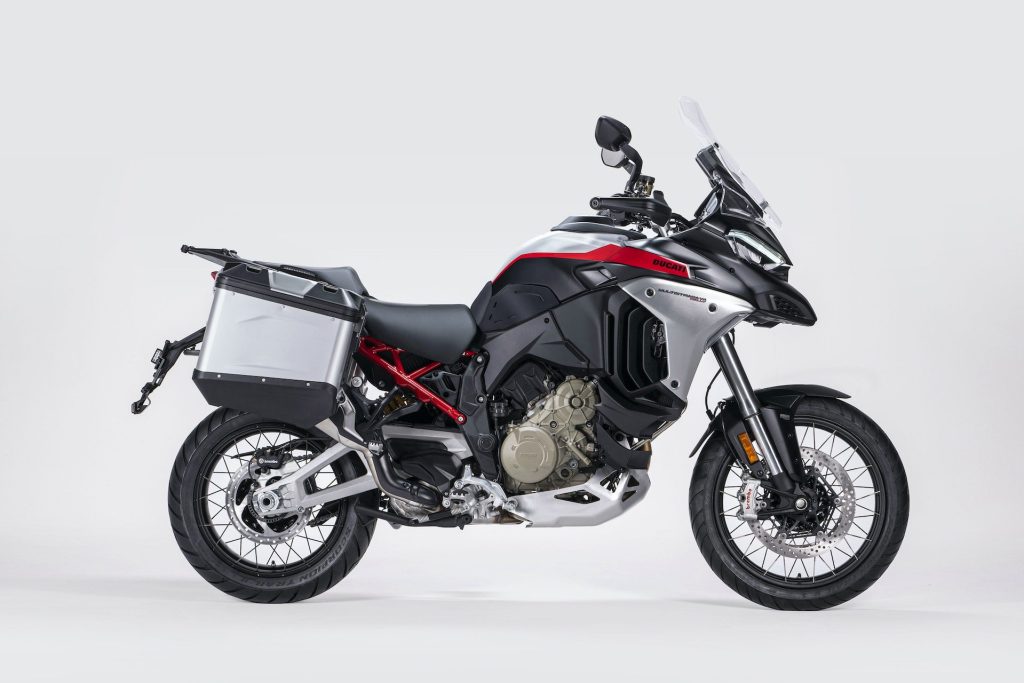 Other accessories include LED spotlights, sat nav, various luggage solutions and carbon fibre or aluminium trim parts. There is also dedicated off-road riding apparel available.
The new model will dot down in 2023, available in Ducati Red and Matt Black, backed up by a four-year/unlimited mileage warranty. Pricing is not yet to hand but given the Pikes Peak special is almost $50k, we'd expect this to be about as expensive.