NZ Autocar commercial has been living with a Peugeot partner active 1.6 HDI LWB manual three-seat cargo van since early October, and it's quickly won us over with it's practical features and frugal consumption.
It's been a few years since the long wheel base Partner Van was first introduced to the New Zealand market in late 2009 and there have been a few subtle changes along the way.
The most significant change was a facelift in April 2015 where the Partner received a new headlamp and grille treatment, as well as revised tail lamps, and front fog lamps in the lower front bumper became a standard fit item.
This mostly cosmetic update brought the Partner into line with the "new" family face being adopted by other models from the manufacturer that saw the Peugeot name adorn the top of the radiator grille directly above the Lion badge in the centre of it.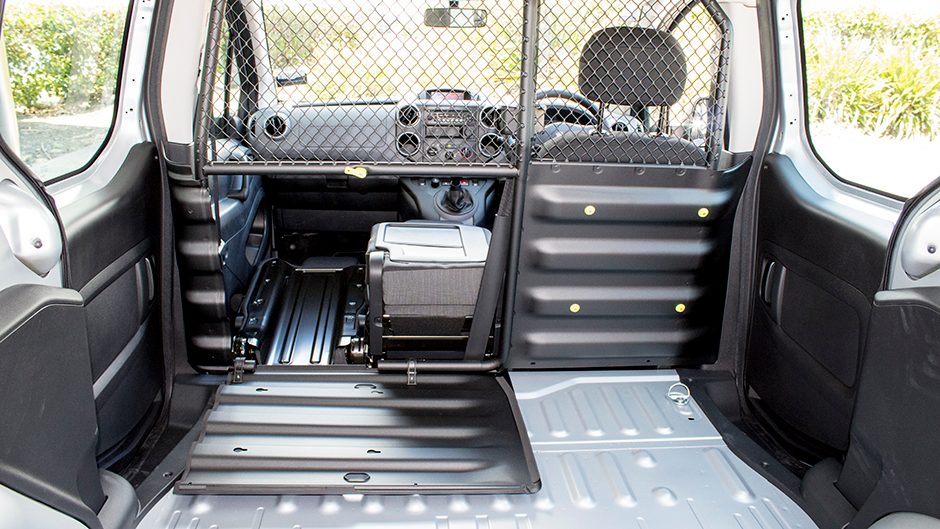 But the most significant change of late is the decrease in retail price for the Partner to $26,990, a significant reduction from the original retail price of $36,990 which the previous distributor was recommending in 2009.
The Partner now arrives in Peugeot's Active specification, which means it also comes with window glazing in the two sliding rear doors as standard, rather than as an option.
In fact there are only two extra cost options available, metallic paint for $750, and a three-year 60,000km (whichever occurs first) service plan for a very reasonable $1288.
The Partner offers all the usual workhorse requisites such as overhead shelving for workbooks or laptops, bluetooth telephony and audio, cruise control, manual air-conditioning, cup and bottle holders in the doors, automatic door locking, reversing sensors, and the all important plastic bag/ curry hook on the centre console for transporting the day's lunch.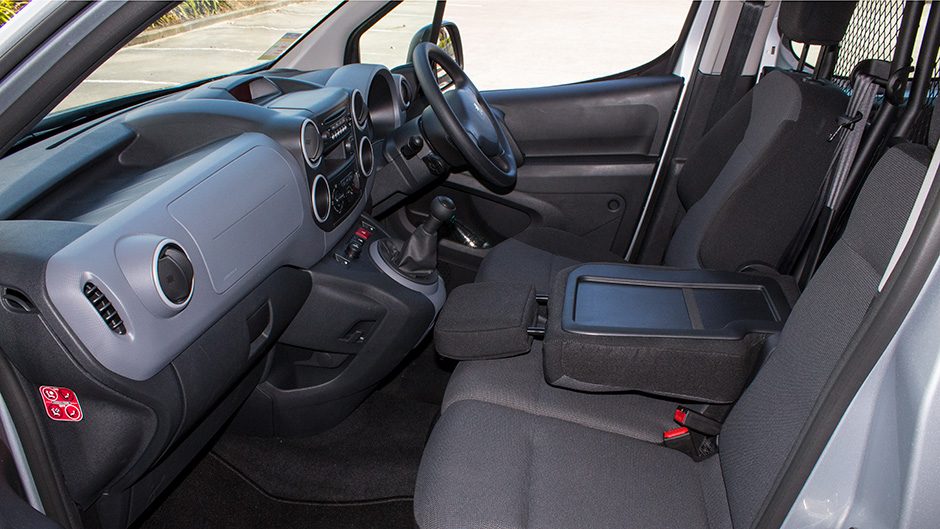 Although Peugeot reckons the multi-flex passenger seat will accommodate two people, they will have to be a set of very slender French fashionista's, rather than a pair of Kiwi blokes who eat plenty of the aforementioned curry.
That said the multi-flex system allows the outer passenger seat to be folded down flat to the floor so that longer items of cargo up to 3.25 metres in length can be carried, as the bulkhead immediately behind the front passenger seat has a trapdoor that can be lowered for items such as ladders or longer cartons to be loaded through it.
Alternatively in a similar manner to the Honda Magic Seat system, the bottom squab of the outer passenger seat can be flipped up to allow objects such as pot plants or other taller items to be safely carried in the vehicle's front cabin.
The middle passenger seat back also folds down to provide a useful work space, and there's a sliding drawer under the driver's seat as well as a storage compartment in the dash above the steering wheel.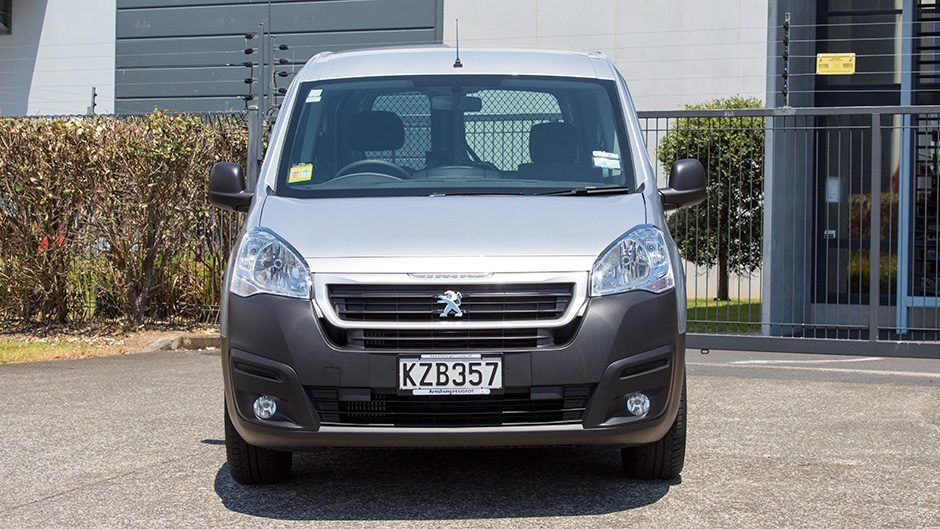 There's a sunglass holder in the glove box, but not much room for much else other than a slimline wallet and some work gloves. But most people will be more than happy with the amount of storage places the Partners cabin provides.
Other niceties include tinted glass, height and reach adjustable steering column, height adjustable driver's seat, remote control central which allows you to lock the cargo area and cabin separately, one touch electric windows, and a 12 volt USB outlet for charging phones and tablets.
The cargo barrier (bulkhead) between the seats and the rear cargo area has a removable grille as well as the fold down trap door providing capacity for longer items and there are six tie down hooks in the rear floor.
Thanks to the 1.23 metre clearance between the rear wheel arches a standard sized pallet can be loaded into the rear of the Partner, and the twin rear barn doors open fully to 180 degrees to allow easy access for a forklift operator to complete this procedure.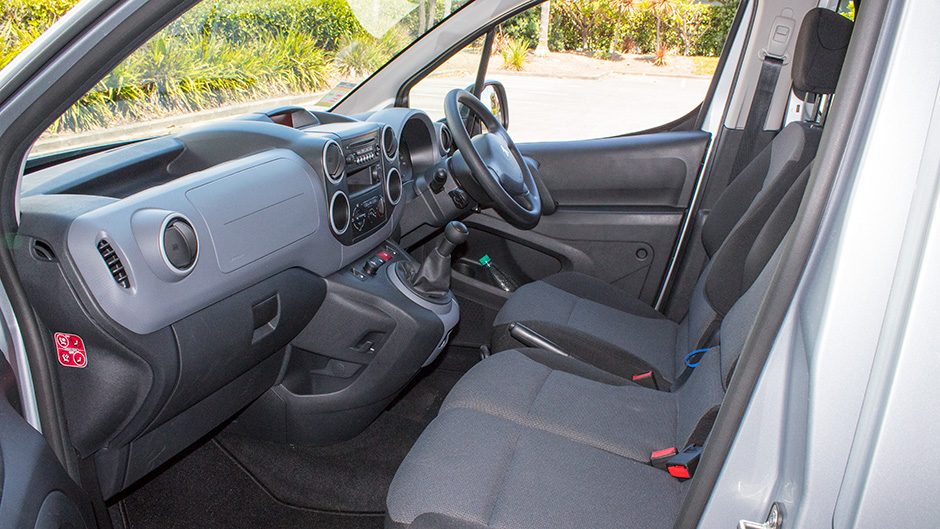 Under the bonnet is a Euro V emission rated 1.6-litre high pressure direct injection turbocharged four-cylinder diesel engine that puts out 66 kilowatts of power and 215 Newton metres of torque.
While it might sound modest in comparison with more contemporary diesel engines, there's more than enough power and torque for the Partner to spin its front wheels in the wet in first gear if the driver gets a bit too carried away.
The stubby five-speed transmission lever sprouts from the dashboard offering a nice positive throw between gearshifts, and the light clutch and responsive brakes make the Partner a pleasure to drive, even when crawling through the urban sprawl.
During our tenure we have travelled more than 2368 km so far in the Partner and our overall average consumption has so far been 6.1l/100km at an average speed of 39km/h.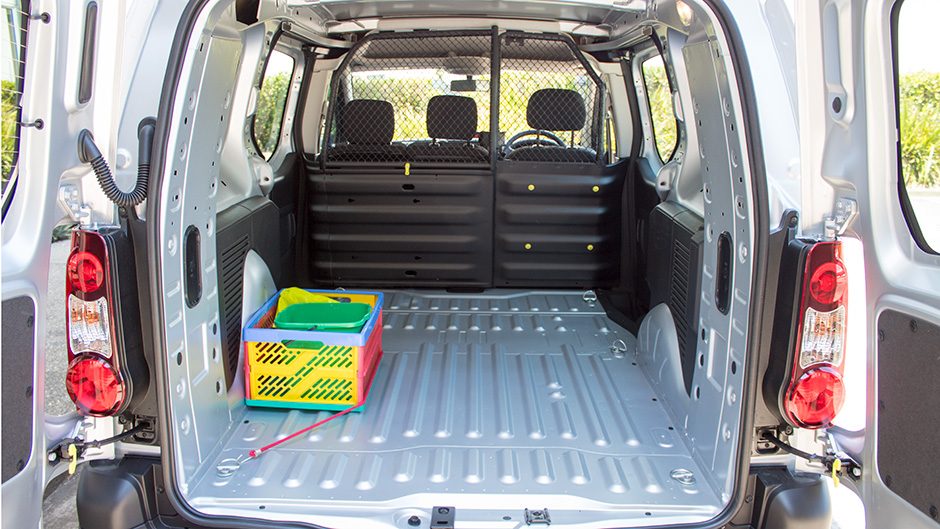 This compares well with the manufacturers claimed fuel consumption of 6.3l/100km in the city cycle, 5.1l/100km in the highway cycle and 5.5l/100km in the combined cycle.
At 90km/h per hour on the open road the Partner's engine is spinning at 2000 rpm in fifth gear and it seems happiest when cruising at this speed.
The front-wheel drive Partner sits on an older PSA Peugeot Citroen PF2 platform which also used in the Peugeot 307 and 308 family of hatches and station wagons, which explains it's car-like handling and comfortable ride quality on it's 15-inch steel rims shod with Kleber tyres.
Once you are used to the more upright "sit up and beg" driving position which is very comfortable and affords great visibility of the other vehicles around you, the Partner really is great fun to drive, it feels very much like a Peugeot 308 reincarnated into a delivery van.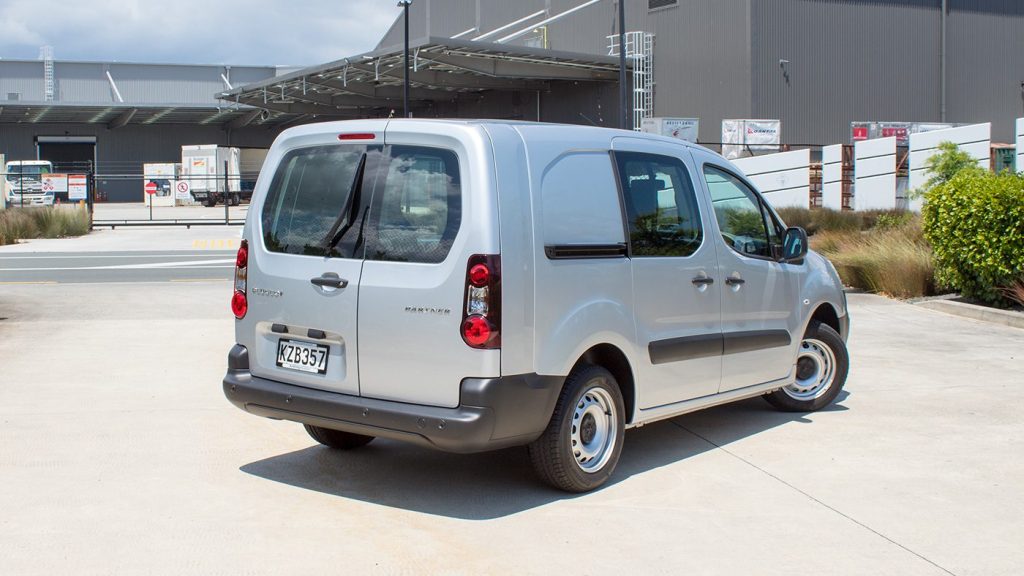 It's no great surprise to us that Peugeot offers a Partner Combi passenger van in Europe and other export markets.
So far during its two-month working life with NZ Autocar Commercial, the Partner has carted boxes and bags of rubbish to the dump, bicycles to and from the cycle mechanic, numerous bags of potting mix and other sundries home from Bunnings, boxes of magazines and other paraphernalia to events, and delivered furniture to the local charity shop.
There is only one minor caveat with the Partner. Just like many other vans there is a bit of road noise echoing through the rear cabin when then vehicle is unladen, but owners might wish to consider installing some form of floor and wall covering to mitigate that issue as well as protect the paint work from scratches and damage.
Overall, it's been a mighty great working Partner.
| | | | |
| --- | --- | --- | --- |
| Model | Peugeot Partner Active HDi LWB Van | Price | $26,990 |
| Engine | 1560cc, 4-Cylinder, 66kW/215Nm | Drivetrain | 5-speed manual |
| Fuel Use | 5.5L/100km | C02 Output | 0g/km |
| 0-100km/h | 0.00 sec | Weight | 1401kg kerb weight |
| Service | 20,000km intervals, 3 year / 150,000km warranty | Load | 3.7m3 volume, 2050m length, m height |
| Vitals | 2130kg GVM, 750kg payload | Vitals | 1000kg towing capacity |