The arrival of Peugeot's plug-in 3008 seems timely, what with the clean car discount and all. There's a but however. Read on.
All the talk this month is about the Government's Clean Car Discount scheme. To say opinions are mixed would be an understatement. Debate has raged on the always civil and measured outlets of social media. Distributors, by and large, seem to like it, although perhaps only because it makes the targets established by the government's Clean Car Standard from last year fractionally less impossible to reach. Hmm.
I'm doubtful the almighty Foyota Rilux duo is going to be shaken from the top of the sales charts, or that sales of EVs are going to light up overnight. What I think we're in for, though, is a tsunami of new plug-in hybrids — each aiming to be eligible for that sweet, sweet $5750 rebate.
Therefore, I feel for Peugeot. Its new 3008 GT Hybrid4 plug-in has landed and is priced just a wee bit over the 80 grand threshold. At $89,900, the brand's latest electrified offering can't be called cheap. It's over $30,000 more than its petrol- and diesel-fired cousins, and lines up as the priciest Pug on sale locally, period.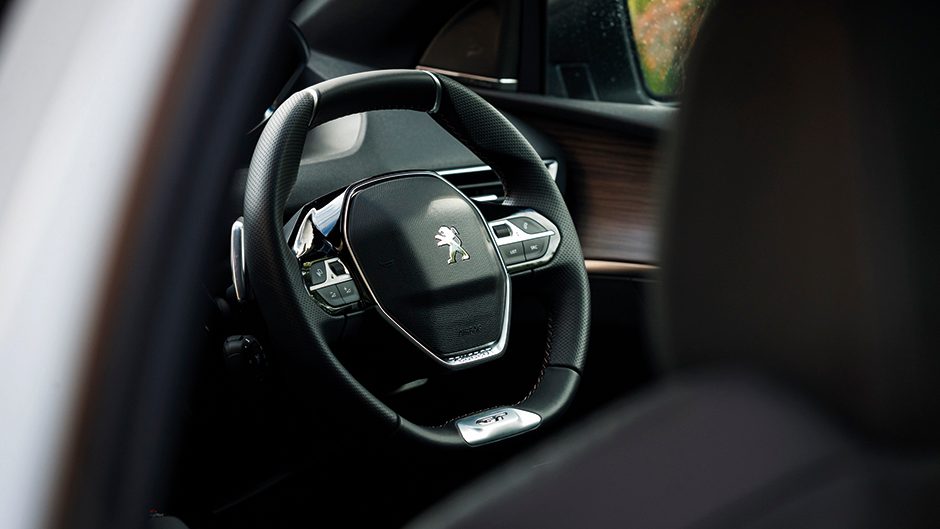 It's also the only one that's all-wheel drive, and it's the most advanced. The brand's first locally offered plug-in is a sophisticated affair (more on that soon), with tangible real-world benefits. Raking in the miles and watching the petrol level stay pinned to full for not hours but days is very satisfying. It feels like you're cheating the system.
There's another tantalising factoid about the Hybrid4, one particularly fascinating to enthusiast types like us. Technically, it's primarily rear-wheel drive, placing it in rather exclusive company and conjuring mental images of arse-out, smoke-show theatrics. What complements this is yet another tasty fact; with 220kW and 520Nm available, this is the most powerful Peugeot on sale.
These two 'dangerous' pieces of knowledge stem from the unique powertrain format. Peugeot's 147kW 1.6-litre PureTech turbofour petrol sits under the bonnet, kindly accommodating a small 81kW electric motor underneath. At the back sits a second electric motor, making 83kW, and a 13.2kWh battery. Instead of the front electric motor being the Pug's primary propellant as you might expect, the rear motor is first in command.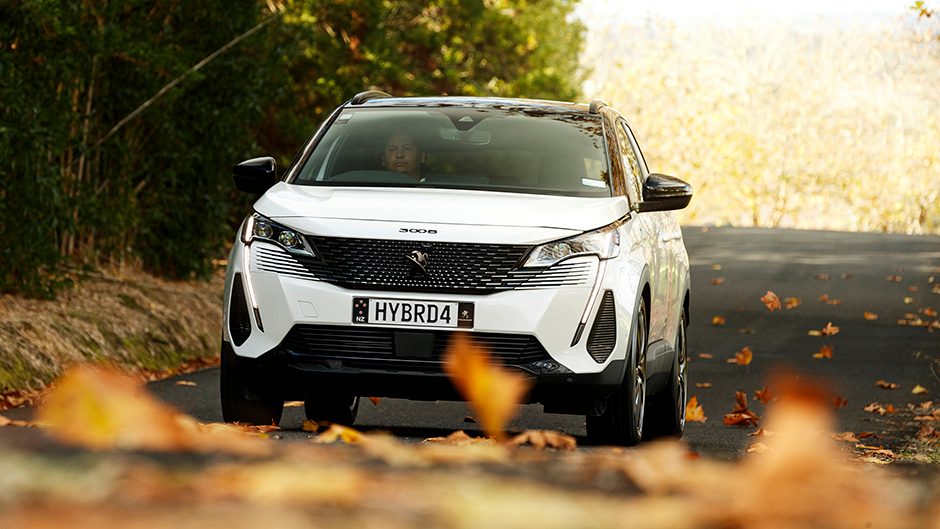 The illusion of procuring 'a dab of oppo' is shattered fairly quickly however once you get the Hybrid4 in motion. The rear-driven bias is only really the case when the car is operating in quiet, calm full electric mode. Ironically, the more you open up the taps the more front-driven it becomes. Sudden jabs of throttle see the powertrain switch to all-wheel drive and the four-pot chiming in. And, if you switch it to Sport mode for the twisties, it favours the petrol engine and becomes almost exclusively front-wheel drive (barring the odd request for extra electrical torque when it's being beaten on).
Drifty hallucinations aside, it's a really pleasant, clever powertrain. The switching between the different chains of command is discreet. It's a strong performer at either end of the spectrum, too. Those who intend to drive it like a dedicated EV will be happy with the refinement and the high threshold of load the electrics can withstand before calling on the petrol engine. And those perpetually in a hurry will marvel at how quick it feels. It only took us a few attempts on an imperfect road to equal Peugeot's claimed 5.9 sec 0–100km/h time.
Those aren't 'ludicrous' Tesla numbers, but it certainly feels rapid behind the wheel. The Hybrid4 isn't particularly stable when channeling these kinds of speeds, which both adds to the silly, hilarious drama of putting a big family wagon through the stress of a 0–100km/h sprint, and offers hints as to how it takes corners. As per the last time we drove a 3008 back in March, it's a neat steer at a low and medium pace. But, with the added power and the additional 300kg of mass, its balance under stress has taken a slight beating. Still, when you're not pretending it's a hot hatch, it's well above the handling median relative to its peers.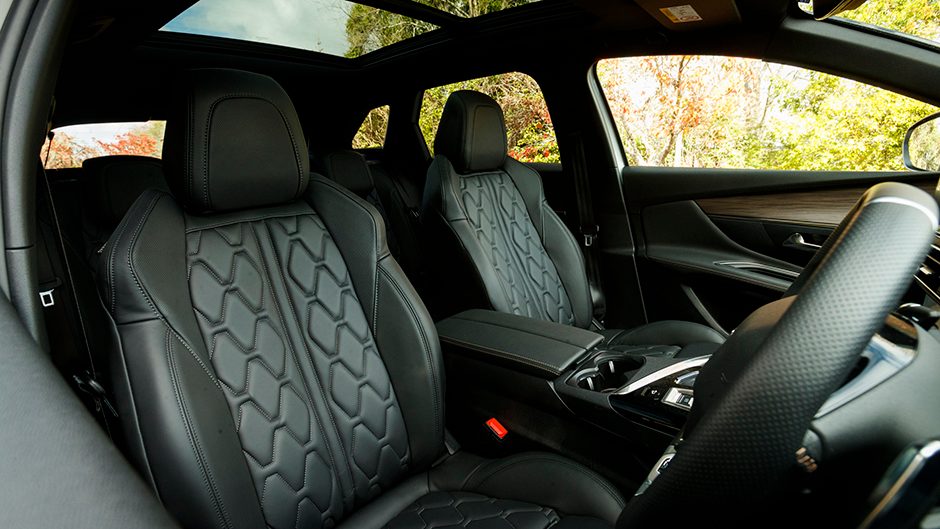 Having got all the anorak driver stuff out of the way, the most pressing question about the electrified 3008 is its range. Peugeot rates it at between 50km and 60km on pure electric drive alone, before it'll switch to hybrid mode. Once flattened, the battery takes around seven hours to charge when plugged into a standard home socket. The on-board range indicator is based on your driving trends, so if you've been driving like a librarian it will show you a higher potential range than if you've been driving like, well, anyone from Autocar HQ tends to.
Hopping into the Hybrid4 for the initial handover, it displayed 42km of potential range when full. Upon its first charge that number incrementally grew to 44km. And, over the course of a few days of driving across humdrum suburban streets (with a bit of motorway action thrown in) we were able to get a clean 55km of pure electric travel. Given the imperfect 'real world' nature of our route, it's very impressive to land smack bang in the middle of the manufacturer's range claims. In hybrid mode, we saw a return of 3.0L/100km — more than the 1.2L/100km Peugeot claims but still impressive.
As per what we said in our petrol 3008 GT petrol review from earlier in the year, the cabin is a mix of design delight, interesting materials, and mountains of standard kit. The Hybrid4 is exclusively offered in a 'GT' grade so comes with a massaging driver's seat, a 12.1-inch digital cluster, a 10-inch touchscreen, a 360-degree camera, and Peugeot's generous safety suite which covers the requisite radar cruise control, autonomous emergency braking, and the like.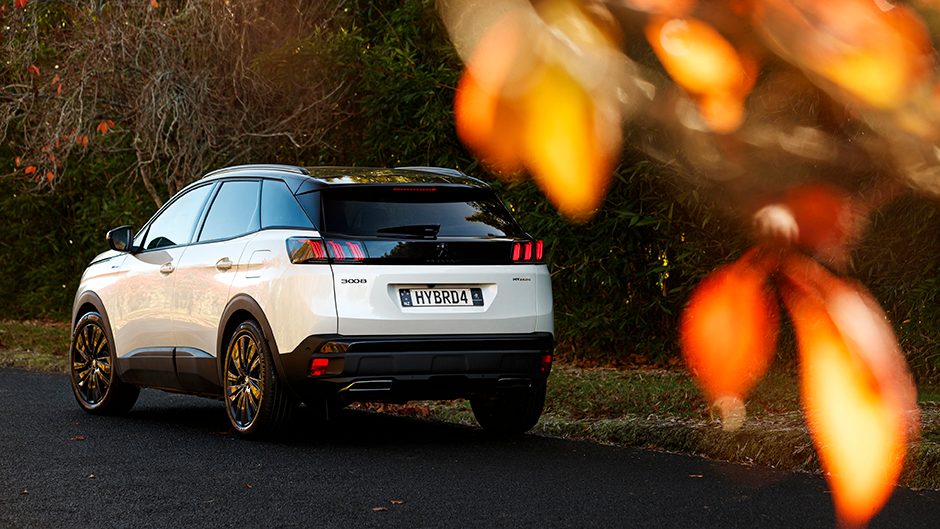 Differences? The battery has taken the 3008's boot from its original 520-litre capacity to 395 (although it still felt vast during our weekend away). On the flipside, Peugeot has crammed in a few added features to help with management of that electric mileage. For instance, you can programme it to charge at certain times through the car or through your phone via an app, to help make use of off-peak rates. There's also a mode that can 'lock away' a small chunk of charge for future use — a little useless in New Zealand but ideal if you're planning a longer trip involving a drive through towns that only allow EVs, like some cities in the UK.
Peugeot has a very charming and capable vehicle here, one that might well woo a few plug-in knockers. The lingering question (a generally rare one in Peugeot's case) is whether the price is right.
| | |
| --- | --- |
| Model | Peugeot 3008 GT Hybrid4 |
| Price | $89,900 |
| Engine | 1598cc, IL4, TDI, 220kW/520Nm |
| Drivetrain | 8-speed auto, all-wheel drive |
| Fuel Use | 1.2L/100km |
| C02 Output | 28g/km |
| 0-100km/h | 5.94sec |
| Weight | 1897kg |