Keep an eye out for the Police car with the green stripe if you live in Wellington. If you do happen to spot it, you're looking at the first plug-in hybrid cop car to begin operational testing in the country.
The Škoda Superb iV PHEV will perform a range of duties in and around the Capital as the New Zealand Police continue elevating its potential as the next iteration of prowl car.
It's expected the PHEV will perform frontline tasks in a more rural environment. Police say it will not meet the demands of an around-the-clock city vehicle where "the engine never cools down."
Police have purchased three iV PHEVs. Of the other two, one is an unmarked operational vehicle, and the other is for transporting government officials.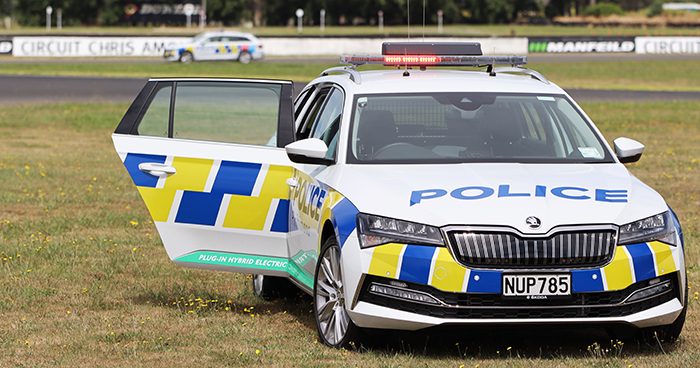 The PHEVs are part of the Police's plan to cut back their carbon footprint.
"There is an expectation on us to decarbonise our fleet but vehicles have to be fully operational and fit for purpose to meet our operational requirements," Inspector Brian Yanko said.
"That means they need to help keep our people safe and the New Zealand public safe."
However, they are still subject to more testing and evaluation.
"No vehicle gets a free pass," he said. "We won't put it in the fleet because it's cool and trendy – it has to meet our operational requirements."
The iV PHEV combines a 1.4-litre four-cylinder petrol engine with an 85kW electric motor driven by a 13kWh traction battery. At full tilt, the iV PHEV churns out 160kW of power.
But this is a police car, and police cars have to be fast. So, how fast is the iV PHEV?
Well, from a standing start, it will take you 7.8 seconds to get to 100 km/hr. Not super speedy, but the Škoda does have a long-range capacity of up to 930 km. Pure electric drive will give you a range of 62 km.
It will then take seven hours to recharge the battery from a standard wall outlet between car chases.
Recent testing at Manfeild raceway proved the iV did well in specific tasks, including radio frequency interference, brake and road trials, and performance testing with the added weight of police equipment.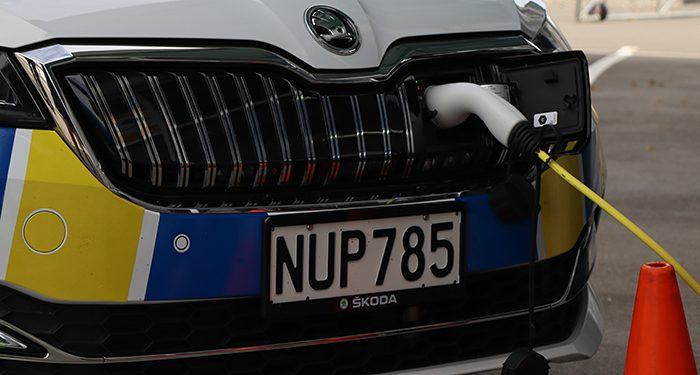 To further reduce the organisation's carbon footprint, Police plan to soon begin trials of all-electric vehicles for non-operational use.
"We are interested in anything that has potential to meet the requirements of frontline and other areas of policing in New Zealand," Yanko said.
The New Zealand Police have around 3500 vehicles in its fleet, including 2200 liveried cop cars.