Nissan's entrant in the busiest SUV sector, the X-Trail, has undergone a spit and polish job, ready to take on Mazda's rejuvenated CX-5. How does it stack up?
"Caution, road works ahead" says the sat nav, ad nauseam. It used to be that ESP was overly nannying, now it's the all-seeing eye of sat nav. Funny thing though, with each warning of 'road works ahead', there was no sign of a work gang or cones to be seen, nada. Random? Rather. Annoying? Certainly, so we turned these 'helpful' warnings off. It's one of many new safety helpers on board what is otherwise a well considered update of one of Nissan's most popular sellers, the X-Trail. We drove the top Ti version, which is the model that now gets most of the active safety gadgets, including active cruise with stop and go function. It also comes with lane departure prevention, blind spot warning and rear cross traffic alert. There's auto-braking for errant pedestrians, adaptive front lighting and auto high beam assist, along with the usual raft of facelift upgrades, like new bumpers, grille, light and wheel styles, a D-shaped wheel, and updated trim. This even has heated rear seats and a toasty steering wheel. A pity that some quite basic things have been overlooked on what is a $53,490 vehicle. All of the oddments trays/bins are unlined so anything in them, like the remote key, rattles around noisily on the go. Still, we shouldn't complain too much because despite all the added gear, the price has risen by a paltry $200. If that's a bit much you can forego some of the Ti extras, like foot wag activation of the powered tailgate, and pick up the mechanically similar AWD five-seater ST-L (for leather) instead, at $47,490. Furthermore, there's now the option for those who like to spread their genes liberally to buy an upgraded seven-seater. Before, you could only secure the 5+2 X-Trail in ST specification – still available at $39,990 – but now there's a better specified ST-L version (still front-drive) for $44,990. It too gets some of the active safety features like rear cross traffic alert, blind spot monitoring and moving object detection.
So there's now rather a decent spread of X-Trails across a broad price bracket. Sales figures for the past three years mean X-Trail is level-pegging with models like Outlander, and outselling Escape, CR-V and Forester. Ahead of it are the Sportage and Tucson twins, and market darling, CX-5. So it is securely midpack in the biggest selling market sector. Nissan's gamble, stacking the deck heavily with SUVs, appears to be paying off, with Qashqai also doing good business.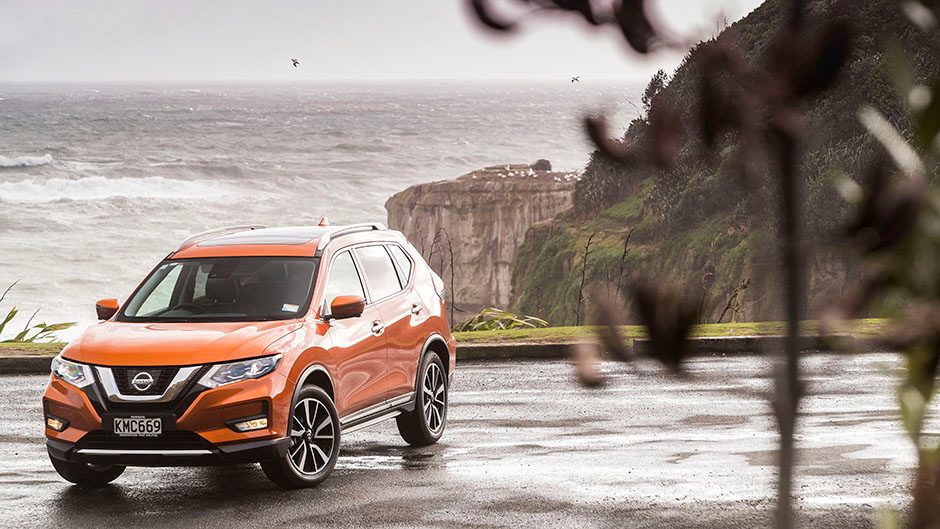 But we digress, for it's the X-Trail Ti we're driving and it's a most accommodating thing in more ways than one. Of an evening recently we ferried friends to dinner and they oohed and ahhed about room in the rear, and cooed when I turned on the seat heating. About the one thing that people were clearly divided on was colour; the golden hue was admired by some, detested by others. There are six others to choose from however.
The Ti is the top of the X-Trail tree and gets lots of kit, including a powered sunroof, a Bose audio system with a pair of tiny sub drivers for the bass, and there's also a surround monitor to help with reversing. Trouble is, the images are relayed to a screen so small and lacking in resolution that you have to squint to pick up what's happening.
Looking around inside the cabin and you can tell this is the new model by its in-vogue D-shaped steering wheel. The gear lever features a new leather boot and shift knob design, and there's a revised centre console bin lid but most of these items only the anoraks would notice.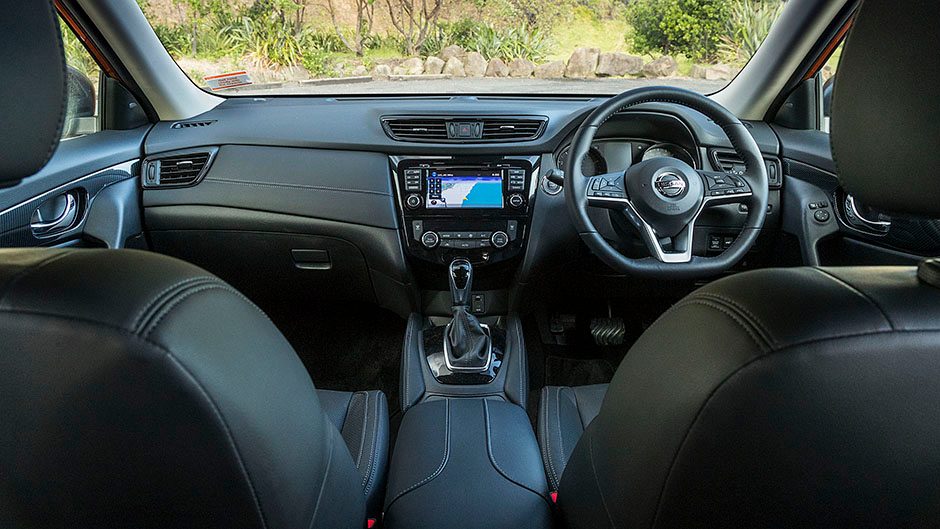 Moving to the rear, and there's a powered lid but it doesn't rise that quickly, and there's a heap of hard plastics in the 565L hold area. However, split folding produces a decent flattish load space of 945L capacity, and this can be enlarged slightly by removing the false floor.
Nissan has long been an advocate of continuously variable transmissions (CVTs) and a recalibrated version is what the X-Trail runs. In town it works well, getting the vehicle underway with the minimum of fuss. The engine, a 2.5-litre four is an unremarkable thing, good for 126kW, and 226Nm at what must be considered high engine speeds these days, 4400rpm. In this particular market segment not many are running with turbocharged petrol engines yet so it is fairly typical of the medium SUV engine. However, the CVT seems to get the best out of the naturally aspirated mill, though it appreciates a few revs. You must be fairly liberal with right foot pressure, and once up to target speed, the engine settles back down again. Only it settles back a bit too readily at times. Still, CVTs permit a higher overall 'top gear' ratio, for better fuel economy, this one rated at 8.3L/100km overall. That compares with the CX-5's 7.5 but then that runs direct fuel injection. Heading to work, a passage that consists of a short urban route and a stint on the motorway netted a best an average of 7.7L/100km. That's not too bad for a vehicle that scales up at 1630kg and that had only travelled 500km. As an added bonus it runs merrily on 91 unleaded fuel. CVTs aren't noted for their stellar towing rates, the X-Trail good for braked loads of 1500kg maximum.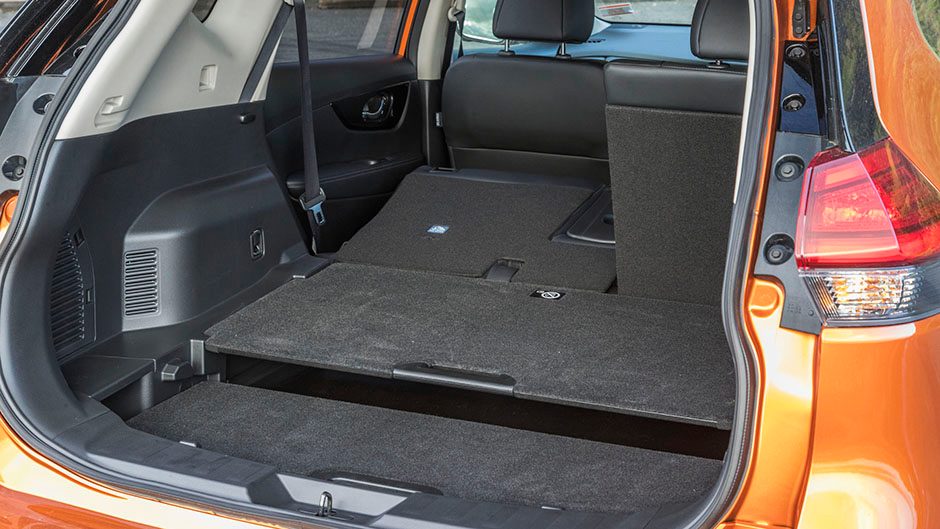 So how does X-Trail go precisely? Once you get the hang of things, not too badly. There are no engine modes so you do need to hoof it along some, best performance hanging out above 3500rpm. But I discovered it's easier to extract a bit more zip by simply moving the shift lever from the left to the right, and pulling it back once, down a step for a bit more urge. When pushed, the CVT goes into mock manual shifting mode, and proceeds to run to 100km/h in just under 10sec. It's not quick but not tardy either. Best to keep engine speeds below about 4500rpm because the top few revs are delivered in somewhat strident fashion. That said, cabin din is muted, the sound meter readings below 70dB on coarse chip at 100 Thank the Ecopia rubber for that, but beware in the wet; even in the auto 4WD setting (which is predominantly front drive if you watch the torque split dial) this tends to slither about some. It's no issue in the dry though where X-Trail clings on well, without much roll while overall it is the general ride refinement which is its most notable feature. It's not in wagon territory but then it's higher riding for a better view and at that it excels. During an early wintry blast the heated wheel was surprisingly pleasant first thing in the morning, as were the seat warmers.
In many ways this is a direct foil to CX-5, except that this can be had with seven seats. Like the Mazda, it's atmo engine demands to be worked for overtakes but is otherwise amenable, providing you're not averse to CVTs. It's not quite as well crafted inside either but has some additional gear and isn't quite as costly, which makes it competitive.
| | | | |
| --- | --- | --- | --- |
| Model | Nissan X-Trail Ti | Price | $53,490 |
| Engine | 2488cc, IL4, EFI, 126kW/226Nm | Drivetrain | CVT, on-demand AWD |
| Fuel Use | 8.3L/100km | C02 Output | 192g/km |
| 0-100km/h | 9.83sec | Weight | 1630kg |