We head to Motor City for the reveal of Ford's new Mustang. Will this old warhorse help carry the company into the brave new world? 
What do you do when your traditional rivals are abandoning the market? Give up too, or press home your advantage? Ford has opted for the latter in the 'affordable' sports car segment, ushering in a mother load of new offerings with its seventh-generation Mustang.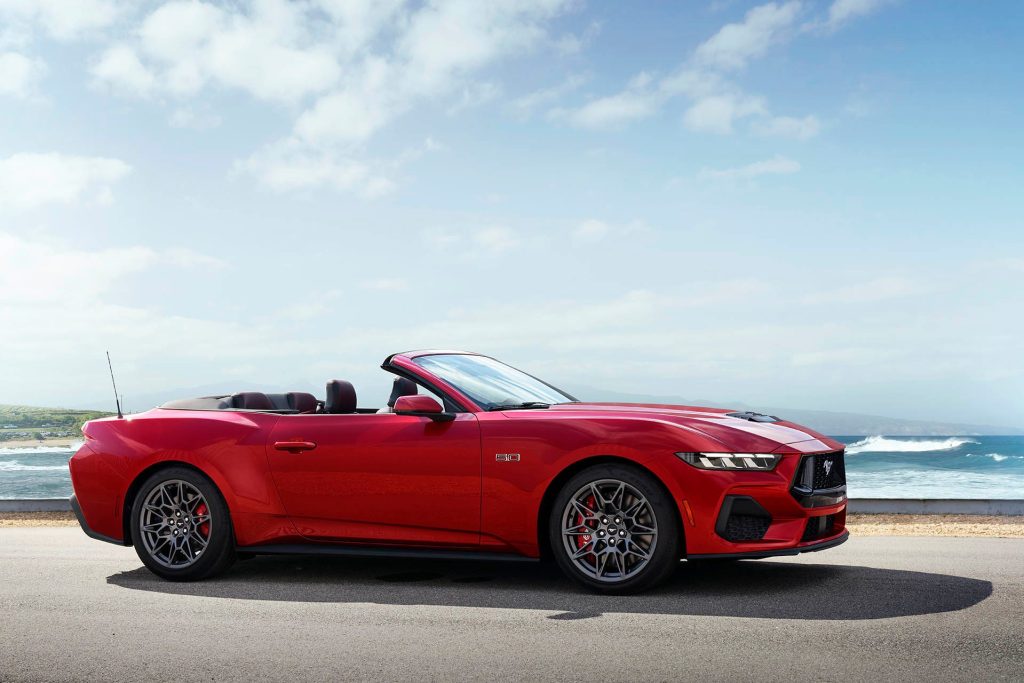 We should mention up front that the new S650 Mustang isn't all that novel, being based on the previous generation but Ford has done enough to boost its appeal. It is also broadening the range, offering everything from a base 2.3 right through to a fully fledged GT3 racer fit for the Le Mans starting grid.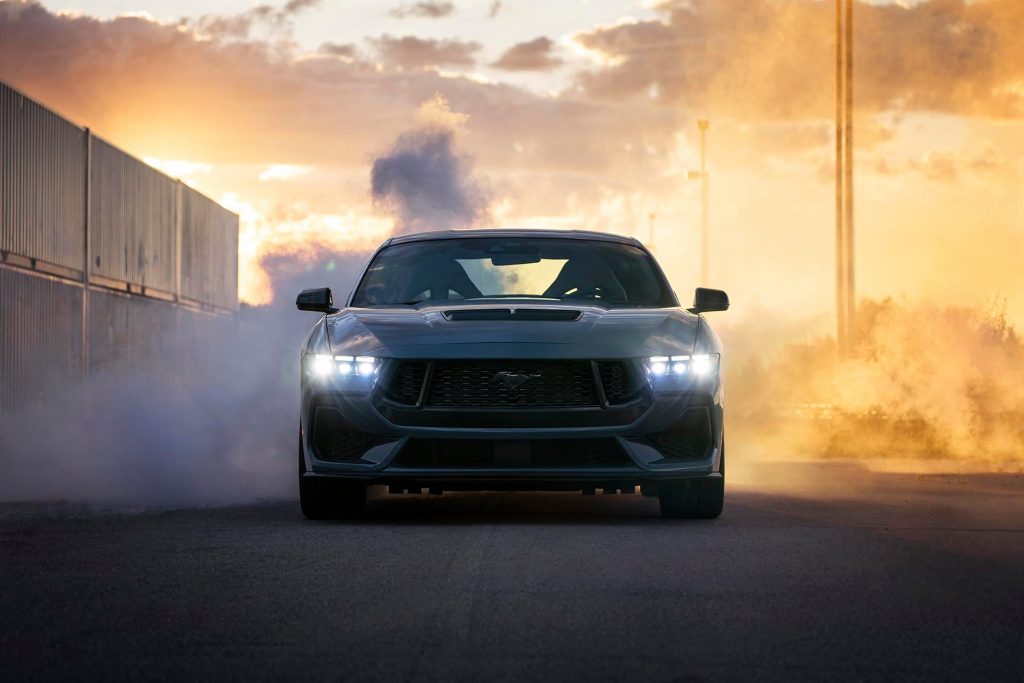 Leveraging the carryover platform will help Ford's bottom line, and ultimately its future. The company recently restructured its efforts into three divisions; Ford Blue concentrating on ICE vehicles, Model E is the electric division and Ford Pro focuses on the commercial sector. Two of those make money while the other sucks it all back up in development costs. And so the more they can squeeze out of Ford Blue, the quicker Model E can grow, with Ford saying it'll be outputting two million EVs by 2026. Mustang will help there, now with a model for everyone.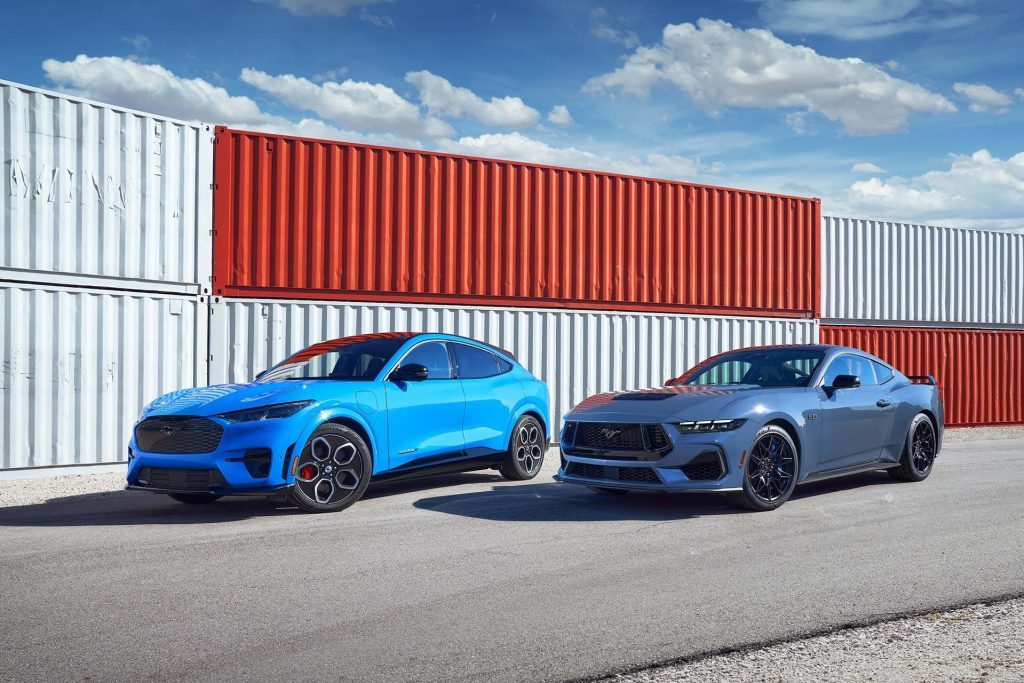 More Mustangs
While Mustang has many loyal fans, if Ford wants to keep the numbers rolling, it needs to appeal to more people. Especially those of the younger variety because the boomers who the Mustang was originally marketed to are now more likely to be in line for a hip replacement than a pony car with excess displacement. So Ford focused on the styling and technology for the new Mustang, with an emphasis on the latter to help connect with those new buyers.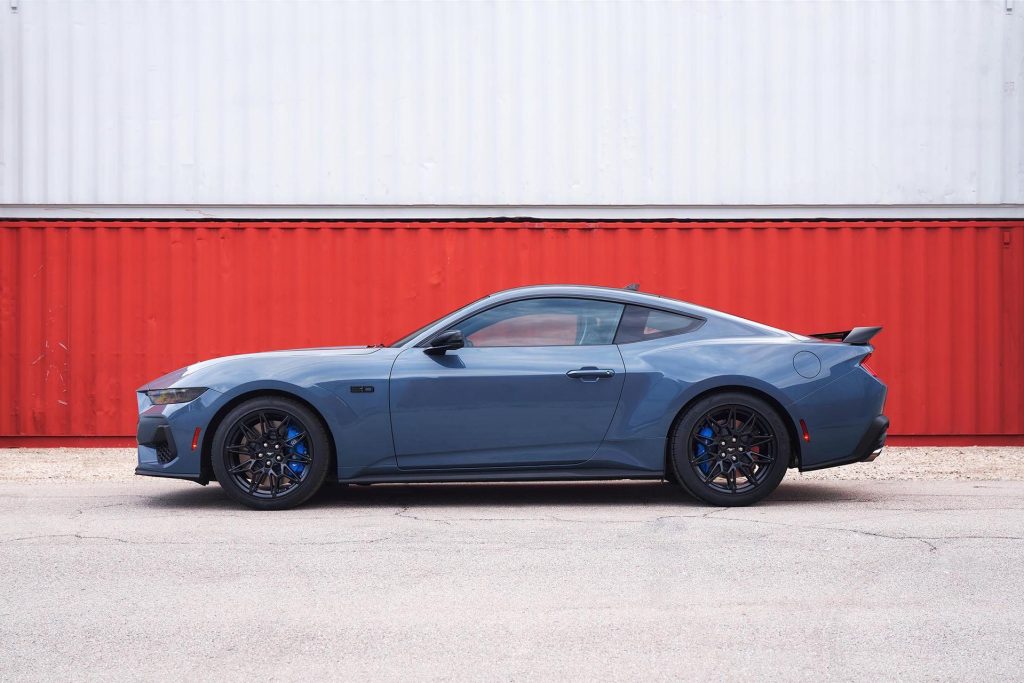 They call the styling 'edgy' and if you don't like the look, blame the Millennials and the Gen Zers; it was them who liked the design proposals in the customer clinics. As it is still based on the S550, the proportions and size of the new 'Stang are similar, though the sheet metal is new. Front and rear styling is fresh, the tri-bar light theme now seen at both ends. The GT and the 2.3 are now more visually differentiated, each with a unique front facia. The GT has larger outboard vents, the grille with a set of functional nostrils, and it gets a hood vent. In profile the belt line is lower and there is more muscle in those rear haunches.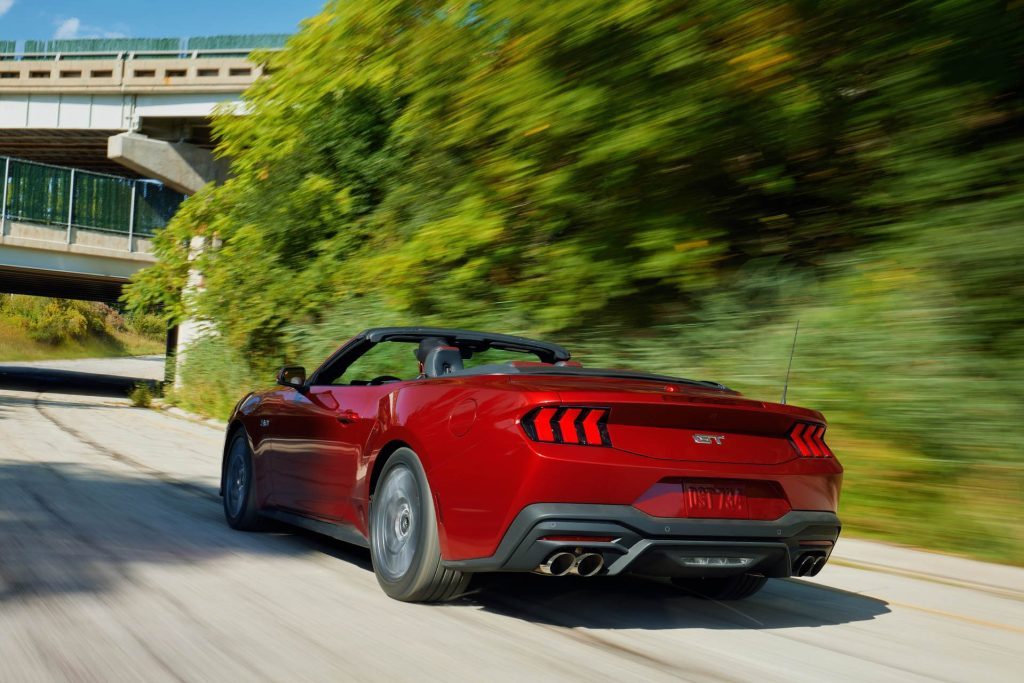 More tech
Inside, the retro themes are out, replaced by a tech onslaught led by an expanse of screens. In front of the driver is a 12.4-inch digital cluster while the centre touchscreen is 13.2-inches, both covered with the same piece of glass. There's broader scope for customisation, while most of the buttons have been nixed, interior functions controlled via the screen. This has allowed them to free up space for more storage and items like a charge pad. There is a new steering wheel, still with a three spoke, dished design but with fewer buttons. Thankfully a couple of those are labelled 'Mode' so you can more easily toggle through the drive profiles. You'll note the interior has an actual hand brake; it operates an electrically-controlled, hydraulically-actuated brake that was designed with drifting in mind. That's refreshingly un-P.C, and reminds us that the Mustang is still a hoon at heart. It's only available on cars fitted with the Performance Pack, and only works in Track mode.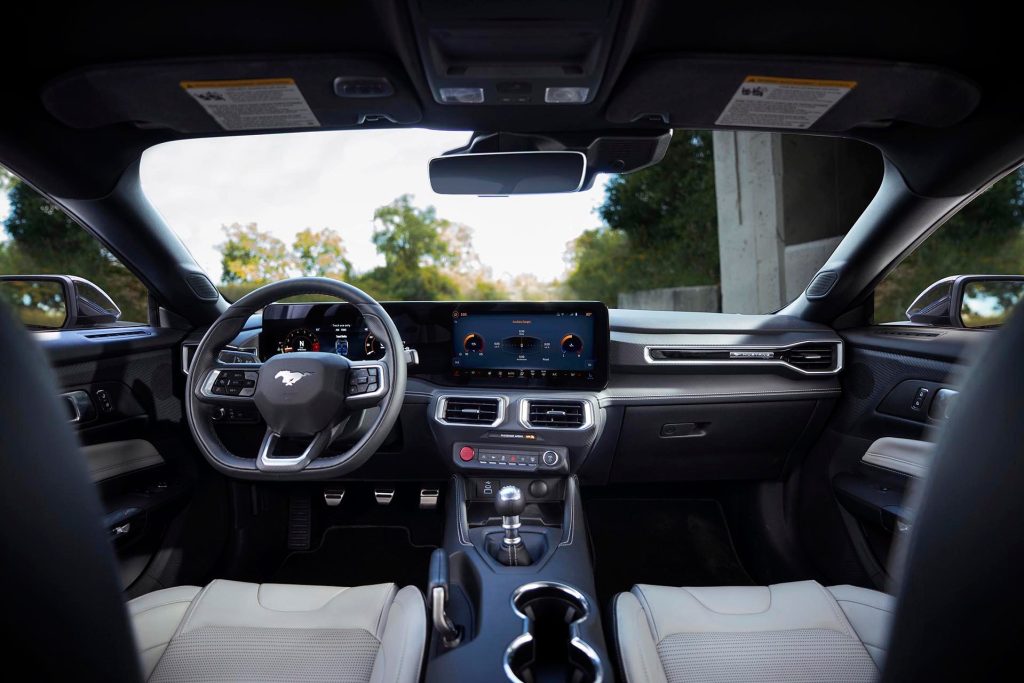 More of the same
Underneath, the suspension largely carries over, though they have changed a few linkages, revised a few settings. It should be a sharper steer with a new steering rack in place. This has a faster ratio and a stiffer cross beam to make for more precise inputs and quicker steering responses.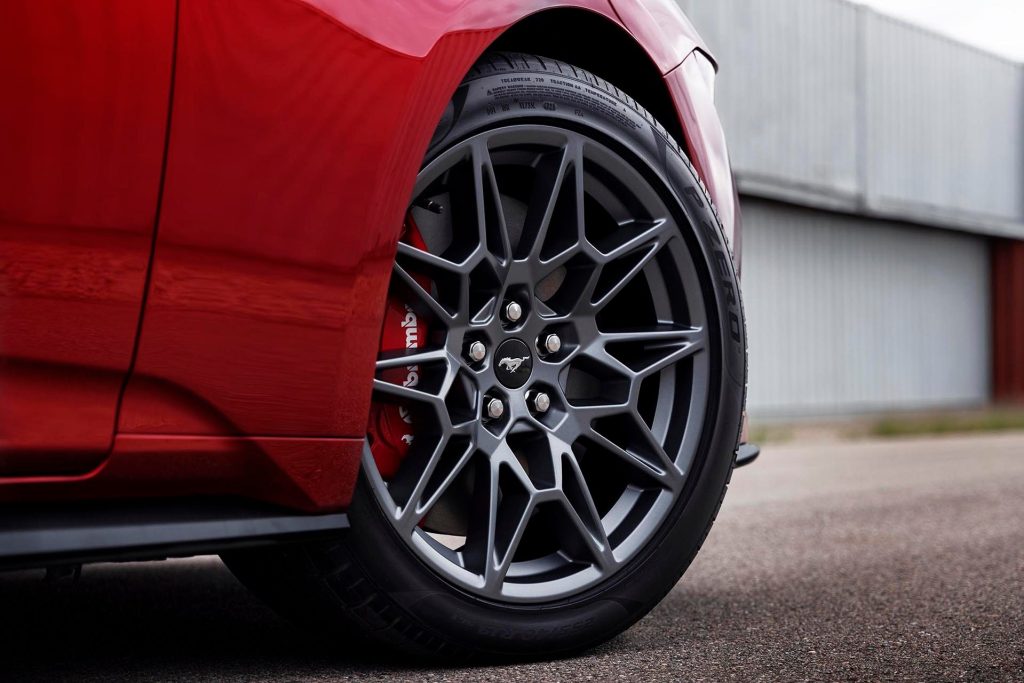 The new outline is said to be more aero efficient thanks to a reduction in drag (new underbody panelling the main contributor) yet it also produces more downforce on the rear. The active exhaust returns, and they say they have used some digital noise cancelling to improve the sound of the pipes by filtering out the unwanted sounds which helps amplify the good ones. Want to show off that awesome fossil-fuelled fury? The remote start function from the key fob now allows you to rev the car when it's sitting there idling…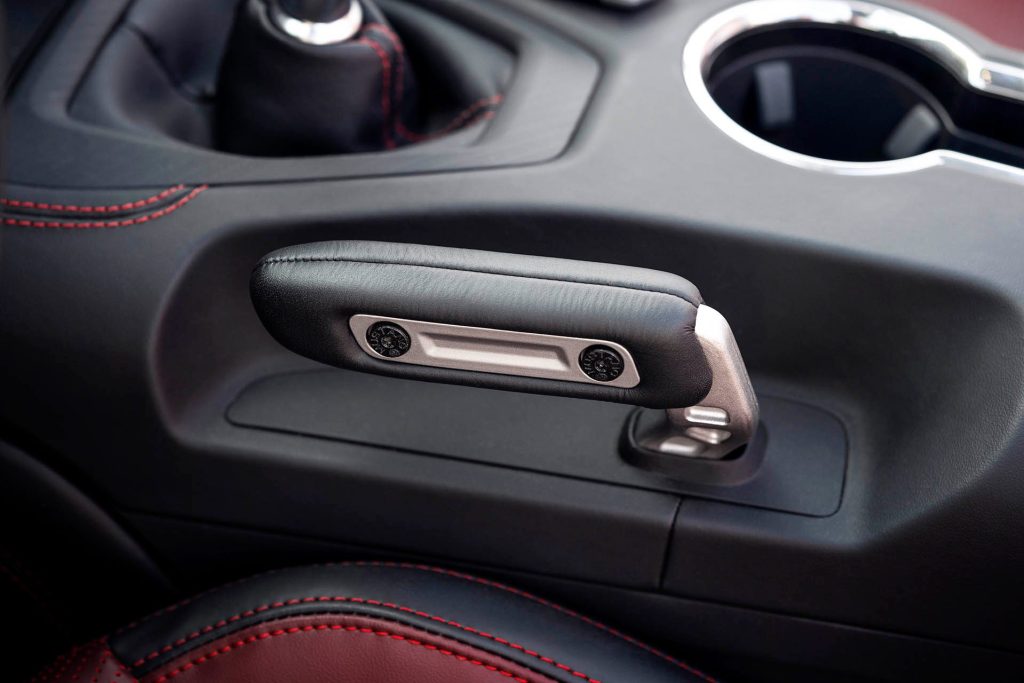 More ponies 
The weight is said to be similar to the old car so they should be a little quicker given both the 2.3 and 5.0 have been fettled. How much faster they are not saying as both engines are still going through the certification process, though Ford says both will be more powerful and fuel efficient. The V8 gets a new dual air box induction system, twin throttle bodies, cam timing changes and a fresh exhaust manifold. It will be available with both the six-speed manual and a revised ten-speed auto.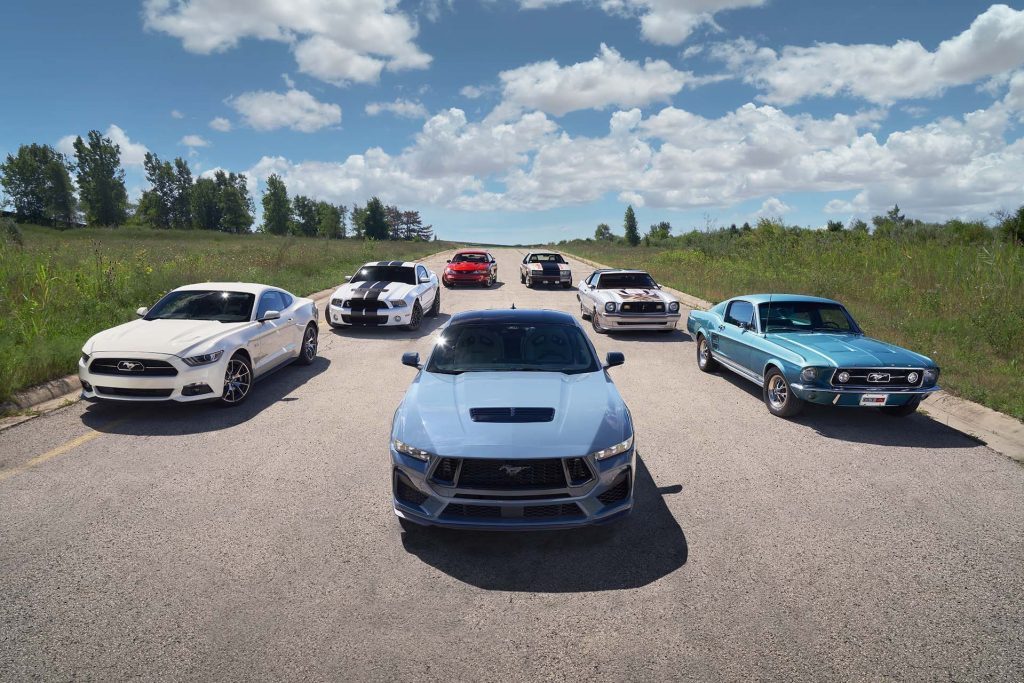 More work has gone into the 2.3 which now gets dual port and direct injection, an increased compression ratio and a new twin-scroll turbocharger featuring an electronically controlled wastegate which should boost torque production, making it more competitive versus the V8. It comes only with the 10-speed auto. 
The new seventh-generation Mustang goes on sale in the US in 'Summer 2023' and they are telling us it'll be making its way to Aotearoa later next year.
Yet more power
Ford's surprise package was the debut of the mean-looking Dark Horse. Basically a factory-modified GT, it's packing a 5.0-litre Coyote with a 'projected' output of 500hp. Yeah baby. And the good news is that it'll be made available in NZ.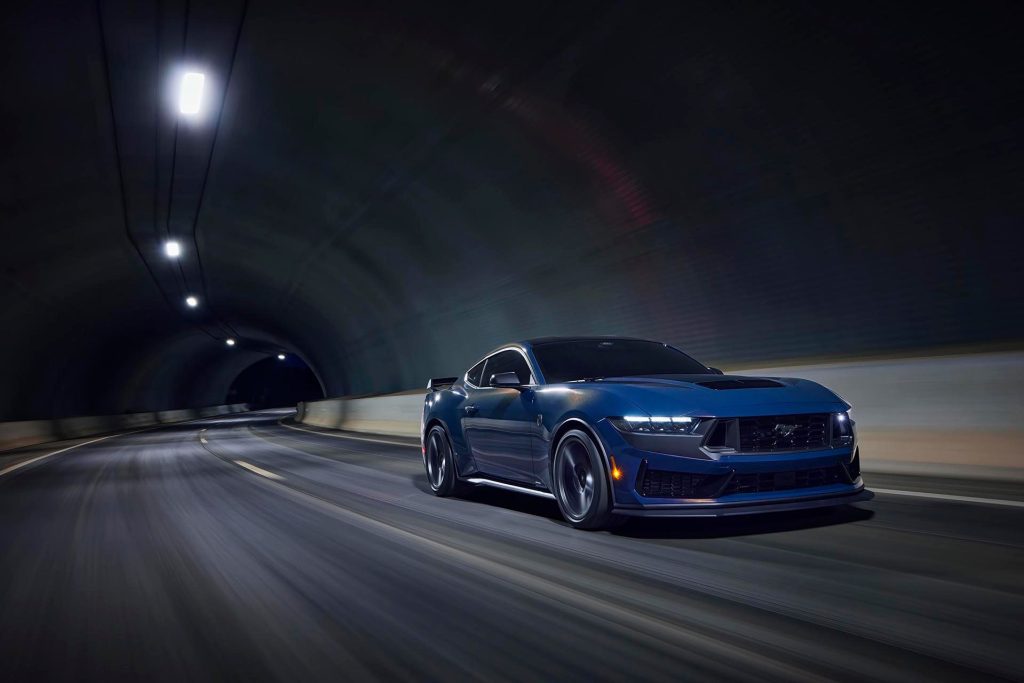 They are not giving too much away as to how they gained the extra power other than saying it has similar internal components to the GT500. It comes standard with a six-speed Tremec manual trans with longer ratios (the GT has a Getrag unit), complete with its own oil cooler. You can opt for an auto if you must. To make sure it stays the course at the track, the Dark Horse gains better brake cooling ducts, an additional engine oil cooler, a rear axle cooler and an uprated radiator.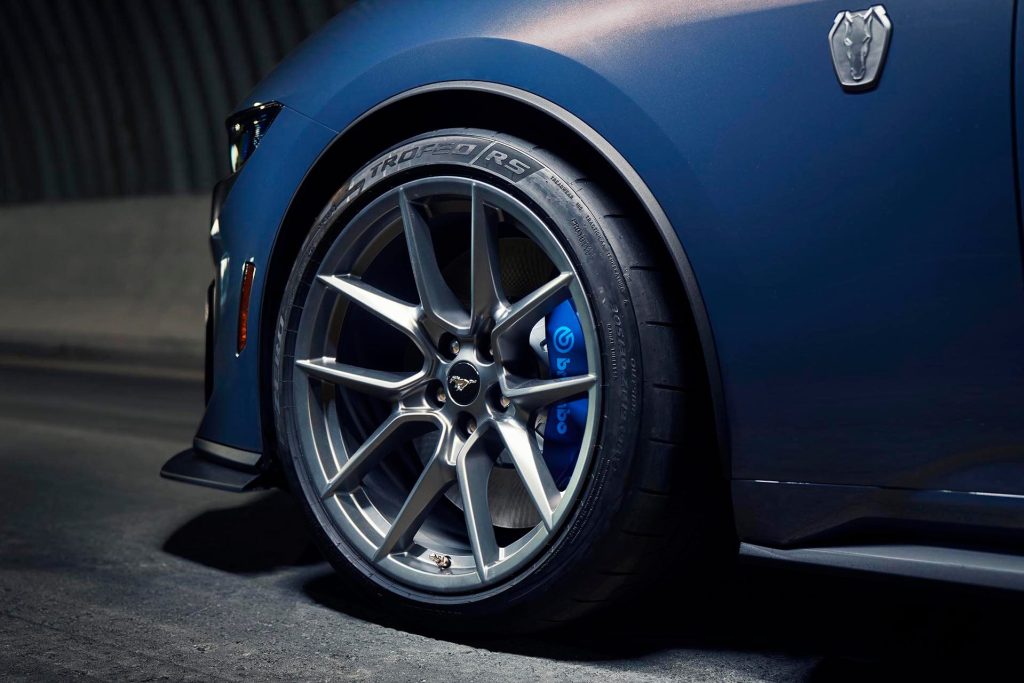 The Magneride dampers get their own DH tune, and there is a larger rear sway bar and heavy-duty front shocks. Brembo rotors measuring 390mm up front do the stopping, clamped on by six-piston calipers while the addition Ford Performance-designed bracing in the engine bay is said to improve steering response further. There is a Torsen LSD, and the 19-inch wheels wear Pirelli P Zero rubber.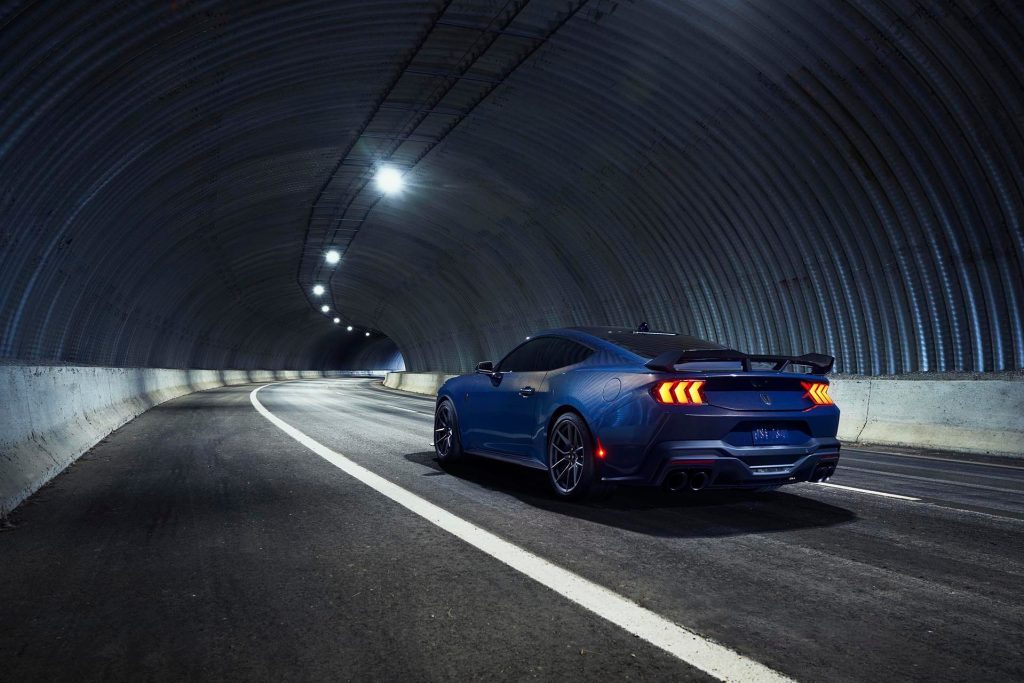 An optional Handling Package improves aerodynamics, upping the downforce with a rear wing that incorporates a Gurney Flap. This pack also includes stiffer spring rates, even sturdier front and rear roll bars and wider wheels fitted with Pirelli Trofeo tyres 305/30Rs on the front and 315/30Rs at the rear. Carbon fibre rims are also an option. 
Along with its unique exterior styling detail, including a new horse badge, the interior gets smart blue contrast details.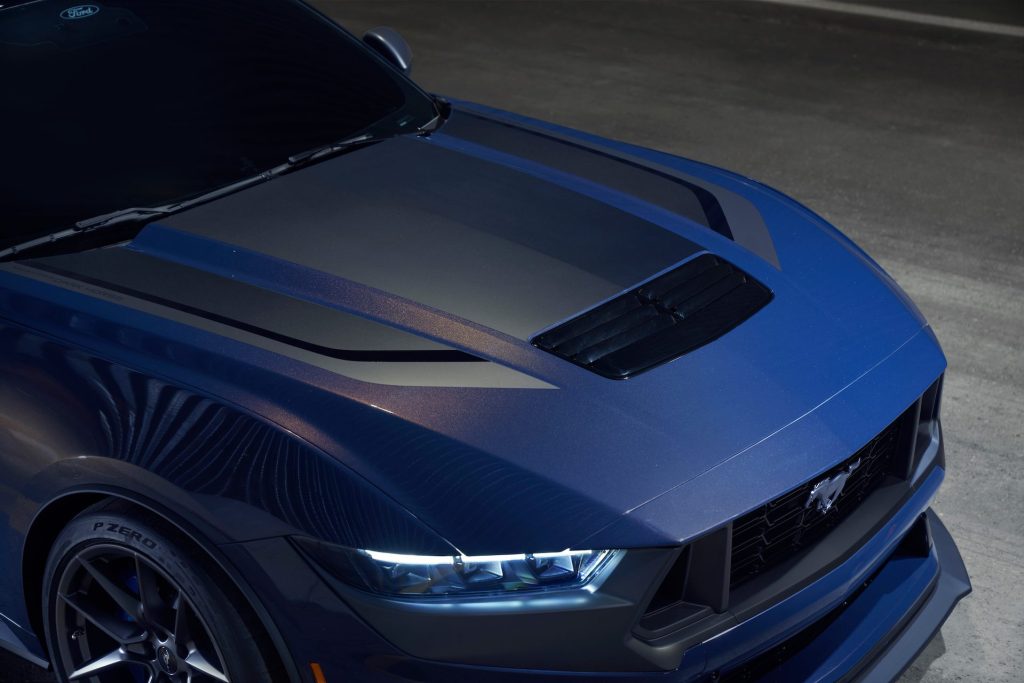 More racing 
The Dark Horse is just the start however, with an S and R model planned as well. The S is a road-legal car designed for the track day enthusiast while R has been developed for racing. The S is stripped of its 'non-essential parts and trim' and is fitted with an FIA-certified safety cage, race seat, harness, fire suppression system and a race steering wheel with quick disconnect. There's an adjustable rear wing, an upgraded brake package and Multimatic DSSV dampers bring the ability to adjust ride height and camber settings. Unfortunately, this is a LHD-only product at present.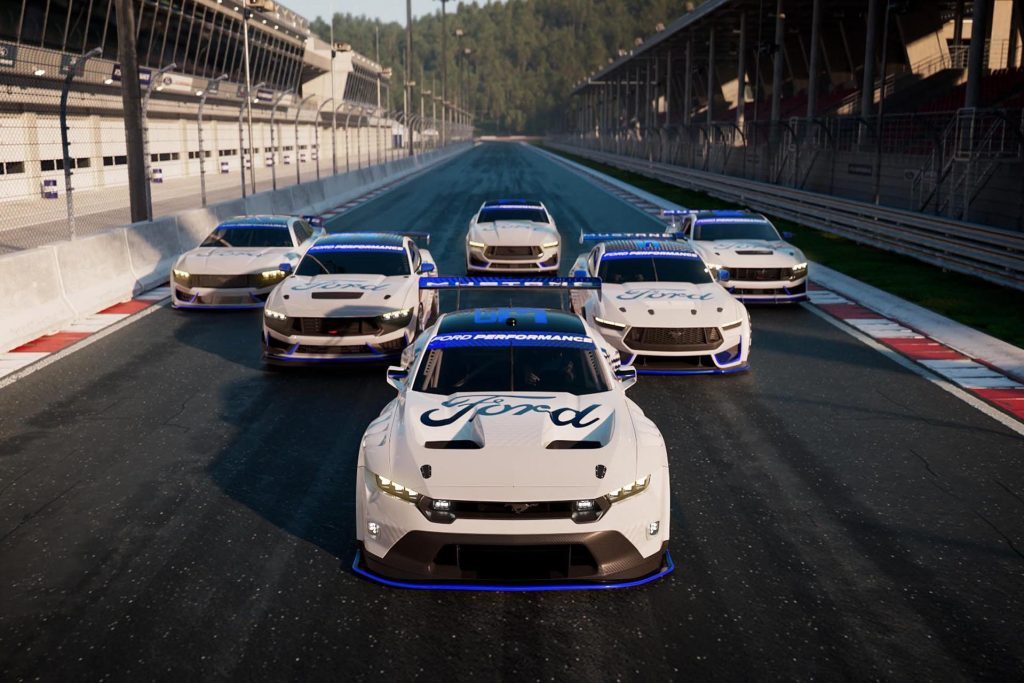 The Dark Horse R has been designed for racing and atop the S spec comes with strategic seam welding, a fuel cell for increased range, and Ford Performance Parts wheels.
Ford at present is very much invested in promoting the Mustang as its pinnacle racing programme. Ford Performance's Mark Rushbrook told us; "Our clear focus right now is Mustang…from the top professional series to the grassroots racer. We believe that way we can reach the world, all our fans, the customers, in a very direct and relevant way, with a product that is based on a real road car." 
Is Ford looking to launch a one-make Mustang race series with the R?
"We have nothing to announce here, but that car is relatively affordable, it's going to have really good performance, it would be a great spectacle to see a whole bunch of them bangin' into each other," said Trevor Worthington of Ford Performance. He says the whole point of the R is to offer a more affordable track car to people and he'd be keen "to find a promoter and do a one-make series".