MTA Board Director Jim Gibbons finishes up a nine year term at the end of the year. He leaves big shoes to be filled and quite a legacy. His financial acumen, governance skills, powers of persuasion and continual focus on the needs of members have been a huge asset to the organisation.
He is a strong advocate for MTA's purpose.
Ask around about Jim Gibbons and people talk about him with respect – one said he'd make a good diplomat if he ever left the motor trade.
Jim has spent most of his working life, 45 years, in the dealership side of the industry. For much of that time he has been associated with MVDI or MTA. For the past nine years, he's served as a director and later vice president of the MTA board. This is the maximum term allowed under the Association rules, so Jim's last board meeting is in November.
"MTA exists to protect the industry's interests and its place within the economy. Primarily our role is to make sure we don't get caught up in any unintended consequences of government policy. To me, it is secondary for members to benefit from the branding and services MTA provides."
Jim explains how he got involved in the governance roles. "Over the years, the industry has been pushed around by regulations and public perception. I've always found that as a whole, the dealer sector is made up of legally strong and principled businesses, but we work in an environment where that is not expected of us. I wanted to stand up for that core of the business."
As chair of the Colonial Motor Company, Jim oversees a multi-million dollar public company responsible for 18 dealerships across the country. He started out much further down the corporate ladder; however, as a member of the Gibbons family, which has had a majority shareholding in the Colonial Motor Company for over 100 years, there may have been some pre-destination in his choice of careers.
"After university I started studying accountancy and in 1974 took up my first job in the industry at Avery Motors in Wellington as an accountant." After nine years, he moved to sales, looking for a bit more fun, more involvement with the public, and career progression.
In 1988 he was appointed to his first dealer principal role in Waipukurau and very quickly joined MVDI. in 1992 he moved to New Plymouth as dealer principal for Energy City Ford and joined the CMC Board as a director. During this time his involvement with MVDI ratcheted up and as a branch president he soon found himself in the thick of controversy. He later also served for almost 10 years on the Ford Dealer Council.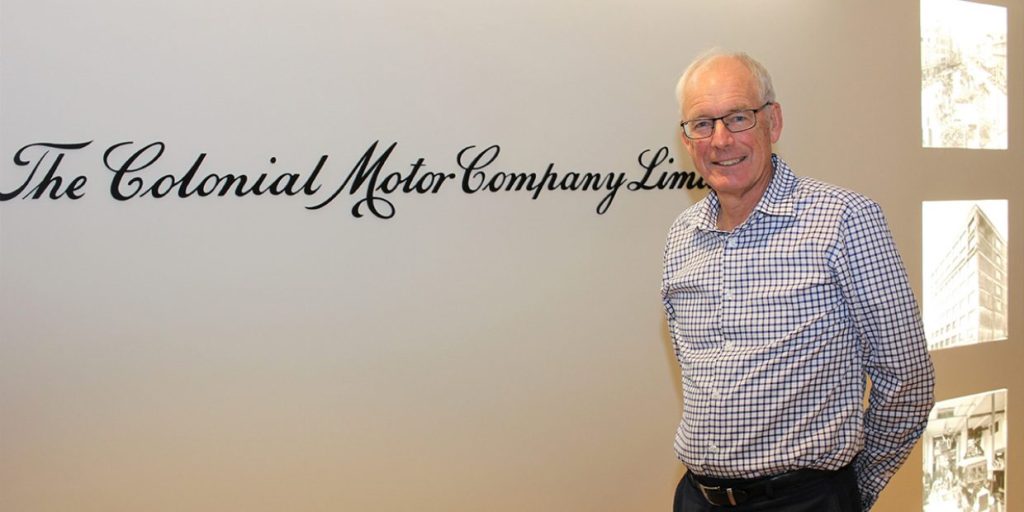 Dodgy dealers
"These were the years of speedo wind-backs and Dermot Nottingham. There were lots of allegations and innuendo about how widespread it all was, and very few hard facts." Jim was more concerned about the 'repo sales' that were going on at the time.
"These were companies that would sell cars to people who couldn't afford them. They'd repossess the cars and then sell them again to other people who couldn't afford them. In the meantime, the original owner would have to keep paying it off. A car could be sold on two or three times." Jim says this was a very shady side of the business and gave other dealers a bad name.
In 2010 Jim applied to be appointed as a director of the MTA board and was accepted.
A few months later he was also appointed chair of the Colonial Motor Company. "It was a major change. I was dealer principal of Energy City Ford in New Plymouth but had to step aside; it would have been very difficult to be working in a company you were also the chair of." He decided to move to Wellington and says being on both boards has been a good combination. "These two have good synergy and balance each other well." Board business
Over his nine years with the MTA board Jim has been involved in several major projects; his particular interest was to make sure MTA is well-prepared financially for the future. Jim was closely associated with setting up a new investment portfolio. "The 100 percent shareholding in VTNZ and the ownership of Sharp House, while individually they were good investments at the time, they were not flexible if you needed some cash on hand. So we made the decision to sell. We now have a broad mix of liquid and long-term investments, providing good returns and flexibility."
AS a Director, Jim has also worked closely with the operational executives to change the management structure of the organisation and reset strategic direction. But perhaps the highlight was his leadership of the committee responsible for organising the MTA100 – MTA's celebration of its centenary in 2017. His negotiating skills came to the fore to bring so many car brands to the party. "The centenary was a major success for MTA and got us into a stronger position of credibility with government and others in the industry. Getting the manufacturing brands involved didn't come easily but it was worth it."
"So much of our lives rely on travel and transport. The details of how we get around will change for those living in inner city apartments, but not so much for people living in the suburbs or the countryside."
He also believes the dealer model for sales will last the distance. "I can't see a time when people will order their cars directly online with the manufacturer.
"Manufacturers are very organised, very structured around the flow of production. Dealership customers are all over the place and aren't that good at precisely analysing in advance just what they want and need. That's where the skills and knowledge of people and selling kicks in."
Manufacturers also rely on the immediate capital that comes in with sales from the dealers who have to buy stock in advance.
However, he does believe there will be changes. "I am expecting more and larger groups of dealers to evolve."