Based on the V7 II the Moto Guzzi Stornello is a limited edition offering that looks off-road ready but does it rock out?
Stornello is not an Italian term many will be familiar with but evidently it means a form of poetry delivered in a combative manner. What this has to do with a retro-inspired motorcycle that looks up for a spot of soft-roading is anyone's guess. However, after a bit more digging it became clear that Stornello has an alternative meaning; it's Italian for 'starling'.
The original Stornello of the late sixties was a wee 125cc bike that flew off the shelves so this is merely the reuse of an historic model name. The latest version is unlikely to sell as well given it is a limited edition offering; just 1000 units are being made. However, the colour scheme is similar to the original's, white with red frame and tank highlights, and there's a laser etched number on the headstock, ours being number 125, again, just like the original!
The cost is $17,990, $2000 more than the V7 II Special and the same price as the V7 II Racer. Based on familiar V7 II mechanicals the Stornello actually looks a bit more the traditional Scrambler than, say, the BMW we rode two months ago, for it has tyres that appear as if they might not cry quits at the first sign of mud. And pegs and foot levers are wrought of metal only.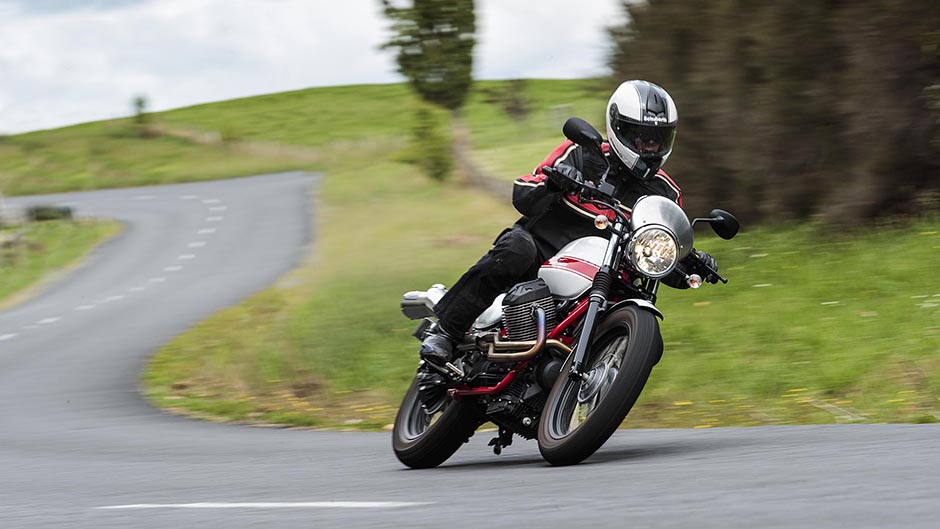 There are the obligatory boots for the fork stanchions which are non-adjustable (the forks, not the gators) and an absolutely gorgeous single-sided high-mount two-into-one Arrow pipe that comes as standard and makes a suitably raucous bark without being too wolfy. Along with spoked wire wheels, rubber tank pads for the knees, polished satin metal mudguards and the nice clean lines of Guzzi's ubiquitous shaft drive this is one fine looking yesteryear example of the scrambler genre.
As with the breed it is fairly pared back, the only real signs of modernity being ABS and traction control, neither of which is easily switchable. Now apparently TC is, but how was a mystery only an Italian could possibly solve. A bit of a shame that because on corrugated metal roads the repeated interventions make for a slow uphill grind at times. Not to worry though because, like the other V7s, this is all about life in the not-so-fast lane.
Looks aside, the Stornello is a mix of the truly great and what were they thinking, which is not entirely surprising for it's made in Italy. The great bits are the look and the riding position and the general ease of riding. The not-so-great bits are the detail things that are kind of overlooked. Like the fact that you have to warm it up for five minutes or so or it coughs out when you take off – we imagine this trait would be even worse in winter. And levers aren't adjustable, though even for my Trump-like mitts they're not intolerable.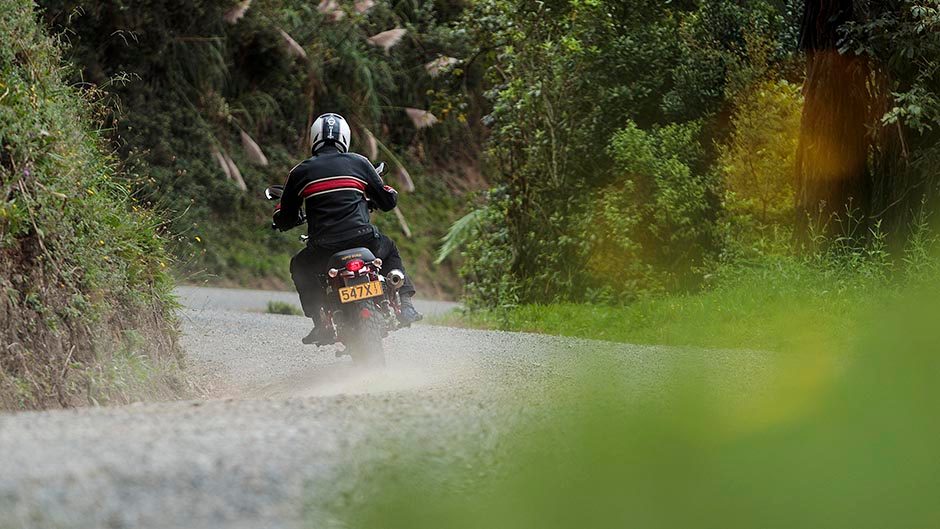 The gear shift feel is a bit indistinct too, though not especially heavy or otherwise untoward. Being shaft driven it doesn't clunk into first gear like larger displacement chain-driven bikes tend to. But the worst aspect is the engine vibration which is kind of annoying because of where it occurs, in the crucial 80-110km/h region. So it's not such an issue in town running and the Italians probably wonder what we're whinging about; who cruises at such low speeds? Well non-Italians like Kiwis do. Fortunately, an indicated 110 is an actual 103km/h but all the same in the vibe zone you end up getting off the bike with tingling toes (no rubber footpegs). At an indicated 110 the mirrors are almost clear, but that's not the case in the vibe region when cruising in sixth gear.
That not insignificant drawback is unfortunate because otherwise it's an easy and rather charming thing to ride. It doesn't weigh a whole lot, under 200kg, and with a sit-up-and-beg type riding position and wide, slightly raised bars there seems an almost ridiculous amount of steering leverage. Cornering is an absolute delight, with almost no resistance to changing direction, due in part to the compact transverse V-twin engine, and gobs of ground clearance.
It really comes down to just how hard you want to push those dual-purpose tyres. And for something with twin rear shocks, adjustable only for preload, the ride quality is really rather passable; it's occasionally abrupt over short, sharp bumps but there's decent seat padding, upgraded from the usual V7 fare, and good room for two. My mid-back got sore after a time but that's probably because it's a bit too easy to slouch on this bike, like at a work desk then. In terms of bits and bobs other than TC and ABS there isn't a whole lot.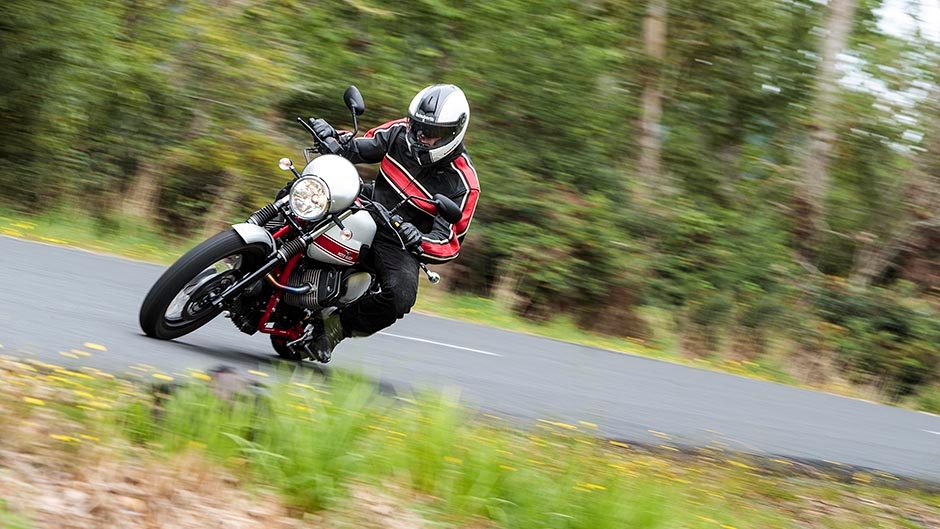 There's a semicircular air deflector in front of the headlamp, and a couple of silver ovals on the bodywork presumably for faux race numbers. Otherwise, what you see is what you get. Apart from odo, trip, clock and temp there's nothing much else in the all-analogue instrument cluster, no gear indicator. Just revs and speedo, neither of which is especially easy to discern because of smallish numerals. And on those, 100km/h uses up around 3800rpm, so the Stornello feels mighty relaxed when cruising on the open road, vibes aside.
The 60Nm developed at 3250rpm feels just like that, bulk torque at low revs for an easy-does-it ride. Oftentimes, you're upshifting before 3000rpm. The simple two-valve pushrod engine pulls down to silly revs, under 2000rpm happily enough, and we failed to empty a 21L tank. At the opposite end of the tacho, all the action is over by 7000rpm, confirmed by peak power of 35kW arriving at 6700rpm.
It's meant to average in the mid-four litre per 100km area. At 5000rpm you're doing 120 indicated, closer to 113 in reality, and from there a secondary band of vibes starts again. It's fortunate then that from 105 to 120km/h indicated progress is quite smooth, making for a self-imposed speed ban, handy for those of us treading a fine points line.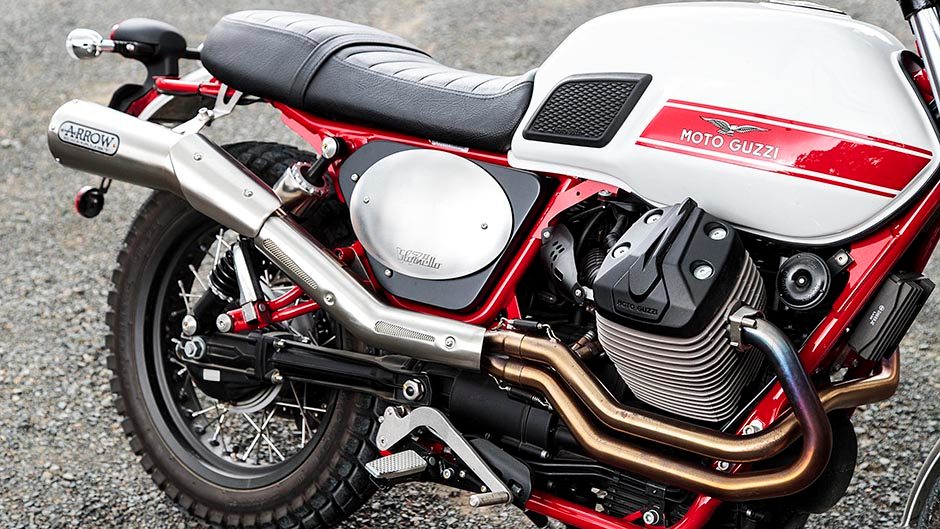 Not that it isn't quick when let off the leash, all 48 horses running riot. Sure, neither is it a fireball exactly but it can hit 100 in under 6sec, and manages an overtake in around 4.5sec. So performance you'd probably describe as moderate, adequate. Perhaps the most surprising aspect is stopping power. The single disc with a four-piston caliper does a reasonable job, with quite decent bite. The fact I couldn't achieve a best stopping distance of below 40m is more a reflection of the rubber and the meagre amount of it up front, as much as anything.
Stornello then is essentially a limited addition to the V7 II range, a stylish soft-roader that happens to be easy-going and perfectly at home on regular roads, and with all the attributes of the recently updated V7 line-up.
It's one for Guzzi fans who want something few others will end up owning because of its limited numbers status.
| | | | |
| --- | --- | --- | --- |
| Model | Moto Guzzi Stornello | Price | $17,990 |
| Engine | 744cc, air-cooled, fuel injected, V2, 35kW/60Nm | Drivetrain | 6-speed, shaft drive |
| 0-100km/h | 5.84sec | 100-0km/h | 40.95m |
| 80-120km/h | 4.63sec (132.9m) | Weight | 198kg |