We took a Moto Guzzi Eldorado on an extended weekend jaunt from Auckland to Gisborne and then home again via the East Cape. Would the big cruiser be able to keep pace with a group of sport-tourers?
Recently, a biker friend, Tim, invited me to join his gang of five (bikes, six people) for a foray around the East Cape. Keen as, I told him, adding I'd just need to sort a bike. Turns out, a Moto Guzzi Eldorado was booked for the proposed weekend, a slinky Italian cruiser powered by Europe's biggest V-twin, displacing 1380cc. A quick call to the distributor who generously gives me the thumbs up for an extended test and we're officially a gang member.
Taking Friday off, making the trip less stressful, we set off on Thursday evening, and a few chilly hours later we're in the B of P, popping the top of the first Moa and catching up with gang member three, Tim's brother, Nick, who'd be joining us on his faithful if filthy Suzuki DL1000. The evening trip was made easier by the piercing projector beam of the Guzzi. During the ensuing days most commented on the Guzzi's bright DRLs. It's nice to be seen when you're on a black bike.
So what exactly is this Johnny Cash cruiser of the motorcycle world? The Eldorado (loose meaning: ultimate prize) is one of several machines based on California 1400 mechanicals. It's more a day cruiser, with none of the things that make long haul trips any easier. Would it handle the rigours of a three-day slog?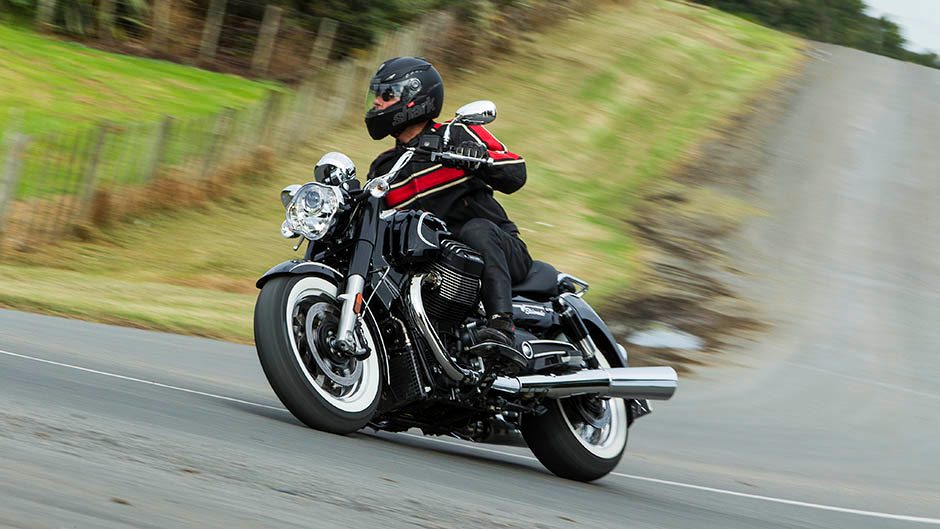 On paper it just might because the Eldorado is a curious mix of high tech and heritage. Visually it rates an A, with an extended wheelbase (1685mm), valanced fenders, raked out forks, bullhorn 'bars and spoked wheels. There's a heap of chrome (headers, pipes, instrument surround, grab bar) while the gloss black paint finish and whitewall tyres contrast nicely. Of the six bikes on tour, only one was visible to the general public and it drew heaps of interest. This thing is striking from all angles.
Yet beneath the glitz there's a surprising amount of modern technology. Like TC, three engine maps, and radial Brembos up front with ABS back-up. They sure are appreciated in an emergency stop. The four-pot calipers bite onto 320mm discs and despite the Eldorado weighing 320kg wet it produced the second best 100-0 figure yet. They're reassuringly resolute and beat out anything else we've sampled in the cruiser category.
Guzzis are unique with their across-the-frame V twin layout. The 20-litre fuel tank sits within the vee of the engine, so the heads on either side look as though they emerge from the sculpted tank. It's truly something to behold the Eldorado, and is a look you'd never tire of.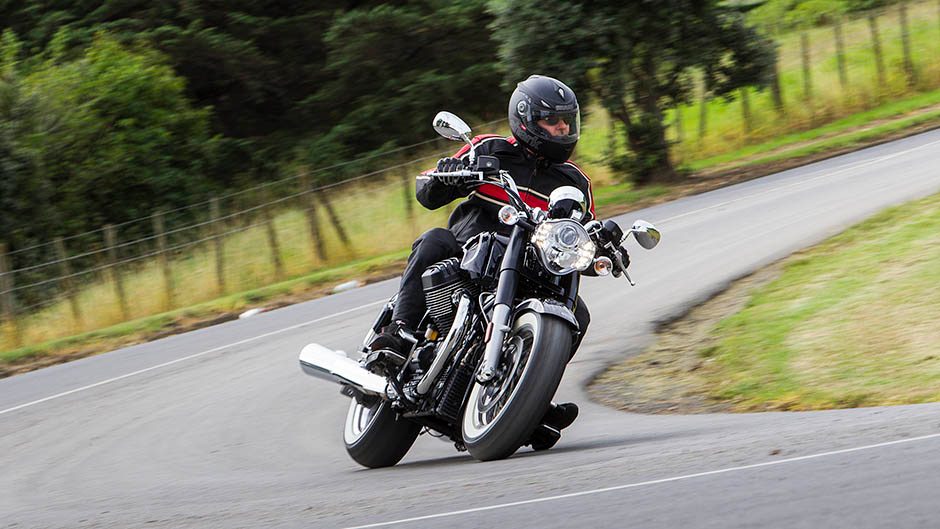 Friday dawns hot and clear, and within a few kays, we're onto the twisting Wairoa-PoriPori Rd linking Bethlehem to SH29, a brilliant way to kick off proceedings, followed by a quick jaunt down Pyes Pa Rd, and then on down highway 30 to Whakatane. By now it's hot, still and riding conditions are perfect, the big Guzzi a delight. Think of this as the motorcycle version of The Relaxomatic Project (guess you'll have to google that-Ed).
From start-up that big 1400 air/oil-cooled twin sounds easygoing, the exhaust note exotic. Wish it was louder; darn those noise regs. The nature of the engine suits the bike well, pumping out 120Nm at 2750rpm so on the open road you hook the next gear at about 4000rpm and it's all so unstressed. Gearing in top is tall, 100 requiring 3300rpm, so fuel use is decent, around 6L/100km on tour. That's about $25 for a refill, where the others were shelling out $20. However, the Guzzi was the heaviest and had the biggest engine, so not bad considering.
While the engine will rev to 7000, it feels done by about 5500rpm but it's a torque monster. For overtaking merely add throttle, or one downshift if it's a semitrailer rig. Mention of which, we happened upon an overturned cattle truck in the Waioeka Gorge. One of the young steers was injured and angry, charging anything that got in its way, like a Bandit 1250. The rider saw it coming, turned the bike head on and didn't even go down. Nice riding Franz. Pity about the fairing.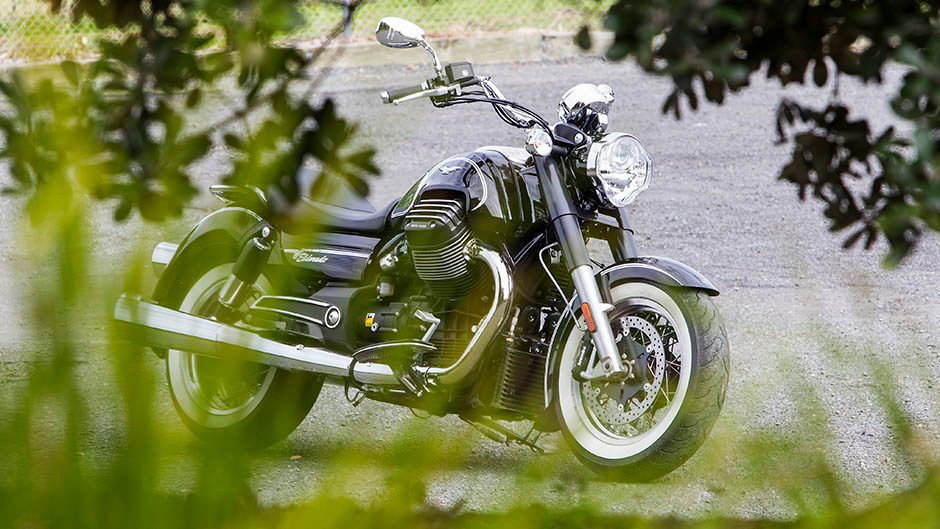 The Eldorado was great through the Gorge, excelling at unfussed cruising. At 100km/h there's simply no vibration whatsoever, and mirrors are like a glassy lake, giving a true reflection of what's behind. That's because the engine is slung in a rubber hammock system. Various rockers and rubber dampeners see to that.
At idle the engine rocks around like any big vee-twin but as soon as you add throttle all the vibes eerily vanish. Enhancing ride comfort further is a neutral riding position, the bars and footboards no stretch. Just wish the old heel-activated upshifter wasn't there; it makes weighting the left board difficult, and it never gets used anyway. The seat is wonderful, supportive like an open bowl, only well lined; after three days in the saddle we were ache-free. Into a headwind, you simply slide back a little and lean forward.
Everyone was curious as to whether the Eldorado would hack the pace the gang set on their touring-oriented machines. Only in real tight going, like hillier bits on the East Cape, did the Guzzi have to be worked some to keep up. It touches down with grace as it has sacrificial plastic sliders that line the underneath of the footboards. With its stellar Brembo picks you can trail brake in, and fire out under full steam to compensate for slower midcorner speeds. With 16-inch wheels both ends, it falls into corners in easy, natural fashion, and with its extensive wheelbase it holds a line beautifully, even if you encounter bumps midcorner; there's no wallowing. Damping is firm and seldom unfair, except on short sharp bumps which can sometimes jar the back. On the whole though, the ride is most accommodating, a great mix of control and comfort.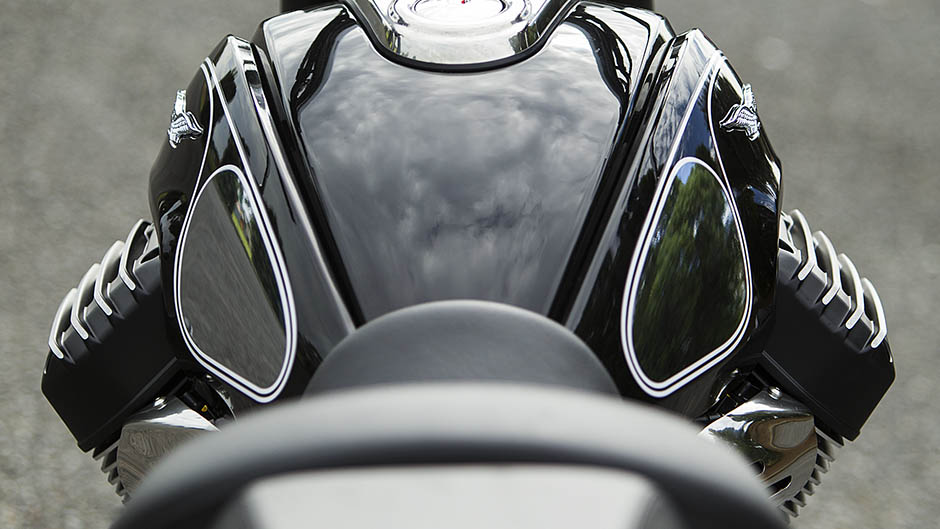 Day two and it's cool and wet in the shadows so a little care is needed during our morning ride out of the dramatic Tiniroto region towards Gisborne. This is twisted hill country but soon opens up as we head down through town and begin our journey towards Te Araroa. It's another perfect riding day, and the open flowing corners soon become a maze of twists and turns, but the Guzzi puts up a good chase with its quick-in, quick-out approach.
East Cape has plenty of interesting stopover points, like Tolaga Bay with its historic wharf, myriad small churches and also cultural icons, like the "Boy" caravan en route. Our stopover point for the evening was picturesque Waihau Bay where we watched the Blues somehow stumble their way past the Sharks.
The final day is grey, the sky dull and bruised, but we have a lovely ride over flowing roads along the scenic coastline to Opotiki where the anticipated rain finally arrives. It's wet the entire way back home, fortunately on roads that are mainly easy. A car hitting a transformer on SH2 has us backtracking and heading over the Kaimais where it's also treacherous, so we select the Turismo engine map which makes proceedings easier. Most of the trip we'd used the Veloce map which gives the sharpest throttle response and the most power, all delivered in crisp and cruisy fashion.
And that about sums up the $28,990 Eldorado. It goes, stops, shifts and corners better than similar competition I've encountered, and to my eyes is amongst the most glamorous of cruisers available today. Plus, it will tour, as we discovered.
| | | | |
| --- | --- | --- | --- |
| Model | Moto Guzzi Eldorado | Price | $29,990 |
| Engine | 1380cc, air/oil-cooled, fuel injected, V2, 71kW/120Nm | Drivetrain | 6-speed, shaft drive |
| 0-100km/h | 4.88sec | 100-0km/h | 36.65m |
| 80-120km/h | 2.90sec (82.0m) | Weight | 330kg |