The world of purist, British sports cars is surprisingly crowded. There's Ariel and its bonkers Atom, Noble and the old-but-gold M600, Caterham and its open-wheeled Seven, Lotus and its Emira, Evija, and new focus on electrification, and probably a few others, too.
There's also Morgan. After a bit of a quiet patch, the plucky traditionalist firm unveiled a series of sketches of its next project way back in February. Now, it's unveiled the model in the flesh. This is the Plus 8 GTR.
The GTR draws a few bold lines in the stand. It's Morgan's most powerful creation ever. And it brings a V8 engine back into the fold at a time when everyone else in Europe appears hell bent on phasing them out. Just nine are set to be built, making it quite an exclusive thing.
That V8 is a BMW-sourced 4.8-litre producing 280kW of power, all sent to the rear wheels. It'll sound lethal, too, thanks to Morgan's 'cannon-style' rear exhaust set-up. The brand boasts that the model gets more power than the last Plus 8 and better throttle response.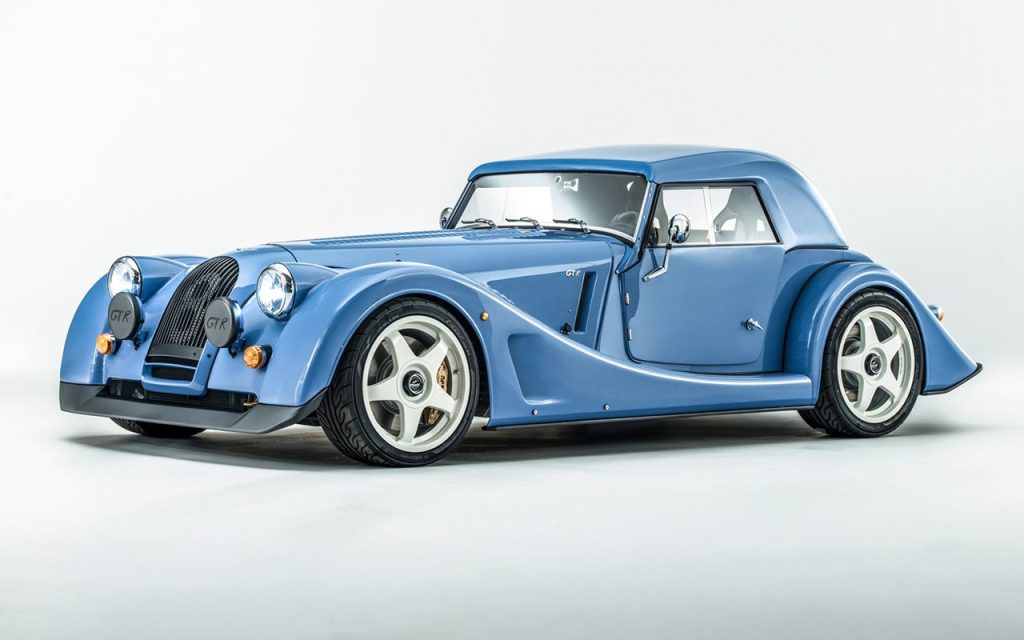 I saw that the V8 has been 'brought back', but Morgan's last Plus 8 also had a V8. But it had been thought at the time that that would be the last eight-cylinder from the marque. Instead, it appears to have at least one more trick up its sleeve before the UK phases out new internal combustion engine vehicles.
Buyers have the choice of either a six-speed manual or a six-speed automatic, with most surely set to choose the former.
In terms of appearance, the GTR cops the same divisive old-blended-with-new looks as Morgans of old. But there's a lot of motorsport flavouring added into the mix here, with the new GTR looking like an off-shoot of Morgan's past race-series creations.
There's a lengthy front spoiler in play, plus GTR fog light covers, a body-coloured hard-top, and five-spoke centre-lock wheels. The Yas Marina Blue Performance hue is also a motorsport throwback of sorts, intended to hark back to Morgan's 'big blue' race car from the 1990s.
There's plenty of practical performance elements to that old-timey body, too. The front and rear fenders have been formed out of aluminium, trimming weight from the package. The cabin gets minimalist racing-style door cards and optional carbon-fibre race seats, too.
Morgan is reportedly well on its way to delivering its first Plus 8 GTR before the end of the year, with the rest of the production run said to be delivered in the first quarter of 2022.