The MG brand relaunched here 18 months ago, and now it has released its most ambitious vehicle yet. Meet the excitingly titled HS, in excite specification.
We've driven a few Chinese vehicles over the years, and some have had glaring deficiencies but the overall trend has been one of steady improvement. The same thing was evident when Korean cars first started arriving here 20 years ago. We always knew that it would be much the same timeline and progression with Chinese vehicles, that they would need roughly a decade to become fully competitive.
And so it is coming to pass. We've just been driving the latest MG, the new HS SUV and it feels about as good as the other offerings it comes up against in the $35k range plus it is chock-a-block with gear. There are a few idiosyncrasies which you'd not see in the competition, but most people won't care about these, and may not even notice them.
On collection of the test vehicle, I was asked what the last MG was I tested, and that got the neural gears churning. Okay, I managed a brief drive of the ZS during a China trip a few years ago, but a lap of a carpark didn't exactly count as a test. Was it the MG verison of the Rover 75 or perhaps the TF competitor to the MX-5. Whatever, it's been a while.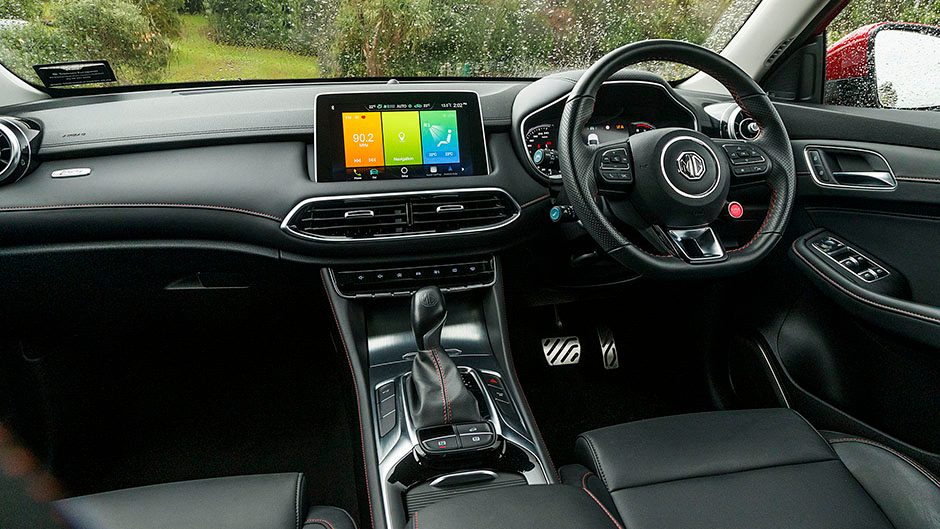 Part of the allure of MG, no, all of the interest for the Chinese buyer was its badge and with that its history. And on my coffee cup it says MG, since 1924. They've modified that slogan slightly to 'MG, value since 1924'. Both are true but only in part; after a series of stops and starts, and then further collapses, Wiki reminds us that the Chinese group Nanjing purchased the rights to MG in 2005 and after a merger with SAIC the business was rebranded as MG Motor. There's a technical and design centre in the UK but all products are built in China.
So the modern era of MG has been up and running for about a decade. Doubtless 2024 will see huge celebrations marking the 'centenary' of MG, but essentially it will mark 10 years of the new entity, and a century of business failures and restarts. The important thing? That storied octagonal "Morris Garage" badge is still around.
So what is the HS? It's yet another crossover from a company that is fast becoming an SUV maker. Okay, there's the MG3 hatch, but it's the only model that's on special at present. Read into that what you will.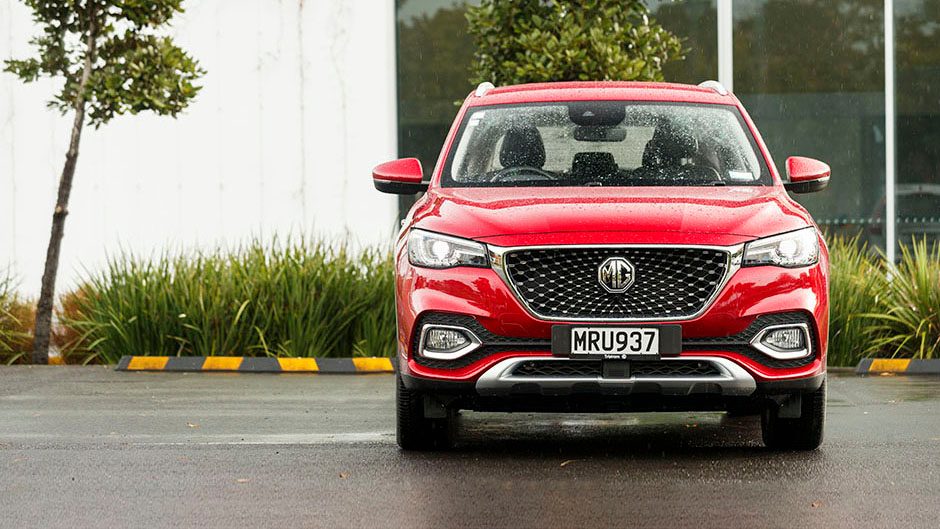 We attended the 2017 Shanghai Motor Show and saw the gorgeous E-motion electric concept car, but nothing has come of that as yet. And probably won't.
The rest of the show was a blur of identical mid-sized SUVs, differentiated only by weird badges. That's what makes the SAIC product different; it sports the MG octagon, and there's no denying the allure of that badge, particularly among the target buyer. And here that would be the retiree looking for an easy entry/exit, practical, well specified, value-laden, front-drive SUV…that wears the MG badge.
At first glance, it's not easy telling whether you're looking at the HS or ZS. The designers certainly wanted to maintain the family look, and this they did almost a little too well. But HS is nicely proportioned, and reminds of the CX-5 up front. It comes across as a typical modern compact-ish high-riding city hopper.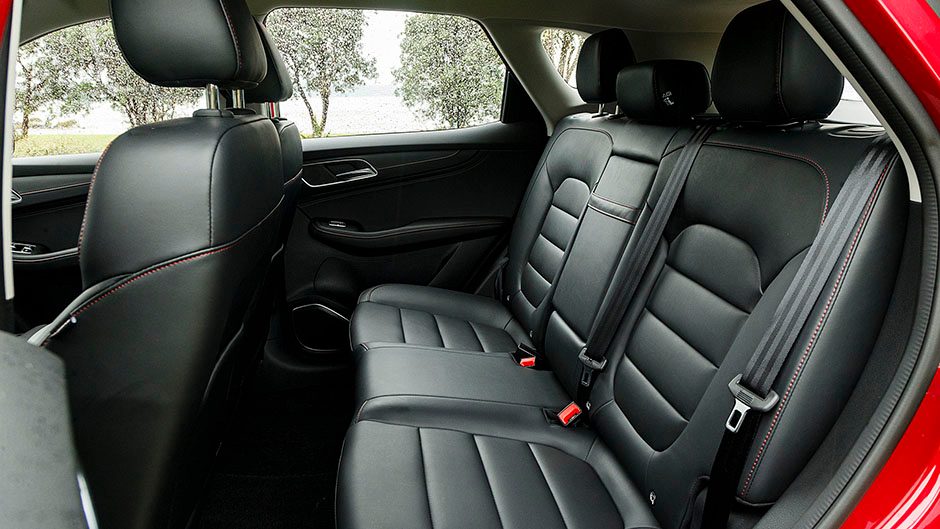 Being a newcomer the HS features plenty of the mod cons, such as LED headlights and DRLs, and dynamic indicators on the Excite model. No powered seats though, and no seat heaters either. However, there's lumbar adjust. The seats look like sporty affairs, though are cushy to the tush.
An even higher grade variant is due, with powered seats, a sunroof, and real leather but you'd not be disappointed with the level of comfort and convenience items on offer here at the price.
The Excite features plenty of nice quality soft-touch materials, leather-like upholstery, ambient LED lighting, dual-zone air, 18-inch alloys, Apple CarPlay and Android Auto, and a 10-inch touch screen. There's also active cruise control, albeit mounted behind the wheel and therefore something you control primarily by touch alone.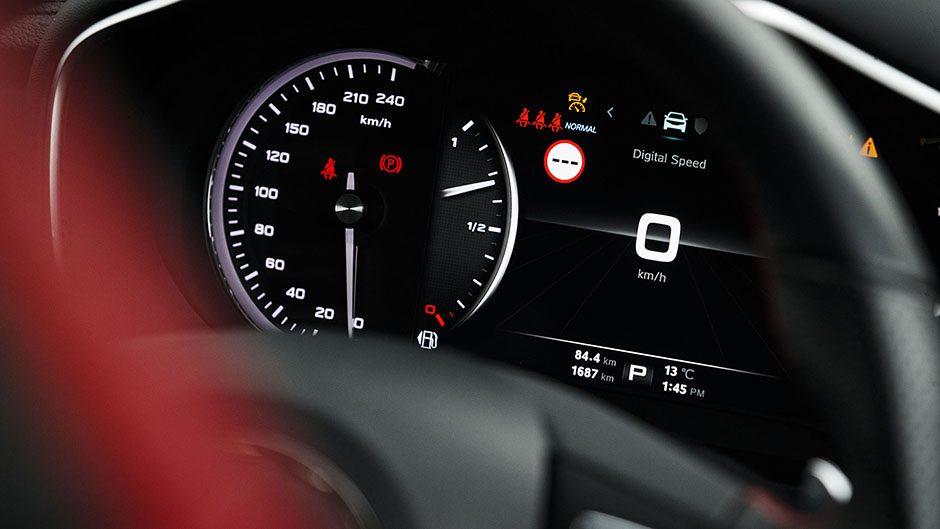 There's more though, including a powered fifth door, a flashy Super sport mode button on the wheel (which will get limited use), navigation, and smart key and paddle shifters.
Plus there's all the expected safety gizmos under the MG Pilot heading, including AEB, lane departure warning, traffic sign recognition, BSM, rear cross traffic alert, and active cruise with stop and go. So that's rather nice, given you're paying $35,990.
As an overall look, this is the best yet from MG, especially if you like lashings of chrome. Step inside and it's the same there too, plenty of brightwork intermingled with piano black (on the round air outlets that remind of A-Class offerings). While on that, the touch screen shape is a Merc mimic too.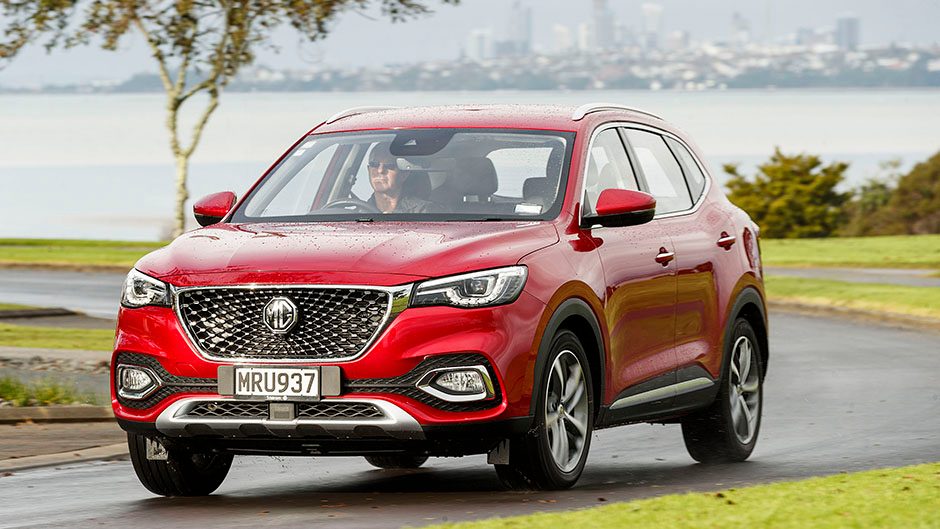 Climb in the back through easy access doors and it's notably roomy. Split fold the seats and there's enough space to fit your bike without having to remove the front wheel. MG reckons on 463L of area with all seats in play, and 1287L with just the front seats filled. That's much the same as Seltos.
Up front is a 1.5L turbopetrol that pumps out a claimed 124kW and 250Nm. It's linked to a seven-speed twin-clutch transmission, and supposedly hits 100 in a shade under 10sec. We got 9.7 which is okay for the class. Were it quicker shifting it might get into the 8s. We were surprised to discover it runs a twin-clutch box; it shifts more like a conventional auto.
Despite that, everyday driving performance is gratifying. In the Normal mode this feels quite zippy in town, after you've overcome the initial turbo hesitation, no better or worse than the norm. Even out on faster roads we seldom bothered with Sport mode, and while you really want to press that Ferrari red button on the steering wheel, this vehicle isn't really about that. Yes, it amps things, but you can do the same with the shift lever, moving it to the left of D. This entices some added performance, but ups the fuel use. Given its suspension is set up to pamper, at which it does a good job, there's not much point punching the Leclerc button. If you do and go for gold, you get the expected rock and roll, not that it ever really becomes unruly; the decent Primacy rubber helps in some small way. It's agreeably quiet too, with a mean in-cabin reading of 71.8dB.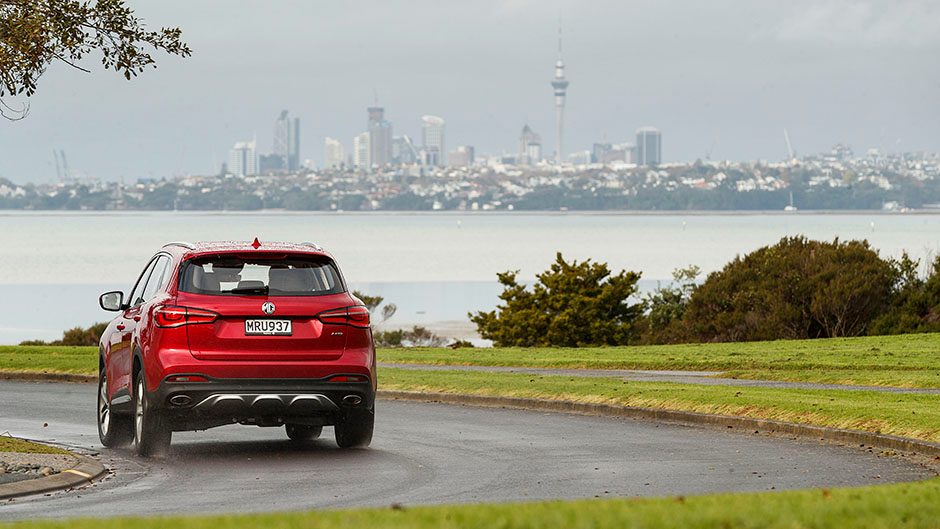 So to reiterate, this feels best when using the bountiful low and midrange urge of the engine, and when cruising rather than strafing.
Brakes aren't standout, the pedal a touch mushy, a bit like the steering, but a 35m emergency stop from highway speed is creditable. There are a few too many bong-type warnings. And the instruments have a scattergun layout about them, but there's lots of info, including digital speed readout that some competitors still don't have. Its turning circle isn't great and there's a few suspension noises and torque steer but overall misgivings are mere annoyances rather than significant shortcomings.
We've been rather impressed by this vehicle. It does a pretty good rendition of comfy modern urban transportation, and has decent safety creds even in the base model (which costs $32,490). All models are five-star ANCAP rated too. For many those aspects will be enough, that and the bonus winning badge. All models are covered by a five-year, unlimited kay warranty.
Yes there are other options in this sector, some Chinese, but we'd imagine nostalgic sorts would rather like to see that octagonal badge on the front and rear of their new vehicle again, rather than some unrecognisable symbol with no history whatsoever.
| | | | |
| --- | --- | --- | --- |
| Model | MG HS Excite | Price | $35,990 |
| Engine | 1490cc, IL4, T/DI, 119kW/250Nm | Drivetrain | 7-speed twin-clutch, front-wheel drive |
| Fuel Use | 7.3L/100km | C02 Output | 170g/km |
| 0-100km/h | 9.69sec | Weight | 1576kg |