Not content with having the cheapest EV on sale in NZ, MG also has a plug-in hybrid option that vies for best value status too. We check out the HS PHEV. 
While the SUV sector is awash with choice, electrified options remain limited. But you can now add this new MG HS PHEV to the list. Like all MG machines, it wades into the fray with a sharp price of $52,990, plus on roads. But that's before you claim the $5750 clean car rebate, so $47,240 then. That's the same money as the base Outlander PHEV, NZ's most popular plug-in. However, the VRX, with all the fruit to match what this MG offers, is $59,990. The old Mitsi is up for imminent replacement, the price of the new PHEV model still TBA, but the new-gen Outlander is significantly more expensive than the outgoing model, so expect a price rise (and for it to be immediately on a special deal). The Eclipse Cross is smaller, and at $57,990 for the VRX PHEV, more expensive than the MG. Other similar sized plug-in hybrid options include the Escape, which starts at $60k, the smaller Kia Niro is $55k, and the rest are from more premium makers with higher price tags still.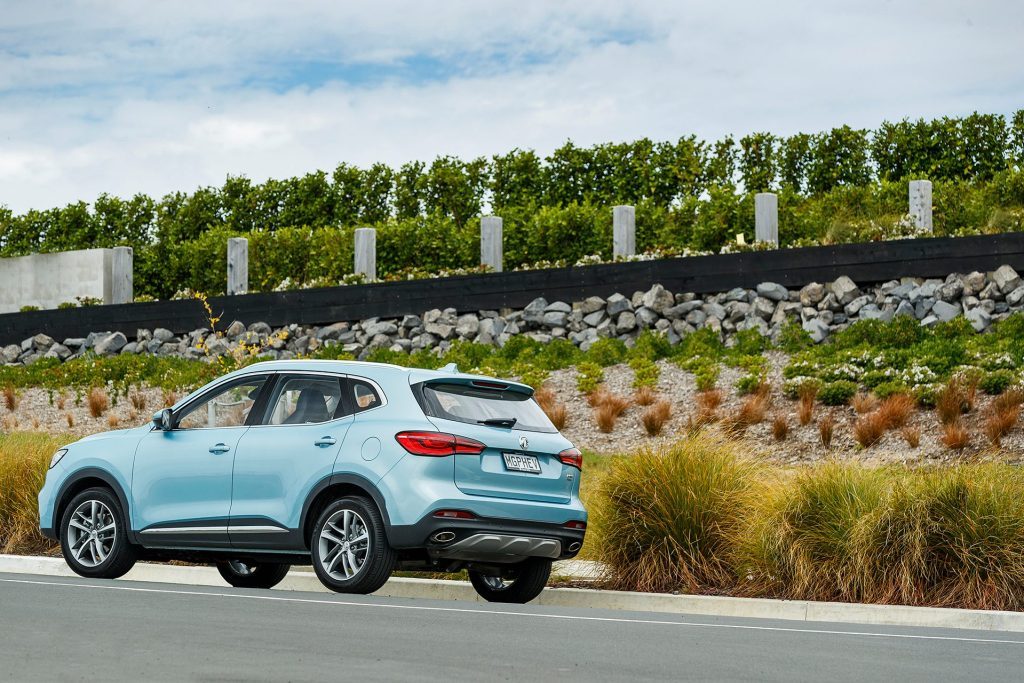 The other thing for the MG HS buyer to consider is the fully electric ZS which is actually cheaper at just over $40K once the rebate is applied. Sure it's smaller, but you'll never have to buy gas ever again. 
As to the HS, it looks good, as does most of the MG stuff, and is pleasant enough inside too. We can't complain about the finishing or the surfaces. The design themes look a little dated but you get a lot of stuff, the spec list being extensive. The seats look fairly sporty for a hybrid, which is appropriate for this is the most powerful MG you can buy. Unfortunately, there's not a lot of adjustment and, while initially comfortable, they lack support during longer seat time.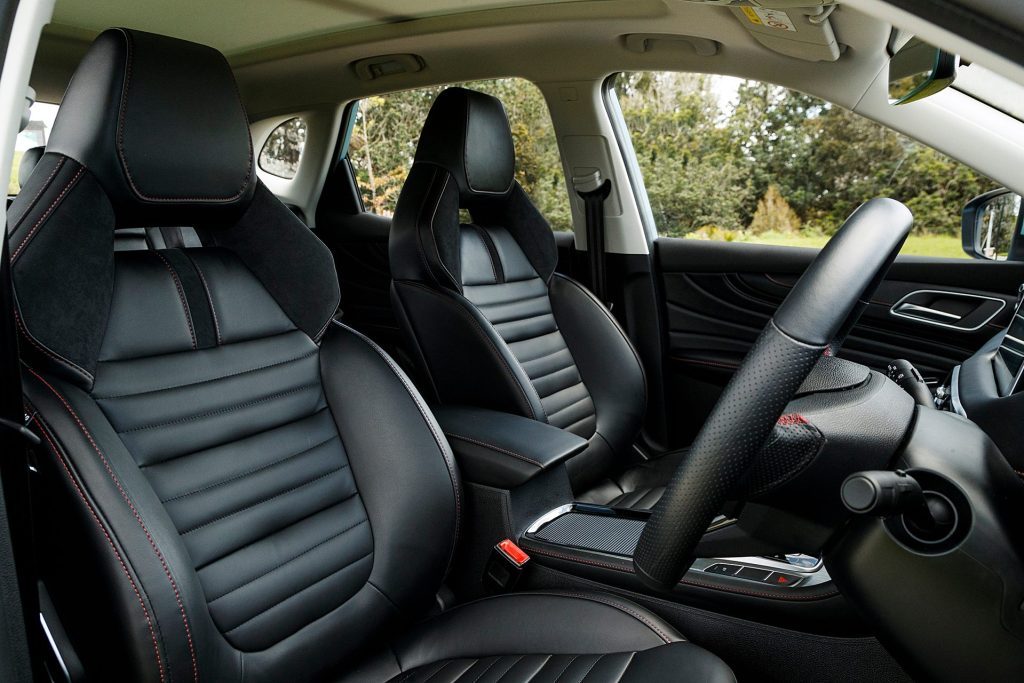 The twin digi screens take their sweet time to rouse on start-up, and the system response is too laggy. Graphics are bright/garish, though it is all fairly easy to use. The main dials consist of a speedo and a power gauge, while there is a decent trip computer to track your progress. However, the fuel use readout is in mpg, which we couldn't sort. There's also some hybrid info, so you can see what the system is doing and a few lost-in-translation alerts, like 'EV entry mode not support', for instance. Thankfully there aren't too many bongs and dings from the array of safety minders, 10 in total. And the annoying ones, like the (overly) active lane keeping, can be turned off, and it stays off. 
It is a spacious cabin up front, so too out back with genuinely decent room in the rear, the big glass roof not impeding the headroom, while entry is no trouble either. The powered tailgate takes its time but the boot is a good size, not hindered by the battery beneath the floor. However, there is no spare wheel but there is a spot for the charge cables. Split folding the rear seats increases the space from a claimed 451 to 1275L.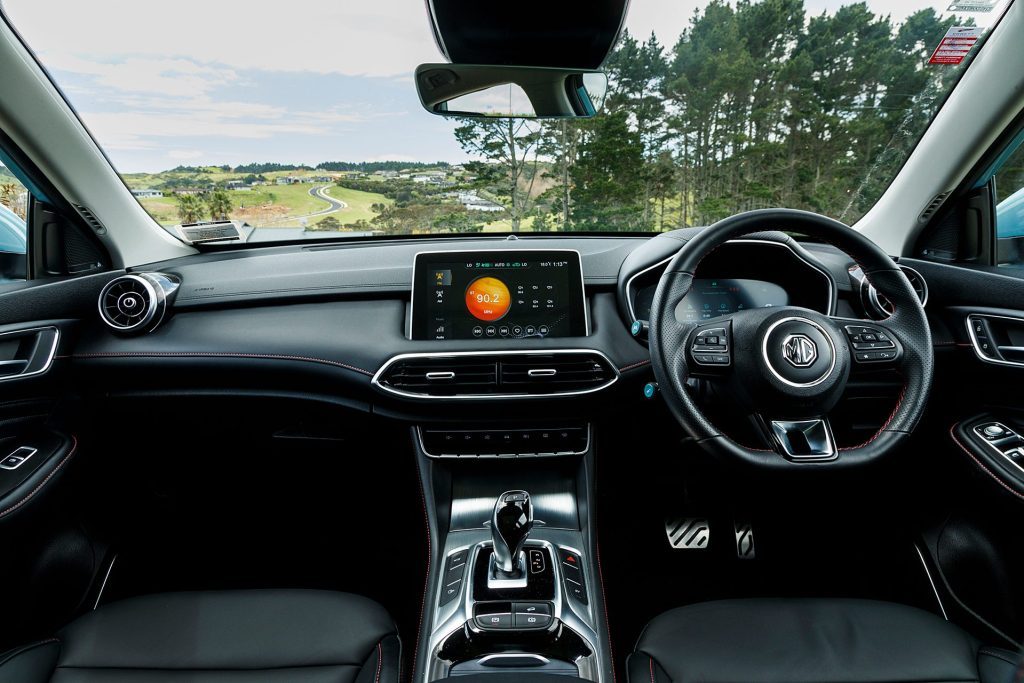 The HS is MG's first go at a plug-in hybrid and it combines the 1.5 turbo from the normal HS, which has 119kW and 250Nm, with a motor that outputs 90kW and 230Nm. It draws power from a 16.6kWh battery. MG quotes the system total as 189kW and 370Nm, claiming 1.7L/100km, 39g/km and a 63km EV range. The latter seems to be right on the money as we managed 59km and then 61km on a charge when in EV mode. With a 7kW wallbox, MG says it takes five hours to refill. We plugged in using the supplied three-pin cable, which took 9.5 hours. 
As to fuel use, the long term average for this machine over 1800km was 6.6L/100km. In hybrid mode, we saw around 8.5L/100km, while overall (ie 200km of driving incorporating the EV miles and hybrid operation) it averaged 5.1L/100km. So, it's seemingly not the most efficient hybrid ever, which is why you'll want to be plugging it in at every opportunity to maximise the electric mileage.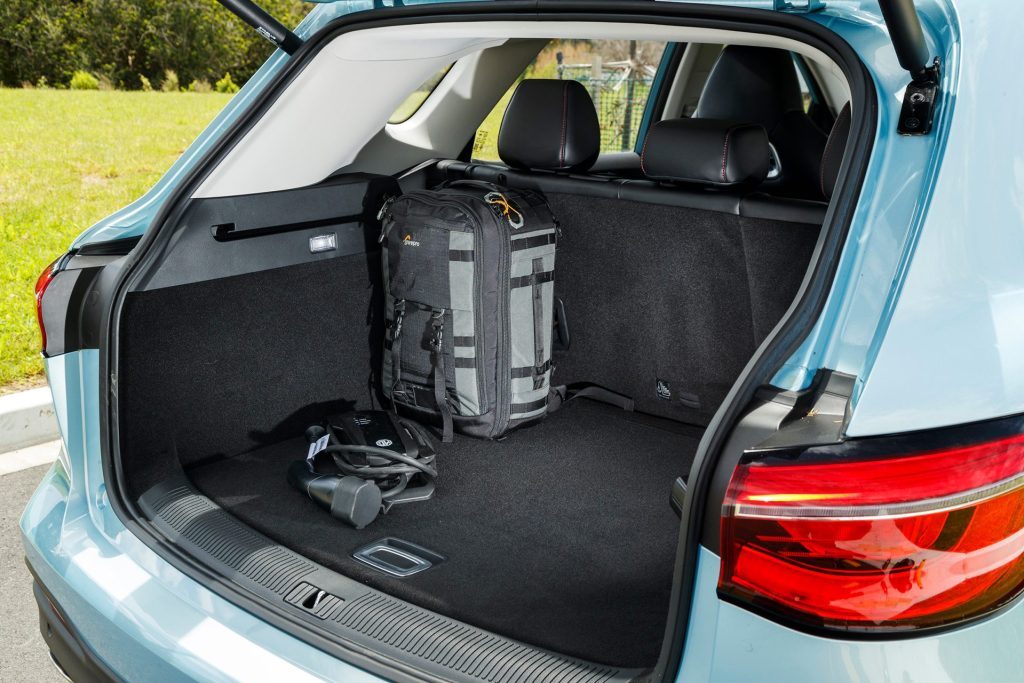 The transmission is listed as a 10-speed auto, something you wouldn't pick from driving it. And that's because it's a combination of a six-speed auto for the engine while the motor runs via a 'four-speed electronic drive unit', MG saying they 'combine to provide 10 electronically controlled gear ratios'.
There are no drive modes or paddles to fiddle with, only an EV button to prioritise electric drive. This you'll push straight after prodding the start button because it drives better in full electric mode. Despite not having a big motor output, clearly the four-speed drive unit is doing something for it gets along impressively, and is smooth, if a little whiny.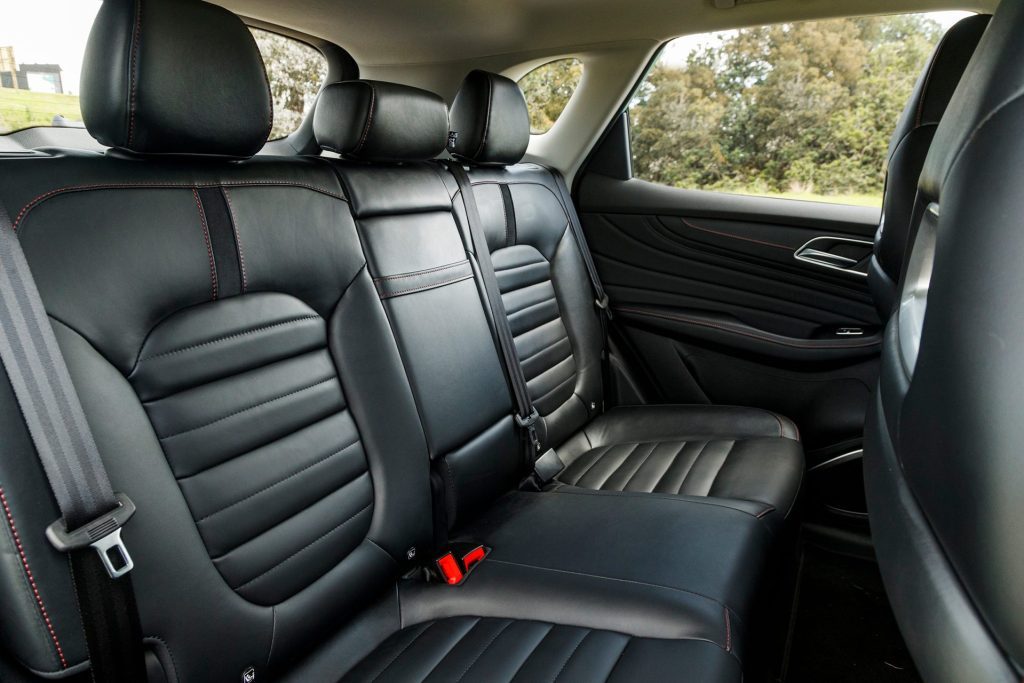 Hybrid mode gets underway on volts, and will amble up to 40km/h on an easy throttle before the engine kicks in. And then it stays on until you come to a halt again. The 1.5 is a bit rough when it first fires, and noisier than ideal, rowdy when pressed past 3000rpm. The transmission tends to keep it in a lower ratio longer than ideal and so you can hear the engine buzzing away. When the changes do come, they are laboured, though smooth. 
The HS's redeeming feature is that it never feels slow or laggy. Give it a squirt and the electric motor bridges the turbo lag, and it responds well. It's not a sprint champ; they reckon 6.9sec to 100kmh but that must have been recorded downhill. Or they transposed the numbers in the spec sheet because 9.6sec seems more like it. It's a bit slow out of the blocks, but its 80-120 time of 6.2sec is reasonable. It doesn't lack for pull so expect a little torque steer under max attack, and the odd squealing wheel out of an intersection, as it is front-wheel drive only.
In EV mode, there is only a gentle regen effect that comes on smoothly and so you do have to use the brake to pull to a stop. The pedal is a little squishy under foot, but consistently so, meaning you come to halt calmly. In hybrid mode, the regen is more pronounced, and not as smooth. It's another reason we preferred to drive in the EV mode.
The HS plug-in is another MG with a softly-softly suspension tune. It makes for an okay ride in town, though expect a bit of pitch and bounce over decent highway bumps. It's a tad rolly on the turns, though holds on quite well, eventually pushing gently into understeer. The steering is numb and the assistance inconsistent with a self-centring vibe. The turning circle is a bit larger than ideal for an SUV of this size but the 360-degree camera is good.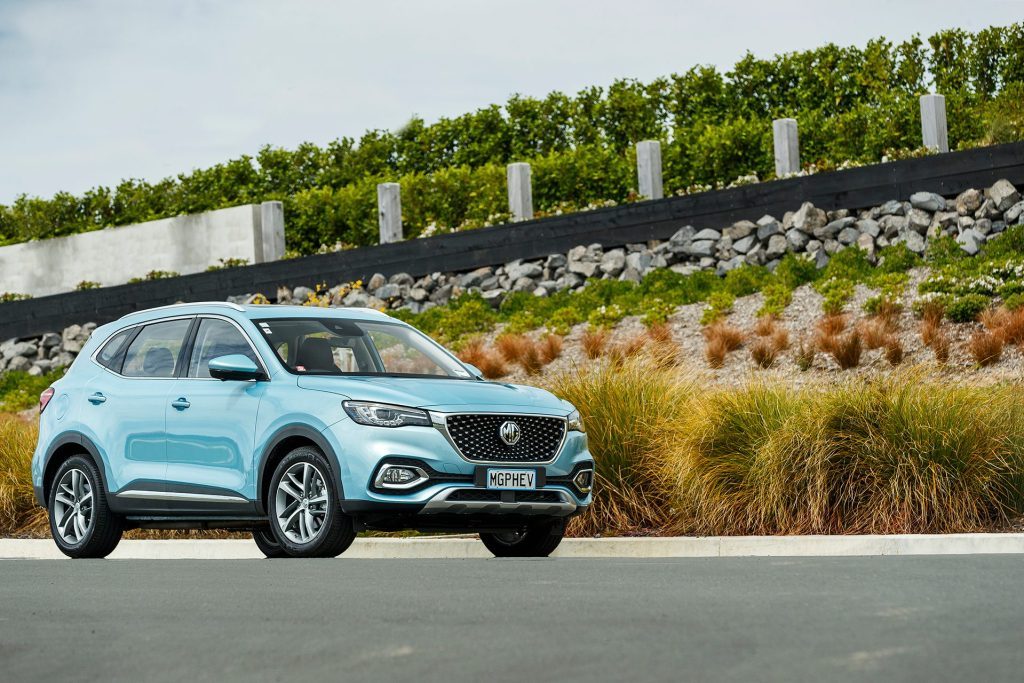 The HS is not a prime example of a plug-in hybrid, but we like how it goes in EV mode, and its consistent and usable range as a daily commuter. As with most that originate from China, value is the key here, especially when checking out the spec sheet. The decision is, do you need the added space of the HS over the cheaper all-electric ZS or the boundless touring ability a plug-in hybrid delivers? That will help you decide which electrified MG is best for you.  
| | |
| --- | --- |
| Model | MG HS PHEV |
| Price | $52,990 |
| Engine | 1490cc, IL4, T, DI |
| Power | 119kW/250Nm |
| Motor | single, 90kW/230Nm |
| Total output | 189kW/370Nm |
| Battery | 16.6kWh |
| Drivetrain | 10-speed automatic, FWD |
| Fuel Use | 1.7L/100km |
| C02 Output | 39g/km |
| 0-100km/h | 9.67sec |
| Weight | 1775kg (claimed) |