Mercedes-Benz has hit the ground running in 2021, wasting little time in unveiling a new electric vehicle concept overnight.
It's called the EQXX, and it brings a number of significant characteristics as the three-pointed star moves to electrify more of its line-up. Yes, it's a concept vehicle, but expect at least some of the model's technology (if not the whole kaboodle) make it into production some day.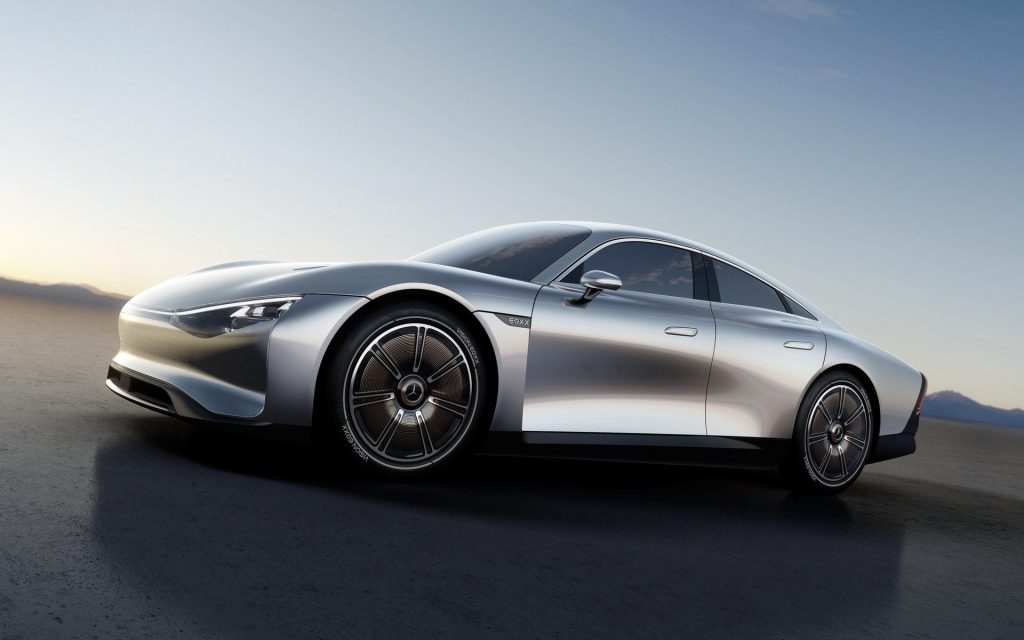 The EQXX's biggest achievement is via its battery tech, allowing for an impressive range of 1000km per charge. Mercedes is keen to note that this hasn't been achieved via a large, large battery, but instead via a range of initiatives.
The brand says, rightly, that fitting ever increasing batteries in order to increase range is a double-edged sword, since it generally also means adding more weight to the car and compromising things like handling and space.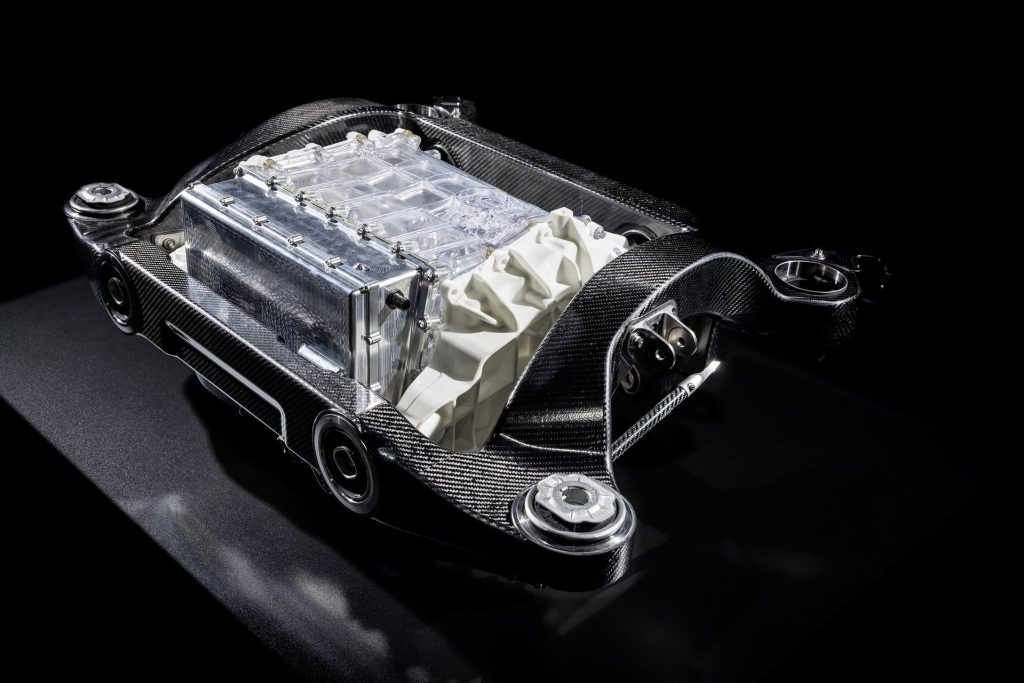 Its inevitable solution is to shrink the battery, and that's what it's done here. The EQXX's 900-volt battery pack was developed by the same division behind Merc's Formula 1 cars, and is impressive on several fronts.
It's rated at 100kWh, equalling the rating of the pack in the EQS 450+. Yet it's much, much smaller, weighing in at just 495kg; some 30 per cent less than the 450+ battery. It's 50 per cent smaller in terms of dimensions, too, meaning a less compromised interior space.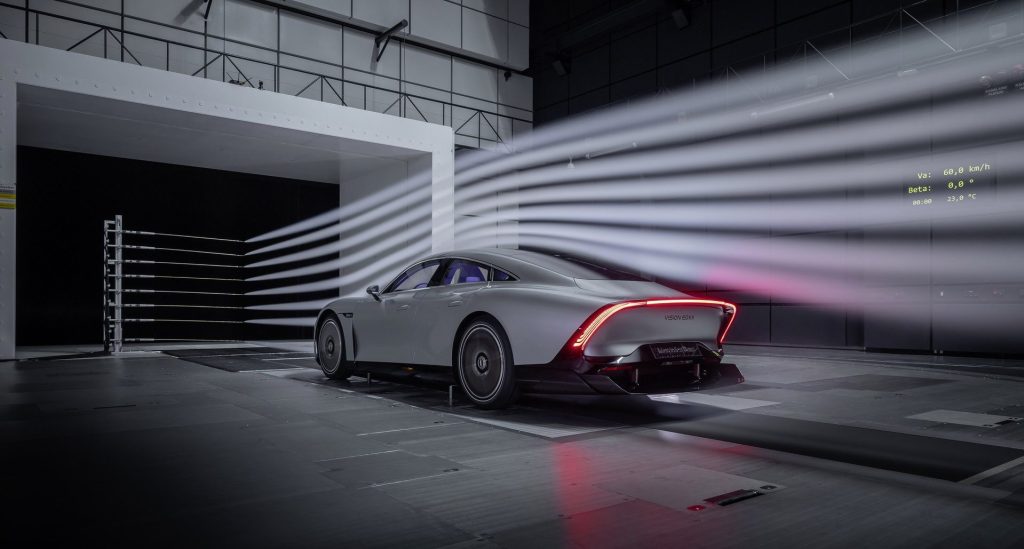 Don't expect it to be too quick, mind you. Mercedes is thin on details regarding powertrain and performance capabilities, with the EQXX reportedly powered by a single electric motor producing 150kW of power. Although oomph isn't really the point here.
The work Merc has done around the battery is complemented by other range-focused features. Overall weight is just 1750kg thanks to light magnesium wheels, carbon and glass-reinforced plastic doors, and a roof panel that features solar cells, which contribute an additional 25km to the EQXX's range.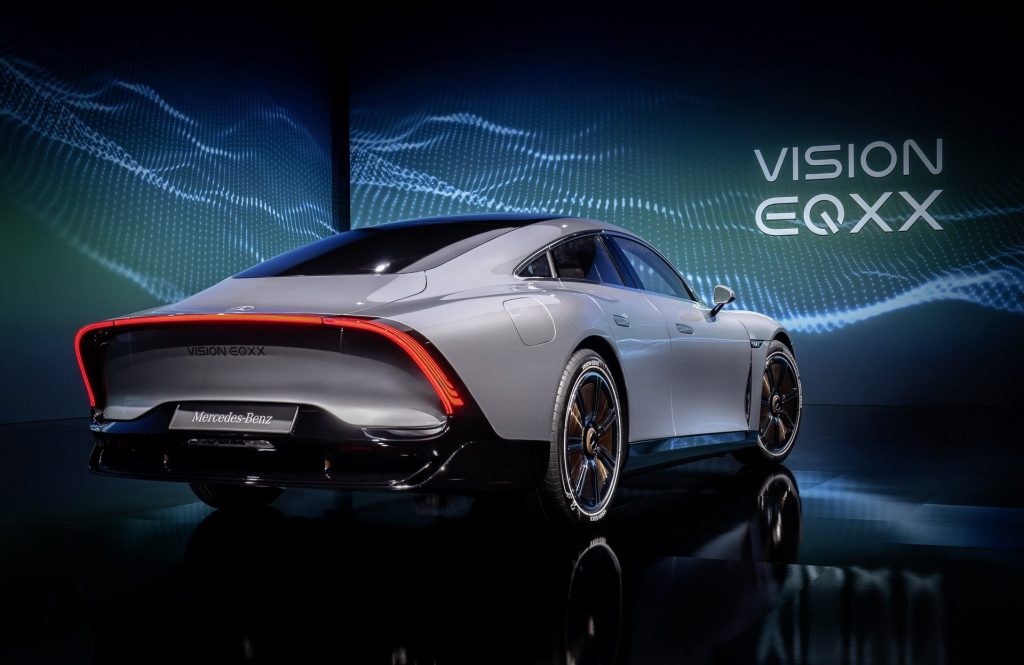 Then there's how it looks. The EQXX Concept was designed to be as slippery as possible, as evidenced by it's rounded, smooth nose and pinched rear end. It looks almost like a mini-me, family friendly McLaren Speedtail. Mercedes says it has a drag coefficient of just 0.17 Cd.
On top of the curves and interesting light formations (many of which are new to the marque, not necessarily resembling those from current models), the design also features other clever tech, like an adjustable diffuser and cooling on demand.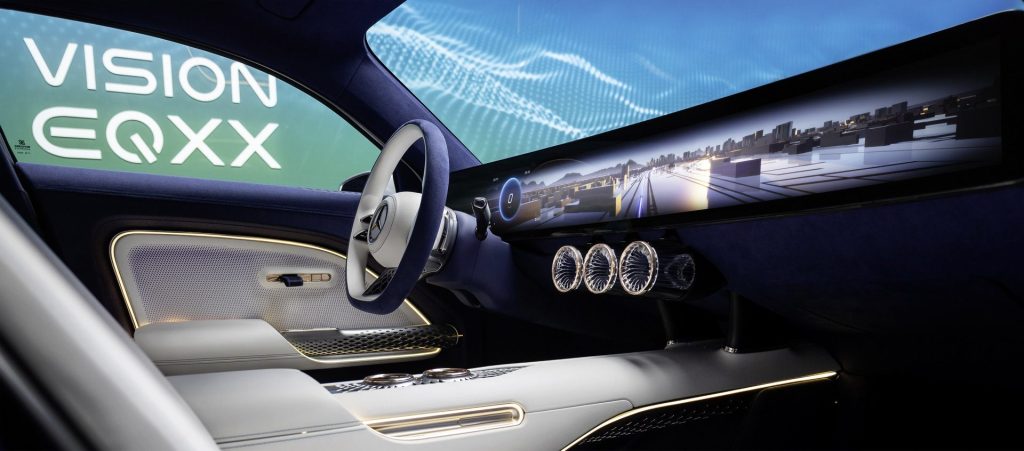 Speaking of tech, the inside of the EQXX is quite something. In the middle is a great, big, wide, 47.5–inch 8k touchscreen display. This is arguably more impressive than the 56-inch 'Hyperscreen' Mercedes is preparing to roll out in the EQS and EQE, given that it's one single screen, not three jammed together.
Those keen to see the EQXX hit production will be encouraged to see how much of the rest of the cabin echoes existing models. The dashboard layout, air conditioning vents, transmission tunnel format and switchgear all share similarities to those featured in current models, giving the EQXX a very 'production-ready' appearance.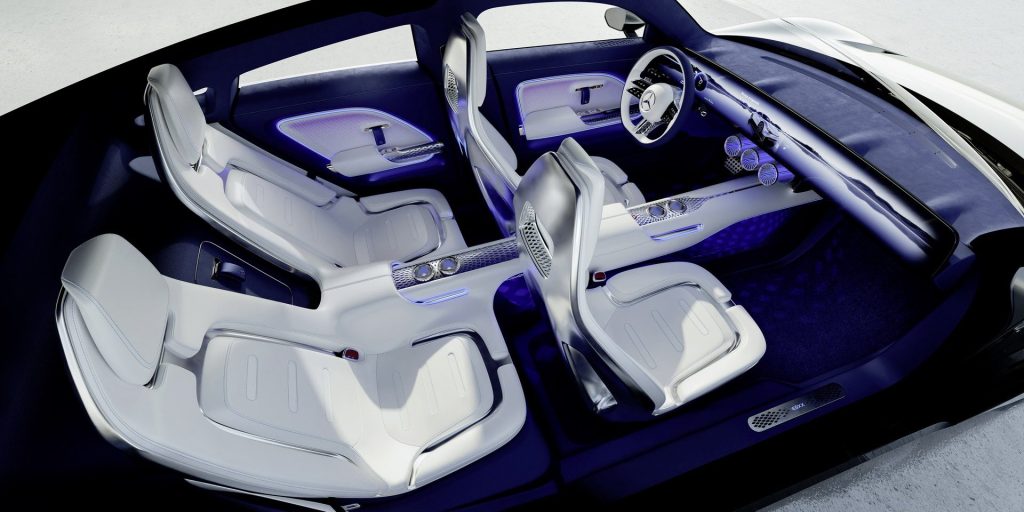 Perhaps the cabin's most interesting feature is its use of recycled materials. Mercedes is proud to note that all sorts of repurposed waste has been used in the cabin and in other elements of the model's construction.
This includes the use of cacti and mushrooms in the vegan leather upholstery, and the use of landfill waste (including garden waste and, amazingly, nappies) in non-structural elements of the floor.
Is 2022 the year of the 1000km electric car? Perhaps the EQXX is a sign of things to come.