It may not sell in high numbers but the workhorse focussed X-Class 220d Pure 4×2 manual is a class act.
I've driven many different cars and commercials manufactured by the TriStar brand but none have gathered as much reaction from the general public as the new X-Class ute, and all of it was positive.
The new Benz ute attracted admiring glances and positive remarks from a wide demographic of Kiwi males, from younger blokes on the boat ramp on their way to a fishing/hunting trip, to middle aged executives in the supermarket car park.
Mercedes-Benz Vans has played in the light-truck space with the Sprinter Cab/chassis model since 1995 but it's the first time the brand has entered the global mid-size ute market and it's not unreasonable to suggest that the X-Class will give established brands a headache.
It not only offers the brand cachet of a Mercedes-Benz, it also offers those unique and intrinsic qualities desired, such as safety, build quality, an options list as long as your arm, and that bank-vault like "thunk" when you close the doors.
The ute market continues to strengthen around the globe as much as it does here in New Zealand, so the X-Class arrival couldn't be better timed to catch the incoming tide of buyers who are new to the segment.
So why would you choose an X-Class over a Hilux or a Ranger, or even an Amarok? It really does comes down to two main differentiators – safety features and build quality.
All New Zealand bound X-Class utes come from a European alliance factory in Barcelona, Spain and the fit and finish of the body, the paint, and the interior is more than worthy of the brand.
Our test vehicle normally retails from $54,000 but this particular Pure was optioned with the $1400 Plus pack that included front and rear parking sensors and the load securing rail system.
The other options fitted included a centre console with 1-DIN access for a radio telephone ($150), the Tunja cloth seats had been swapped out for Black Leatherette upholstery ($490), and it also wore 17-inch alloy wheels ($750), and Kabara black metallic paint ($1050).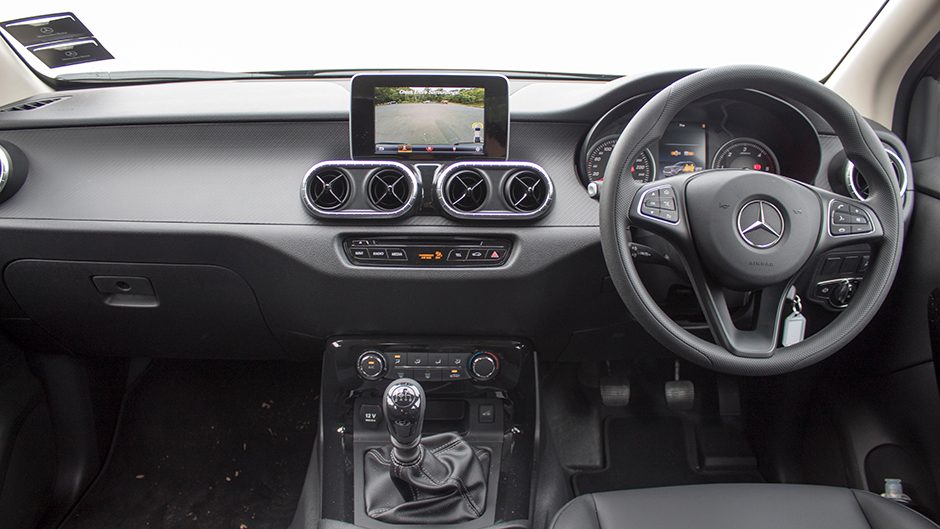 Adding these options increased the retail price to $58,040.
Being a Pure, this X-Class model wears grained black plastic front bumpers, but with the black metallic paint it was quite difficult to spot this feature, but in white or other primary colours it may be more obvious.
The X-Class, even in the entry-level Pure model as tested, offers active brake assist (ABA), seven airbags, lane departure warning, tyre pressure monitoring, and a rear view camera, in addition to hill start assist, electronic stability control, and trailer stability assist.
Several times during our test week, the ABA's forward collision alert chirped that we were getting too close to another vehicle in peak traffic, and allowed us to pull up in plenty of time to avoid a collision. If every vehicle on the road had such technology, there would be a lot of time and heartache saved, especially for owners of large fleets of tool of trade vehicles such as the X-Class.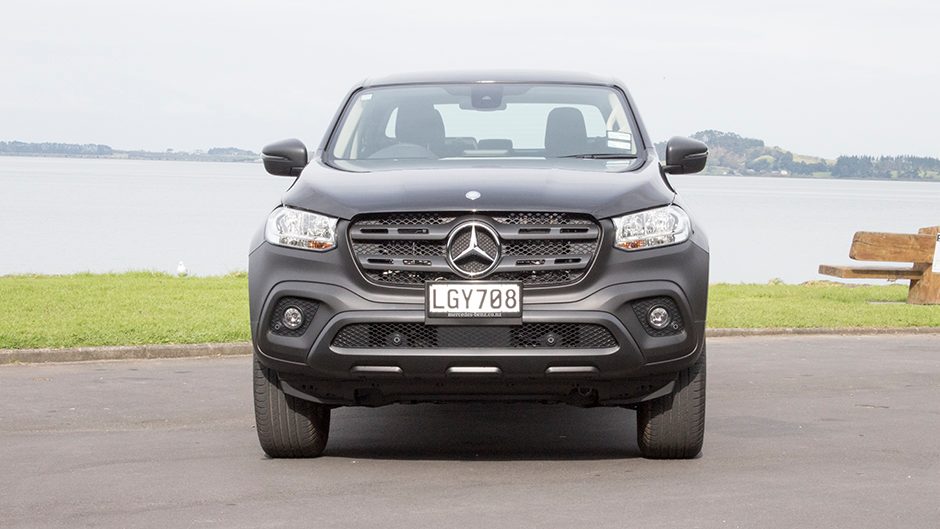 The X220d models arrive with a single-turbocharged 120kW/403Nm version of the four-cylinder 2.3-litre diesel engine allied to a six-speed manual gearbox. There is no automatic option, that is solely the preserve of the two-turbo 140kW/450Nm X250d, which offers a 7-speed auto.
Despite it's kerb weight of 2133kg, the X220d never felt underpowered or sluggish, the six-speed manual was not only pleasant to use, it seemed to have the right spacing between the gears to wring the best power and torque from the engine. At 100km/h per hour in sixth gear, the engine is barely turning over more than 2000 rpm.
Our average fuel economy was 8l/100km which was very close to the factory figure of 7.6l/100km and commendable for a brand new vehicle with less than 2000 km on the clock.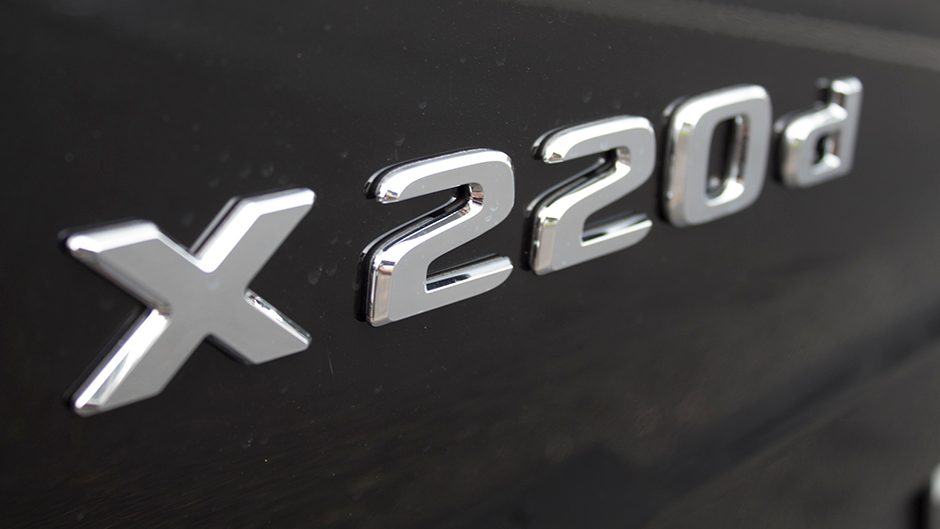 It is no secret that Mercedes-Benz Vans partnered with the Renault-Nissan Alliance to create the X-Class family. Using the Nissan Navara chassis as the backbone of the X-Class, saved three-years of development work allowing Mercedes-Benz Vans to bring the ute to market more swiftly.
The German brand did a significant amount of engineering development on the chassis, suspension and drivetrain to create a premium feel worthy of a Mercedes-Benz vehicle.
The X-Class is more than 200kg heavier than the Nissan because it wears a completely new set of body panels, it also has a wider track than the Navara, and a wider body.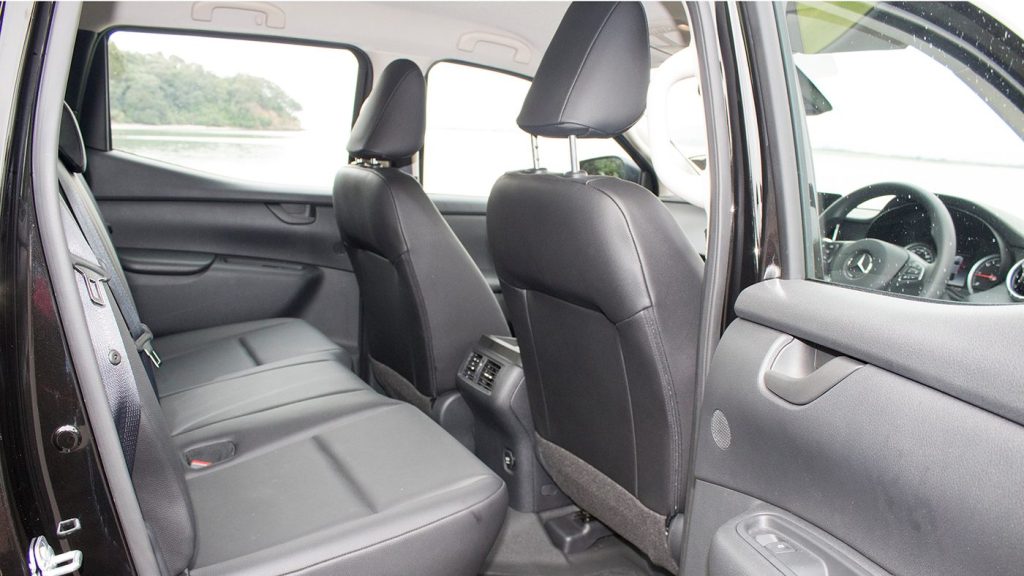 Significant design and engineering work has been invested into creating a ute that not only looks like a Mercedes-Benz but it also drives, steers, and handles in the manner expected of the brand.
Because their rear suspension is designed to cope with heavy loads and towing, most utes normally have a jittery ride quality when driven on the road unladen, but not the X-Class. Somehow those crafty German engineers have managed to engineer this particularly annoying trait out of the X220d.
Only when driven over the worst lumps and bumps of a Kiwi back road did the coil-sprung rear axle betray itself but on smooth urban roads and motorways, the ride quality was sedan-like, and not once did it wag its tail when accelerating quickly out of a corner.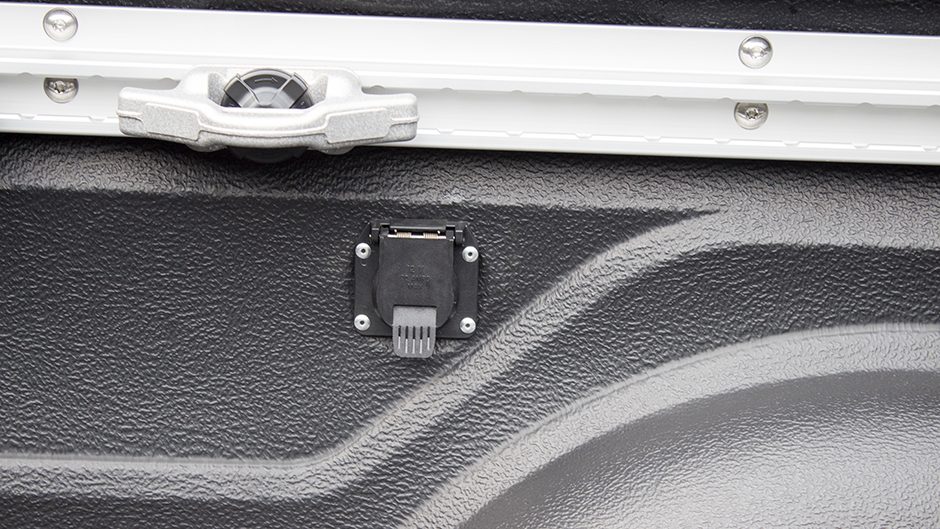 It is still a light commercial vehicle that has some understeer and some body roll as would be expected in this category but the X220d felt more at ease through a winding back road than many of its competitors, and the steering response is also quick and precise.
To complement the extensive options list, Mercedes-Benz Vans also offers a comprehensive range of accessories for the X-Class including two styles of canopy, as well as side steps, sports bar, tow bar and the like.
Utes such as the X-Class are no longer viewed as purely a workhorse vehicle, it's now become an aspiration vehicle for many Kiwis, and for some it's now the default family car instead of an SUV. Given the Benz utes competitive retail pricing, we will watch the market with interest.
| | | | |
| --- | --- | --- | --- |
| Model | Mercedes-Benz X220d Pure 4×2 | Price | $54,200 |
| Engine | 2298cc, 4-Cylinder, 120kW/403Nm | Drivetrain | 6-speed manual |
| Fuel Use | 7.6L/100km | C02 Output | 0g/km |
| 0-100km/h | 0.00 sec | Weight | 2133kg kerb weight |
| Service | 20,000km intervals, 3 year / 100,000km warranty | Load | 2.48m3 volume, 1587m length, 852m height |
| Vitals | 3200kg GVM, 1067kg payload | Vitals | 3200kg towing capacity |