When you're locked in battle for luxury supremacy, wherever your adversaries go you have to counter their moves.
And so Mercedes-Benz has rolled out its foil for BMW's X4 in the shape of the GLC Coupe. Essentially it's a GLC with a swoopy roofline and more sporting intent. On the design front it's more of a looker than the GLE Coupe with its smaller, more elegant proportions. It has a dynamic stance, lowered as it is 15mm on its standard fit 20-inch AMG rims.
It's longer and lower than the GLC wagon, and while that roofline looks the part, it makes for a less convenient entry to the rear where there's less head and leg room. And it's the same story in the boot. While there's still a practical hold, it's rather shallow, although there is a lot of supplementary space hiding away under the floor for smaller items. The split folding system is natty, moving the front seat forward a tad to ensure the rears fold flawlessly at the touch of a button.
So it's not entirely impractical and it's certainly a sharper drive than the regular GLC. The 250 Coupe has Merc's Dynamic Body Control which translates to variable dampers with steel springs, the ride quality altered via the drive modes ranging from Comfort up to Sport Plus. There's also speed-sensitive power steering with a variable ratio and there's an oversupply of rubber too.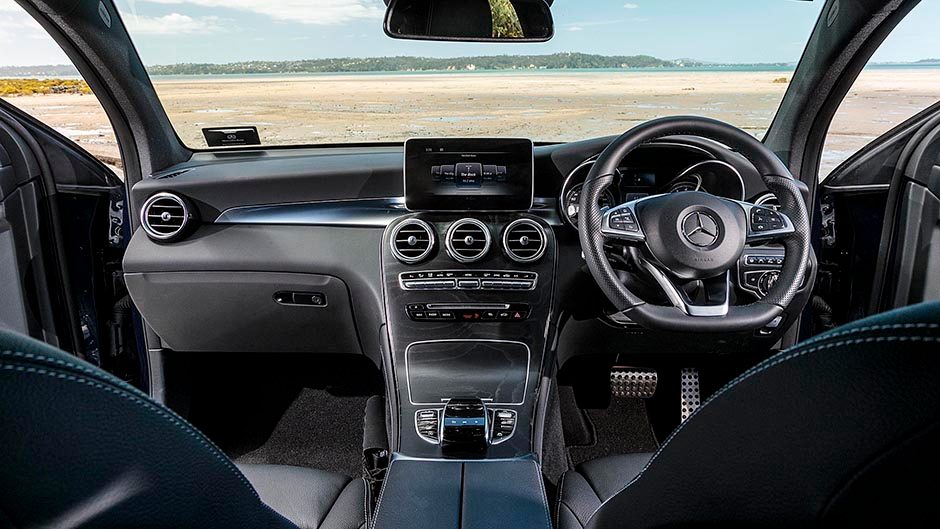 We found it to be a satisfying experience in a GT, all-wheel drive, point-and-squirt way. In Comfort mode it rounds up secondary type roads without much stress, and then for Targa-like running, Sport Plus puts the body movement on notice and yet your progress is not overly bumpy either.
The gearbox programming is also sterling, ensuring the perfect selection of the nine available ratios so it is ready for maximum drive off the corner. There's a lot of tyre keeping the 250 stuck but unlike the X4 where a torque vectoring function helps push you harder around the bend, the GLC Coupe relies on the ESP to keep you from running too far wide.
The 2.0-litre turbopetrol in the 250 requires a few revs to discover the full 155kW, which isn't a lot for a car of this weight, but with 350Nm of torque, it pulls well from 2000 to 5500rpm. The fuel usage can soar when it's pushed, up to 18L/100km at one point there, but somewhere between 10 and 12 is what you should expect for regular-type usage.
Inside it gets all of Merc's nice bits that are associated with C-Class machinery, including the dark wood overlay of the centre console and convenience items like a smart key and 360-degree camera. There are all the active safety whatsits too, including adaptive cruise with active lane keeping. It's not an insignificant spend but another worthy option to consider for those with a luxury budget around the $100k mark.
| | | | |
| --- | --- | --- | --- |
| Model | Mercedes-Benz GLC 250 Coupe | Price | $103,900 |
| Engine | 1991cc, IL4, T/DI, 155kW/350Nm | Drivetrain | 9-speed auto, all-wheel drive |
| Fuel Use | 7.4L/100km | C02 Output | 173g/km |
| 0-100km/h | 7.30sec | Weight | 1785kg |