With SUVs now accounting for 60 per cent of new passenger vehicle sales, Mercedes is well placed to cash in on the high-rider craze, having offerings from small to large, and every size in-between.
GLC is the sweet spot in terms of sales but if that's a bit big or too expensive – proceedings kick off at $90k – there's always the GLA Class which starts at just over $60k. One of the most popular in the range is this one, the $80k GLA 250 4Matic, the first with all-wheel drive.
Based on the A-Class platform, it's a reasonably compact crossover, all the more so with a panoramic sunroof as standard fit, headroom being at a bit of a premium. That's partly because the powered seats don't exactly plumb the depths, but then a decent view is what SUVs are all about, right? And that macho look.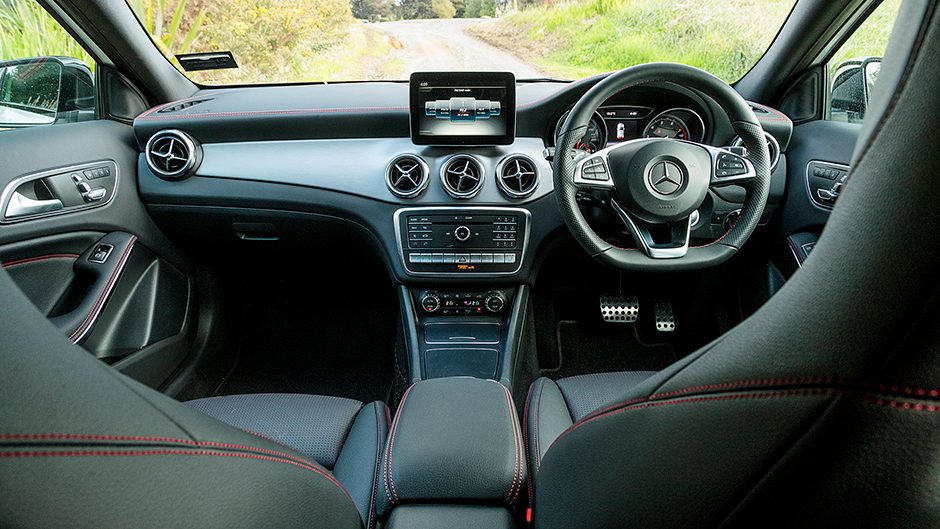 The vehicle that first hit the market in 2013 has undergone a midlife makeover, and is the better for it. Little black rectangles added to the grille and along the side sills impart a more purposeful look, and it's not just all about pretences here. For there's an actual off-road setting, and you can option in off-road comfort suspension, adding 30mm to ride height (to 204mm). While it drives primarily from the front wheels, shuffling up to 50 per cent rearward when appropriate, that keeps fuel use seemly, and we managed 7-9L/100km.
The 250 comes standard with adaptive damping, so you can set it for Comfort or Sport, depending on circumstances. Also variable are steering heft, and engine/transmission responsiveness. The various modes work well.
The GLA 250 is around $11k more than the comparable A250 4Matic hatch. You pay for your on-trend body style. Key features include new design 19-inch alloys, artificial leather upholstery, LED headlamps and auto dipping, the powered sunroof, satellite navigation, and comfort entry along with pushbutton start. No active cruise though; that's part of a driving assistance package along with lane keeping assist for $2590. A 360-degree camera is a new cost offering.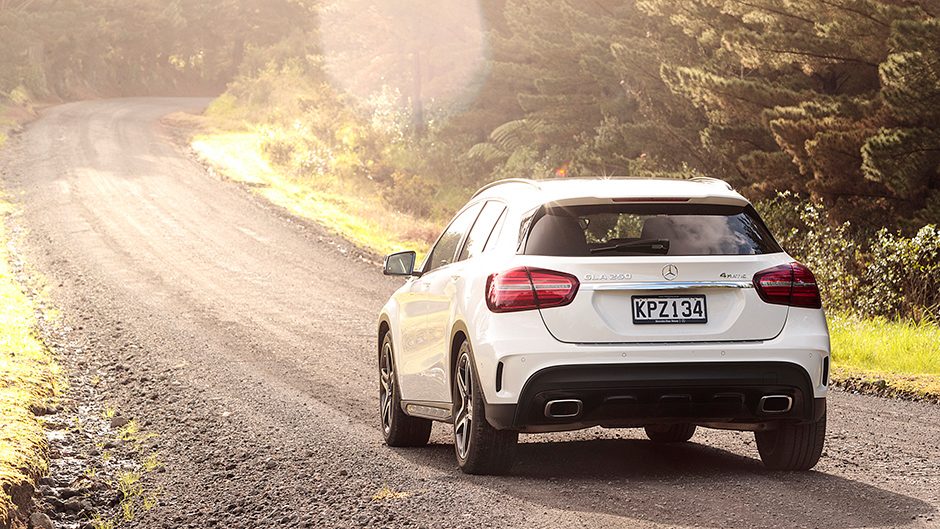 On the go, it flows easily in town using the Comfort setting, upshifting to higher gears and using low-rev turbo heft for effortless performance. Gearbox response is a bit muted. Flip to Dynamic for out of town use and more performance is readily available, the transmission more onto it, body control good. The 250 hikes to 100 in seven seconds, an overtake is done and dusted in under 4.5sec. Course you can get a bit more of a performance and dynamics envelope from a hot hatch but it probably won't have a 420L hatch, expandable to over 800L. That fifth door is powered too, and can be opened by gesture control. If performance isn't quite up to your expectations, there's always the insane AMG GLA 45 but it's $110k
If performance isn't quite up to your expectations, there's always the insane AMG GLA 45 but it's $110k. Or if the GLA 250 4Matic seems a bit much, you can save a bundle buying the A250 4Matic, and put up with the lower ride height, added speed and racier dynamics.
| | |
| --- | --- |
| Model | Mercedes-Benz GLA 250 4Matic |
| Price | $80,000 |
| Engine | 1990cc, IL4, DI/T, 155kW/350Nm |
| Drivetrain | 7-speed dual-clutch, on-demand AWD |
| Fuel Use | 7.0L/100km |
| C02 Output | 161g/km |
| 0-100km/h | 7.01sec |
| Weight | 1605kg |