Mercedes-Benz will soon be battling it out in the ute market with its new X-Class. It won't, however, be an extraordinary offering, as it is based on the Nissan Navara but for serious work Mercedes will sell you the G Professional.
This is a military-grade offering, a bare bones workhorse built to last a harsh existence. Well, that's the impression you get of it. It's an off roader relying on durable mechanicals with just enough electronic intervention to make it legal. The cabin is utilitarian; bare metal, vinyl, rubber and hard plastic. The seat adjustment is rudimentary, the steering column fixed, yet it's roomy for the driver, and you're not hemmed in as you were in the Defender (RIP). There's ESP and front air bags, but little else.
The engine is a V6 diesel, mated to a five-speed auto and driving all four wheels. There are three locking mechanical differentials and low range, all selectable on the fly. The numbers for the 3.0-litre diesel aren't big; 135kW with 400Nm but the torque is brewed low and is ever present, the engine understressed to aid longevity. And on that, the G Professional has a three-year/200,000km warranty.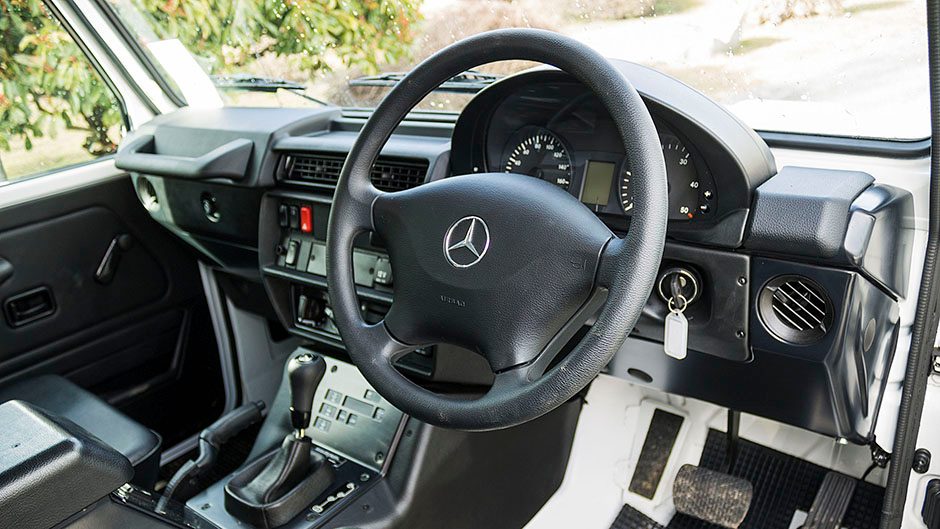 It's a big beast, over 5m in length with a 3428mm wheelbase. With off road use in mind, the approach angle is 38 degrees, and the departure angle as much as 29 degrees, depending on what type of construction you put on the back. While its tow rating is oddly light, a braked maximum of 2210kg, Mercedes-Benz quotes a mammoth GVM of 4490kg. There's a 96L fuel tank, bull bars and a snorkel fitted as standard, as are light guards and full underbody protection.
So who is buying this sort of machine? It's a work vehicle and so Mercedes-Benz NZ is talking with a range of operators; logging types, lines companies, bee keepers even, wherever business involves transporting heavy stuff to rugged locations. Of course the odd farmer has their hand up too. In Australia, rural emergency services are big on them, as is the army.
We played farmer for a brief excursion in the G Professional down south at Coleridge Station over gravel roads, across muddy paddocks and rutted foothill paths. As expected, the G Professional just goes wherever you point it.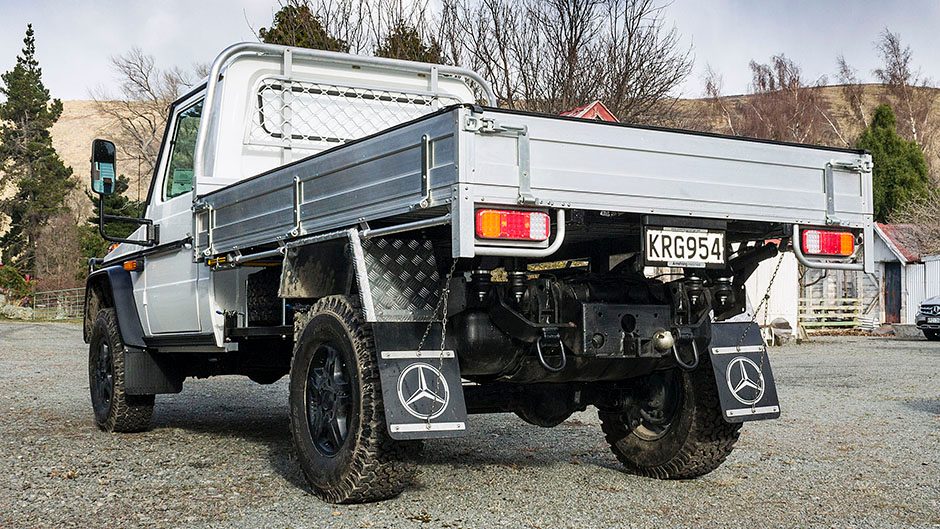 In 'normal mode', the electronic stability control takes care of the wheel slip and keeps the truck from slewing sideways on gravel. Once more traction is needed, the diff locks are activated by push buttons, the centre diff locking up first on the fly, the rear diff locks up next and this switches off the electric traction aids because as far as this vehicle is concerned, mechanical traction can't be beat. And then for the truly slippery stuff, the front can be locked up too.
There's a real heft to everything, the controls mechanical and simple. Steering is heavy and the turning circle massive but you simply point the G where you want to go and it takes you there. It feels like it could be bashed about the place all day, every day and just keep ticking over. The throttle has a long travel, the response tactically slow so that when you're bouncing all over the place you can still be smooth on the gas pedal. While the numbers aren't overly impressive from the 3.0-litre diesel, it delivers tractable grunt from idle and it's quick to power up when extra momentum is needed to clear an obstacle. The ride is unbelievably stiff unladen, but it simply steamrolls over bumps, ruts and potholes. Like a huntaway, the G Professional is bred for work, and would be a menace in city environs, though you can bet a few urbanites won't be able to help themselves.
We also took a quick trip in the G 350, which shares much with the G Professional, but is an entirely different kind of Panzer. It has a similar engine but with a different tune for more power (180kW) and torque (600Nm), and there's a seven-speed auto behind it. It has the three locking diffs too, and the full chassis but also ride quality, easy going steering and the comforts and luxuries you'd expect of a $185,000 SUV wearing the Mercedes-Benz star. It's infinitely more civilised and luxurious than the old Defender 110 and truly unique.
The G Professional is only comparable to the Land Cruiser 70, although Mercedes probably doesn't see it as an equal. Both are incredibly capable and durable machines that are likely to be the last ones standing when the inevitable AI-initiated apocalypse happens.
| | | | |
| --- | --- | --- | --- |
| Model | Mercedes-Benz G Professional 300 CDI | Price | $129,900 |
| Engine | 2987cc, V6, TDI, 135kW/400Nm | Drivetrain | 5A, 4×4 |
| Fuel Use | n/a | C02 Output | n/a |
| 0-100km/h | n/a | Weight | 2410kg |