Mercedes-Benz is electrifying its range, with its cheapest plug-in hybrid being the new A 250 e. So does it electrify us?
Normally the prospect of paying $80,000 for a hatchback is attached to some form of tyre-squealing, exhaust popping, world blurring hot hatch debauchery. But, that's not the case for the Mercedes-Benz A 250 e. Don't overlook that wee e; it delineates this A-Class as a plug-in hybrid, the cheapest the three-pointed star produces. Pricing starts at $72,300, but our presser was weighed down by a few ticks on the options list.
The A 250 e completes the full chrysalis-to-butterfly reveal for Mercedes' smallest, and arguably most versatile platform. It's proven itself to be a more than credible entry-level premium hatch in its standard variations. In face-warping AMG A 45 trim it stood up to the hype in taming a truly stupendous turbocharged four. The e sits closer to the spectrum of the former, but reveals a few gems in its experience that'll one day impact the latter.
Under its hood is a 118kW/250Nm 1.3-litre turbocharged four-cylinder petrol paired to a 75kW/300Nm electric motor and a 15.6kWh lithium-ion battery. For some the combined torque figure is the headline feature here — a buxom 450Nm to go with a 160kW power claim — but, for Mercedes-Benz the bigger story is packaging. The rear-mounted, water-cooled battery is relatively large for the genre, but only costs 45 litres of boot space relative to its ICE cousin. Meanwhile, the transmission (an 8-speed dual-clutch unit) also houses the electric motor within. This keeps weight distribution in check, while mitigating any chance of losing cabin space to the green cause.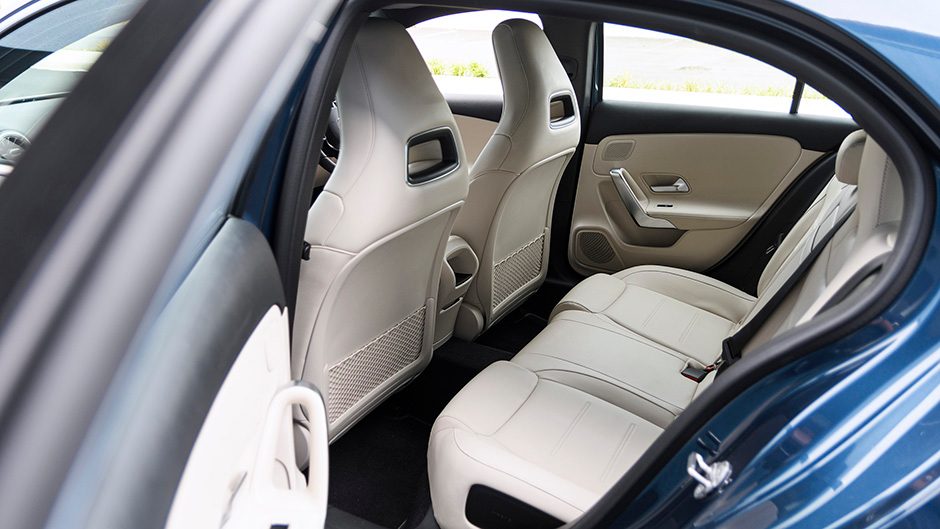 It means that reflecting on the A 250 e's interior is a rather simple task; an effective cut and paste job of what we've said in the past about other A Class models. Even two years after it first landed here, its dash and MBUX infotainment layout make everything else in class look like it's stuck in the dark ages. The 'Hey Mercedes' functionality continues to be more a gimmick than a real day-to-day solution (nailing some commands, but fumbling plenty). But, all in all, it's still a class act inside, from the materials to the fit and finish, to the psychedelic mood lighting and customisation. With this model's beige trim in particular, you could easily be convinced that you're sitting in a six-figure car.
This is a handy characteristic, because some will have trouble swallowing the model's price tag. Its two-wheel drive petrol equivalent, for reference, is priced from $64,400. Optional 'Denim Blue' metallic paint, Seat Comfort, Driving Assistance, and DC Fast Charging packages help lift its as-tested figure to $80,140 (the fact that keyless go is a $490 option shows Mercedes is not above twisting the options-list knife a little). Those still querying the price can help themselves by looking at the list of other premium hatch hybrids currently on the market, of which there are almost zilch. BMW's high-riding $71,100 225xe Active Tourer and $59,990 Mini Countryman Cooper SE are your only real alternatives here…for now.
If there's an A 250 e interior issue, it's with space. I'm thankful that the additional plug-in hybrid hardware hasn't cost the model more room, as it couldn't really afford to lose any. Rear leg room and head room are middling but serviceable for slender adults. The loss of volume in the boot means 310L is available here, well short of the 380L in a 1 Series, but enough to give the model decent practicality creds. An 1120L rating with the seats down is commendable, and the relatively low and wide, square-shaped opening make it an adequate partner for those trips to Farro.
Mercedes claims that it can travel up to 68km on electric power alone when fully charged. Like nearly all EV and plug-in range claims, it's an inflated number that relies on perfectly flat roads and a feather-light right foot. Fully charged, our presser displayed a 59km potential EV range off the bat during our economy run. Across a mixture of motorway and suburban use, we estimated a return of over 50km on battery, with the potential for even more on more forgiving routes.
The average Kiwi supposedly drives about 14,000km every year, boiling down to roughly 38km a day. In this context, the A 250 e makes plenty of sense as a car you can feasibly use as an EV to work and back, without the drawbacks. Research shows, though, that many plug-in hybrid users prefer to use petrol and electric in tandem. Mercedes claims economy figures of 1.6L/100km, and while keeping the battery charged we were able to achieve 3.0L/100km.
The arrival of the A 250 e comes at a time where just about all connotations of hybrids being purely for the most dedicated of tree-huggers have disappeared. Hybrids are mainstream these days on both an 'every single Uber is a Prius' micro level and on an 'every single supercar is a hybrid' macro level. So to look at this new Merc purely from a tech and green perspective is a little shallow. Hoofing it through some twisties, I couldn't help but look at it as a window into the future of hybridised hot hatch-e-dom.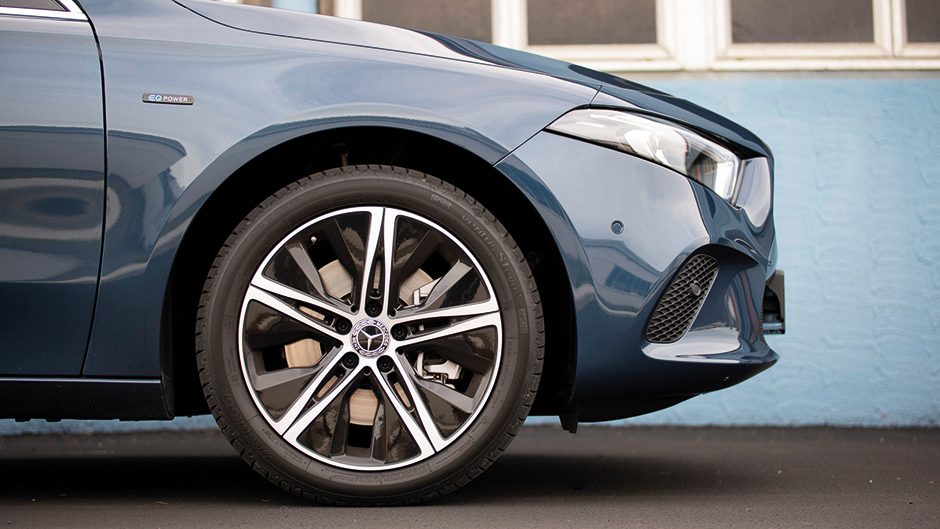 This isn't to say that it feels especially remarkable on a backroad. The extra 150-odd kilograms can occasionally be felt when being particularly overzealous, and the rear torsion-beam suspension set-up, opted over an independent multilink to give the hybrid hardware more breathing space, isn't exactly space-age. But the sweet MFA2 platform still shines through quite clearly. There's a little understeer when you're hustling, but it's interactive enough to be controlled with some light pre-emptive throttle feathering. Body roll is minimal thanks to a ride that errs on the firm side, a trait present in all A-Class models. The transmission is rapid under stress and smooth in general commuting, although it can be a little hesitant in traffic, not aided by the A 250 e's discernable transitions in and out of EV mode.
It's the mountainous torque that really elevates the experience here. It may feel like Mercedes missed a trick in making the e front-wheel drive when the presence of a secondary motor could power the rear wheels, but in the metal it doesn't matter. It's just 50Nm shy of its A 45 S cousin, and every once in a while it tells you this … a cheeky amount of throttle percentage out of a quiet junction here, a motorway overtake there. The 6.9-second 0–100km/h time we achieved (three tenths off Merc's claims) tells some of the story, but to get the full picture you really need to have a play yourself. The instantaneous torque response gives the e a wonderful midrange that goes on and on, so long as the battery has juice to burn.
Although it carries out its hybrid brief with aplomb, the A 250 e can also be seen as a taste of where hot hatches are going. If this is a sign of what's to come in the genre, colour me excited.
| | |
| --- | --- |
| Model | Mercedes-Benz A 250 e |
| Price | $72,300 |
| Engine | 1332cc, IL4, T/DI, 160kW/450Nm |
| Drivetrain | 8-speed twin-clutch, front-wheel drive |
| Fuel Use | 1.6L/100km |
| C02 Output | 36g/km |
| 0-100km/h | 6.91sec |
| Weight | 1697kg |