The four-door version of the AMG GT has dotted down, and it's the most powerful Mercedes-AMG model in production. Is it special or what?
Take one AMG GT, stretch it a little to include rear seats, add a few openings, and you've essentially got the AMG GT 4-Door. It's further empowered to counteract the additional weight, and imbued with 4Matic AWD to get all that power grounded. How much power, given we've mentioned that word? Try 470 bristling kay dubbs of it, matched by 900Nm of torque (up 40kW and 200Nm on the GT) all transferred through a nine-speed MCT trans. It's a speedy shifter that's essentially a nine-speed auto without a torque converter, using clutch packs instead. The result is a tranny that shifts as quickly as a twin-clutcher, without the hesitation off the mark.
The fact that the 4-door also has AWD makes it quicker off the mark than the AMG GT, despite the fact that it weighs more. According to those in the know, this vehicle is now the power leader for the group, and also the fastest car they make, with a quoted 0-100 time of 3.2sec. It also comes absolutely brimming with gear; the only option this had was the $1500 AMG night package, meaning blacked out windows and surrounds instead of chrome for the latter.
That took the core price from $326,600 to $328,100, and makes it a Swift less expensive than the primary competition, the Porsche Panamera Turbo that costs $356,700. It doesn't quite run the gauntlet as quickly as the AMG either, 3.6sec by our reckoning. The head of Mercedes-AMG, Tobias Moers reckons the GT 4-Door "blends the impressive racetrack dynamism of our two-door sports car with maximum suitability for everyday use." So is it this talented?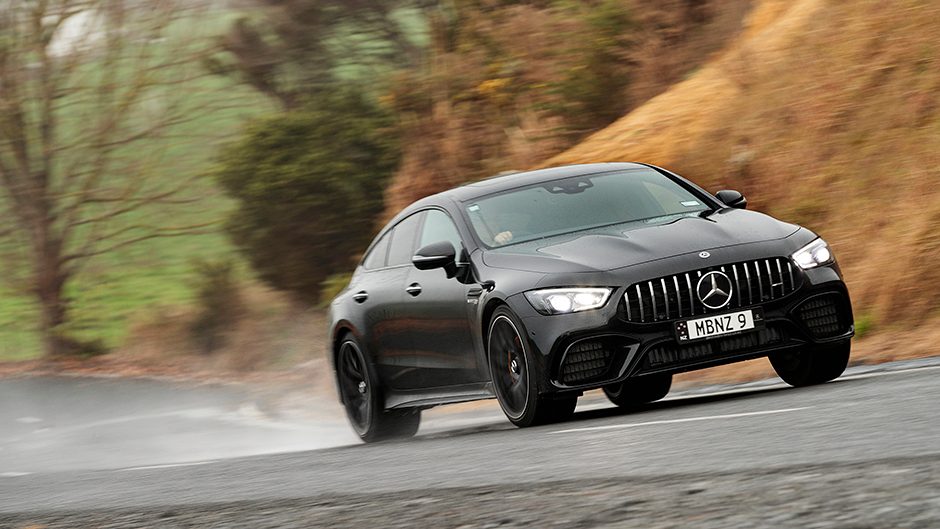 Five doors better
The one obvious thing we'd have to point out initially is that this isn't actually a four-door in the usual sense.
It features a liftback arrangement for luggage, making it a five-door, but they don't carry quite the cachet I guess. Whatever that's clearly where the everyday use comment arises. There's decent space back there, especially with the added utility of rear seat back folding. The gear compartment almost looks comfy enough (and of sufficient length once you've popped the seat backs flat) for sleeping if caught out in the back of beyond. Just saying, there's lots of length and width in the hold, and sufficient space for gear for four people (456L). Actually five people, given there's seating for two in the rear, plus a third smaller soul in between.
Entry and egress for rear seat passengers is a bit tight on account of the plunging roofline, just as it is for those up front. There's a powered sliding roof in situ too which obviously takes up a bit more head clearance. Once ensconced however there's rather impressive stretch space, though hardly to limo levels. The 4-door resembles the AMG GT up front, but thereafter looks more similar to a mix of CLS 63 and S-Class Coupe. Some reckoned it even reminded of Panamera.
So think more along the lines of luxury GT than full-on sports car aesthetically. But to drive, it is kind of an amalgam of the two.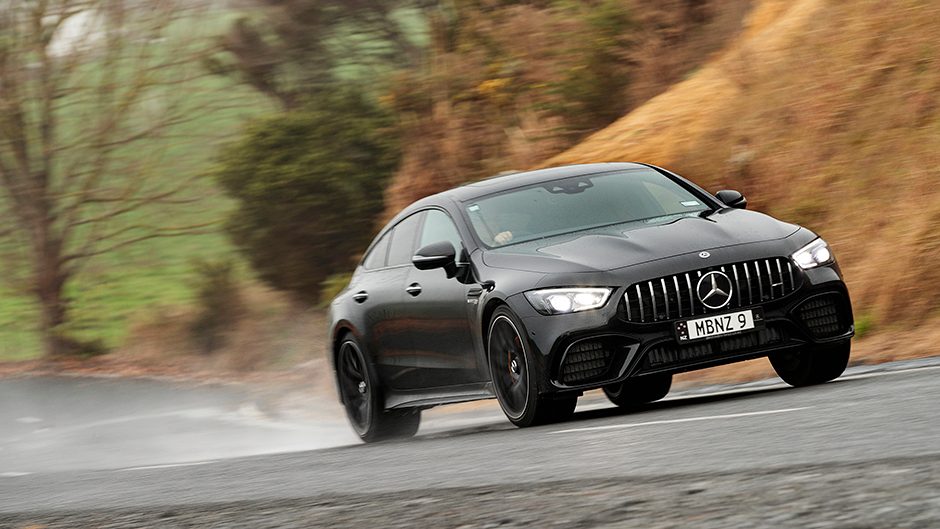 Shout out for big wheels?
At pick-up and handover, our Mercedes contact mentioned the 4-door was "a bit noisy". Which I guessed was a euphemism for a fair bit noisy on chipseal.
One look at its paws, and you'd rightly expect a fair amount of road-generated noise from those enormous Michelin Pilot Sports hoops. The fronts run 275/35ZR21s, and the rears are whopping 315/30ZR21s. So yes, there's an elephant in the cabin of the 4-door and it's a trumpeting one. We recorded plenty of 80dB-plus moments on road, admittedly over the meanest bits of chipseal. But an average of over 78dB makes this far and away the most prominent detraction from what is otherwise a most remarkable piece of kit.
We had the vehicle for three days and being winter it rained plenty in that time as you'll notice from the images. But in some ways that showed just how accomplished the 4-door really is. We're talking serious lateral gs here, such is the sheer amount of mechanical grip on hand.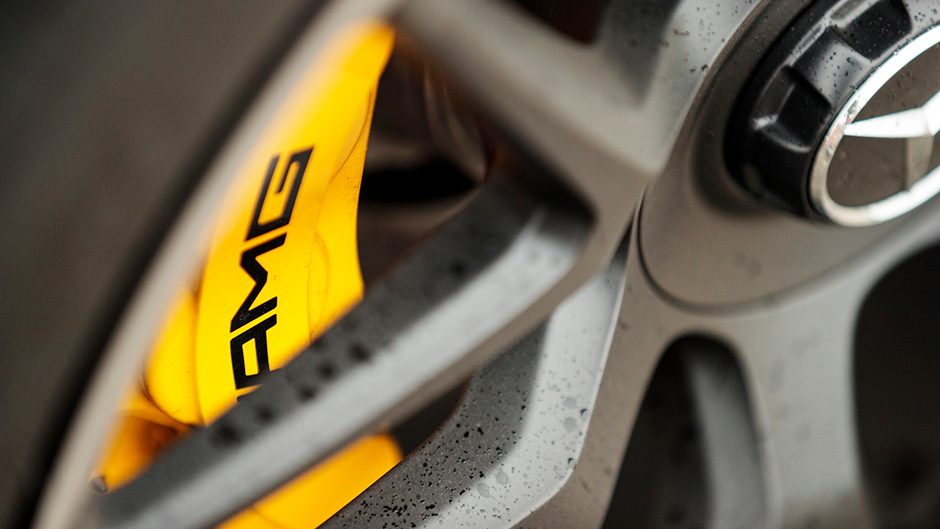 Fastest four-door
But we're talking rather impressive longitudinal gs as well. Just for scientific purposes to see exactly how much grip this can generate, we thought we'd throw the timing gear on and check out performance figures on a sopping track. The first launch was rubbish, resulting in a 4.4sec run with two aboard and all our gear. But the next launch hooked up better, again using Race Start from 3000rpm, and produced a 3.66sec sprint. And then we tried an overtake, where it instantly clicked off two 1.95sec 80-120km/h times.
We've only had a handful of cars run under 2.0sec in optimal conditions, so couldn't wait to get it back on a regular test strip in the dry. Unfortunately it rained or drizzled for the next 48 hours, but once it stopped we headed out to a quiet section of flat chipseal where it instantly fired off a 3.14 sec 0-100 run, and followed that up with its best of the day on hot mix of 3.03sec.
The overtake on regular seal triggered a best of 1.66sec. It's astonishing how something so big can move so fast. It shows just how well the AMG gets the power grounded and how slick that nine-speeder, a Mercedes design, truly is. And if you not convinced by that, the GT 63 S 4-Door is evidently the quickest series production four-seater around the Nordschleife, with a time of 7min25sec. Case closed; it's properly fast. Top speed? Around 315km/h, for reference.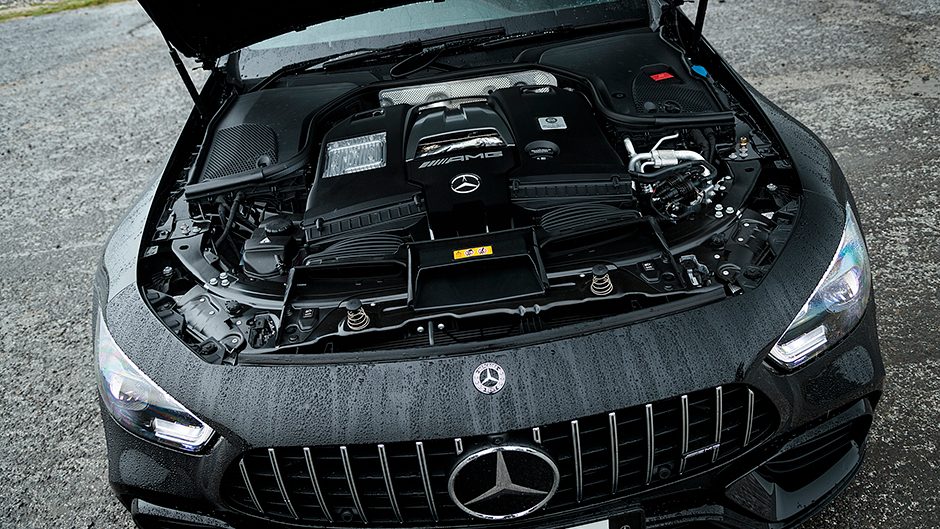 Air bender
But it's not just in a straight line where the GT 4-Door impresses. How this thing rounds up the corners, given how much it weighs (2.15 tonnes), is something else again. It's just over 5m long and almost 2m wide, but only 1.44m tall so is hunkered down. Direct steering at just on two turns lock to lock means any small wheel movements translate to significant changes of direction.
Even in sopping wet conditions for cornering, we just kept upping the ante and it never looked like running wide or losing grip, either end. Prudence prevailed and we stopped pushing the limits. Helping to maintain the line is standard fit rear wheel steering, while a weight balance of 54/46 front to rear also helps with cornering duties.
Underneath are E 63 mechanicals, and it rides on Mercedes-AMG's air body control suspension, so the Comfort setting, while offering good body control, majors on pampering. Even in the Sport setting it is remarkably compliant. This you select using a rotary dial attached to the lower right side of the steering wheel. The trio of Sport modes, amping the engine and transmission settings, can also be mixed and matched with varying degrees of suspension firmness.
Big in the 'burbs
Round town, this is a wide vehicle so care is required with kerbs and lane positioning. Lots of negative camber upfront means there's tyre chatter on slow full lock turns, which feels similar to driveline binding. Rearward visibility is somewhat limited but it has lots of cameras to help with manoeuvring.
In Comfort mode, it upshifts to higher gears and the slug of torque at low revs is more than sufficient to keep the wolves at bay. Once the traffic clears, we liked S mode the best, opening the valves in the performance exhaust and making haste more readily. Enormous composite brakes have exacting action at the pedal, though a best emergency stop from highway speeds of 34m was a shade disappointing.
But there's always the $17,900 ceramic brake upgrade for those who want the biggest stoppers to go with the outrageous feats of acceleration. The cockpit is initially a bit imposing, mixing the widescreen of the E and C 63 models with the button-intensive centre console of the AMG GT.
You can control minor functions via touchpad or screen, while many of the main button functions are repeated on the scroll wheel attached to the steering boss. The dash is finished right the way across in carbon fibre, while the racy wheel is covered in grippy Dinamica fabric. Seats are sports buckets, multiway power adjustable and heated. Safety bits? They're all there.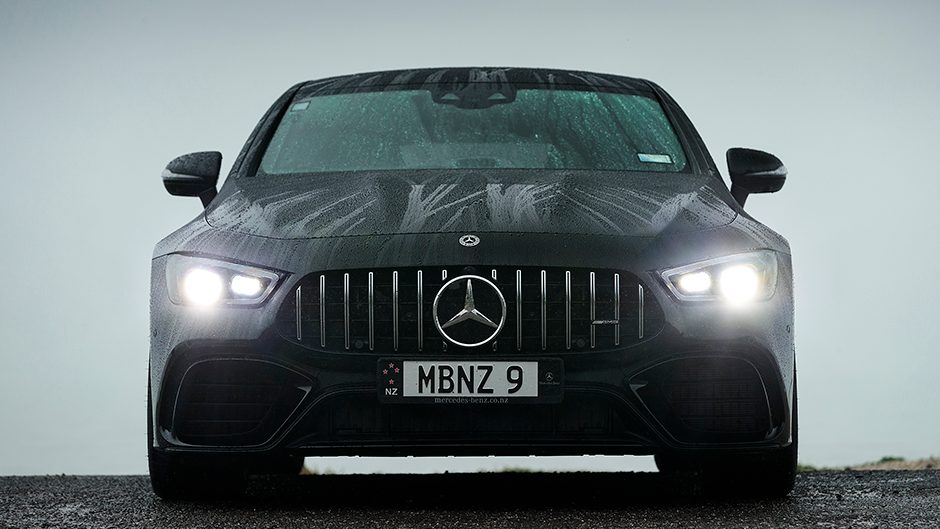 The other option
While the GT 63 S is exclusive in various ways, not the least of which is price, it need not be an obstacle to GT 4-door ownership as there's another version available, that being the GT 53 model. Packing a 3.0-litre inline six-cylinder twin-turbo engine and 48-volt mild hybrid EQ Boost technology – this electric motor brings 16kW and 250Nm to the party – it manages an overall output of 320kW and 520Nm of twist, for a claimed sprint time of 4.5sec.
It largely gets the same spec as the 63 S too, only its nine-speeder is a torque converter auto, and it dispenses with the rear-wheel steering, and active engine mounts, along with some of the special interior features of the big dog, like power closing doors, carbon fibre trim, and heated seats in the rear. The AWD status, performance exhaust and big Burmester sound system remain. The 63 S is still likely to be the better seller, despite the 53 kicking off at $236,900.
| | | | |
| --- | --- | --- | --- |
| Model | Mercedes-AMG GT 63 S 4-Door Coupe | Price | $326,600 |
| Engine | 3982cc, V8, T/DI, 470kW/900Nm | Drivetrain | 9-speed auto, all-wheel drive |
| Fuel Use | 11.3L/100km | C02 Output | 256g/km |
| 0-100km/h | 3.14sec | Weight | 2152kg |