Mercedes has been doing hard charging versions of its SUVs for ages. With its latest, the AMG GLC 63 S, the company is making some bold speed claims. Is it the fastest SUV ever?
The GLC has helped rocket Mercedes to the top step of the sales podium in the New Zealand luxury market where it now seems entrenched. It's a position that the marque has long held in Australia. Helping to get it there, a swathe of new SUVs, from small to large, with a few whose mission is to outclimb mountain goats.
For sheer sales numbers you can't go past the GLC. It has been a hit everywhere, especially in the big markets with over a million sold since its introduction in 2015. Until now, the top of the range locally has been the AMG GLC 43, a vehicle that impressed us last year. But in the background, 63 variants, both coupe and wagon were anticipated and have duly arrived, in full-fat S livery packing a 375kW punch and promising performance that used to be the preserve of the exotics. Believe it or not, this two-tonne-plus SUV can supposedly get to the open road speed limit from a dead stop in 3.8 seconds.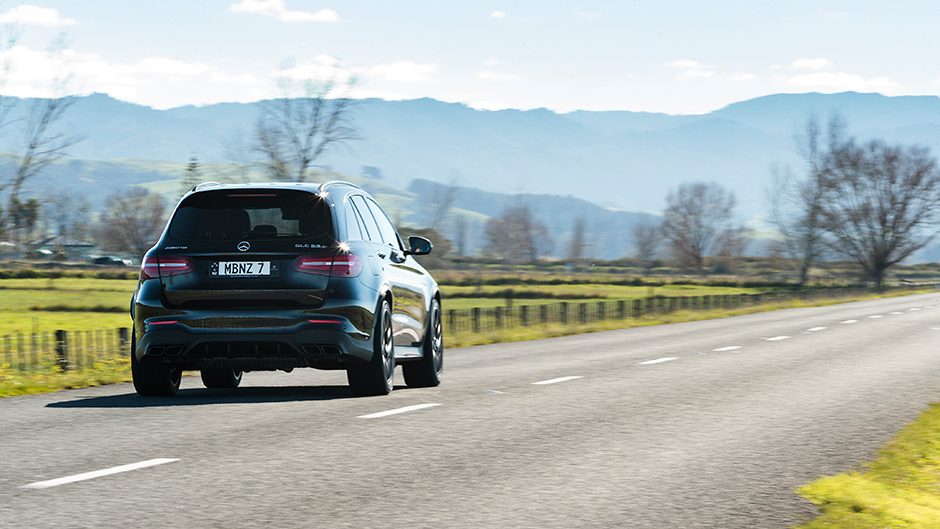 We have only had two SUVs run below 4.0sec to date, each packing sizeable forced induction V8s, and with permanent 4WD, rather like the GLC 63 S then. The first was the $307k, 404kW/770Nm Porsche Cayenne Turbo V8 S, weighing in at 2.4 tonnes and managing a best 0-100 time of 3.89sec in 2015. The most recent was the $170k Jeep Trackhawk, packing the 6.2L supercharged Hellcat, good for 527kW and 875Nm, and it clicked off a 3.78sec sprint time. Would this newcomer from Mercedes upstage these highly unlikely sprinters?
Engine pulled from a super GT
We should not be surprised that the GLC 63 S has a good turn of speed, given it shares an engine with the AMG GT line-up. The 4.0-litre biturbo V8 in S guise outputs 375kW (510hp) and 700Nm, the latter from 1750-4500rpm. Power flows permanently to the rear wheels, with fully variable torque shuffling from the back to the front. In between is AMG's Speedshift MCT nine-speed automatic transmission with a start-off wet clutch. It's another of the modern quick shifters, extra haste forthcoming via a Race Start mechanism.
At least it's meant to. Function of this initially eluded us. We like the challenge of trying to activate launch control intuitively for generally they're straightforward enough. Choose the fastest of the five drive modes, Race, switch off the ESP and that should be it. But no, each time it was a case of 'Race Start not available'. Eventually the penny dropped; Race Start on Mercedes-AMG vehicles only comes online after 1500km and this one's odo read 1370km. So that seemed like a good opportunity, given it wasn't raining for once, for a quick outing.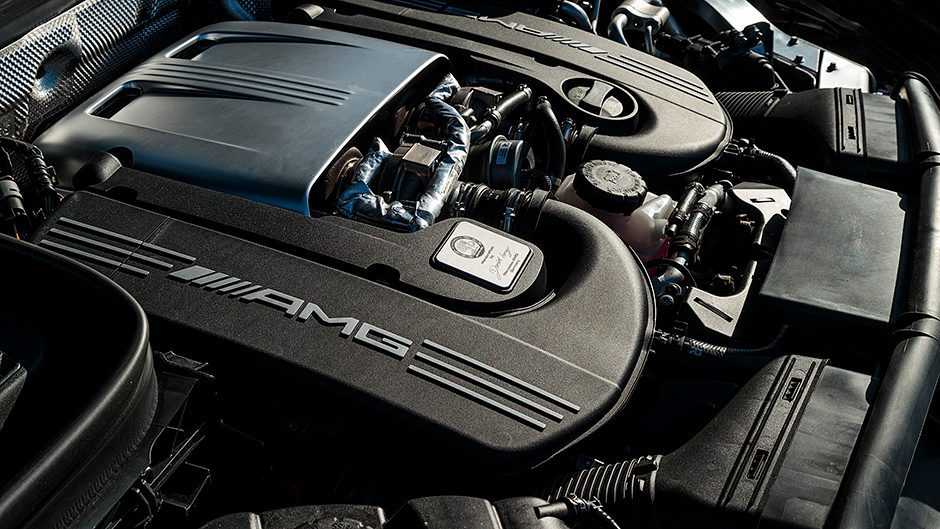 Looks and goes the part
What chacterises the GLC 63 S? It looks different and can be identified as the alpha dog in the pack by its Panamericana grille, borrowed from the AMG GT line and blackened (like most of the exterior) and chrome embossed. It also sports enlarged air ducts up front, a splitter and sports substantial 21-inch rims, finished with CrossContact rubber, 290/35s on the rear, 265/40s up front. Also in evidence, flared guards, a bigger roof spoiler and a diffuser between the quartet of tailpipes.
There's plenty of mechanical assistance to help keep the 63 S shiny side up. The electronic limited-slip differential is key, reducing slip on the inside rear wheel when cornering. With improved traction it assists in hoofing the vehicle out of corners earlier, while is also said to help with stability when braking from speed, and getting off the line from rest.
And the latter it does in dramatic fashion. Once it ticked over 1500km, Race Start duly activated. We'd tried a run without and couldn't better 4.7sec, respectable but miles off the claim. There's hesitation off the mark and no sensation of a proper launch yet still it's a touch quicker than the AMG GLC 43. That's the vehicle you'd be silly not to consider if the $185k ask for the 63 S is a bit steep (the 43 costs $117,400). Last year we said of this vehicle that it seemed one of the most cost-effective performance offerings in the luxury medium SUV class.
However, everything is bigger and better on the 63 S, and it adds a soundtrack that the 43 can't quite emulate. Once Race Start came on stream it reeled off a 3.9sec sprint immediately, ending with a best 0-100 time of 3.75sec. That barely edges the other two, though the tables turn for the overtake, pipped just by the Trackhawk's 2.30sec flat TED time (vs 2.32sec). We'd call it a tie, though for the SUV with the smallest motor to vie for line honours with these juggernauts is impressive.
It's lighter see. The Jeep weighs 400kg more, and requires a 527kW/875Nm supercharged V8 to match the performance of the GLC 63 S. Its claimed overall fuel use figure of 16.8L/100km compares with the 4.0L biturbo's 10.7 combined figure. Our actual fuel use figures ranged from 11 to 19L/100km in the 63 S, the latter two up with gear. Given the size of the vehicle at 2067kg, that's acceptable, considering the performance and the noise it makes. Ah, the noise of the unleashed V8. Even with a pair of turbos in the exhaust stream the engineers at Affalterbach know how to create a V8 that shouts its goodness.
The standard-fit AMG Performance exhaust gives vent to a stirring soundtrack. By selecting Sport+ the exhaust valves open and impart the 63 S with the right bark. It's the emotional accompaniment to a great drive, not that the rolling stock doesn't chime in as well. On some of our harsher chipseal surfaces road roar can be intrusive, though in cabin SPLs averaging 74.5db are tolerable and on most surfaces noise levels go unnoticed.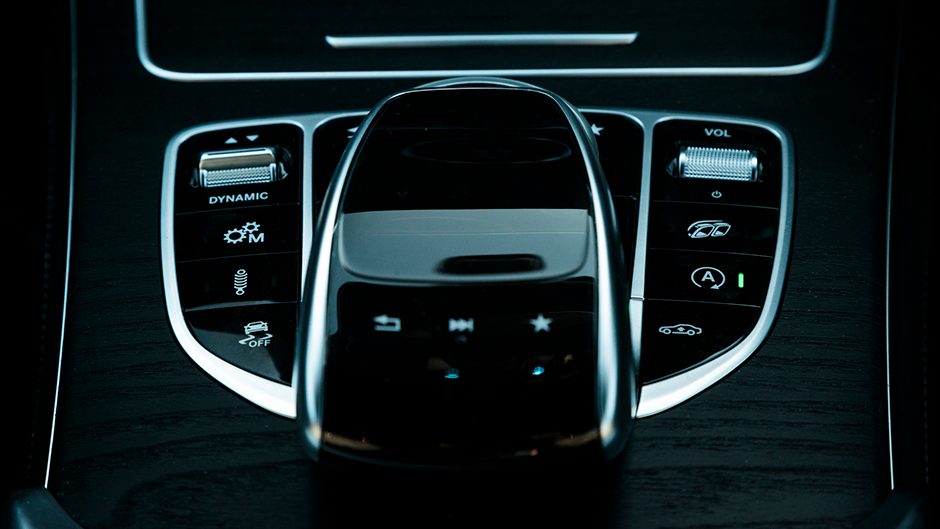 Modes galore but Comfort's good
As a drive though, the top ranking GLC continues in the vein of its GLC 43 sib, only it take things to a higher level. Given it rides on the same flexible MRA chassis as the C-Class you know it ticks off the basics well but with Air Body Control three-chamber air suspension and variable damping there's a setting that will suit all road surface conditions. Air springs firm automatically during sudden load changes, so most owners will use Comfort drive mode most of the time. In this setting the ride is perfectly acceptable both in town and even out most of the time. Control of body lean is also surprisingly good and it's only the odd big hit that makes you think it might be time to select Sport. That firms up everything, steering included, but ride is still relatively amenable.
Round town, there's enough sturm und drang from the V8 in Comfort mode, even at low revs, to make it seem an ideal fuel use/performance compromise. That's until you try out Sport and then you might think otherwise. This provides a noticeable performance uptick, but without the usual downside of locking out the top couple of gears. If you feather the throttle it will select top at open road speeds. Hoof it for an overtake and it's almost instantly flicks back from ninth to third gear, and you're firing past whatever was holding you up. Only 70m or so of road is needed on the wrong side to get the job done. It's properly quick.
The powertrain really is a gem, one we've encountered before in various AMG GTs. Round town, it's shifting to higher gears by about 1500rpm, and out of the burbs there's gratifying forward momentum even with just 2000rpm on the clock. Muscular? It's Hulk-like. It's also geared to Timbuktu and back, 100km/h corresponding to 1400rpm in ninth gear. By 2000rpm in top, you're on the verge of having your vehicle confiscated if caught dead to rights.
Active suspension steadies the ship
When it comes time to round up the corners the 63 isn't shy either, though it's better out of them than going in. Variable ratio steering has plenty of heft. With around 55 per cent of weight up front and being elevated it cannot rewrite the laws of physics – speedy corner entries will have it pushing wide of the line. Sports+ limits roll, and lets the tyres do their job better. Cornering ability is enhanced further by selecting the 'sports handling' ESP setting which limits individual brake intervention. Set the entry rate right though and you can step on the gas far earlier than you might ordinarily, such is the effect of the electronic rear LSD and 4Matic+ all-wheel drive shuffling power around.
Cross-country progress is swift, mollified with those huge dinner plate discs – composite braking system with 390mm discs up front – keeping exuberance in check. The brake pedal only needs a mild brush to rid the beast of excess speed.
GLC is a medium-sized SUV so should suit a broad range of buyers. It's pretty much fully loaded with luxury kit, and has the kind of sporty stuff you'd want, like encompassing Nappa leather performance seats, sports wheel and pedals, head-up display, surround cameras (they work best if you pay close attention to them) and niceties like self-parking, heated seat elements, three zones of climate air, panoramic sunroof, 13-speaker Burmester surround sound, and every conceivable thing to keep you in lane and prevent you from wandering around on the road when distracted.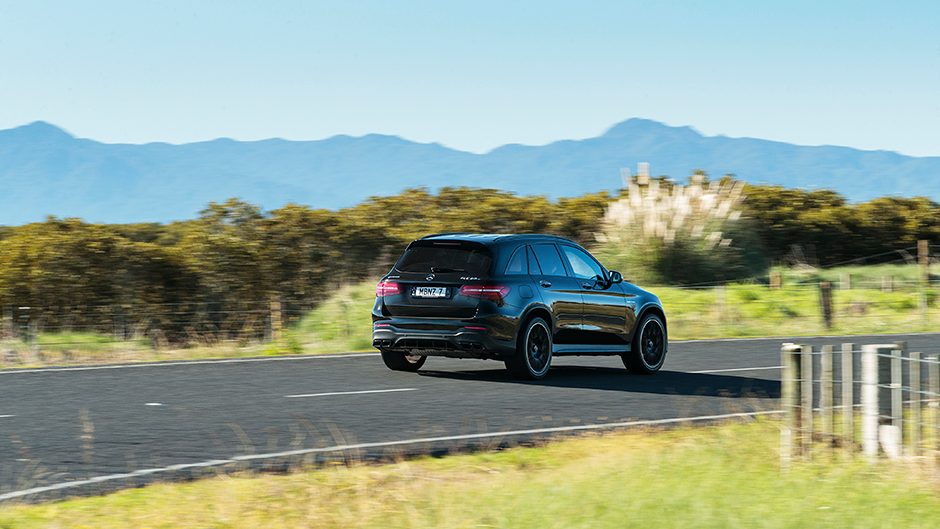 A powered fifth door is complemented by rear seats that fold down flat at the flip of an electric switch, enlarging the 580L hold to 1600L. There's even a lap timer and G meter, for those who want to blast past cars on track, viewing the vanquished from on high. Even our one interior gripe is minor, a rudimentary left foot rest that's not well sited or angled.
GLC has been a hit here and in Australia. The apex model will take on the likes of Macan Turbo and the upcoming X3 M. As Ben Giffin, GM of Mercedes-Benz Cars NZ commented recently, "The GLC is now our best selling SUV, and we expect the AMG GLC 63 S models with their raw performance, practicality and that incredible exhaust note to really resonate in the New Zealand market."
True that.