AMG has just given birth to its first battery electric vehicle. No, really, and it's available here now.
I know what you're probably thinking. Mercedes-AMG has always been about maximum driving emotion, the noise and intensity, while electrification is all about treading gently, almost the polar opposite. Is there a kind of middle ground? And if so, does the new Mercedes-AMG EQS 53 4Matic+ achieve this hallowed status like so many AMGs of the past so effortlessly manage?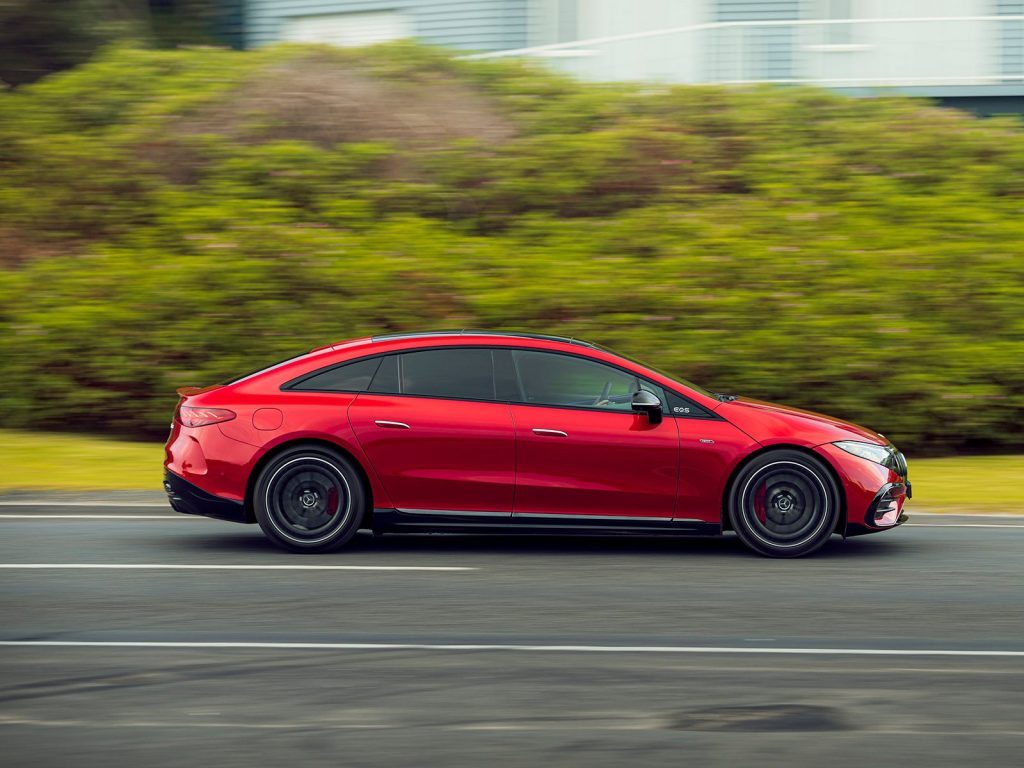 It's a hard ask and the transition from ICE to electric means future AMGs are going to be rather different. A recent article in the Guardian indicated that last year not one of the 22,000 supercars or luxury GTs sold globally was fully electric. I find this hard to believe but even if the numbers aren't completely accurate it does suggest that folk aren't ready for electric supercars or luxo GTs just yet. Perhaps it's a range thing, or maybe people think electric examples of these are too clinical. Not enough of the emotive AMG roar of yore?
Mercedes and AMG are clearly up for the challenge, as AMG has just launched its first electric luxury GT and the EQS 53 is already available here if you have a spare $310,900 burning a hole in your pocket.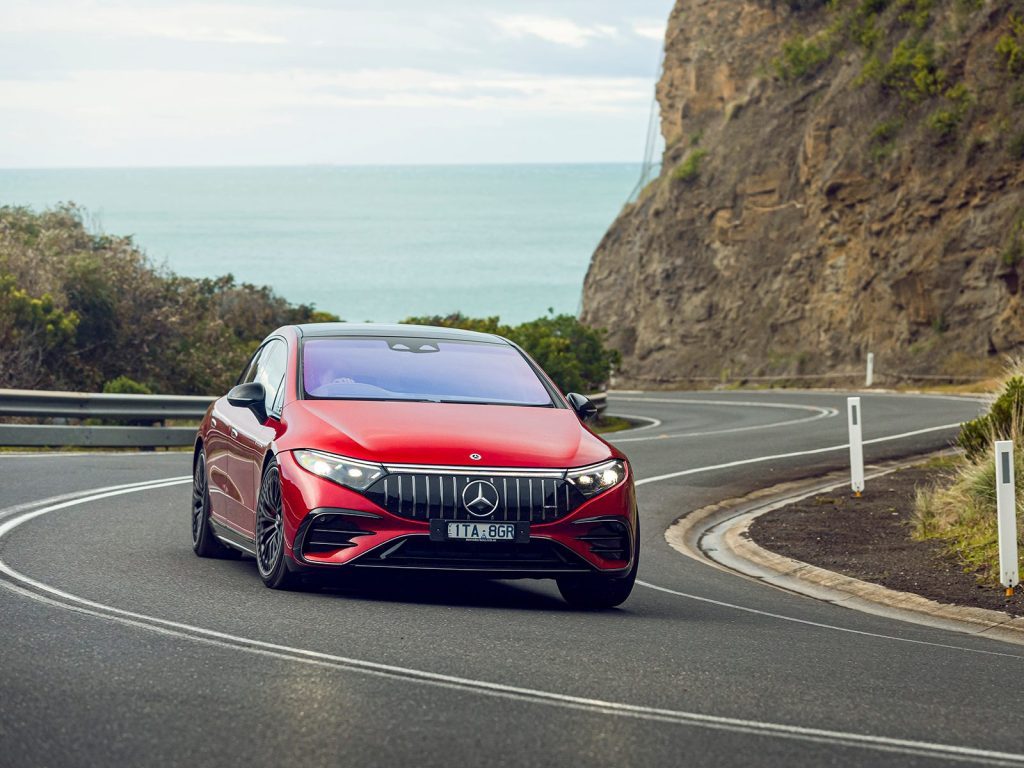 You can expect more of these electric rockets too because the Guardian article was also about what the EU is doing currently to encourage the uptake of such things, or more specifically by implementing legislation to ban the sale of new petrol or diesel cars by 2035. The reason is that the EU wants to reduce greenhouse gas emissions by at least 55 per cent within seven years. Britain has already agreed to ban the sale of new ICE-powered vehicles by 2030. Some supercar makers, mainly Italian, have appealed the decision but have already been turned down. The other point of this article was that if the makers of supercars and luxury GTs don't make the transition they will eventually miss out on market share.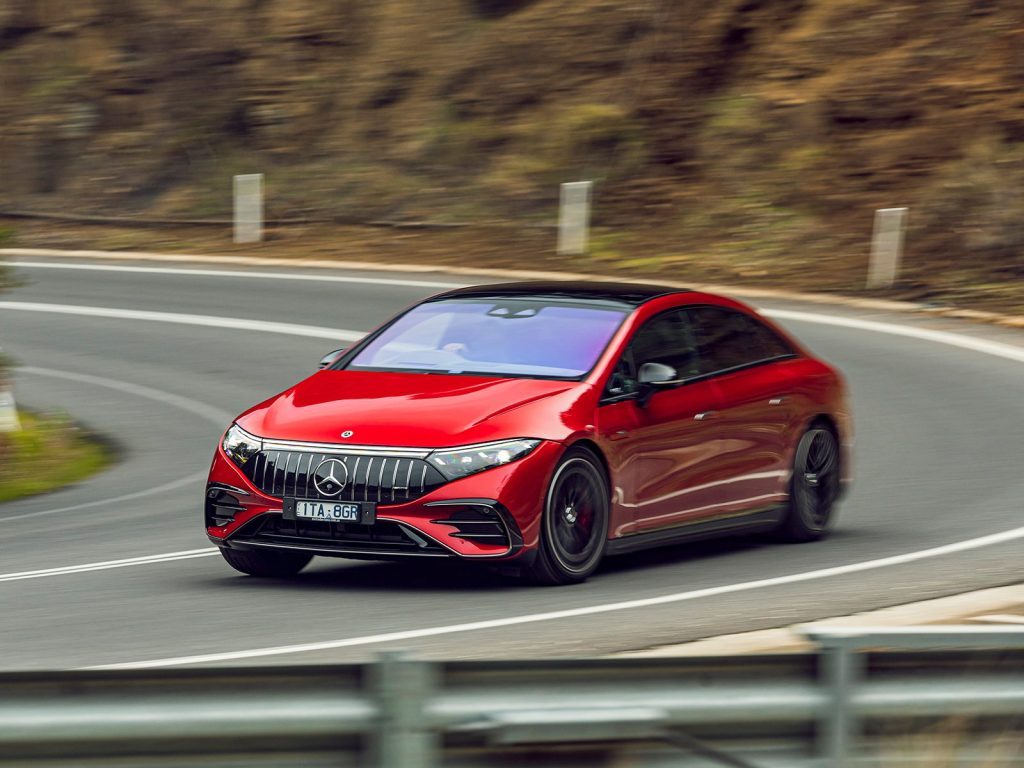 Change is in the air
For decades the S-Class has been the technology leader for Mercedes Benz but given the end is nigh on the ICE power front that might won't be the case for much longer.
Never one to be a follower, Mercedes has released what can be thought of as an electric version of its S-Class, only it really is that in name alone. For the new technology leader, the EQS, represents the environmentally friendly technology high point for the brand, and we were fortunate to get some time behind the wheel of the brand's first fully electric AMG model recently on roads around Sydney, checking out what the new apex car is all about.
Because this is the AMG 53 variant, that kind of begs the question of whether or not there's going to be a 63 model but the answer to that is a firm nein. And we'd guess the reason for that is because the 53 is really rather a potent brew in its own right. With 1020Nm of torque, and 560kw of power (when optimised with the AMG Dynamic Plus Package, $7690) and a claimed zero to 100 time of 3.4sec (using Race Start) that puts it more into the traditional supercar performance territory than a super-luxury GT. Even as standard there's 484kW, 950Nm at zero to 100 takes 3.8sec. Not hanging around either way.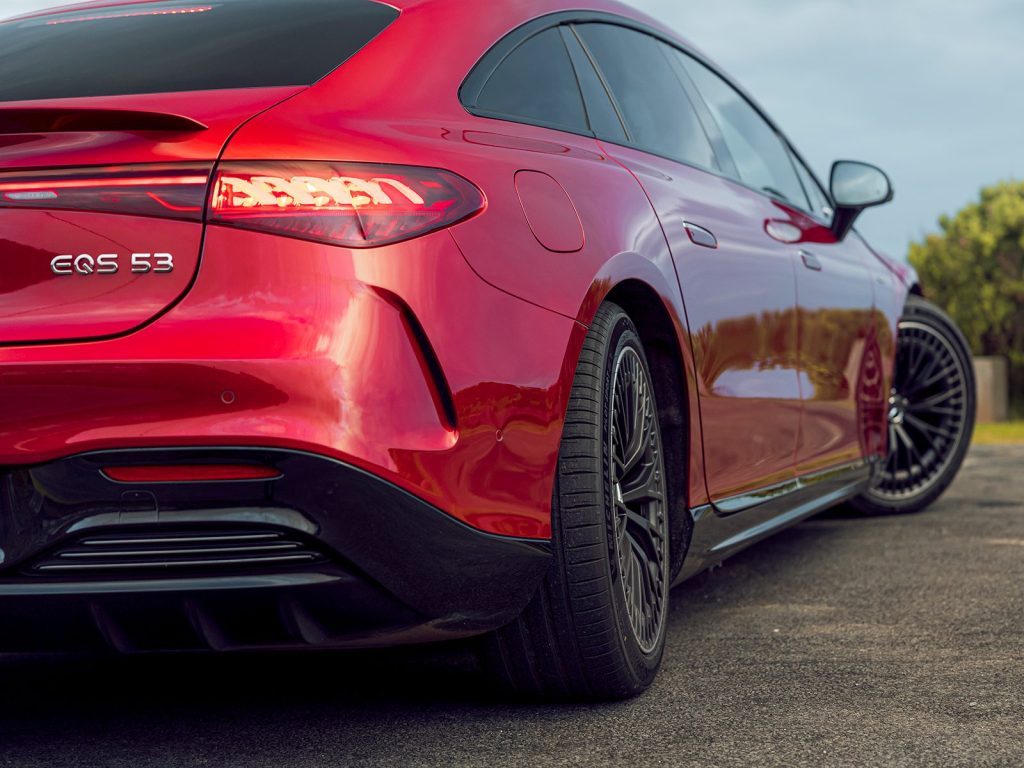 And while it's certainly not the shy and retiring type, being 5.2m in length and almost 2600kg in overall weight, the AMG team would have us believe that this has some serious dynamic potential as well. For there's fully variable 4Matic all-wheel drive thanks to having a motor driving each axle, along with rear-wheel steering for enhanced agility at all speeds and added stability at motorway rates. Underpinning it all is fully independent front and rear suspension with air springs and adaptive damping.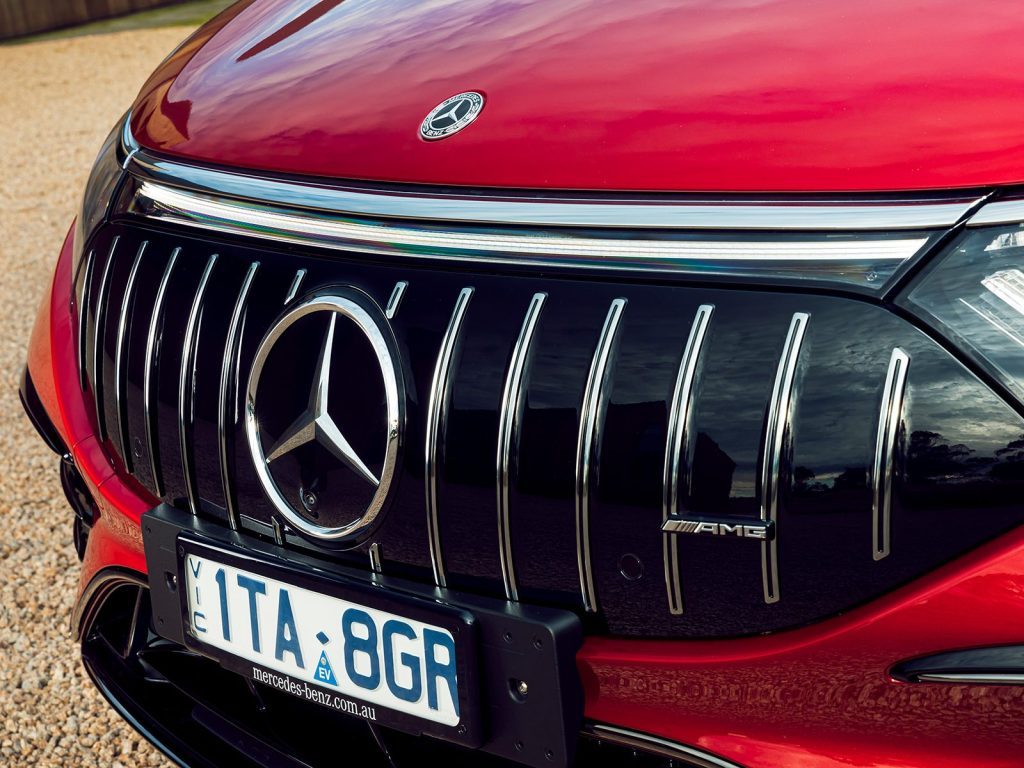 Sonically stirring?
So on paper a proper AMG, no question. There's the acceleration and the cornering creds but where's the emotive factor from a pair of whirring motors? That aspect hasn't been overlooked either and is one of the more intriguing aspects of this new tech maestro.
It is also becoming a vexing question – how to get an inspiring exhaust note from a vehicle that er doesn't actually have an exhaust. So the aural aspect is done digitally. Not only that but there's a double up, for the noise is synthesised externally as well as internally. There are dedicated speakers for this and to make the experience more vivid, there are also bass shakers, like you get in some home theatre set-ups so you can feel the action as well as hear it.
And there are several scenarios possible, just like with analogue AMG offerings. The firm dubs these 'Authentic' and 'Performance'. A shame AMG used the word 'authentic' unless by that the firm means genuinely synthesised. We checked out both and Authentic sounds like angry whirring. Performance sounds similar, only even angrier. Is either emotionally as inspiring as ICE-powered AMGs? Not to my mind, not in the same ballpark really. They're both interesting but not for that long. In waft drive modes, like Comfort, they're not activated and the sound of silence is preferable. Okay, so there's occasional tyre noise on indifferent surfaces but you can easily drown that out by activating the Burmester sound system. We know which we preferred, along with the more supple ride.
This then is a rapid and highly configurable luxo-limousine, and we'd guess that's also why it carries the 53 and not a 63 suffix. One wonders whether there will ever be an electric 63 from AMG. Probably, but it will likely be smaller, lighter and with less doors than this.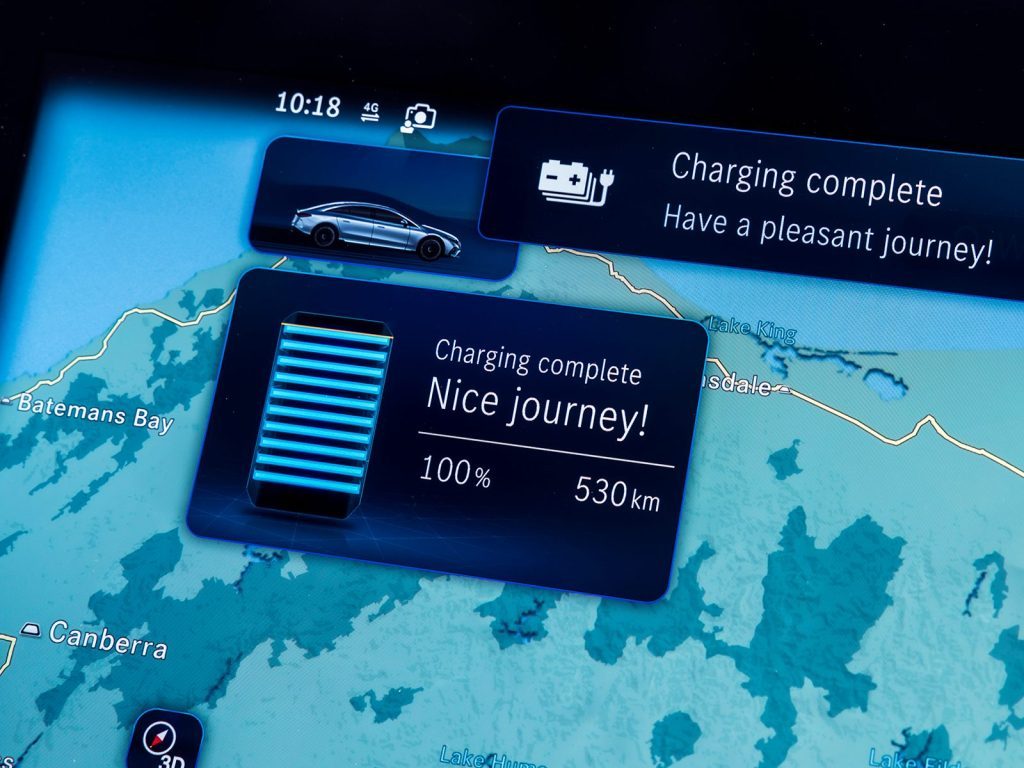 Long and low
There are other differences that distinguish the new order from the old, like the look and layout of the new EQS. It is a windswept shape born from time spent, lots of it, in a wind tunnel. There are vents up front directing the air away from and around the wheels and a spoiler and functional diffuser at the rear to keep the car pinned to the road without adding excess drag. Even the wheel designs are aero-optimised, all in the interests of a low Cd, a claimed 0.23, and extending battery range.
On that, a massive battery pack is at the core of the car, its 108kWh endowing it with a WLTP range of just over 500km.
And using the latest technology fast chargers, the battery pack can add 300km of range in 19 min.
Returning to its styling, electric vehicles offer known advantages to conventional designs in that the lump that traditionally used to occupy the real estate north of the cabin is no longer there because electric propulsion units are compact enough to live where differentials might once have been. This means that designers can push out the axles, trim the overhangs and lengthen the wheelbase in what is already a large car, and therefore offer a stretch limo-like interior – legroom in the rear is beyond generous – not to mention oodles of luggage capacity (610-1770L). As an aside, there's no front trunk and you can't access the area. Fluids for screen cleaning are added through a slot on the side of the car.
Step inside this top end sports saloon and it's the metre of glass that hides three high tech, high resolution screens that immediately catches the eye. One is for the passenger, two for the driver. Almost everything is controlled by these so button intensive it isn't. Things like drive modes are affixed to the wheel, which helps makes set-up changes much easier. But simple things like adjusting lumbar support you need to do via the screen.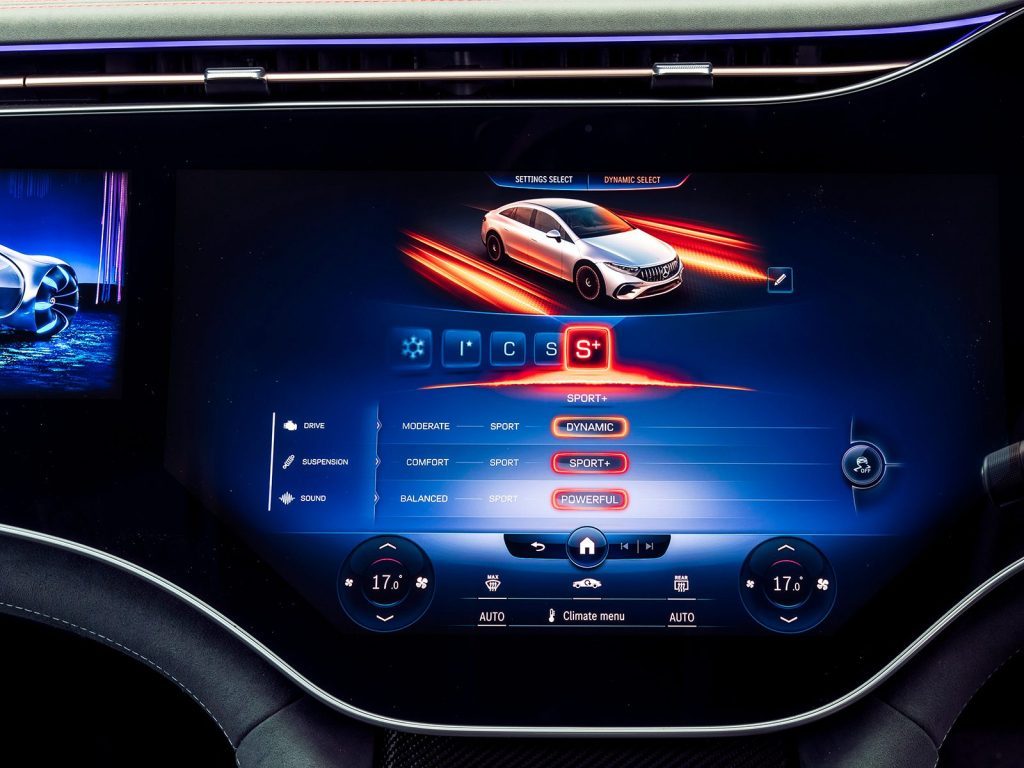 Think big
Fitting rear-wheel steering is the saving grace in a car that's meant to offer dynamics and waft in equal servings. And here AMG have got things rather right. On a day that preceded yet another incident of serious flooding in NSW – it's the fourth inundation in recent times for some folk there, poor buggers – we drove on roads that were damp initially and wet later on so couldn't really give the car a proper serving. But you certainly got an indication that this is both potent, with at times eye-opening and neck-snapping acceleration off the mark, and also competent, with impressive lateral acceleration, occasionally getting the rear out of shape with injudicious applications of right shoe pressure. The different modes imbue the car with different qualities too, resilient in Comfort, controlling and firmer but never fidgety in Sports settings.
No matter the mode, there's always the impression that this is substantial and it's the brake function that sometimes gives that away. When it's set up with no brake recuperation, you really need to get active on the big pedal to wash off speed. That's when you're aware of its mass. Optional carbon ceramics might suit those press-on buyers ($9990). Another option you'd strongly consider is the augmented reality head-up display at $2690, and a home AC charger ($2810).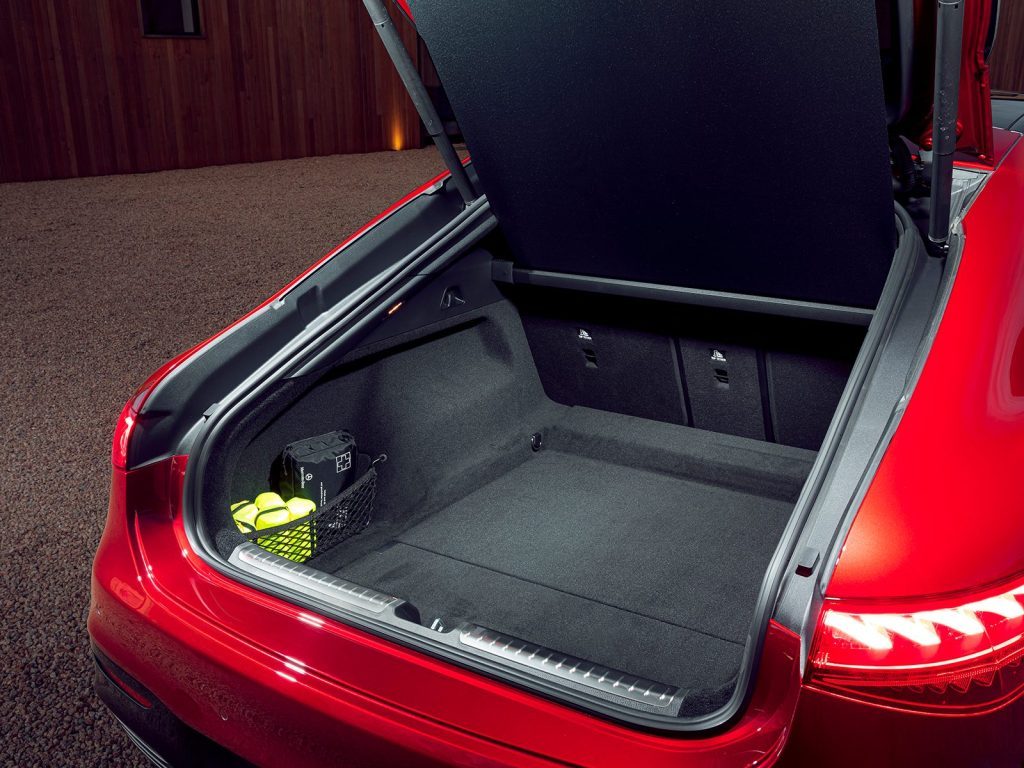 So how does it stack up?
In the scheme of things while the price is high, there are other AMGs with bigger tickets. We'd describe these as the more traditional ones, authentic if you will, and all with the GT suffix. And if you compare the 53 with the likes of Bentley's Flying Spur, you get something that's quicker and more agile in the former but roughly as voluminous for around $200k less.
But is the EQS 53 really an AMG? On the performance front, no question. Anything that can tick off the zero to 100 quickstep in a claimed 3.4sec deserves its AMG status. We'd rate that as the emotional highlight of the car; its sheer brawn is hard to ignore. It's dynamics are also impressive for something this substantial and while it cannot quite compare with the likes of Porsche's (admittedly more expensive) Taycan Turbo S, we'd imagine most who wanted a luxury GT would feel mighty satisfied with this, especially if they had friends to ferry around. Just don't expect the feral nature of an ICE AMG.
It's a brave new world for the AMG brand. Think of the EQS 53 as just the beginning.